Order fulfillment service is critical for many e-commerce businesses. Especially those who frequently struggle to build infrastructure to warehouse and transport items promptly and effectively. When choosing an order fulfillment service, you should consider these factors, such as benefit and cost, before deciding which brand you should choose for your business.
So, you are looking for the top order fulfillment services to outsource your operations? We compare the 5 best fulfillment companies helping online retailers deliver efficiently. Read our guide to learn costs, services & how to choose the right fulfillment partner for your ecommerce business and online store.
Top 5 Order Fulfillment Services You Should Not Ignore
If you are looking for the best order fulfillment services for your companies, let's consult the top 5 companies below.
ShipBob - Best Overall
ShipBob is the best order fulfillment service and is well-known for providing the most prominent shipping and logistics solutions at the most competitive prices. Its dispersed fulfillment facilities serve both small and medium-sized companies. This order fulfillment service company maintains complete management over warehouse management, administration, inventory software, and fulfillment. It suggests quick shipment, essential for providing the finest outcomes to your clients.
Besides, it also integrates with e-commerce software tools containing Shopify, Magento, WooCommerce, BigCommerce, and others. Furthermore, ShipBob enables businesses to handle their orders, inventory, SKUs, and customer service online without adding extra fees. It also provides a reliable, professional account manager that will assist you in properly managing all of your procedures.
ShipBob's main features include inventory management, order management, advanced filters, reporting, returns management, and a fulfillment network. The best part about this 3PL order fulfillment service is that its activities are completely transparent.
Pros:
Fast delivery with the lowest costs and modern e-commerce fulfillment services
Complete management of your operations with a robust platform
Streamline the whole ordering process
Integrate with popular e-commerce platforms
Customized prices and personalized services
Cons:
You may feel difficult to understand the pricing system at first
FreightPros - Best for Small Bussiness
The second one on this list is FreightPros, the best order fulfillment service for small businesses. Not only providing you with low costs, but you also receive superb customer service, a terrific bonus for any 3PL business. It provides access to various remarkable services like LTL (less than load), a large range of tools that help you handle your cargo directly, rail carriers, etc.
Pros:
Lots of discounted quotes for many freight-shipping carriers
Valuable and responsive account managers
Informative and cloud-based transportation management system
Cons:
WhiteBox - Best for Beginners
The top 3 on this list belong to WhiteBox. It is an excellent order fulfillment service for beginners since it saves unneeded expenditures. WhiteBox is a prominent e-commerce company that offers all fulfillment options, shipping services, and storage costs just on one platform. It is an amazing choice that would help your small e-commerce startup business expand to a worldwide level.
On the other hand, WhiteBox will charge a $3,000 initial onboarding cost, more than other third-party logistics businesses. The fulfillment cost is 10% of the entire sales. WhiteBox's key features include forecasting and prediction, quality management and kitting, stock maintenance, SEO-friendly product listings, and market products and improve listings.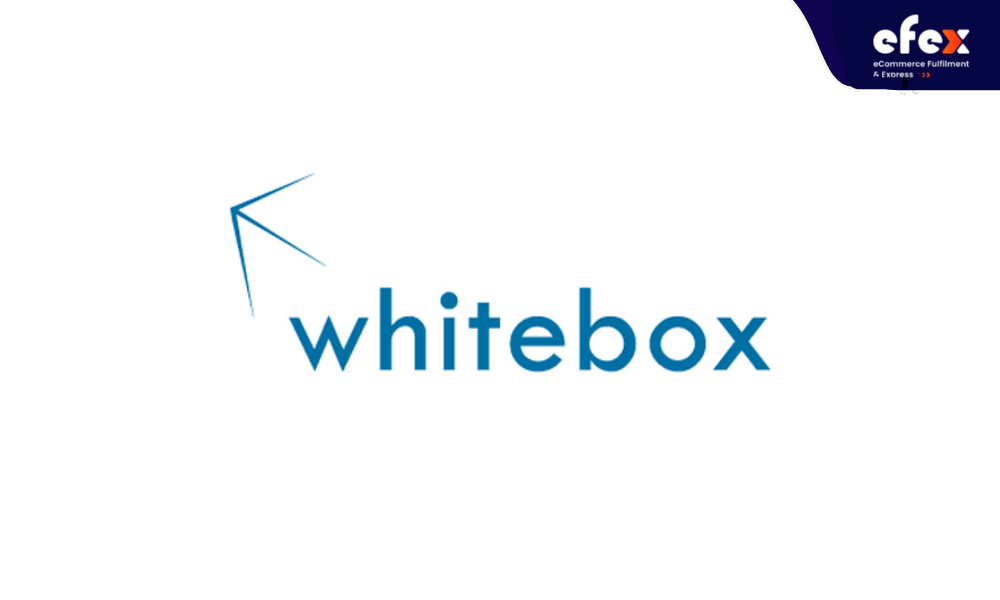 Pros:
Suitable for beginner level businesses
Optimize product description
Professional product photography
Quality assurance
Cons:
B2B sales are not optimized
No frozen warehousing, refrigeration for cold chain compliance
FedEx Fulfillment - Best for Growing SMBs
FedEx may be a famous brand in the order fulfillment service that everybody may know. It is a subordinate of FedEx Corp and manages the inventory of many small and medium-sized businesses by integrating diverse selling channels. FedEx Fulfillment offers solutions related to e-commerce, which are reverse logistics, warehousing, packaging, storage, and order fulfillment.
The best benefit that this order fulfillment service can bring to businesses is that they assign a trustworthy professional to support small business owners in comprehending and completing the whole process efficiently. FedEx Fulfillment's main features are integrating e-commerce, customizing packaging and value-added services, tracking and visibility together and in one place, and providing logistics consulting experts.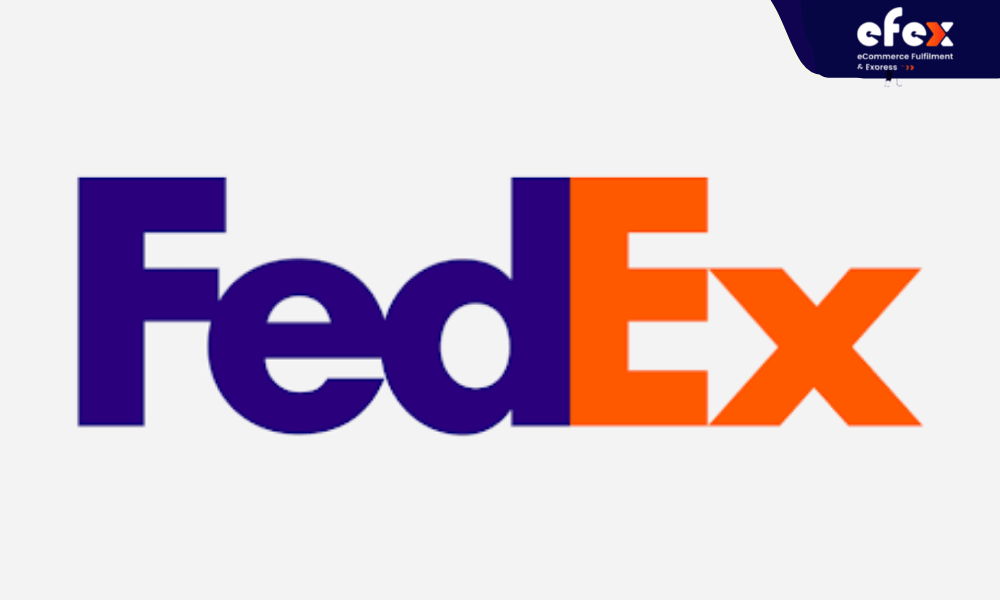 Pros:
Highly reliable tracking system
Offers Saturday delivery for impatient customers
Can negotiate lower shipping rates for large volumes of packages
Good personal customer service
Cons:
Higher shipping rates than other order fulfillment companies
No free package pickup
Red Stag Fulfillment - Best for Heavy Product
The last one is Red Stag Fulfillment which is leading in handling heavy products or special needs. It helps custom-fit business solutions and complete assurance regarding order and inventory accuracy and timely delivery. This order fulfillment service uses cloud-based software to manage all the activities.
Pros:
High order fulfillment accuracy
Pay $50 whenever it makes a mistake in shipping or packing
Quick return processing
No lengthy contracts or commitments because of monthly charging
Free 30-day trial to send products
Cons:
Sleekest user interface
Not recommended for small, lightweight packages with lower prices
Just offers shipping discounts when using the company's account through FedEx or UP
👉 Read More: Cross-Border Ecommerce: Definition, Example, and Market Size
What Are Fulfillment Services?
A fulfillment service is a third-party warehouse where businesses collaborate in preparing and shipping your orders. An order fulfillment service company can co-operate with many businesses. Order fulfillment services support businesses that do not want to handle the shipping or have outgrown existing warehouse capabilities that cannot ship their orders themselves.
There are multiple famous third-party fulfillment services companies on the market, for example, Shopify Fulfillment Network, Ecommerce South Florida, and Colorado Fulfillment Co.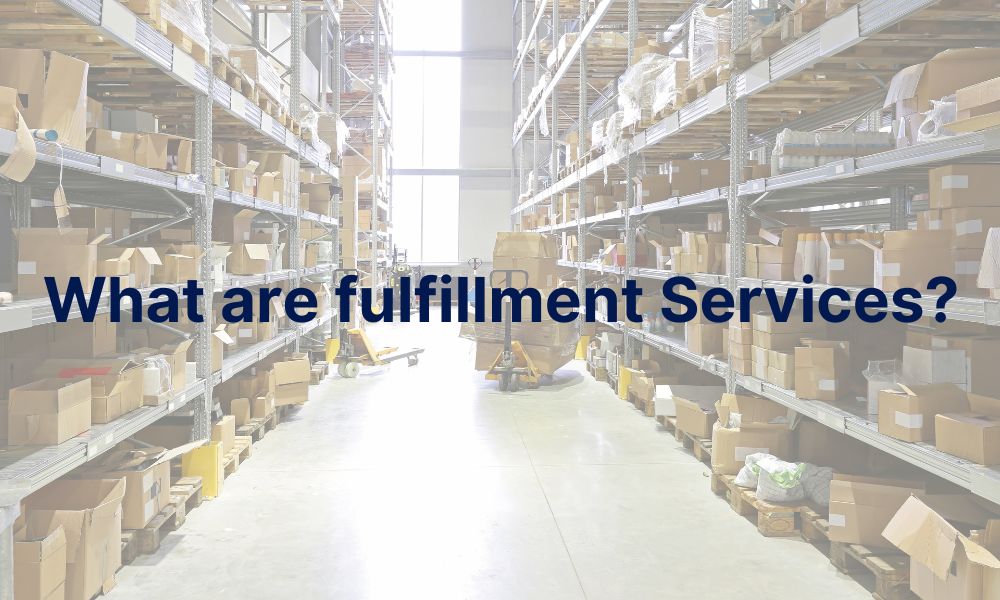 In conclusion, we hope that this article will provide enough information about order fulfillment services to help you determine which best order fulfillment service you should choose for your business.
The Benefits Of Using Order Fulfillment Service
Using an order fulfillment service can assist you in avoiding executing the task yourself. However, the advantages go beyond that. Here are some benefits of using an order fulfillment service can bring us.
Firstly, it helps to avoid long-term leases. Many logistics companies provide variable pricing. It implies that when you develop or have sluggish periods, they will be able to adapt to your demands and change your expenses accordingly.
Secondly, you can receive warehouse space and staff to operate the fulfillment center when you employ outsourced order fulfillment services. Once you complete and ship your orders, you will almost certainly need to recruit help.
Thirdly, it can optimize your time. Your time is better spent managing and optimizing the company rather than being mired down in order fulfillment logistics. When you delegate practical tasks to someone else, you free up your time to focus on things that have a bigger influence on your bottom line.
Fourthly, using an order fulfillment service can support your company in being more agile. Although doing it yourself is generally free, it can cost you in the long run.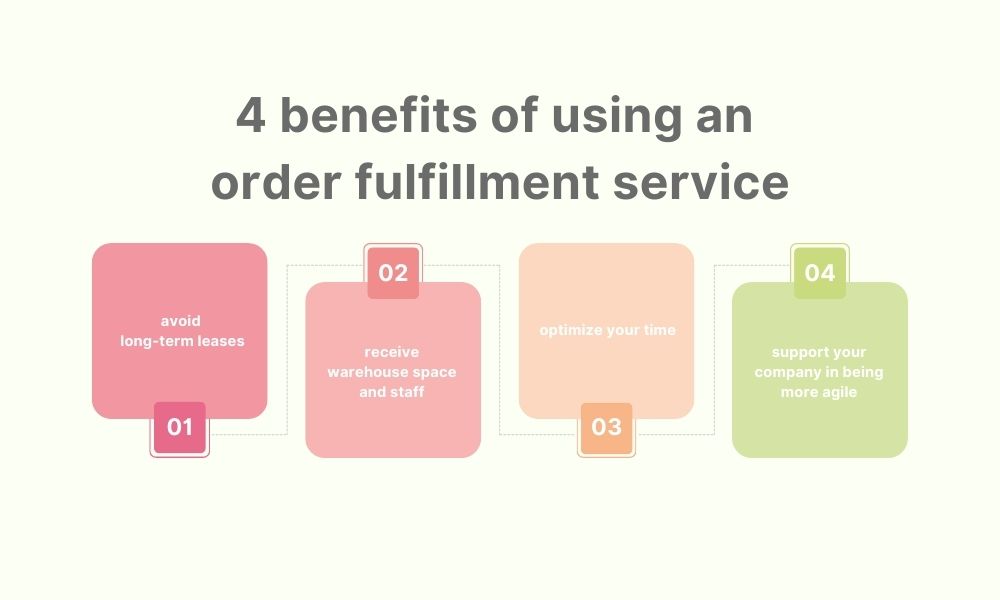 Since customers demand speedier shipment timeframes, doing it in-house may cause you to fall short of these expectations and provide a poor customer experience. When you book order fulfillment services, you can use their efficiency and leverage their purchasing power on packing and shipping prices. It releases you and your team to experiment with new tactics, inventory management approaches, and other efforts to achieve quick growth without worrying about back-end logistics or staffing backlogs.
Outsourcing Fulfillment: When to Consider this order fulfillment strategy
Reaching Scale: Outsource your order fulfillment once your sales volume consistently exceeds 50 orders per day. This allows you to focus on your core business while leveraging the infrastructure and expertise of a fulfillment provider.
Planning for Growth: When your sales cross the 50 orders per day mark, forecast future growth in volume and complexity. Outsourced providers can rapidly scale capacity compared to in-house operations.
Proximity to Customers: Choose a fulfillment location close to your customer base, whether handling it in-house or outsourced. This minimizes shipping times and costs.
For businesses seeking reliable order fulfillment services, EFEX stands as a compelling option, offering a hassle-free and cost-effective solution. With its commitment to lowering costs, ensuring faster delivery, and optimizing the order fulfillment process, EFEX provides businesses with the necessary tools to elevate their operations and exceed customer expectations. Embrace the power of EFEX and enhance your fulfillment services for your ecommerce business today!