There are numerous e-commerce channels for selling and buying with millions of online stores, but not all are successful. It is so easy to start your online business, but it is not easy to run it. Especially when you want to expand your company scale, many problems come with it, and one is eCommerce order fulfillment.
Before you can master your online business, you need to comprehend what order fulfillment is, and how an eCommerce order fulfillment process works. Besides, you should also know about the strategy and challenges of eCommerce order fulfillment you may face.
What is eCommerce order fulfillment?
eCommerce has an important role in economic development for every country. Nowadays, people have a tendency to sell and buy everything online instead of going to a shop and taking what they need. It is the reason why eCommerce order fulfillment becomes an indispensable process to ensure that every online deal is strategically finished. It comes to eCommerce order fulfillment, we refer to the process of preparing and shipping a customer's order.
They are the flurry of systematic activities.
The online ordered goods are put on the customer's doorstep as the result of those activities. eCommerce order fulfillment process includes many different steps. We can mention some steps such as receiving orders, processing orders, picking orders, packing orders, shipping orders.
And sometimes we have one more step: returning orders. Because in some cases, customers wish to return the product for changing another one or receiving a refund. Reasons for returning orders are different. It can say that the eCommerce order fulfillment service is an efficient way for a company to make more money and have more customers as well as the best result for every business.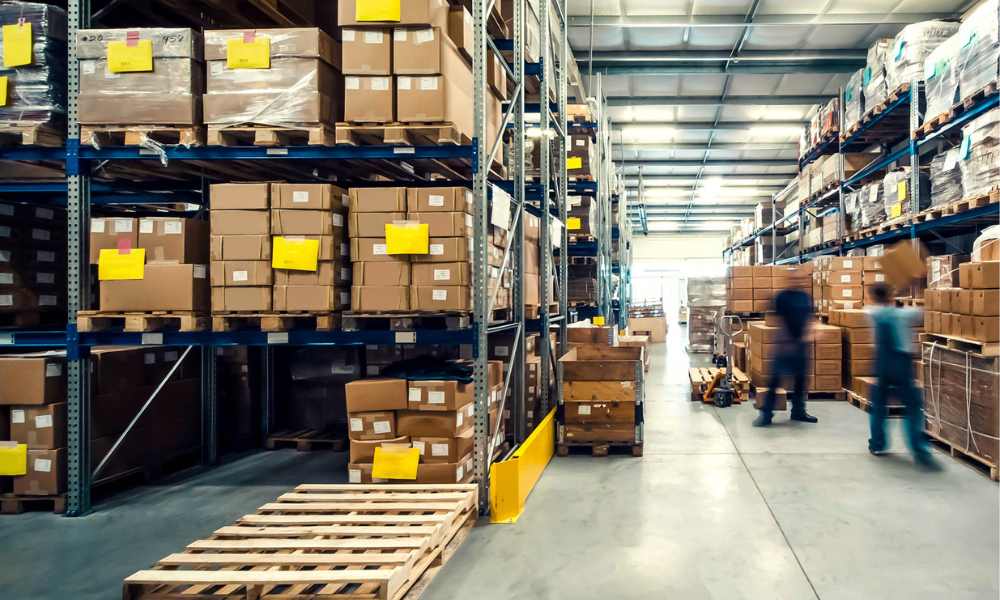 How does the eCommerce fulfillment service work?
Below are the works you need to do in the eCommerce order fulfillment process.
Omnichannel fulfillment center integration
How does owners' eCommerce business keep their order fulfillment process running smoothly? The solution is connections between every platform on which they sell products and the 3PL service company. Fulfillment warehouses have to be integrated with the fulfillment service center.
👉 Read More: What Is Omnichannel Fulfillment - Strategy And Model
When you receive customers' orders from a platform/ social network/ website…, the order information is sent to a fulfillment service center to pick items up, package them and then ship to your customers. This process runs when your IT staff does his/her work to make sure that everything is connected with each other and runs smoothly. The role of IT staff is very important and indispensable. He/She is considered as a connection of various factors in the fulfillment process.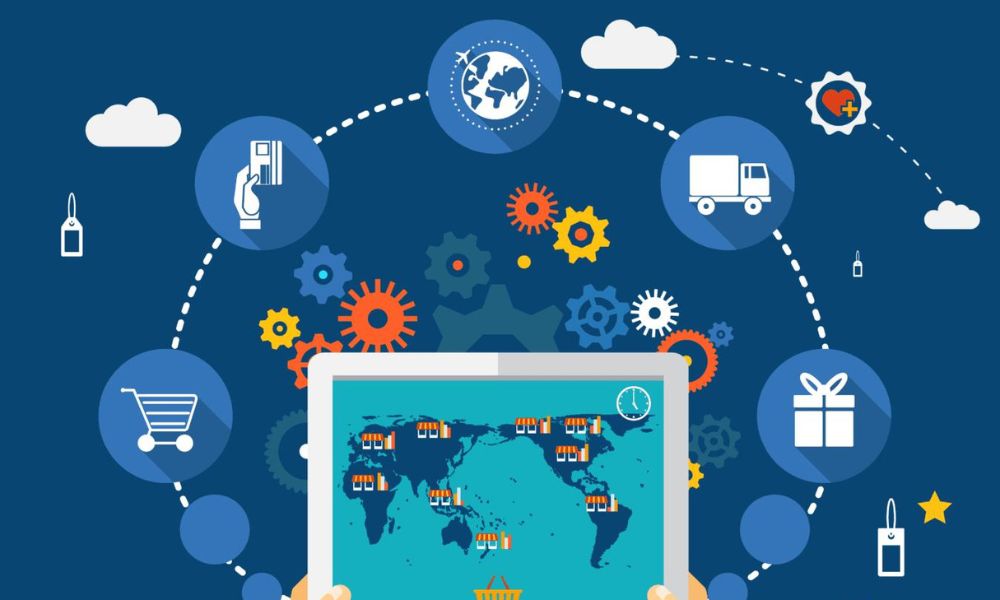 Receiving and inventory management
Your products are sent to the warehouse. At this place, they are counted, inventoried, and inspected to ensure their proper amount and acceptable quality as well. How are the receiving and storage processes preceded? The fulfillment center's staff do this based on using the SKU and barcodes which are used when they retrieve products from internal storage. When the fulfillment centers finished counting and inspecting your inventory, they send these products to short or long-term storage.
Order fulfillment
Picking, packing, and shipping items to customers are indispensable parts of the fulfillment service process. Packing items have to include the following information related to items, such as item's colors, sizes, number of units, and its location as well.
Based on mentioned information, the picking team selects the right items they need to pack. When they package selected items, return shipping materials and labels are included, too.
Why? In some cases, customers don't feel happy with their order after getting it. They wish to return and get a refund or exchange other items. Item's weight after packing affects shipping speed. So fulfillment center must optimize the item's dimensional weight while packing them.
Shipping code depends on the shipping method you use and the distance from the fulfillment service center to your customers' address, actual package weight, dimensional weight as well. Hybrid shipping methods should be used to have a more effective shipping method.
Returns processing: reverse logistics
In the eCommerce business, it is not rare when customers wish to exchange or return what they ordered. So, return processing is needed. The return process includes quality control checks and sorting returned items. And the best way to proceed return process is to let your fulfillment service center handle it.
ECommerce Order Fulfillment Model
It is not easy to decide what eCommerce order fulfillment model should choose for your company. You should consider your products, what you are willing to manage yourself, order volume, and find your most suitable e-commerce order fulfillment model.
The three most common models of e-commerce order fulfillment process are in-house order fulfillment, third-party fulfillment, and dropshipping, which you will figure out in the below part.
The In-house Order Fulfillment Model
In-house order fulfillment or self-fulfillment happens when the seller completes all stages of the fulfillment process internally without the assistance of a third-party logistics provider or a drop shipper. It is selected for new sellers to handle inventory and pack orders from their homes.
In-house fulfillment normally consumes a significant amount of time for packing instead of spending on gaining more customers, launching marketing campaigns, and developing new goods. Once merchants reach a certain size and cannot manage fulfillment independently, they must determine between building up their fulfillment infrastructure or outsourcing fulfillment.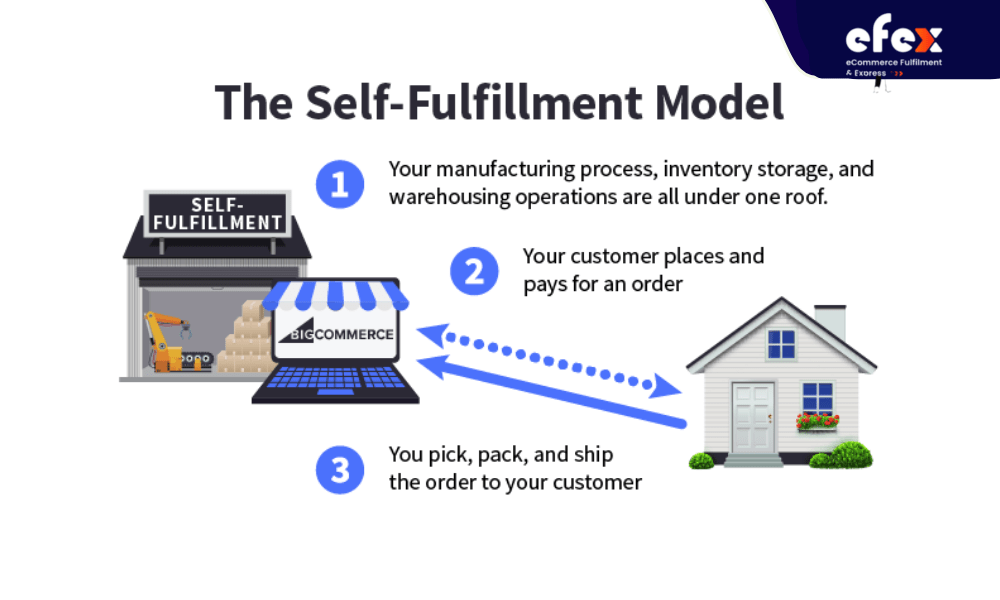 Pros:
Completely control the process of inventory, picking, packing, and shipment.
It can be low-cost because you just have to pay the shipping fee.
No skills and contacts requirement.
Negotiating shipping rates via UPS, FedEx, USPS can be a competitive advantage.
Cons:
Time-consuming for packing products.
Businesses may grow costly and burdensome because of warehouse space and equipment, additional staff, and order fulfillment software requirements.
The 3rd Party Fulfillment Model
A seller will need a third-party fulfillment company when they spend too much time packaging boxes and shipping orders, running out of space to stock their goods, have no interest in maintaining their distribution infrastructure or want to spend more time on strategic plans, expanding business.
👉 Read More:
Since working with a large number of merchants and often managing many fulfillment centers, 3PLs have the logistical experience and capacity to negotiate discounted shipping fees from deliverers owing to the sheer amount of items they send out each day.
Within their fulfillment center, the 3PL team will accomplish all duties associated with the eCommerce order fulfillment process, including receiving, picking, packing, labeling, returns processing, quality control, and other specialized projects. Each third-party fulfillment has unique services that will alter based on your demands, including custom packaging, B2B orders, kitting, temperature control or refrigeration, FBA prep, etc.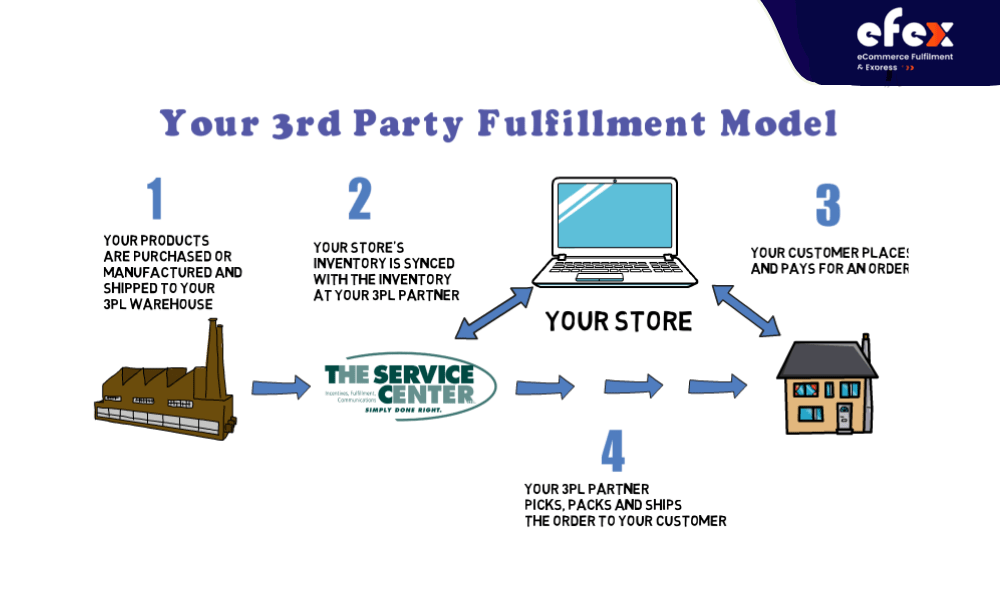 Pros:
Increase profit margins by purchasing inventory in bulk.
No warehouse space, WMS software, labor, real estate investment requirement.
Entrusting a professional to outsource the procedure is an extra convenience.
Shipping discounts might be far more than if you bargain on your own.
Cons:
The Dropshipping Model
Instead, the manufacturer produces, stores, and ships the products, dropshipping means that the seller never owns the products they sell in their online shop. Your mission is to focus on sales, the other works the manufacturer will take care of. When a buyer puts an order on the seller's online store, it is transmitted to the manufacturer automatically or manually.
The producer then dropships the goods to the end consumer, which implies your customers may have to wait for their products to be sent from another country.
Furthermore, dropshipping does not always give you complete control over the inventory management and order fulfillment process.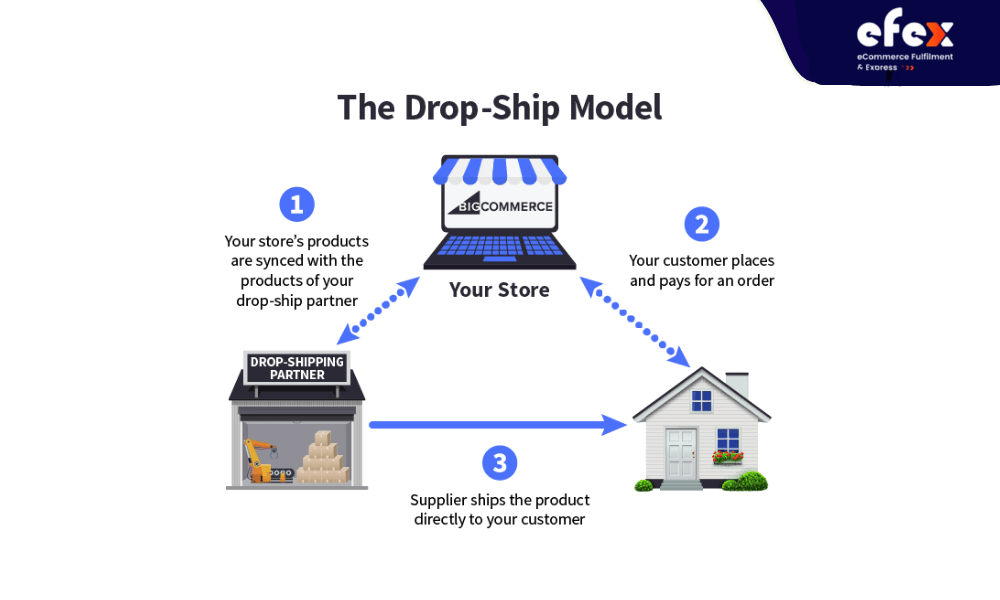 Pros:
Start easily
Minimal business development
Allow more people to discover your online shop and raise the number of touchpoints by which buyers can encounter your shop.
Be able to add more products to your online shops.
Affordable price and avoid other expenses for order fulfillment
Can test the new market before committing
Focus on your advantages and priorities
Cons:
Lower quality control
No customization
Reduced brand power
The competitive disadvantage is product price
Scale challenge when expanding business
Ecommerce order fulfillment Process Challenges
Challenges in the eCommerce order fulfillment process are things that cannot avoid, even may prevent a business from growing up. ECommerce merchants can face several e-commerce fulfillment process challenges depending on the size of the business.
You don't have the fulfillment expertise in-house
Becoming a fulfillment specialist is not usually the major reason someone launches an e-commerce firm, nor is it the greatest use of an individual's time if they already wear a lot of hats. With all the complexity of shipping, it may not be easy to grasp all its characteristics. Many e-commerce teams discover that they do not want to prepare and manage procedures in a warehouse or even know where to begin.
👉 Read More: All Cost To Rent A Warehouse In 2023
You aren't prepared for changes in volume (or the holidays)
When the fiscal year ends, businesses must be prepared to scale up operations over the Christmas season. However, keeping up with tremendous demand might be difficult. As more orders are placed, more employees are needed to fulfill their needs.
Furthermore, you may not be able to predict a higher number of employees resigning during peak season or the necessity to lay workers off during a lull owing to seasonality. It might be tough to prepare for, and fund future infrastructure demands on your own, particularly large expenses related to in-house logistics management.
👉 Read More: Vietnamese Holiday Calendar For Retailers Should You Know
You're unable to focus on strategic tasks
You cannot spend as much time on duties that help your business expand when you self-fulfill your e-commerce orders. Making the most of your narrow time means focusing on higher-paying jobs that will create more money and allow you to develop your brand much faster.
You can't compete with Amazon
What if your customers are like most of today's customers? They want their products to arrive fast when they check out online. When you are constrained to fulfilling orders from a single place, you cannot provide reasonable solutions for all clients like Amazon does by utilizing fulfillment hubs in many cities and areas. Likewise, without the option to promote straight to clients or establish an email list, selling on marketplaces like Amazon might be limited.
You struggle to strengthen your brand
Beyond the product itself, online business owners must work on turning their online brand into an in-person encounter. While some merchants may use generic packaging or adapt to packaging that raises a brand that is not their own, others try to boost their brand throughout the unwrapping process, which is frequently your clients' first in-person interaction with your brand.
Before your buyers see your goods, they will first notice the box it comes in. It consistently showcases your brand, but it may also lead to customers posting images of your distinctive packaging on social media.
👉 Read More: Cross-Border Ecommerce: Definition, Example, and Market Size
3 Ecommerce Order Fulfillment Strategies
E-commerce order fulfillment necessitates a reliable strategy, especially if you intend to expand your business. Before increasing your fulfillment operations, let's look through some critical factors.
Location is everything
You can not deny the importance of the location element in the eCommerce order fulfillment strategy besides the quantity of your storage space. It helps you achieve customers' expectations about shipping prices and speeds according to where you fulfill orders. There are two ways to optimize the location strategy.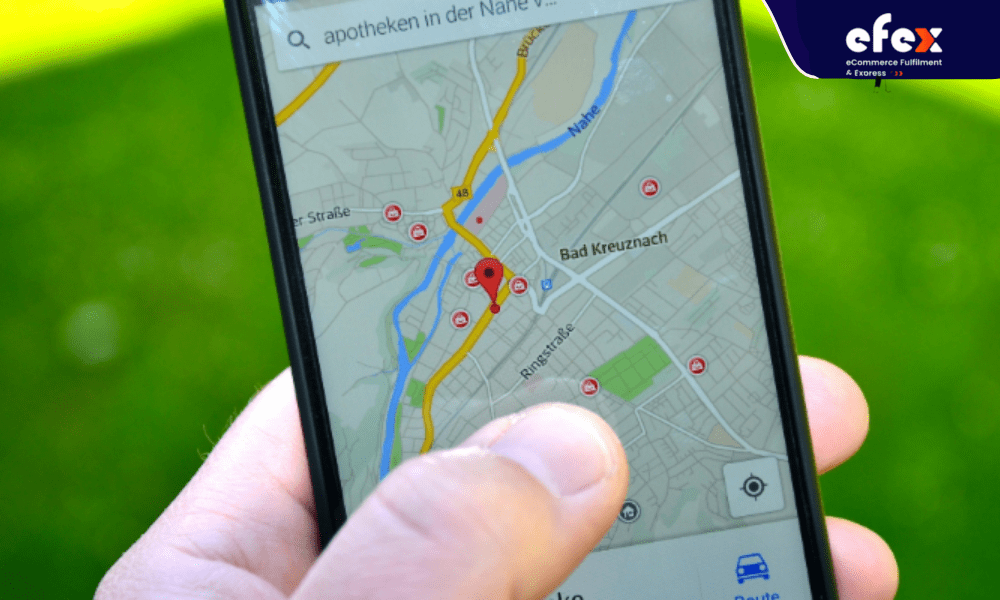 The first one is to optimize your order fulfillment process steps depending on where your customers are because consumers value both economical and speedy delivery alternatives. In this way, you would still achieve the most customers cost-effectively. Since the shipment distance is shorter, you will not have to use more expensive long-distance transportation options like ships or aircraft.
👉 Read More: Order Fulfillment Cost: All of the Fee You Need to Pay
The second is distributing inventory to multiple appropriate locations close to your customers. For example, a company is in a rural area could suffer if they are frequently shipping outside of their area since they have to think of moving to other locations to reduce the shipping costs. The more fulfillment facilities near frequent shipping destinations, the more ground shipping may be used, which is much cheaper than expedited air and faster than sending from a longer distance.
Technology Integrations
Technology plays an essential part in the eCommerce order fulfillment process in this era. Software interfaces seamlessly with online marketplaces and eCommerce platforms without manual uploads or duplicate data entry to assist in controlling orders across sales channels. Organizations that offer several channels frequently require extra technology to instantly route orders to the appropriate fulfillment departments.
The goal is to reduce complexity because it can be difficult for multi-channel sales to manage without suitable technology.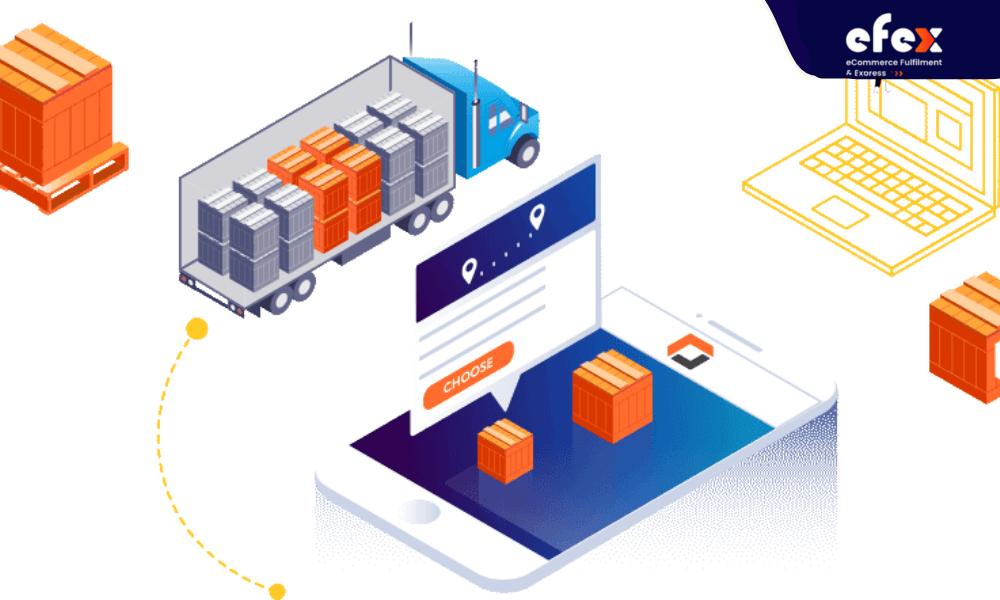 By integrating technology into the e-commerce order fulfillment process, both sellers and customers can control the tracking information of the products. Visibility into inventory quantities on hand across fulfillment sites is another critical component of the fulfillment strategy. It supports online businesses in determining when to buy extra goods to avoid being out of stocks proactively.
In addition, business owners can plan and make critical fulfillment choices through systems that connect purchasing and production to sales and demand. Utilizing inventory management methods can also aid in the development of order fulfillment techniques. These platforms give essential visibility into inventory levels to keep users informed and aware of swings in demand and available items.
Free 2-day Shipping
2-day shipping is the service that delivers online orders to customers within two days. It has now become a popular strategy in eCommerce order fulfillment. It is not only to appeal to customers by keeping transit times down and reducing costs but also can reduce cart abandonment.
However, it is not easy to price your shipment since there is no one-size-fits-all solution or magic formula. Remember that when you do this strategy, your company is the one that has to afford this 2-day shipping fee. Unless it makes sense for your profits, you should better drop this plan.
If you still want to do it, let's offer it to a small group of customers such as loyal customers, buyers who exceed a minimum purchase threshold, or who have subscribed to a special service of your company. This eCommerce order fulfillment strategy is not highly recommended for low-cost products since absorbing shipping fees will result in a loss.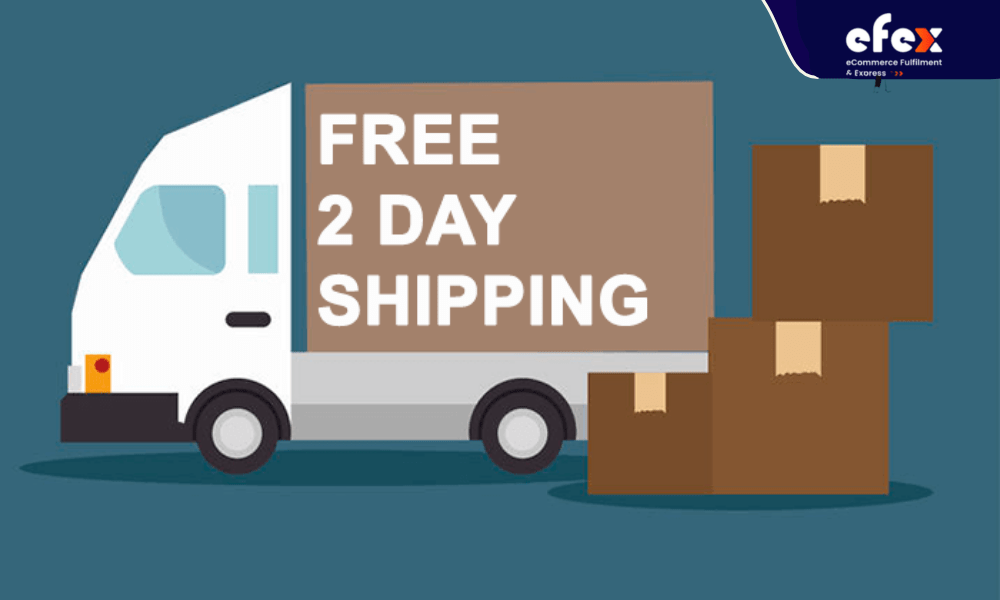 Conclusion
Running an e-commerce business requires more than just a website and products to sell - order fulfillment is a make-or-break process that impacts customer satisfaction and operational costs. As this article has explored, there are pros and cons to various fulfillment models like in-house, 3PL, and dropshipping. Ultimately, finding the right eCommerce order fulfillment partner can be the difference between a merchant's success and failure.
By integrating with an eCommerce Order Fulfillment platform integrations platform like Efex, online sellers gain access to a nationwide network of fulfillment centers, seamless multichannel connectivity, and two-day shipping capabilities. Rather than getting bogged down in logistical details, e-commerce businesses can rely on Efex's expertise to optimize the customer experience while focusing their efforts on sales, marketing, and strategic expansion. The right technology integrations and fulfillment infrastructure unburden merchants and provide the flexibility to scale up efficiently.