Companies need to adapt via digital developments in order to keep up with the rapid change in customer expectations. The decision-making process of customers is increasingly based on the customer experience. 71% of customers who conduct in-store research on their smartphones claim that it has become a significant aspect of the experience. For organizations that are required to give customers the necessary information about their transactions and behavior, the omnichannel customer experience is vital. Indeed, 89 percent of shoppers are retained by the best omnichannel customer approaches. Let's examine "what is omnichannel customer experience" and how you can develop and enhance it for your business.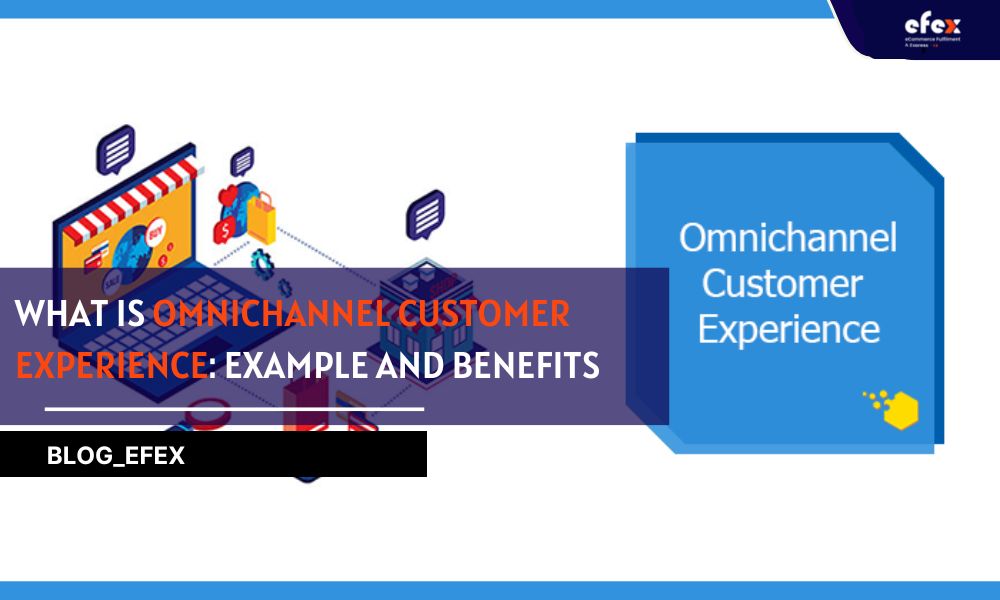 What is an omnichannel customer experience (CX)?
A buyer can connect with your company through various channels as an aspect of a seamless consumer journey when they gain an omnichannel customer experience. 9 out of 10 shoppers expect seamless service across all channels of communication. They may simply transition from a single customer channel to the other to finish their purchase since marketing, selling, customer care, and even in-store interactions are connected. Whatever the channel they reach from, omnichannel customer experience enables you to engage the digital customer in a contextually appropriate way throughout every stage of their purchasing journey.
👉 Read More: What is omnichannel retail: Definition and Benefits
👉 Read More: What Is Omnichannel Fulfillment: Strategy And Model
Example
Let's take a retail clothing business as an instance. A buyer is surfing Facebook as they come across an advertisement for sneakers they appreciate. They touch the advert to be directed to the store's Facebook profile, where they may read reviews and gather more information about the sneakers.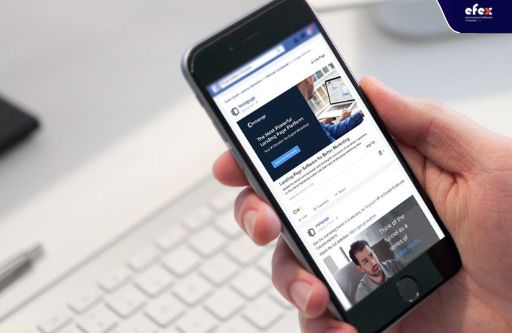 They then click directly to the retailer's website to place their sneakers order. However, they notice that their size is unfortunately out of stock. Then they use the live chat box to inquire about the exact time their size will be available. The salesperson tells the consumer that the store closest to them truly has their size in stock. The buyer goes to that store the next day to pick up the sneaker that the salesperson had reserved for them. In this case, the buyer interacted with the business through five separate channels: a Facebook advertisement, a Facebook profile, a website, a live chat box, and lastly in-person. A smooth journey across the sales funnel, starting from awareness to the transaction, was provided by connecting every touchpoint to the one before it. Thus, it has proved what defines a good omnichannel customer experience.
Why does an omnichannel experience play an important role?
Providing an omnichannel experience for your customers is crucial since it enhances their connection with your company, which boosts revenue. According to a Harvard Business Review survey, omnichannel consumers pay more than consumers with single-channel communication do. On average, they pay more than 10% online and more than 4% in stores. Therefore, omnichannel consumers are more precious than people not having one. So, how can more potential customers be gained through an omnichannel experience?
Personal experience
Customers may connect with your company using their preferred mode (they can purchase in-store or online, they can call or chat live), and they can utilize many channels at once to take care of their specific needs. For instance, a consumer can tell staff the item to assist them to find it if they are shopping in-store for an item they saw on your app. This personalization enhances the customer experience and raises the probability that a potential client will convert to a paying one.
Loyalty
An omnichannel connection that improves the consumer experience also increases brand loyalty. According to a ClickZ survey, shoppers who interacted with a company across more platforms were 90% more prone to make another purchase from that company. Customers don't want to feel impatient, therefore if they discover a company that provides excellent customer service, they will continue with it, resulting in a higher percentage of conversion for one-time customers.
👉 Read More: Order Management System: Definition, Process And Value
👉 Read More: Order Management System For Ecommerce: Definition, Key Effect, Benefit
Benefits of omnichannel customer experience
Both your consumers and your company stand to gain from implementing an omnichannel strategy. Among the most significant are:
More options for consumers
Modern consumers desire a seamless interaction with your brand. They can communicate with you whatever is most comfortable for them while still being relevant by offering a choice of connected channels.
Increased income and client retention
According to ClickZ, consumers who connect with companies across more channels make purchases at a rate that is 250 percent greater than that of consumers of a single channel. According to the Harvard Business Review, shoppers who used multiple channels spent an additional 4% in physical stores as well as 10% more online.
Reach out to more people
Certain customer behaviors may be preferred when dealing with a brand. The wider the diversity of prospective clients you can draw, the more channels you have open.
Improved data collection
A wealth of data is available from omnichannel experiences. With the use of this information, you can better understand your buyers and identify areas where they may be having problems, which can help you develop your product.
Omnichannel customer experience examples
Let's put all we now know about an omnichannel customer experience and the benefits it brings to your company into reality.
Oasis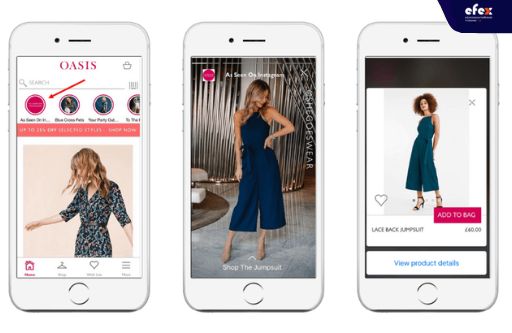 A British business named Oasis has truly nailed the integration of online and physical purchasing. They have linked their website, social media, mobile app, and physical stores to produce a flawless buying experience. Customers are encouraged to showcase their Oasis purchases on their Instagram accounts, which creates a great opportunity for interaction and serves as an additional marketing tool. The website combines information from several retailers to show users what is sold, while the app makes it simple to purchase. Oasis guarantees a continuous omnichannel consumer experience after the sale with five various return options, including the ability to return a purchase online in-store. The complete purchasing experience easily integrates physical businesses as well. With iPads in hand, in-store sales representatives may accept payments so that consumers don't have to wait in line at the cash register. Moreover, you can also be offered quick product information and advice, and even purchase a product to be delivered straight to a customer's home when it is not available in the shop.
Uber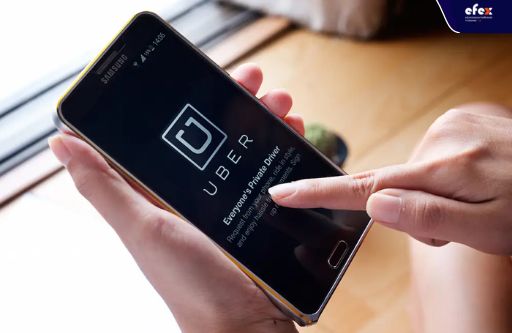 Uber doesn't appear to be a probable contender for omnichannel excellence at first look. After all, it is only an application and not truly a website or even a physical store. However, the business has succeeded in combining two channels that don't often integrate well, and with such flawless seamless connectivity that you hardly even realize how fantastic it is. Uber employs technology to combine in-person and online interactions, removing the boundaries and friction points associated with conventional taxi services. It is taken care of to know whether a ride is available locally, how much it cost, and where to hail one. Starting from the driver's point of view, a map and directions are always at hand, and there's also a customer rating feature that helps weed out unreliable passengers. Automatic payment eliminates the need for messing with cash or issuing invoices. The passenger, as well as the driver, has a clear understanding of identities, license plates, and each other's past trips. Therefore, there is an immediate feeling of familiarity and safety. The app-taxi cooperation improves the experience by eliminating unknown factors. Additionally, the route followed and the breakdown of cost is fully transparent.
Starbucks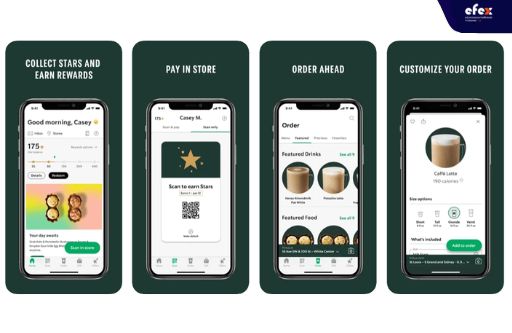 Through the Starbucks card, the large coffee shop chain provides a perfect instance of an omnichannel consumer experience. The Starbucks loyalty program's foundation is not innovative: consumers use the card to purchase Starbucks products and receive points. However, the card's flawless integration with the mobile app, website, as well as in-store experience makes a difference. This implies that any changes made to the card through one channel are automatically and immediately reflected in all other channels. Customers may refill their cards while standing in line by using the smartphone app, which automatically syncs their website profiles and actual cards for usage in-store. Additionally, reward points are immediately updated throughout all channels.
6 Tips For Developing Your Unique Omnichannel Customer Experience
So, how to improve omnichannel customer experience? To start building omnichannel journeys and customer experience for your company, read these top recommendations.
Recognize your customer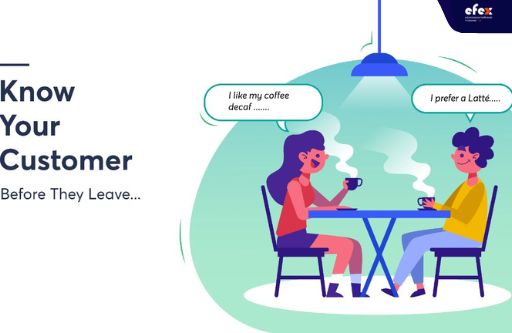 The most crucial thing to keep in mind when designing an omnichannel customer experience is that it must satisfy your customers' demands at the time and in the manner they want. To properly understand the customers that make up your market, you need first to conduct extensive research on your clients before beginning any approach. The mix between offline and online channels will fluctuate significantly depending on the audience you're trying to reach. New generations, including Gen Z and millennials, will virtually always want to connect with your company online. And the most common online platforms are social media along with many branded websites. On the other hand, older generations like Gen X and baby boomers like shopping in brick-and-mortar stores as well as on branded platforms. You will need to create numerous customer profiles to base your approach on since, depending on the sort of service you provide, you may have a highly narrow audience who are all seeking the same product or you may have a mixed market.
Create a customer journey map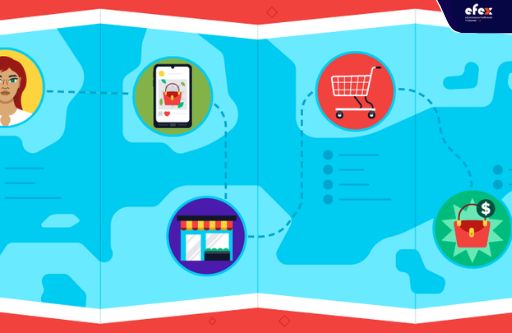 You must sketch out the path your consumers take to make a purchase after determining who they are and the channels they use to communicate with you. You can identify locations on this map where an omnichannel experience can be added to or improved. For instance, you could discover while mapping a customer journey that many customers abandon your site between the "review cart" step and the "confirm purchase" step. Maybe shoppers are having trouble editing their carts and giving up on making the purchase? Providing a live chat feature on the "review cart" tab might be a solution. In this method, customers can easily get help from an agent if they have trouble modifying their cart. The buyer can finish their purchase once the agent assists them in real-time with changes to their cart. It is simple to find potential for an omnichannel experience and determine what tools you need to accomplish it by mapping out the journey of customers
Adapt your content for various screen sizes
It's great to aim to develop an omnichannel consumer experience, but if the material isn't adequately optimized for various displays, you may fail right away. An omnichannel experience's goal is to provide your consumers the freedom to connect with your company in as many different ways as they'd like with convenience and smoothness. Not doing this might interrupt your clients' online experience since, regrettably, not all sites automatically adapt their information for various screen sizes. In the worst situations, this may discourage potential consumers from utilizing your site or buying a product online.
Establish omnichannel support services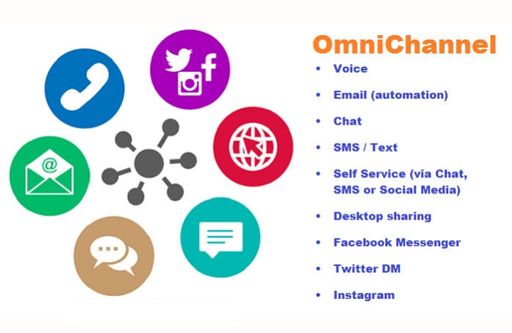 It is crucial that you have an omnichannel customer support plan to go along with it since customers connect with your company through various channels. Customers should be able to speak with an agent immediately on the channel that they are now using in order to provide an omnichannel customer experience. Because it allows for an immediate discussion on any website page, live online chat, for instance, is a well-liked contact method for businesses and customers. You must make sure that your contact center staff can provide the required omnichannel assistance with ease when establishing an omnichannel support strategy. Talkative, for example, guarantees that an assistant's contact choices, such as web call, video call, and live chat are linked to a single screen. As a result, they can quickly switch among interactions as needed. Through connectivity with your current smart device, such as Mitel, or through the telephony features of Talkative, these channels will then be flawlessly in sync with present email and phone channels. The ideal method to enable a smooth omnichannel customer experience is by fully integrating all potential communication channels inside your contact center. ‍
Empower an omnichannel experience from start to end
Many businesses can provide a seamless customer journey in the early stages, but what about later on? What about the omnichannel consumer experience after the sale? For instance, think again about the retail sneaker example above. Since the size the customer wants is available, they can buy the sneakers online. However, the buyer requires a smaller size since the sneakers are too large when they are delivered. Then, they come to their local retailer to replace the sneakers rather than fuss with mailing the store back. When the buyer comes to the store, the salesperson informs him o her that the sneakers cannot be returned there as they were not bought there. The unhappy buyer is forced to repackage the sneakers and pay shipping fees to ship them back. They receive a refund and decide against buying a new size of the sneakers. The problem with this situation is that the omnichannel approach was only used in the early phases of the customer journey. As a result, the omnichannel experience fell short when the customer needed to communicate with the company again after the transaction in order to maintain their satisfaction.
Remember to keep your physical store alive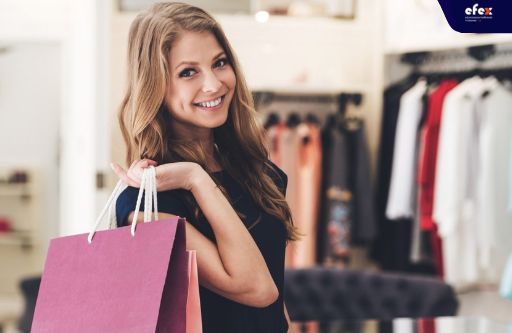 One thing to keep in mind is that, despite a growing market share for digital platforms, physical businesses are still very much essential. Just around 14 percent of all retail transactions worldwide were made through eCommerce in 2019. Even though this figure is considerable and still increases over the year, it demonstrates that physical retailers continue to dominate the industry. It's critical to recognize that your clients are rarely just offline or online for a successful omnichannel approach to succeed. The omnichannel consumer experience is insufficient if physical stores are not included in the approach, no matter how effectively your online channels are integrated.
👉 Read More: Basic Order Management System Design
Conclusion
To allow shoppers to have a better experience, omnichannel customer experience streamlines communication across various channels. Personalizing each customer experience and maintaining high customer retention are the main goals of an excellent customer experience. As customer satisfaction increases, awareness rapidly gets out through social media, family, and friends, encouraging people who weren't aware of these changes to contact your company. Adopt an omnichannel approach if you want to increase income, build brand awareness, and loyal customer base. Although enhancing omnichannel customer experience can first feel daunting, making a little improvement every day will add up in the long run. You'll also learn directly how the omnichannel experience benefits your company once consumers become aware of the differences. You've found this article so helpful? Let's follow our Fanpage and website to get many interesting articles!