Since e-commerce was first brought to the Internet, online shopping has been booming. Especially during the Covid 19 pandemic, online sales have been more explosive than ever since.
However, due to recent events and the increasing accessibility of purchasing online, sales are greater than they have ever been. Billions of dollars are now being spent on online shopping throughout the world, and as the orders rise, businesses want more assistance to keep up.
Choosing the proper fulfillment center to collaborate with is one of the most helpful things you can do for your business. To do that, you should understand what is fulfillment center, how fulfillment centers work, and other related information.
What Is Fulfillment Center?
A fulfillment center is a location where sellers or companies that the sellers hire to outsource their fulfillment, such as third-party logistics providers, direct-to-consumer fulfillment, and business-to-retail fulfillment. The sellers fulfill wholesale orders to big-box retailers.
👉 Read More: What is Fulfillment: Definition, Benefit, and Step
It is a third-party service provider that handles and sends the ordered products to your buyers. Fulfillment centers manage the mechanics of getting an order to a buyer's door and support you in the packaging, address, and shipping of each item process. A fulfillment center's primary job is to handle the seller's inventory, store the goods, transport orders directly to consumers or merchants, and support sellers in operating the whole crucial but sometimes complex fulfillment process.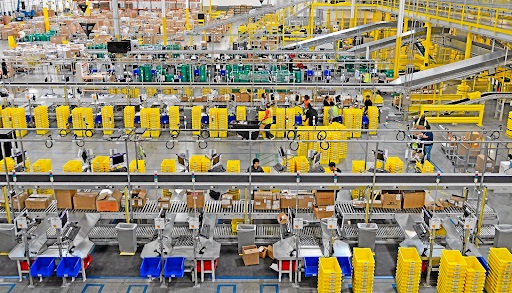 What Is A Micro Fulfillment Center?
A micro-fulfillment center is a small, highly automated fulfillment facility that handles both e-commerce and in-store pick-ups.
Micro fulfillment centers comprise two major components: software management systems for processing online orders and physical infrastructure. It also includes robots to pick items from store shelves and transport them to packaging personnel.
Micro fulfillment centers, sometimes known as dark stores, are generally 3,000 to 10,000 square feet and can be integrated into shops or used as stand-alone facilities to service a cluster of locations. It can be located in a warehouse or an existing store, in a specialized small distribution or warehouse, small companies' garages, parking lots, and basements.
👉 Read More: What Does Order Status Fulfillment Mean?
What is a Warehouse?
Imagine a giant storage facility filled wall to wall with shelves, aisles, and loading docks to handle the huge volume and variety of items housed inside. This bustling commercial space is known as a warehouse – the engine room powering modern supply chains.
Warehouses enable companies to efficiently consolidate mass quantities of materials, components, merchandise or other goods under one expansive roof. This centralized approach allows for greater oversight and control compared to de-centralized storage. Sophisticated logistics technology tracks the intake, movement and order fulfillment of stock in real-time.
Far more than just static storage units, warehouses provide value-added services too. From quality assurance checks to specialized labelling, packaging, or light product assembly, they incorporate capabilities supplementing simple storage needs.
The result? Warehouses give companies enhanced supply chain flexibility, responsiveness and scale. No matter the size or throughput requirements, this industrial inventory hub mobilizes and distributes the items businesses depend on to fuel commerce and keep the economy humming.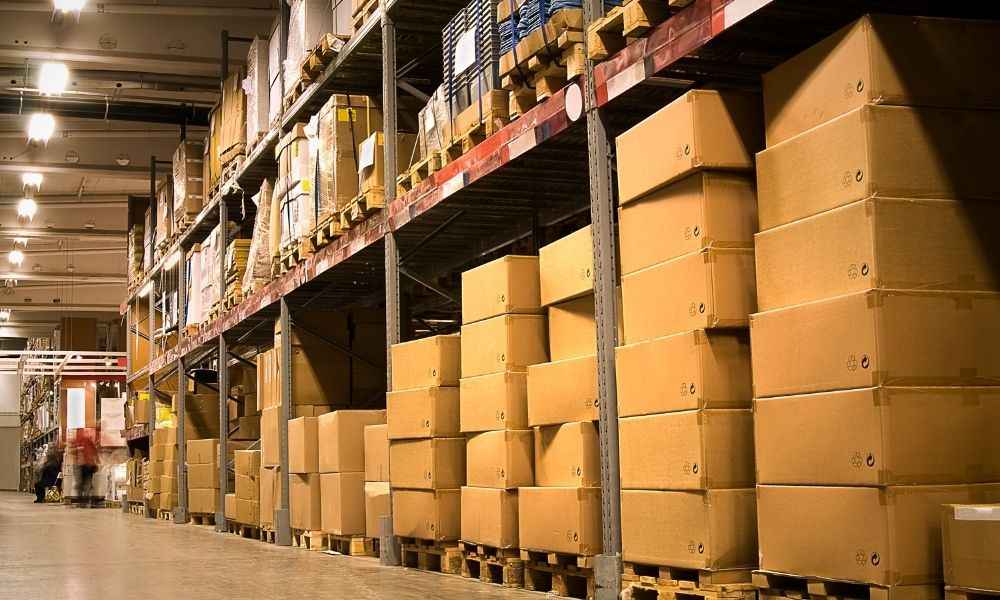 What Are The Distinctions Between Warehousing And Fulfillment Centers?
The phrases "fulfillment center" and "fulfillment warehouse" can occasionally be used interchangeably. However, each phrase might indicate a different meaning depending on the circumstances.
Both are enormous facilities that can contain goods for businesses that sell tangible things, whether through an online shop or a brick-and-mortar storefront.
Despite this resemblance, the services delivered and how they are used might vary greatly. A warehouse's main role is to hold goods, but a fulfillment center is meant to improve the customer experience surrounding the ordering and delivery of products on time. This is achievable since sellers store their merchandise at a 3PL fulfillment center near their customers, reducing delivery time and saving costs.
👉 Read More: Order Fulfillment Cost: All of the Fee You Need to Pay
On the other hand, fulfillment centers concentrate on maintaining merchandise for limited periods and then sending products to consumers after customers place orders.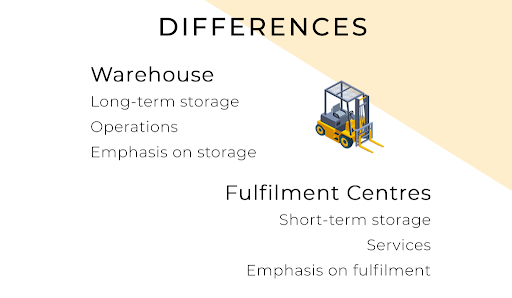 Long-Term Storage Vs. Short-Term Storage
A warehouse is a component of a 3PL's fulfillment center that holds a seller's goods. But the major purpose of a fulfillment center is to conveniently manage the operations between the time a consumer makes an order and the time the product is delivered to their home or office. Merchandise will not be held in a fulfillment center for more than 30 days in the best-case scenario.
If merchandise must remain at a fulfillment center for an extended period, this may be termed long-term storage, and most 3PLs would charge a higher warehousing cost. Ideally, the seller and 3PL will often communicate regarding inventory levels.
Operations
A warehouse is usually dormant since it is only utilized to store merchandise. On the other hand, an order fulfillment center continuously buzzes with activity. Normally, a 3PL will offer end-to-end order fulfillment services, containing the following services at its fulfillment center such as receiving inventory, picking and packing, kitting goods if necessary, creating shipping labels, transporting orders, and handling returns.
Frequency Of Pickups By Shipping Carriers
A 3PL frequently has agreements with several shipping providers. Because a fulfillment center runs to complete B2B and B2C orders as quickly as they are placed, they require numerous firms to pick up shipments at least once a day and occasionally more as needed. This helps to ensure that orders are delivered within the client's specified time range.
According to the ways sellers send their goods, shipping providers may be required to pick up any orders with special delivery timeframes, such as same-day or next-day, at specific hours to assure on-time delivery. Certain carriers may have a regular time when they arrange pickups for both local and international cargo.
Typically, a fulfillment business will have a cutoff time for orders to the customers' preferred delivery pace. For instance, an order may need to be placed before midday to ensure next-day delivery.
On the other hand, a warehouse will often arrange less frequent pickups because it is more cost-effective to ship out all things simultaneously, despite the customers' preferred pace. The freight firms that warehouses utilize frequently demand at a specific time to pick up the items, which can cause a delay in delivery and provide the seller less flexibility in shipping rates.
How Does A Fulfillment Center Work?
A fulfillment center is a central point for all logistical operations necessary to deliver a seller's product to their buyers. It is often referred to as the order fulfillment procedure. You must first choose the most suitable fulfillment center for your company's demand and store your product inventory there. Then, interfacing your online shops with the fulfillment center systems.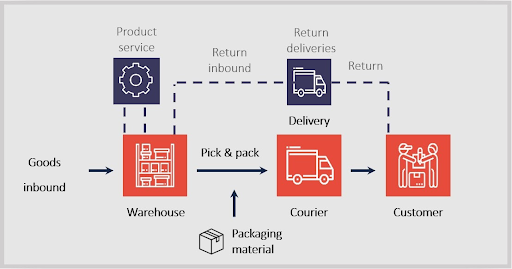 When an order is made, the provider obtains the relevant information from the seller. You should automate this procedure because it is inconvenient to manually trigger fulfillment requests every time a new order is finished on your online stores. When a buyer completes a transaction, merchandise is selected from the fulfillment center racks, packaged, and ready for distribution.
Besides, you can utilize fulfillment centers for B2B orders, which are often high-volume products supplied to bigger merchants. When a seller outsources fulfillment to a third-party logistics company, it will take care of the procedures on the seller's behalf. It can involve storing, receiving, packaging, and transporting, as well as negotiating reduced shipping rates, handling high-volume demands, and frequently lowering fulfillment expenses.
However, sellers still take responsibility for some other order processing tasks. For instance, if a client receives an incorrect product, the seller must contact the consumer to resolve the problem. At that time, payment must be handled independently because most fulfillment companies do not offer payment processing.
Benefits Of Using A Fulfillment Center
Although a fulfillment center is not a free service, it is valuable to pay. Let's look at the following benefits to find out what advantages a fulfillment center can bring to you.
Eliminate Storing Inventory And Packing Boxes
Managing a real place may not be optimal unless you are a brick-and-mortar store. There is no wonder that many e-commerce firms prefer to avoid the hassles of inventory storage and warehouse. In addition, if you do not want to package and carry the parcels to the post office every day, a fulfillment center will be a terrific option.
The first sign that you need a fulfillment center is when you can no longer maintain your growing order volume. Fulfillment services allow you to save your time thinking about packaging materials and lining up in the post office instead of concentrating on running your business.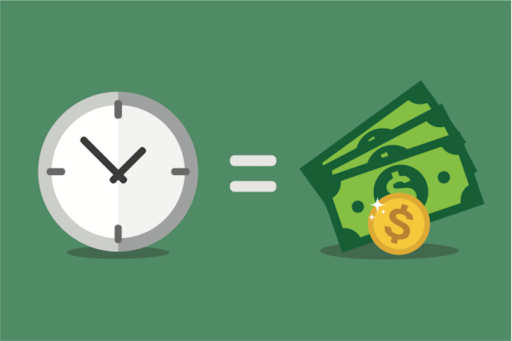 Focus On The Big Picture
Although packing boxes and delivering client orders are important aspects of gaining customer expectations, they are often chores you can outsource to 3 third-party services. Businesses and e-commerce shop owners have an unending to-do list. Therefore, they must always stay focused on the things that only they can perform and that will assist them in expanding and creating revenue.
By devoting less time to order fulfillment and more to do marketing, customer support, and product management, e-commerce organizations may become more strategic and less operational. Hiring a professional fulfillment center can allow sellers to be more aggressive in other parts of the business.
Leave It To The Experts
Logistics are difficult, and so is the fulfillment center, a complicated machine with numerous moving parts that must all function together simultaneously. Fulfillment firms are domain specialists who have seen it all, from order processing and inventory managing to peak shopping seasons.
A single fulfillment center manages operations for multiple e-commerce companies and distributes millions of orders daily. As a result of their experience and volume, they are a strategic partner. Fulfillment businesses may also achieve higher efficiency in everything from the cheap shipping prices they deal with carriers to the quantity, size, and location. The e-commerce companies can use all sources and services they collaborate with.
Automate Warehousing And Fulfillment
Modern 3PL fulfillment businesses make use of cutting-edge technologies for their management. It enables the recording and documentation of every stage of the fulfillment process in real-time. Each consumer is automatically routed from the online shopping cart to a fulfillment center for picking, packing, and shipping. Once the product has been delivered, the system will send back the tracking information to both the vendor and buyer.
A 3PL may use logistics management software to track and gather data on a seller's inventory throughout the year. This data can be used to forecast business or benchmark growth. A 3PL frequently has the technical infrastructure to offer digital tools to sellers. DCL, for instance, provides a mobile app called eFactory that allows merchants to view their inventory status, track orders, and gets updates more readily and conveniently.
Being a small company owner is a full-time job, and being able to check on shipping prices, fulfillment, and inventory from a smartphone is quite beneficial.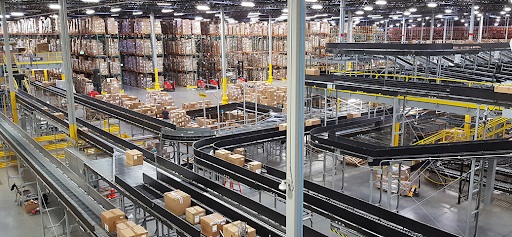 Fulfillment Centers Save Ecommerce Businesses Money
Fulfillment companies frequently manage dozens of clients under one roof at any particular time. By merging all their clients, they have far more purchasing power with their sellers. The fulfillment firm may utilize the combined volume to obtain significant discounts on materials such as shipping boxes and packaging supplies, often known as dunnage, which they can pass on to their clients.
Moreover, the merchant can avoid the expense of maintaining and employing staff in their fulfillment facility. Shipping is the single highest fulfillment cost for a seller, accounting for up to 70% of total fulfillment expenses. The advantage of the larger and more experienced fulfillment firms is that they can negotiate group discounts with shipping carriers such as UPS, FedEx, and DHL, which are then passed on to the merchants.
Outsource Inventory Storage And Management
If a seller is not a large corporation delivering hundreds of products every day, operating a warehouse may be more costly and time-consuming than beneficial. Having a distribution center to undertake these chores can help you save time and money. When a merchant can no longer manage the entering orders and send them out on schedule, it is a solid indication that it's necessary to use a fulfillment center.
Ecommerce Fulfillment Services
In the context of more customers moving their purchasing patterns from traditional stores to online, sellers must collaborate with an experienced fulfillment business with the technology and operational competence to manage their sellers' e-commerce fulfillment. From connecting to the seller's e-commerce platform, such as BigCommerce or Shopify, to having operating systems to fulfill hundreds or even thousands of e-commerce orders each day.
👉 Read More: Ecommerce Order Fulfillment Guide: Process And Strategy To Improve
These fulfillment companies should be able to expand swiftly in response to the sellers' e-commerce business's rising needs. According to seasonality and numerous promotions throughout the year, e-commerce firms frequently see huge increases in sales in a short period. Fulfillment firms should have enough area and be able to extend their workforce to fulfill the sellers' demands without losing quality or service.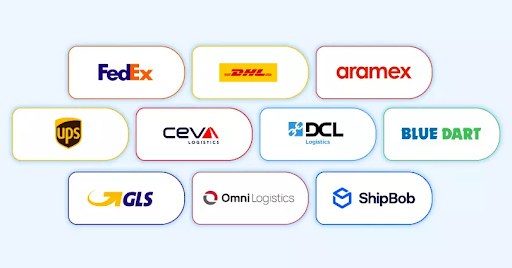 You Don't Need To Own A Warehouse
If your business owns a popular product and you are fast expanding your inventory to fulfill client demands, or you are familiar with the sense of having an overflowing inventory, whether it is in your house, garage, workplace, storage space, or elsewhere. It will be a great problem, but coming up with solutions may be a pain. When you outsource to an order fulfillment firm, the 3PL may hold all of your inventory, eliminating the need to receive deliveries, handle the items, arrange, and sort everything.
Otherwise, you can use this to free up space for corporate operations. It may also be a cheap method to enhance your bottom line. The 3PL will assist you in managing the inventory flow from the manufacturer to their fulfillment centers. They will notify you when inventory levels fall below a specific threshold and order new inventory to be transported to their fulfillment centers, lowering your expenses.
Inventory Distribution
The two most important aspects of selecting a 3PL are the fulfillment centers' locations and the distances from their locations to the majority of your clients. The shorter distance your goods go, the faster they will be delivered to your buyer, and the less money you will spend on shipping.
Nowadays, shoppers anticipate convenience and quickness when buying online. Having your merchandise stored, ready to be collected, and sent near the bulk of your consumers or in big metro regions that can quickly reach huge numbers of customers, can ensure shoppers receive their orders in the quickest period feasible.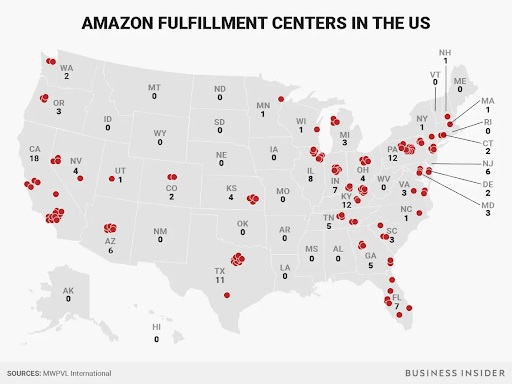 Leveraging Expertise And Specialization
A third-party fulfillment center can handle complex operations and all moving parts smoothly and efficiently. Fulfillment firms' jobs include inventory managing, order processing, packaging, and transporting. In the long term, hiring outsourcing fulfillment and logistics to an experienced 3PL saves the seller a lot of money since they have the greatest technology and partnerships for delivering things to buyers or companies affordably and swiftly.
Value-Added Services
Sellers may also use their fulfillment partner for other related services, commonly referred to as value-added services. Kitting, assembly, and returns management, for example, are value-added services or reverse logistics. Having these services at your fingertips is crucial since it allows sellers to respond to their consumers' requirements and market developments swiftly.
You can find the following value-added services in your fulfillment partner, including custom packaging and labeling, branded tape and marketing inserts, managing and automating returns, collecting products to create a new SKU and lite testing of electric products.
Conclusion
Fulfillment centers are the behind-the-scenes engine that powers eCommerce, handling critical logistics like receiving inventory, order processing, picking, packing and shipping. As discussed, fulfillment centers provide companies with scalable infrastructure, expertise and cost efficiencies. However, to fully realize these benefits, merchants need an advanced fulfillment partner capable of seamless multi-channel order fulfillment. Efex offers integrated technology connecting all sales channels for unified order management and visibility.
With nationwide fulfillment centers located near key metro areas and populations, Efex provides fast fulfillment and affordable ground shipping. Their expertise and infrastructure enable online sellers to easily scale order volume across channels while optimizing the customer experience. By leveraging Efex's end-to-end multi-channel order fulfillment solution, eCommerce businesses can focus their energy on sales growth and product innovation.