Have you ever wondered how online retailers manage to deliver your favorite products to your doorstep so quickly? The magic behind this seamless process is known as order fulfillment. From the moment you click "Buy" to the instant your package arrives, a complex web of strategies and logistics is at play to ensure your satisfaction.
In the upcoming article, we delve deep into the world of order fulfillment. We will unpack the nuts and bolts of the order fulfillment process and strategies to sucess. So, let's dive into the world of order fulfillment and unveil the mechanisms that ensure your package arrives right on time.
Definition of Order Fulfillment
What is order fulfillment? Order fulfillment refers to the process of receiving, processing, packing and shipping orders to customers.
Each industry will have its own definition of order fulfillment. Despite that, the order fulfillment process will most likely have these components:
Receiving Orders: A shop or the warehouse would get their orders from the customers via various channels. The system will then notify the customer that the order has been received and is in processing.
Processing orders: Your order will then work with the back-end system of your company or your warehouse to process the order and alert the warehouse team to pick the item.
Picking and packing orders: Once the order is processed, warehouse staff can start picking and packing the order. The order now will be handed to the shipping company.
Delivering orders: The parcel will now be delivered to reach your customer's destination. Once the package is in your customer's hands the order is fulfilled.
👉 Read More: What Is Omnichannel Fulfillment: Strategy And Model
👉 Read More: 12 Tips to Improve Order Fulfillment Process And Picking Accuracy
Each merchant may want to take care of the fulfillment process themselves or outsource this process to a 3PL (Third-Party Logistics Company) who would then handle the receiving, storing, staffing, and working with the delivery company. Choosing to work with 3PL companies is a great way for merchants who want their business to scale effectively.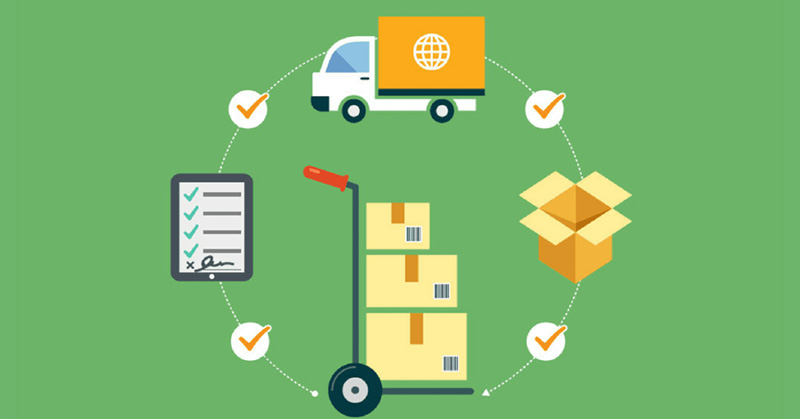 Why Do You Need Order Fulfillment?
Companies earn profits by selling their goods, services, and products to customers or other businesses. Suppose you want your products to come to your customers without any trouble. Your company must have a specified order fulfillment process with detailed steps to carry out the whole process to bring the products to customers.
- See more: Order Fulfillment Service: Benefit, Cost, And Who Should Choose
The company must illustrate the process in an order fulfillment flowchart to help your employees understand how your order fulfillment works to follow these steps to help the company be better.
An effective order fulfillment process will bring reputation, profits, and clients to the company.
Order Fulfillment Process Chart (7 Steps)
The order fulfillment process usually occurs in one or more distribution centers. It normally includes inventory management, supply chain management, order processing, quality control, and support for customers who need to report problems or exchange or return products.
The order fulfillment flowchart below shows the standard order fulfillment process steps you should consult.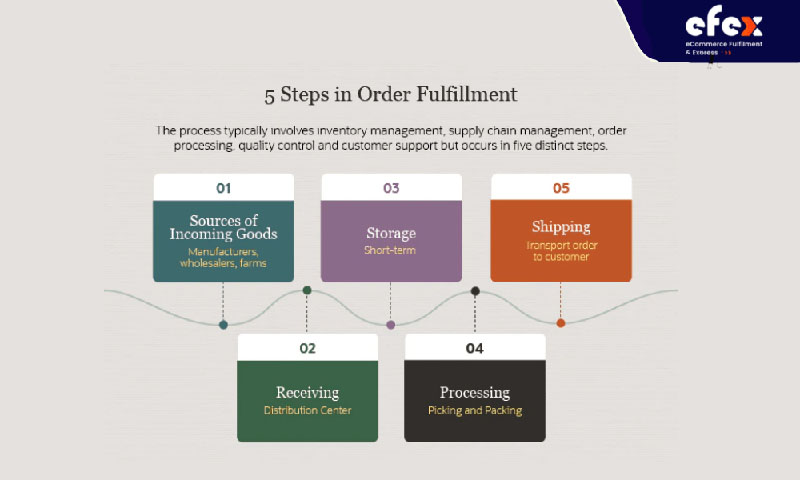 Receive the inventory
The first step of the order fulfillment process is to receive goods from another company, a third party, or a warehouse. It could be a pipeline, digital data from a database, or various forms from other internal or external sources.
Counting Inventory
When receiving goods, you have to count the inventory carefully to confirm that the quantity of products imported matches the number of products ordered by the manufacturer or supplier.
Inspect for Accuracy
You need to confirm that the received proper amount and the quality of goods are acceptable. Keep tracking the order accuracy rate and ensure that the rate is always as high as possible whenever packing or picking goods. Re-checking the number of goods is also necessary.
Inspect for Damage
Checking the quantity and the inventory for quality to assure that the goods are not damaged when imported to the storage. It helps to avoid transporting damaged products to customers.
Add Item To Inventory
After checking the quantity and quality of goods, you have to add SKU or bar codes to every good and save it as data to warehouse management software. It can help to control the number of products easily.
Apply SKUs
Then, you must import the products' SKUs or bar codes into the order fulfillment system software to support tracking the receive, store, and retrieve goods from internal storage later status conveniently.
Inventory Storage
This step of the order fulfillment process is vital because it directly affects picking speed. Once the warehouse has received the inventory fully, they would start storing their inventory.
How the warehouse stores its inventory also requires you to plan ahead to achieve lean efficiency. Business owners and warehouse key persons should never gloss over this aspect since how people organize their storage space will determine the speed and accuracy of picking.
Most warehouses should benefit from organizing their goods by SKU. This helps ensure that the right items can be easily picked and moved to the next steps. This simple technique would also eliminate human errors and make sure the picking and packing are processed quickly.
Any merchants who have worked with a big amount of SKUs or product lines will know that failing to organize's one inventory is a deadly mistake. Don't wait until a severe mistake happens before you start organizing your warehouse properly.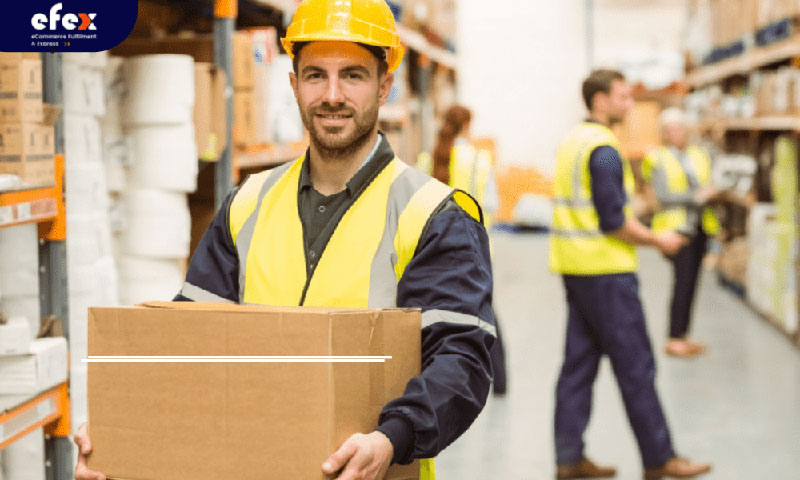 Hot SKUs
You can enable the Hot SKU feature to support reducing the level of inventory item lock. Two Hot SKUs used for the optimization are the Hot SKU feature with lock request timeout and the Hot SKU feature without lock request timeout.
The hot SKU feature with lock request timeout will limit the time the lock request blocks later transactions to reduce the amount of lock holding time. The opposite one tracks the time to lock inventory items records.
Order Processing
The order processing system takes responsibility for managing all the order processes. It dictates the picking or packing status of the products for each order.
Picking
The picking teams or robots will select items according to a packing slip's instructions which contain specific information like product colors, sizes, number of units, location within the distribution center's warehouse, or a list of items SKUs.
Packing
Packing is where all of the items picked in the previous steps get wrapped up so that they can spend their time in transit protected. This process requires staff to choose the right packing material based on the items being ordered. Depending on the merchandise and the goods, the packing materials and the goods could include bubble mailers, poly bags, packing tapes or air-fill, etc.
If you are handling fulfillment on your own, you should make sure that you have your ancillary material ready. These items are quite essential and would cause a huge delay if anything is missing.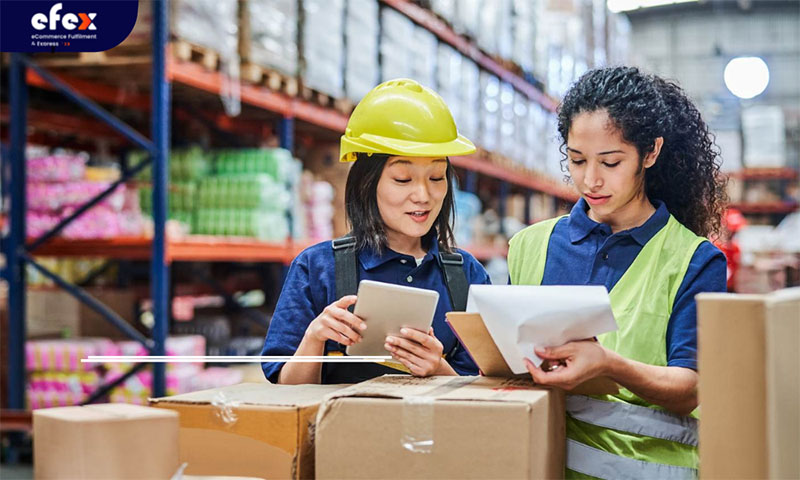 Shipping
There can be many ways to ship a package, but nowadays people usually expect it to be speedy and free of charge. This is where you need to pay attention and do your homework on the most suitable shipping company.
You should evaluate all of the options available when it comes to shipping. Understanding all of the available options would also help you steer your customer to the right options based on their budget and the duration they are willing to wait for their package.
If you are using a 3PL, a shipping service will pick up your order from the fulfillment center. If however, you are doing everything by yourself, you might have to visit your UPS or post office every so often so that your order reaches the clients at the estimated arrival time.
Once the order has been taken care of by a carrier service, your clients should be notified of the tracking number so both parties can keep track of the delivery status.
Return Processing
The return processing does contain quality managing checks and sorting returned products. Returned products are returned to manufacturers for a distributor refund, restocked, or sent to a recycling center.
Online shopping does not like traditional shopping, where customers can see the merchandise through images and videos. It causes an issue that many customers are not satisfied with the products once they receive, and want to return the products or exchange others.
Therefore, return processing can not be underestimated within the order fulfillment process. A reasonable return policy will affect the customer's buying attitude for the following time.
Order Fulfillment Challenges
There are a lot of order fulfillment challenges in the order fulfillment. It contains these four main challenges expanding from inventory management, demand planning, logistics planning to supply chain execution.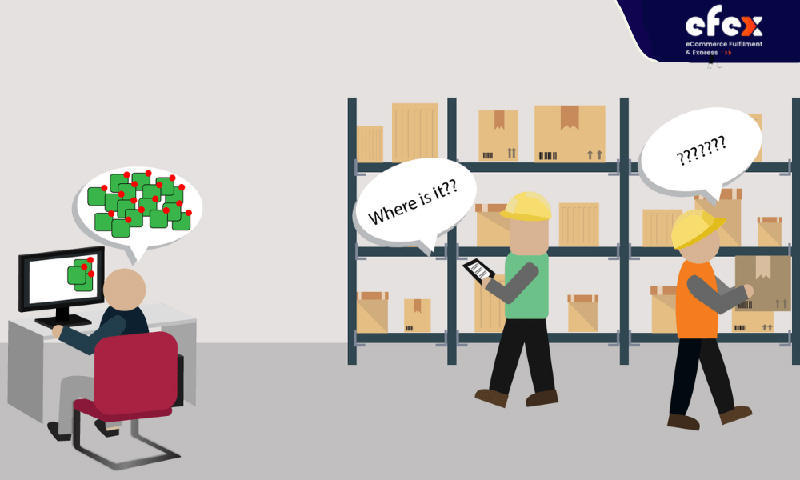 Inventory Management
The issue that most businesses have to face is running out of stocks. It will lead to failures in managing customer experience and customer dissatisfaction and harm the company's reputation. How disappointed would customers be when the products they want to buy are always in the out-of-stock status?
However, if the reasons for shortages and delays are caused by nature, like weather events and natural disasters, it would be different. Customers tend to forgive for the shortages in situations like that.
Demand Planning
Stocking a large amount of readily available is not a good idea and is even risky.
First, it will increase storage and carrying costs because you need to have enough space to store all those stock.
Second, customers' demands fluctuate constantly, so if the company store too many stocks, it can lead to the problem that customers may no longer need them before the company can sell their products.
It is critical to carefully forecast and plan for demand levels to keep an acceptable amount of goods in stock without storing too many or too low products.
Logistics Planning
If a business does not have careful logistics planning, it would cause many problems and damage its reputation, future sales, and profits.
The business should prepare logistics plans for various situations. They can be any problem like wet packaging, broken items, slow or missing deliveries, and so on during the order fulfillment process.
Supply Chain Execution
Creating a supply chain execution strategy requires the companies to evaluate the cost versus benefit tradeoffs regarding operational choices. There are many ways to do that.
For example, a company can choose a distributor to gain price breaks or priority status. But the risk is that if the vendor gets into trouble, the company will not be able to adapt to customers' needs.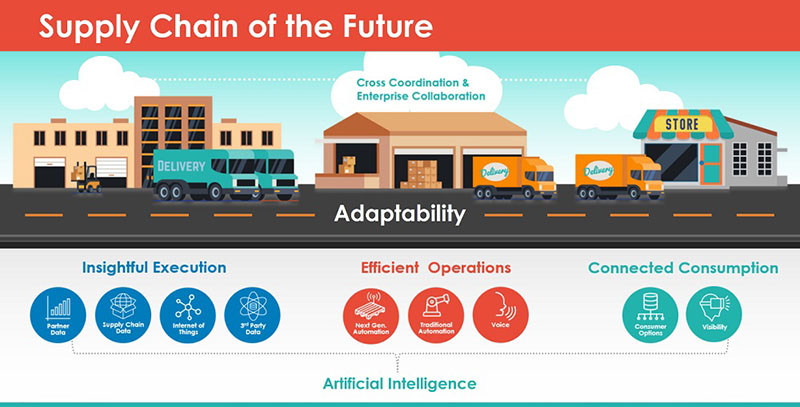 Supply chain execution plays a critical role in the supply chain. It helps the company manage material, track the physical status and movement of goods, track data feeds and data shares, and control financial transactions among all parties.
Today, supply chain execution uses numerous applications like warehouse management, transportation management, order management, inventory management, and logistics software.
No order fulfillment process works for every business. Whether you choose a third-party logistics company or an outsource company or use a hybrid warehouse fulfillment model, your goal is to find the right process that meets your company's demands and your customers' expectations..
Choosing an Order Fulfillment Strategies
Order fulfillment has many steps and involves many moving parts. However, there is no singular one size fits all solution for every situation. Each enterprise and organization will have to figure out the most suitable strategies.
In-house fulfillment: This solution requires you to execute all steps within the fulfillment process by yourself. If you decided to take on this endeavor, you must make some investment in the warehouse, pay staff, buy software as well as integrate all moving parts together.
Third-party fulfillment: This is the go-to option if you and your business don't want to handle orders in-house. Choosing a third-party solution will save you from bearing the cost of initial investment and free up time so that you can focus on other aspects of the business like marketing and product development. Partnering with a third-party logistics company (3PL) will help you cut down the mental energy spent on the complex process of order fulfillment.
Most businesses will start out using their in-house resource to handle all of the orders. This usually happens when a business has more time on its hands than the available cash. However, if your business is growing at a two-digit scale. It may be time to rethink your order fulfillment strategy. Two reasons most often cited when business owners decide to switch to the outsourcing model are spending too much time or spending too much money.
If all the order fulfillment steps are taking up your time, affecting your mind space, and limiting your ability to take care of other facets of the business then you may consider a 3PL. Another scenario is that your warehouse location is too far away and there is not enough warehouse location to keep your shipping cost at an acceptable range.
- See more: Order Fulfillment Cost: All of the Fees You Need to Pay
Working with a 3PL that can help you leverage multiple warehouse locations and discount shipping costs will be a reasonable choice for your bottom line and customer satisfaction. Currently, Efex also provides All-in-one Ecommerce Fulfillment Solution to unbox all your worries and help your business thrive. You can refer to more information about Efex here!
- See more: Ecommerce Order Fulfillment: Ultimate Guide in 2023
In conclusion
Order fulfillment is a complex process that requires careful planning and execution across receiving, warehousing, order processing, picking, packing, shipping, and returns. As outlined, there are many steps and challenges involved in getting orders efficiently from warehouses to customer doorsteps. Companies must balance inventory, demand planning, logistics, and supply chain execution.
When business growth makes in-house fulfillment overly time-consuming or costly, outsourcing to a 3PL like EFEX can be prudent. EFEX provides e-commerce order fulfillment solutions to handle warehousing, order processing, packing and shipping so companies can focus on other aspects of their business. With expertise in streamlining fulfillment and leveraging multiple warehouses for efficiency, EFEX is an option worth exploring for any merchant seeking to optimize your order fulfillment process!