Order fulfillment software is a familiar e-commerce solution that can process orders from customers and prepare them for shipment. An order fulfillment software enables to automate the order fulfillment process with the highest accuracy within the lowest amount of time necessary. It is often combined with warehouse and transportation management software to create a supply chain execution system that offers businesses the most effective order fulfillment software.
The below part shows you the top 15 order fulfillment software in 2023 with various features and functions that may suit every business. Wait anymore, let's read it out.
ShippingEasy
ShippingEasy is evaluated as the best order fulfillment software for its easiest online shipping, inventory, and customer marketing platform for e-commerce sellers that many business owners use.
👉 Read More: Order Fulfillment Service: Benefit, Cost, And Who Should Choose
👉 Read More: Ecommerce Order Fulfillment Guide: Process And Strategy To Improve
It can integrate from over 50 marketplaces and stores, connect to your UPS/FedEx account, and reduce costs with the lowest available USPS shipping rates. It is best for e-commerce merchants and brick-and-mortar merchants to transition to online selling. ShippingEasy has a free trial for a month, and then users have to pay for each month. There are a lot of price rates for you to choose from depending on your kind of business and your needs.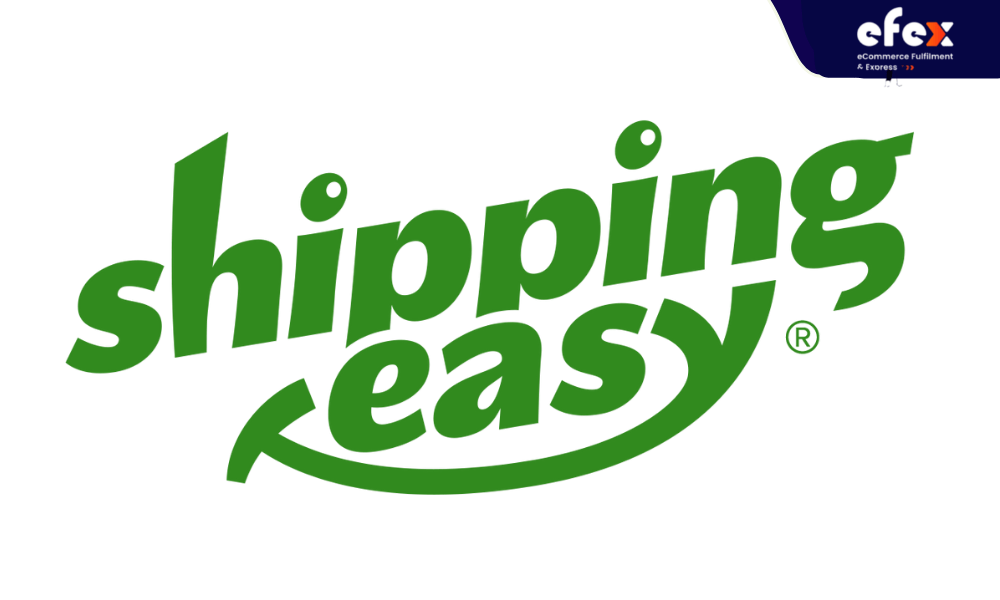 Pros:
Good customer service
Friendly use
Easy to use alongside other devices
Ease of adding shipping fee for orders which do not be sold through these channels
Cons:
Connection service sometimes glitches
Verifications are a bit difficult
Price:
| | | | | | |
| --- | --- | --- | --- | --- | --- |
| Starter | Basic | Plus | Select | Premium | Enterprise |
| $5/month | $29/month | $49/month | $69/month | $99/month | $149/month |
NetSuite
NetSuite is another best fulfillment software invented for accounting using cloud computing that is widely used by any company in any industry, whether it is a small company or a big company. It gives a complete perspective on financial performance and cash flow analysis. Its features include cash management, tax management, fixed asset management, payment management, accounts receivable and payable, and general registers. Because of using cloud computing, NetSuite does not need to install or download any software to the computer.
Besides, NetSuite has an app available on Android and iOS devices for users to use anywhere.
Pros:
Customizable user interface
Ease of use
Support multiple locations, currencies, and internationalization to access in different subsidiaries
The database meets the demands of any size company
Can integrate with many third-party systems
Cons:
Salesforce integration is unavailable
No free trial or free version
Expensive price
Price: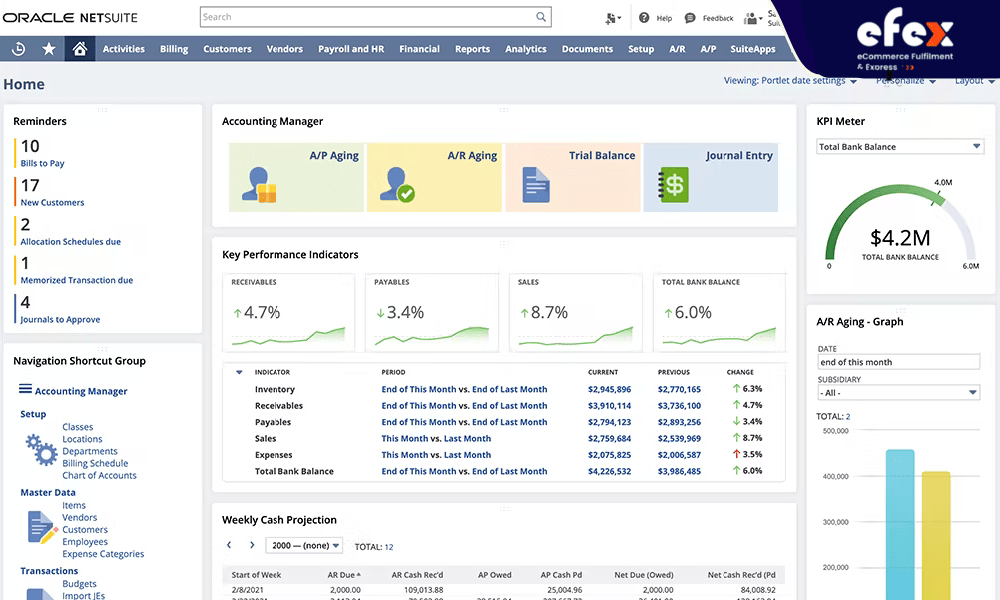 ShipStation
ShipStation is a multichannel shipping, multi-carrier software created to expedite the shipping process for online retailers. Batch shipping, discounted shipping rates, customer and inventory management, and custom branding features help to streamline the order fulfillment process. You need to import your orders from over 60 selling channels, and then ShipStation will automatically apply configurable presets and shipping options for you to choose from. It will transmit shipping statuses and tracking information to each channel after creating shipping labels or sending your orders to a fulfillment company.
Moreover, this software also simplifies managing customer communications by customizable packing slips, email, and tracking page templates to provide an awesome experience to customers.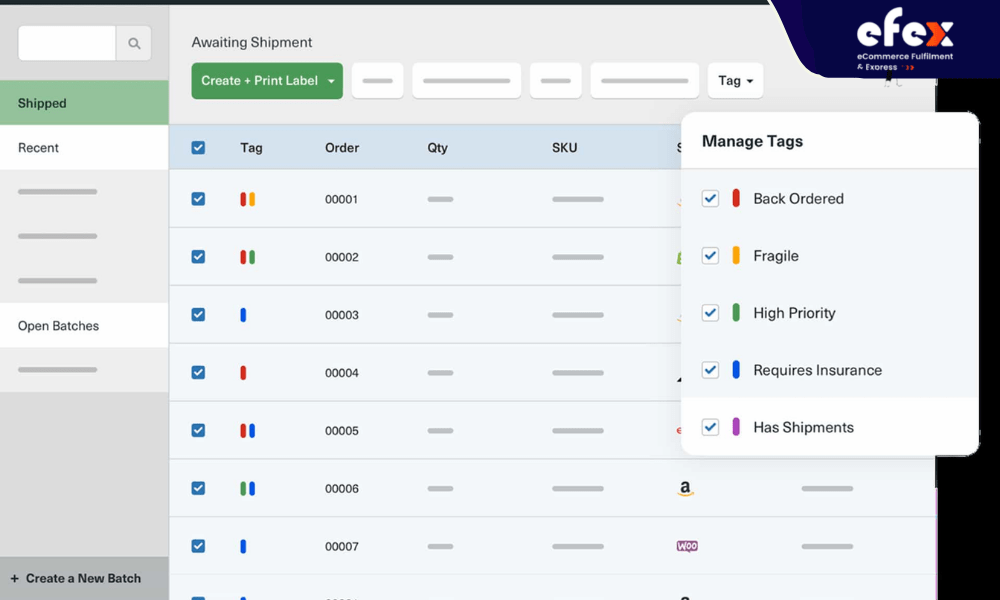 Pros:
Simple manipulation and navigation
Being able to link to other platforms
Effective automation setting up shipping rules
Cons:
The system sometimes get hung up
Unethical billing
Price:
| | | | | | |
| --- | --- | --- | --- | --- | --- |
| STARTER $9.99/ month | BRONZE $29.99/month | SILVER $49.99/month | GOLD $69.99/month | PLATINUM $99.99/month | ENTERPRISE &159.99/month |
| 50 shipments/month | 500 shipments/month | 1500 shipments/month | 3000 shipments/month | 6000 shipments/month | 10000 shipments/month |
| 1 user | 1 user | 2 users | 3 users | 5 users | 6 users |
| Branded | Branded | Customized | Customized | Customized | Customized |
| Labels & Packing Slips | Labels & Packing Slips | Labels & Packing Slips | Labels & Packing Slips | Labels & Packing Slips | Labels & Packing Slips |
| E-mail & Community Forum Support | E-mail & Community Forum Support | E-mail & Community Forum Support | E-mail & Community Forum Support | E-mail & Community Forum Support | E-mail & Community Forum Support |
Stamps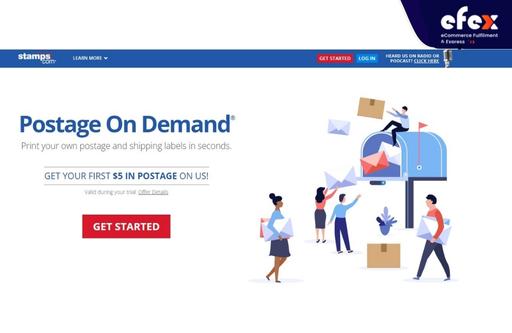 If you are too bored with going to the post office and waiting for your turn to send your parcels, Stamps.com would be an ideal alternative that you should try. It is like an online post office designed to assist eCommerce sellers, small to medium businesses, and online retailers print USPS-approved postage and shipping labels.
The system lets you track postage printing for various clients by customizing stamps, transporting labels, and assigning codes and envelopes. Administrators can automatically import orders from different selling platforms, select the shipping plan, and share shipment tracking details with customers.
Pros:
Easy and convenient to use
Be able to print stamps, shipping labels
Save time going to the post office
Improve the paperwork process
Cons:
Have to pay for many services including postage rates, membership fees, and purchase of paper to stamp on
Price:
Fishbowl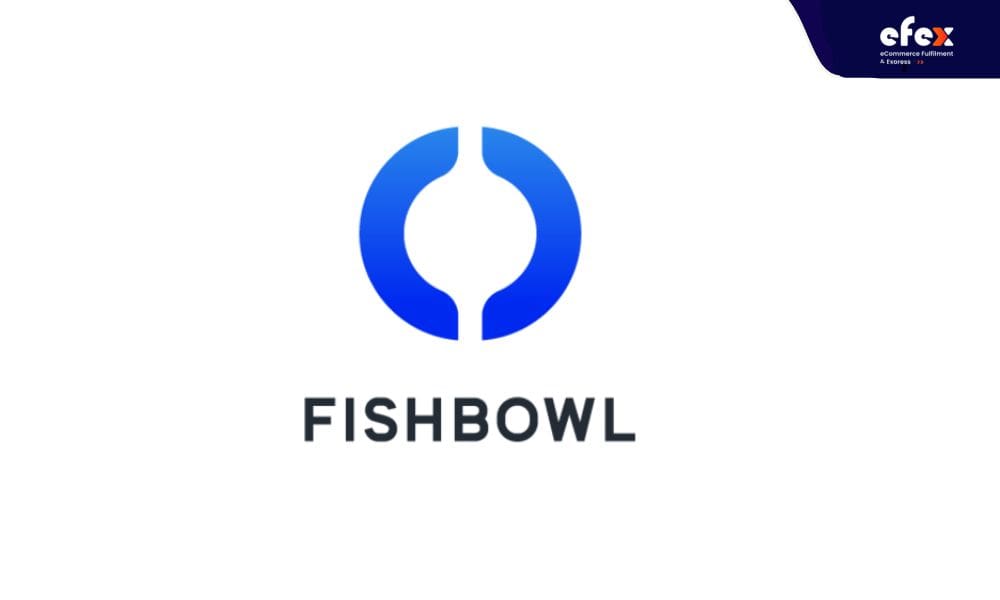 Fishbowl is an order fulfillment software for small businesses designed for manufacturing and warehouse management. Similar to NetSuite, it is deployed on-premise or hosted in the cloud. Fishbowl's functions include inventory management, job shop floor control, work order management, material requirements planning, manufacturer orders and bills of materials, barcoding, and others.
Pros:
A powerful tool to manage orders and track inventory
Ease of analyzing manufacturing process
Great assisting in production planning
Cons:
The report feature does not work well
The user interface is not friendly to users
Price:
Cin7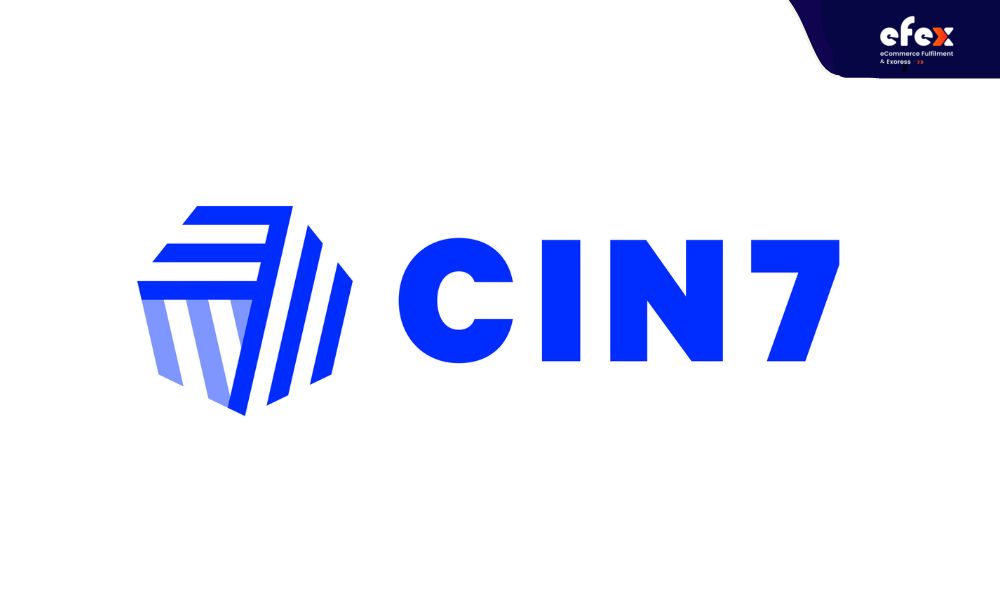 Cin7 is an order software fulfillment best for configurable inventory and order management solutions for scaling product sellers. The special of Cin7 is that it can handle your unique operational requirements easily, but it still costs effectively, which no other software can do.
👉 Read More: Order Fulfillment Cost: All of the Fee You Need to Pay
It is developed to oversee complex combinations of D2D and B2B sales channels, EDI connections, 3PLs, and stockrooms. Cin7's team will base on your business operation and then design and implement the most suitable solution for your business. The businesses like omnichannel wholesalers, retailers, light manufacturers, and importers can use this cloud-based order fulfillment software.
Pros:
Design plans according to the company's situations
Dependable to help the business get launched or expand to new markets
Keep track of virtual bundles
Cons:
No longer in Shopify
Difficult to pick or pack slips and zone regions
Price:
Quickbooks Commerce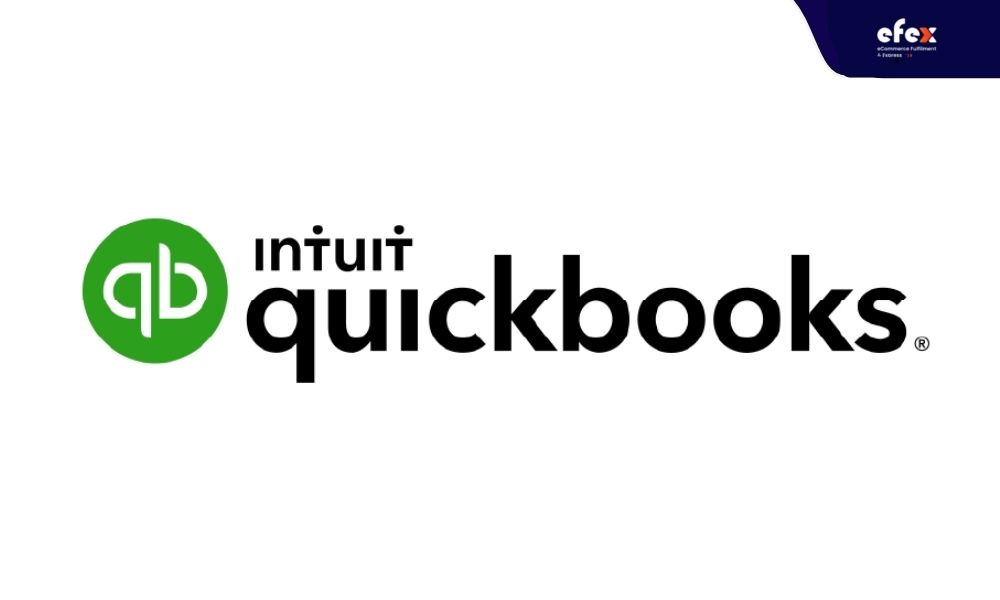 Like other order fulfillment software, Quickbooks Commerce allows you to manage orders and inventory for your multichannel business, trace your products, and sell and restock across multiple warehouse channels and locations. Brands can automate and integrate their commerce platforms on Quickbooks Commerce. Besides, they can get all their sales data in the most detailed way whenever required.
Pros:
Can find everything in one location provided by the software
Reduce streamlines inventory management and double entries through the connectivity
Helpful customer service
Easy access to all-region in the system
Cons:
Limited on putting multiple categories to products
Cannot report on consumption of sold SKUs within a BOM
Price:
Zoho Inventory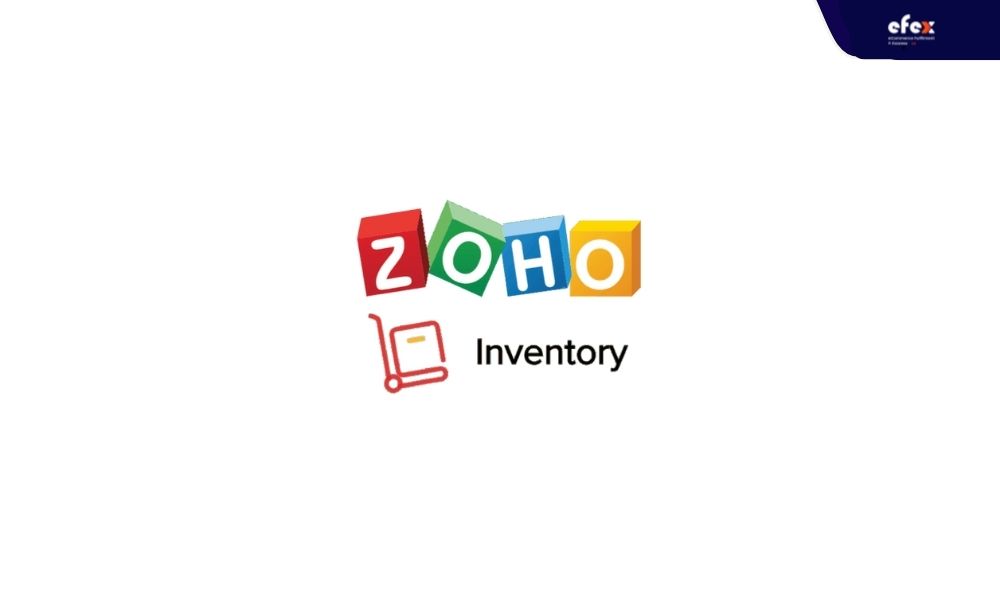 Zoho Inventory is an online application that allows businesses to manage inventory and orders like any different order fulfillment software for small businesses. It is available on both iOS and Android mobiles. It is reasonable for small-sized businesses, for example, e-Commerce, Online sellers, Retailers, Wholesalers.
Users can optimize their inventory and order management directly from buy to packing and payment depending on multichannel selling, delivering integrations, and powerful inventory control. Pros:
Approval hierarchy feature is high-appraised
Professional-looking and customizable interface
Provide a strong inventory system
Be able to handle well in-stock following and creating sales orders and invoicing
Cons:
Doesn't work like a typical stock system
Lack of integration partners
Price:
Not provided by the vendor
DiCentral
DiCentral is a cloud-based order fulfillment software that supports businesses handling the entire supply chain lifecycle via electronic data interchange, warehouse management, accounting, and dropshipping. This software is suited for various businesses in third-party logistics, distribution, manufacturing, finances, e-commerce, merchandising or retail, IT, and more. Its features include data format translation, EDI testing, forecasting, order fulfillment, tracking, exception management, and multiple massaging formats.
DiCentral can automate the process of handling transaction data, inventory management, and product quality. Further, it also allows the business to frequently update functional acknowledgments, purchase orders, and product features.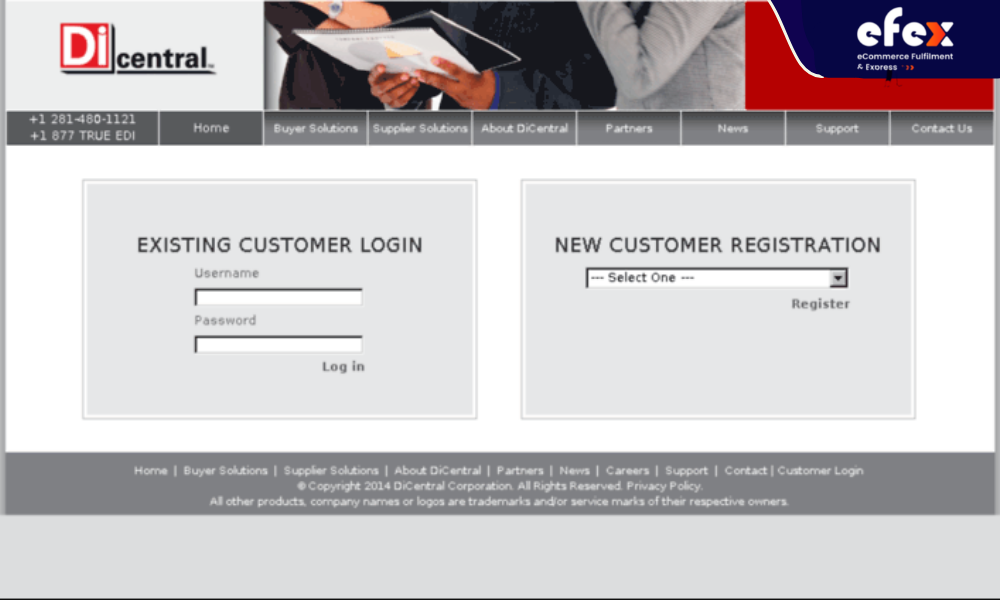 Pros:
Can coordinate with a variety of third-party applications
Friendly and productive platform
Fantastic client care for implementation and ongoing needs
New employees can adapt quickly
Cons:
Complicated ship notice/manifest for new users
The Ui is outdated
Price:
ShipMonk
ShipMonk is a comprehensive ERP solution with wide features. It is rated as one of the work-well order fulfillment software for small businesses. It provides a multichannel order, inventory, and warehouse management solution that support businesses to reach sustainable and scalable growth.
This cloud-based order fulfillment software is strongly suggested for new businesses, subscription box companies, e-commerce businesses, and crowdfunding campaigns.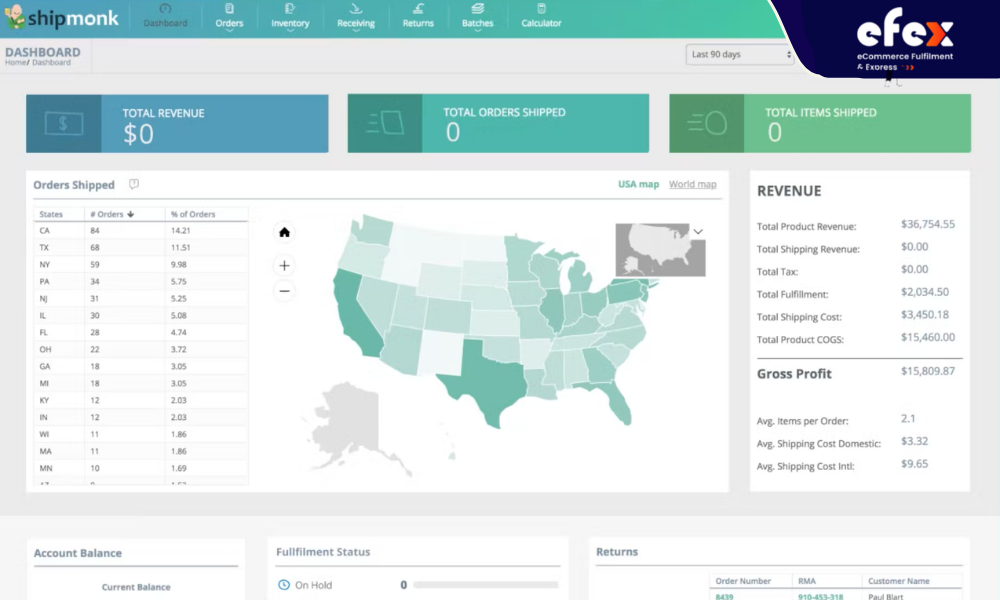 Pros:
Easy to use
Agreeable price
Provide much free advice for marketing, operations, and new markets expanding by the Shipmonk team
There is a service to pick, pack, and ship goods for business owners
Cons:
Non-refund shipping cost for the lost packages
The payment platform is not good
Price:
Brightpearl
Unlike all listed order fulfillment software above, Brightpearl is an omnichannel-native used specifically for retail. It provides SKUs, channels, reporting, orders, and financials. The software is quite suitable for large-size companies or multi-million dollar merchants. It has reliably handled peak trading and integrated the full retail tech ecosystem with real-time trading insights. It is all automated, so you can easily manage and control it.
Brightpearl has an in-house group that is always ready to support installation, support tech issues, and consult continuous business.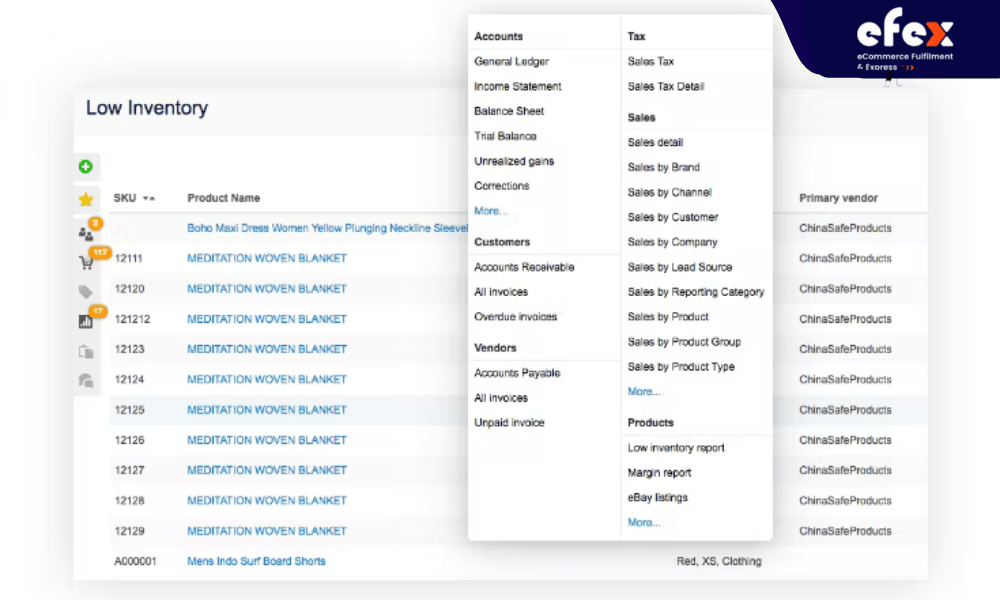 Pros:
Designed for merchants to use
Retail-focused features
Collect all the data into one place, which helps users are easy to access
The support team resolve cases quickly within hours
Cons:
Not suitable for manufacturing companies
Not a good option for an inventory management
Price:
Not provided by the vendor
Shipwire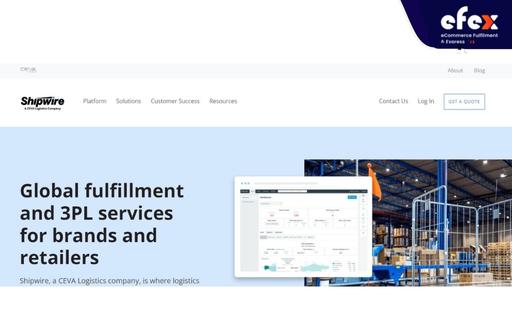 Shipwire is cloud-based order fulfillment software that helps thousands of brands and online retailers to control their order fulfillment operations. The platform can help you connect to fulfillment centers, shipping tools, web services, and innovative developer tools and is integrated with top e-commerce platforms. Shipwire's dropshipping automation system does it best for businesses in the retail industry. It provides methods for order fulfillment, inventory management or visibility, and supply chain processing.
Pros:
Free trial and free version are available
Easy to use with an extremely friendly interface
Cons:
The application version is unavailable
Lots of hidden fees
The system does not work effectively
Price:
TradeGecko
TradeGecko is an order fulfillment software for small businesses that concentrate on supporting these businesses to manage their inventory and operations in simple ways. It is an easy and efficient inventory and order management solution. It assists companies in organizing payments, orders, products, and information in the same place. Yet, it's a tool for tracking all the complicated components of operating a business.
TradeGecko not only offers manufacturing and inventory support, order management, and shipping systems but also offers powerful payment systems and accounting tools. Besides, the software has various extra features that customers can use alongside the inventory system for order fulfillment and relationship management.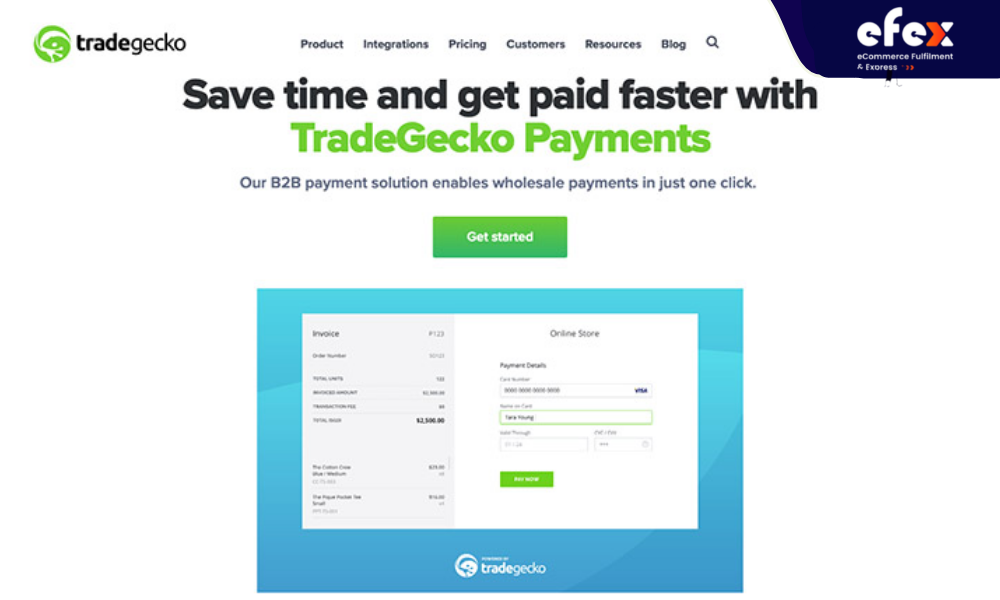 Pros:
Easy and quick payment experience
Ideal for multichannel sales orders
Automation components to simplify workflows
Powerful integration with other tools
Worth for money
Cons:
Poor customer support
Software bugs happen occasionally
Price:
Not provided by the vendor
Veeqo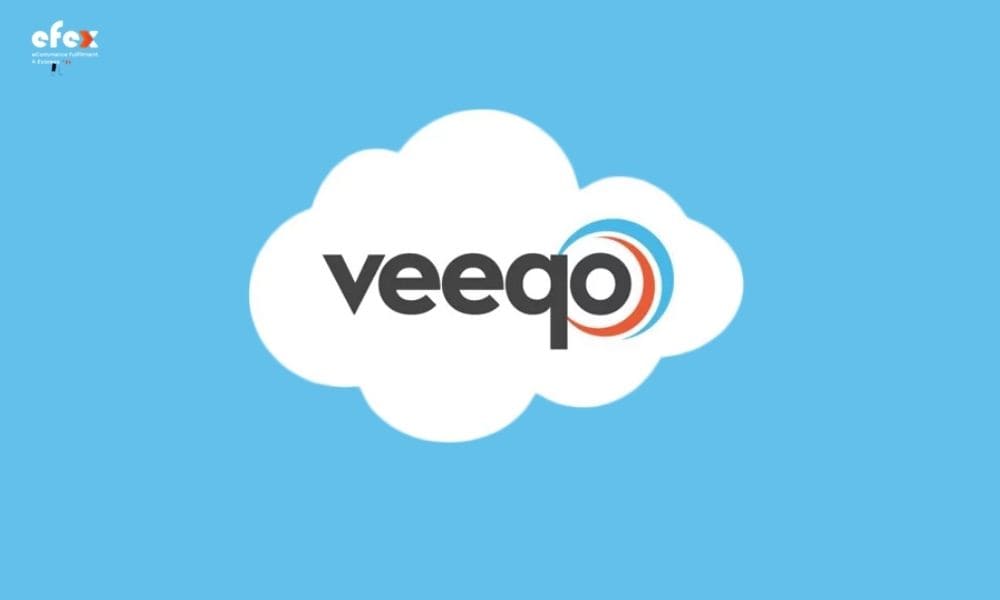 Veeqo is a POS platform with advanced shipping, warehouse management, and accounting tools. Its reporting tools are evaluated well indeed. Businesses often use it to maintain acceptable stock levels and facilitate the delivery of items upon their sale.
Pros:
The app version works effectively and makes it extremely mobile
Features are developed constantly
Can sync stock from various selling channels
Cons:
Price may not fit small businesses
Customer support service is not good
Price:
Not provided by the vendor
Bizautomation
The last one on this list is Bizautiomation - a cloud-based ERP order fulfillment software for small businesses. Its features include order management, inventory, accounting, customer relationship management, sales commissions, e-commerce, project management, and purchase planning. It is designed for smaller wholesalers or distributors and retail businesses with simple manufacturing demands.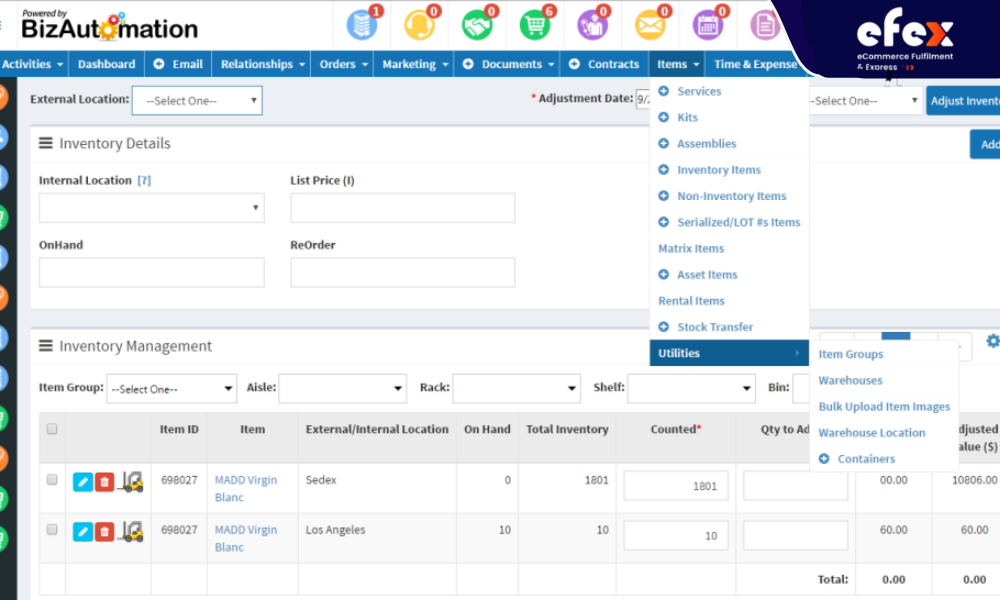 Nice and modern user interface with a customizable dashboard
Strong accounting and inventory management
Flexible implementation process
Cons:
No phone app to sync CRM data
Expensive price
Price:
👉 Read More: Top 10 Secret Order Fulfillment Strategies for Small Business
👉 Read More: Top 10 Best Order Fulfillment Companies For Boosting Your Business in 2023
Most of the software listed above does have a free trial and belongs to order fulfillment software for small businesses. Some software has a free version, but it will limit many features that we would not recommend because the free version does not help run your business well like the paid ones. We hope this review can help you save your time and money to choose the most suitable order fulfillment software for your business. However, you can visit EFEX – a cross-border fulfillment at multi-market provider in Vietnam, promisingly bringing you the best order fulfillment software to manage a warehouse effectively.