When people's shopping trends are gradually changing due to the objective impact of the epidemic. Omnichannel retail is emerging and becoming a way to boost sales and expand the market. So what is omnichannel retail, how good are omnichannel retail statistics, and what are its benefits? If you also need to learn the above questions, this article will give you the most detailed and accurate information on this topic.
What does omnichannel mean in retail?
In the retail industry, Omnichannel Retailing (OCR) is considered an all-integration in one commercial system. This method provides buyers with a unified buying experience across all channels such as social networks, web, TVC, and in-app advertising). Simply put, which channels do you promote your products, customers will also know you through those channels.
👉 Read More: What Is Omnichannel Customer Experience: Example and Benefits
👉 Read More: What is Omnichannel Retail Strategy? How to Make it Awesome
👉 Read More: What Is Omnichannel Fulfillment: Strategy And Model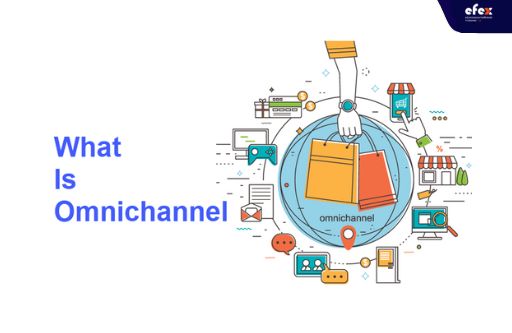 Customers will feel satisfied and their purchasing power will increase if they can buy the product they want in the channel they like. This has specific research that 14% of customers will spend more money on shopping at an omnichannel sales campaign. Having a successful Omnichannel sales campaign will also require a lot of customer service, inventory, and sales experience to be consistent across every channel that you want to integrate. This may sound difficult, but you will be relieved by the help of data analytics and IT infrastructure in tracking customer metrics such as exposure to the campaign, time of interaction, and the ability to convert from advertising on social networks to visiting websites and applications. Besides, there are also necessary services such as customer counseling, email answering, ...
Various media of Omnichannel
On the market today, there are many different channels to help multichannel organizations expand their scope of activities and optimize access to customers.
Marketplaces
To gain a competitive advantage over your competitors, making use of different online marketplaces is not to be missed. Businesses can increase their position compared to other competitors, thereby increasing profits for the company by integrating multi-user online sales channels into their omnichannel sales system. Typical for such channels can be mentioned as.
Amazon
Amazon is currently the largest sales channel in the world. Therefore, Amazon is definitely the most typical sales channel plan that should be chosen for integration into an omnichannel sales system. According to statistics, if your business integrates Amazon into your system, you will enjoy great benefits such as:
About 2.45 billion unique visitors monthly, approximately three times that of the company behind.
Amazon's fast and reliable execution center, and you and your potential customers will be supported wherever you are.
There are nearly 200 million Amazon Prime members.
One of the largest retail data collection centers in the world.
Walmart
The advantages that your business benefit if integrating Walmart into its omnichannel sales system are undisputed:
Huge user size with more than 120 million unique visitors to Walmart.com every month.
Ability to deliver and return goods quickly. Besides, there are attractive utilities such as receiving goods where customers want, a simple return policy, and free delivery the next day, ...
A tool that helps in promoting products when Walmart has a large investment in advertising, analytics, and reporting.
Compared to Amazon, the number of customers visiting this website is 13 times that of Amazon per month. It is this growth that has made Walmart a large position and less subject to the storm by sellers than in existing markets.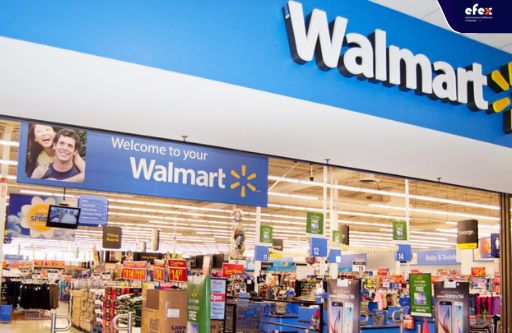 Mercado Libre
Latin America is currently a market with e-commerce growth of up to 100 billion dollars by the end of 2022. Therefore, the potential of the e-commerce market here is huge. Considered "the Amazon of Latin America", Mercado libre will be a potential assistant for you if you have the ambition to grow in that region. Mercado Libre is currently the No. 1 market in Latin America with operations in 18 countries and territories. The number of people shopping on this site is 65 million people.
Wish
Wish will also be an option that businesses should consider. With the most downloads from more than 120 countries, Wish will provide a diverse and diverse customer base. In addition, Wish also provides you with free integration and account management services for sellers on BigCommerce. With Wish's integration, you get a dedicated account manager to assist with advertising, listing, impressions, and sales.
Social commerce
To increase their visibility to customers, businesses can also integrate sales on traditional social media such as Instagram, TikTok, and Facebook. Using social media as an advertising tool will help them be proactive in reaching more potential customers, especially in markets that businesses have never exploited. Therefore, the marketing of all businesses today always includes social networking sites.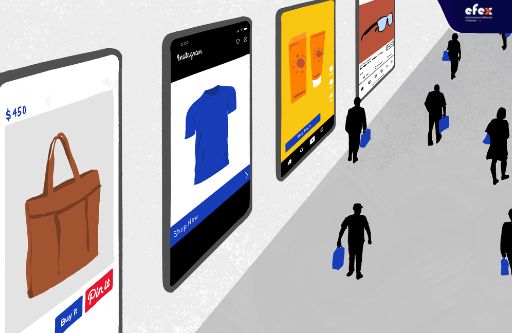 For example, Facebook - one of the social networks with the most users in the world has created a marketplace of its own. Users at Facebook can shop and exchange goods on Facebook Marketplace. There is also a social networking site that is emerging as an omnichannel retail trend, TikTok. With a huge number of users and visitors spreading across most countries around the world, TikTok is an important commercial, marketing, and advertising channel in the multi-channel sales system of each business. Karma. At TikTok, users can get to know your business products through the reviews of famous people with high followers. Besides, TikTok has also developed TikTok Shop to expand the market on this website. Based on studies showing that 73% of users will buy products that they search for and see on social networking sites. 66% of young people of generation Z will consult user reviews about the product before buying. Therefore, having a good marketing campaign on social networking sites will definitely help businesses get more revenue.
Search
It is well-known that today the number of people using Google on a daily basis is huge. Therefore, there should be ads on Google that will optimize omnichannel retail, help generate customer reviews and motivate them to buy the products that the business offers. There is scientific evidence that if you don't use Google as your advertising method, you lose your chances of success: 75% of consumers globally used Google products in the last week to assist with their shopping. According to a survey of shoppers, 59% use Google to research purchases they intend to buy in person or online.
Why is Omnichannel Commerce Valuable for Retailers?
The value of omnichannel sales was really confirmed during the time Covid-19 was rampant around the world. Human shopping trends have changed when they are no longer going out and having direct contact with products and sellers but gradually being in different numbers. To learn more, you should refer to factors that make multichannel so valuable for businesses.
Go where the clients are
Covid-19, though unable to prevent human trading as we do, sees how it has changed and navigated the ways we transact. And that change has created good conditions for multi-channel development.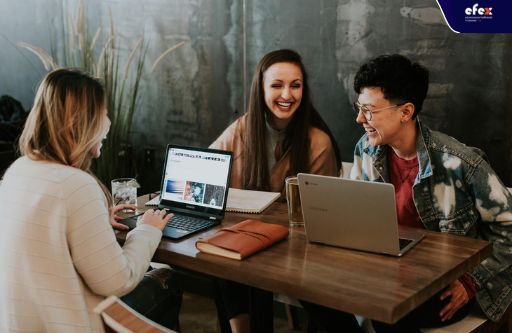 E-commerce has since become stronger as the demand for people buys more and more in this market. Social channels also grasp these opportunities to create separate markets within the system to give users a space to exchange and shop with many different gadgets. In the past, people's shopping was relatively similar when they saw the ad online and went to that store to shop. But now, shopping has a big difference as people can discover completely new brands on e-commerce sites and also place orders right there. With the integration of additional customer address information, the customer shopping experience will be faster and simpler. Convenience is always what all businesses aim for in terms of customer satisfaction. According to a survey conducted by NRF, in the past 5 years, the proportion of people who believe that convenience is most important. Therefore, omnichannel selling is the best means to bring a convenient experience to customers. And that creates success for a business, big or small.
Make it stand out in a large market
Because there are many businesses that are integrating multi-channel sales on the direct trading floors. So creating prominence will help businesses create more attention for customers, more customers know, and the transaction rate will also increase. The integration of online sales is also a great opportunity for small and medium businesses to compete with stronger competitors. Especially large businesses but do not want to leave the traditional selling. In fact, there are many truths and failures of not adapting to the market. Currently, there are also many successful businesses that only serve customers online without a physical store. In order to compete with competitors in the same retail sector, you must seize every opportunity to create a breakthrough in advertising. Therefore, switching to omnichannel is one of the things that you must definitely do. Because it both helps boost the purchasing power of existing customers as well as seek more attention from new customers. For your business to be the most successful, you must understand your potential customers' needs and buying behavior. In today's fast-changing world, you certainly won't be sure you understand what your potential customers want. Instead, consider the following issues to get the most comprehensive view:
Product type
Advertising channels
Sales Channel
Texting
If you have consistency and rationalization in these categories, you get a competitive advantage over other competitors.
Utilize data and analytics to improve your company
Getting the best preparation in a retail market is a fast and drastic change. Retailers need to have data and analysis on buyers' indicators to make the most reasonable decisions.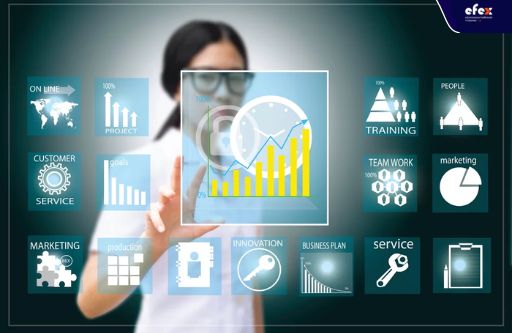 Have yourself the brand data, and information about the users in the sales channels in the company's omnichannel retail system this information is necessary because it will help you understand which factors. in your company makes them decide to buy or not to buy. Certainly, the benefits that omnichannel brings will also come with the challenges that business owners need to address. To limit the risks, you should build a unified, rationalized multi-channel system with each website as well as create convenience for customers in shopping. If you can do that, you will gather all the information you need to know a perfect balance. Understanding the psychology and desire of customers when coming to the business and meeting those desires is success in business.
Personalization
One notable strength that omnichannel retail gives you is that you can better understand the specifics of customers using your business's products or services through the data collected and selective. This knowledge will help you to have suitable marketing campaigns and hit the interests of potential customers. In particular, you can create for each customer a different shopping experience, in accordance with the preferences and features of each channel in the omnichannel system. This is highly potential as 74% of customers when asked say they enjoy having a website with a design optimized for their own interests. In shopping, customers always want to feel appreciated. So paying attention to customer experience will be a plus point of the business in the heart of customers.
What difficulties do omnichannel retailers face?
With the superiority when giving the business a lot of potential in development, but not the omnichannel retail is perfect. To be successful in this, you also need a lot of the right strategies. One of the biggest challenges in building a retailer's omnichannel sales system is that they have to unify the data into a single source for the customer, regardless of whether they contact you. by any real method. Your customers have a variety of ways to contact: smartphones, social media sites, traditional stores, websites, mobile sales, catalogs, and more. Each channel has its own system and usually, they are not linked to other channels. Therefore, to ensure that data is collected synchronously, service information on different media is always equal and business owners or retailers must make informed decisions best.
👉 Read More: Order Management System: Definition, Process And Value
👉 Read More: Order Management System For Ecommerce: Definition, Key Effect, Benefit
Wrapping up
This article has given you the things you need to understand when learning about omnichannel retail such as the definition of omnichannel retail, its value, and the challenges you need to overcome. Certainly for success in this fierce digital market, omnichannel retail is your best bet. But you also need to make the right preparations and decisions to make your business more robust.