Vietnam's economy will have some positive changes. Vietnam will benefit from the regional comprehensive economic partnership free trade agreement which will be implemented from the 1st of January 2022. Vietnam is a Southeast Asian country that has completely transformed itself in the last three decades. Vietnam's economy has had huge positive changes. From over 70 percent of the population working in agriculture in 1985, now the service sector contributes around 42% to the Vietnamese GDP. Vietnam is an economic miracle that the world has witnessed in the last 30 years.
Vietnam economy overview
Vietnam is one of the fastest-growing economies in the world today. In 2019 its growth was only beaten out by a selection of far smaller and more unstable national economies. With a huge and very hard-working population in addition to a powerful ally to its north, this could be the country to watch out for. In the next 10 years, it is poised to make such a large impact on the global stage that its history will no longer be the first thing one thinks of when one thinks of Vietnam. What has been behind Vietnam's Economic Growth?
First, Vietnam has enthusiastically embraced trade liberalization.
Second, it has supplemented external liberalization with domestic reforms such as deregulation and lower business costs.
Finally, Vietnam has made significant investments in human and physical capital, primarily through public investments.
After suffering for many years as a result of the war tragedy, this country's economy moved at a breakneck pace. Vietnam has rapidly progressed to middle-income status, and the economy moved at a breakneck pace. Vietnam has rapidly progressed to middle-income status and an economic growth rate of about 7%. Vietnam's economic miracle is based on manufacturing, which has been aided by trade liberalization, domestic deregulation, and investment in human and physical capital. According to a Standard Chartered report, Vietnam's GDP is on track for 7% growth through the 2020s and will surpass the $10,000 per capita GDP mark in 2030.
- Read More: The Best Fulfillment Service in Vietnam
- Read More: Best warehouse service in Viet Nam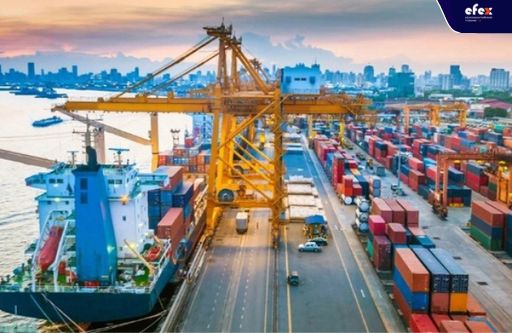 Vietnam's GDP and the unemployment rate
From 2008 to 2018, Vietnam's GDP increased at a 6,07% annual rate, reaching a ten-year high of 7,1% in 2018. Importantly, the inflation rate has stabilized at 3,54%, and the unemployment rate in 2018 was 2,2%, among the lowest in the world. According to the IMF, Vietnam's current account deficit fell to 2,45% of GDP in 2017 and 2.16% in 2018. The Vietnam economy is expected to recover fast and record GDP growth of 6.6% in 2022, according to the International Monetary Fund (IMF). The government is targeting GDP growth of 6.0%-6.5% in 2022.
Currency and central bank
In 2020, Vietnam's economy still recorded a positive growth rate of 2.9% while the GDP of other countries in the world was only negative. And to do that, it is impossible not to mention the role of the State Bank in operating monetary policy. In 2021, the State Bank of Vietnam will continue to guide prudent monetary policy management, coordinate effectively with macro policies, and strengthen inspection and supervision activities in order to maintain stability in the money market. Typically, inflation stands at 1.84% in 2021 after rising to 3.23% in 2020 - from 2.79% in 2019.
Industry and trade
Industry makes up 33.7% of Vietnam's GDP. In the past year of 2021, Vietnam's industry and commerce have gradually stabilized production development and are determined to complete the set goals. Provinces across the country are making development efforts to promote this sector. Typically, Ninh Binh city, Hoa Lu has about 4000 enterprises and production and business associations. Despite facing difficulties caused by Covid 19, with effective solutions and the support of the state and functional sectors, businesses have stabilized production and fully fulfilled their obligations to customers. By the end of October 2021, the paid tax amount is VND 507 billion, equal to 90 percent of the assigned estimate, of which some taxes exceeded the plan such as non-state industrial tax at 115.7%.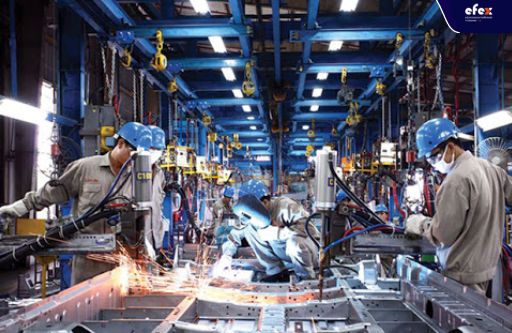 Survey and rankings
Vietnam improved its overall score from 68.6 in 2019 to 69.8 in 2020 in the World Bank's 2020 Ease of Doing Business Ranking. However, the country slid down by one spot from 69th to 70th out of 190 countries.
Stock exchanges and capital markets
The Ho Chi Minh City Stock Exchange (HOSE or HSX) and the Hanoi Stock Exchange (HNX) are the two major stock exchanges in Vietnam. The Vietnam Stock Index or Vn Index serves as the benchmark of HSX and is based on the total capitalization of all listed companies in the exchange.
Bond market
In 2021, the government bond market at the Hanoi Stock Exchange continued to have good growth. In December 2021, HSX held 21 government bond auctions, successfully raising capital of VND 325,460 billion for development investment. In terms, government bonds with tenors to 15 years accounted for 6.1% of the total value of government bonds issued by the bidding method. In particular, the average issuance interest rate in 2021 will decrease by 0.56% compared to 2020. This helps to save capital mobilization costs for the government. On the secondary market, the scale of listing on the government bond market is nearly 1.5 million billion Vietnam dong. The average trading value per session is 11,110 billion dong/session, reaching a record level in the past 10 years. According to experts, the bond market is increasingly promoting the role of mobilizing general and long-term capital for the state budget and development investment. At the same time, it helps to improve the financial market.
- Read More: E-Commerce Logistics Vietnam Overview
- Read More: Logistic Vietnam: Overview of Vietnam's Development in 2022
- Read More: Vietnam Logistics Market: Overview And Trend to Raise in 2022
Real estate market
In the past year, 2021, there were a few real estate numbers that surprised followers. For example, in Hanoi, apartment prices have increased by 13%, the highest level within 5 years according to CBRE's statistics. Or, like the adjoining barn has increased by 82% year on year. In many places, land prices have increased from 40% to 50%. It is worth mentioning that the price increase is high, but the transaction volume, especially at the end of 2021, in some areas shows signs of returning. However, according to the opinion of the Ministry of Construction and experts, the market has a bubble that is difficult to burst. [caption id="attachment_11084" align="aligncenter" width="512"]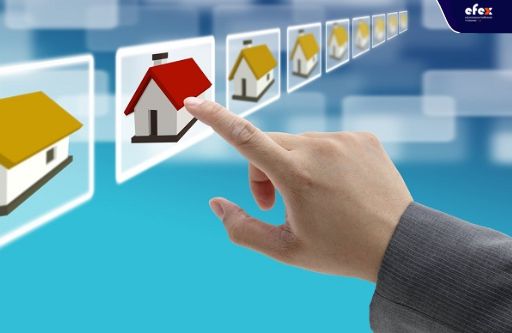 Real estate market[/caption]
COVID-19 and supply chains
In 2021, the Covid 19 pandemic broke out in many countries, causing supply chains in many places to fall into disrepair. In Vietnam, with the speed of the pandemic spreading and difficulty to control, the supply chain of goods and industrial production could not escape disruption. To adapt to the situation, the Ministry of Industry and Trade has recognized the context for a timely assessment, and at the same time established a "forward steering committee" to organize the supply force of essential goods and services. In addition, the Ministry also established "Special Working Groups" to promptly support, maintain production and business, and remove difficulties for enterprises to prevent disruption of production and supply chains.
Free trade agreements and the RCEP
Vietnam's free trade agreements (FTAs) are a drag that investors can participate in. This will ensure that Vietnam's economic development will continue to shift from exports of low-tech manufactured products and primary goods to more complex high-tech items such as electronics, machinery, and equipment, vehicles, and medical equipment. Starting January 1, 2022, the Regional Comprehensive Economic Partnership Agreement (RCEP) will come into effect. It is expected to create more impetus to contribute to promoting Vietnam's trade and investment exchanges with ASEAN and five non-ASEAN partners including Australia, New Zealand, Japan, China, and South Korea. This opens up new export opportunities for Vietnamese enterprises to catch up with the economic recovery.
According to the common commitment, RCEP will move to eliminate at least 92% of import tax lines from the signatory countries within 20 years. RCEP is expected to open up many opportunities for businesses in terms of market access as well as participation in value chains in the region. However, domestic enterprises will also face stiff competition from competitors from economies and then RCEP - countries that have deeper participation and global production networks that have similarities in structural export.
Mergers and acquisitions
Along with the development of the country's economy, the current M&A market in Vietnam is currently highly stable, even growing strongly in 2021. Experts assess that the Covid 19 pandemic has boosted M&A activities by billions of US dollars, focusing mainly on consumer finance and renewable energy. In addition, these experts also forecast that this year, M&A activities in hotels and tourism may continue to boom. Vietnam's M&A market in 2022 is forecasted to grow further in the face of foreign capital waiting to be poured in after Covid 19.
Government support packages
With the current Covid situation, the Vietnamese government has announced a number of support packages for businesses and workers to help boost the economy. Typically, on the afternoon of July 1, 2021, the Vietnamese government issued Resolution No. 68 with 12 policies to support workers and those affected by Covid 19. The total value of this support package is up to 26,000 billion VND for many different target groups. The unemployment insurance fund will also be used to support businesses and employees.
Foreign employee work permits
In early 2021, the Vietnamese government issued Decree 152 to relax the requirements for granting and extending work permits for foreign workers. According to this decree, the notarization of passports has been eliminated. Foreign workers who want to work in Vietnam only need to have a notarized copy. However, businesses are expressing concern about the requirements for Decree 152.
Tourism
The 3rd and 4th Covid wave in 2021 causes the tourism industry to continue to be severely affected. Many businesses go bankrupt, the rest only operate in moderation. If in 2020 the number of international visitors to Vietnam will decrease by 80%, domestic visitors by 34%, and total revenue from tourists will decrease by 59% compared to 2019, in 2021, the number of visitors will continue to decrease by 57%. Revenue dropped even more. Therefore, the Vietnamese government has issued a resolution on safe adaptation and effective control of Covid 19. In addition, the tourism ministry has very specific instructions to ensure safety in the field of tourism. calendar. The Ministry of Tourism also issued a stimulus plan to revive the tourism industry in a new context.
After more than a month of implementing the new normal, the tourism industry has shown signs of recovering. Specifically, the total number of domestic tourists in November reached 2.5 million, an increase of more than three times compared to October and 9 times compared to September. Recently, Vietnam has promoted the Covid 19 vaccination campaign. This can be considered as a passport to restart the tourism industry or reconnect commercial flights with friends around the world. [caption id="attachment_11074" align="aligncenter" width="512"]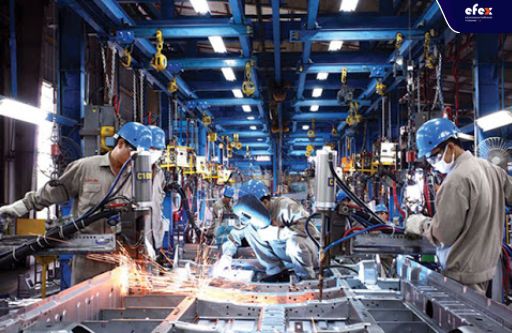 Vietnam economy data
| | | | | | |
| --- | --- | --- | --- | --- | --- |
| | 2015 | 2016 | 2017 | 2018 | 2019 |
| Population (million) | 91.7 | 92.7 | 93.6 | 94.6 | 95.5 |
| GDP per capita (USD) | 2,085 | 2,172 | 2,353 | 2,545 | 2,722 |
| GDP (USD bn) | 191 | 201 | 220 | 241 | 260 |
| Economic Growth (GDP, annual variation in %) | 6.7 | 6.2 | 6.8 | 7.1 | 7.0 |
| Consumption (annual variation in %) | 9.3 | 7.3 | 7.4 | 7.3 | - |
| Investment (annual variation in %) | 9.4 | 9.9 | 10.2 | 8.6 | - |
| Industrial Production (annual variation in %) | 9.8 | 7.5 | 9.4 | 10.2 | 9.1 |
| Unemployment Rate | 2.3 | 2.3 | 2.2 | 2.2 | 2.2 |
| Fiscal Balance (% of GDP) | -6.1 | -3.7 | -1.2 | -3.5 | - |
| Public Debt (% of GDP) | 61.0 | 63.7 | 61.4 | 58.4 | - |
| Money (annual variation in %) | 16.2 | 18.4 | 15.0 | 12.4 | - |
| Inflation Rate (CPI, annual variation in %, eop) | 0.6 | 4.7 | 2.6 | 3.5 | 5.2 |
| Inflation Rate (CPI, annual variation in %) | 0.6 | 2.7 | 3.5 | 3.6 | 2.8 |
| Inflation (PPI, annual variation in %) | -0.6 | -0.6 | 2.8 | 3.1 | 1.3 |
| Policy Interest Rate (%) | 6.50 | 6.50 | 6.25 | 6.25 | 6.00 |
| Exchange Rate (vs USD) | 22,485 | 22,771 | 22,710 | 23,195 | 23,173 |
| Exchange Rate (vs USD, aop) | 21,929 | 22,370 | 22,716 | 23,025 | 23,228 |
| Current Account (% of GDP) | -1.1 | 0.3 | -0.7 | 2.5 | - |
| Current Account Balance (USD bn) | -2.0 | 0.6 | -1.6 | 5.9 | - |
| Trade Balance (USD billion) | 7.4 | 11.0 | 10.8 | 16.5 | 45.4 |
| Exports (USD billion) | 162 | 177 | 215 | 244 | 226 |
| Imports (USD billion) | 155 | 166 | 204 | 227 | 181 |
| Exports (annual variation in %) | 7.9 | 9.0 | 21.8 | 13.3 | -7.3 |
| Imports (annual variation in %) | 12.0 | 7.0 | 23.4 | 11.2 | -20.5 |
| International Reserves (USD) | 28.3 | 36.5 | 49.1 | 55.5 | 78.3 |
| External Debt (% of GDP) | 40.7 | 42.6 | 47.2 | 44.9 | - |
Vietnam economy 2020
Vietnam was one of only a few countries to post GDP growth in 2020 when the pandemic hit. 2020 under the influence of the representative of COVID 19 as the most distinct test, while most of the world's economies fell into recession, with the synchronous direction of decision-making double target Vietnam, is still resilient to maintain Positive growth at 2,9%. Agriculture, forestry, and fishery increased by 2,68%. Industry and construction increased by 3,98%. Services increased by 2.34%. With this growth, Vietnam is one of a few economies that maintained positive growth in the context of the world economy falling into the deepest recession since the Great Depression The crisis of 1929-1933. But growth is not only on GDP but also reflected in business growth indicators, and growth contribution structure over the years in all sectors of the economy. The number of newly-established enterprises in the past 5 years is almost equal to the entire in the past. All our efforts have been recorded. With high growth with inflation under control, Vietnam can narrow the development gap with other countries. Besides, we create a foundation of macro stability and have more resources for sustainable and comprehensive development in Vietnam.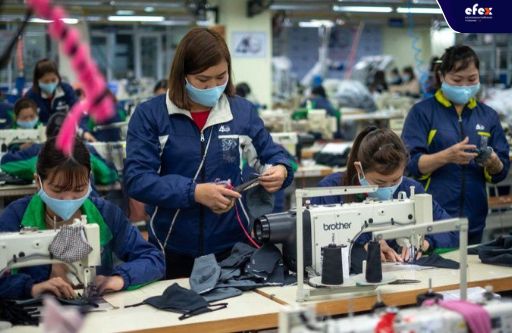 Vietnam economy 2021
Vietnam's GDP in 2021 grew at a rate of 5,2%. Even though the third quarter of 2021 registered a negative trend of 6 percent due to Covid 19 and restrictions and slower vaccination campaigns conducted by the ministry of Vietnamese health. After a gradual easing of the restrictions and a significantly faster vaccination campaign and upturn, the growth rate was seen at a solid 5,6 percent. The Vietnamese existing trade balance surplus grew from 1,3 billion us dollars in 2020 to 2,5 billion dollars in 2021. Some specific sectors such as agriculture, forestry, and fishery had significant positive improvement in 2021 as compared to 2020. With growth of 2,6 percent more compared to the other sectors, the agriculture sector is composed of several types of products such as rice, sweet potato, sugar cane with soy vegetables, and legumes all of which had a remarkable production growth. Livestock as agriculture is considered a flourishing sector. It sees the production of buffaloes, pigs, and poultry, … The fishery sector along with other primary sectors reached high levels of production as well the output reached 2300 000 tons which are 2,8 percent more than the last year. Industrial production is better than last year's. Industrial production prospered too due to localities' implementation of the government's resolution aimed at foresting safe adaptation flexibility and effective control of Covid 19.
Vietnam is one of the 10 members of the Association of Southeast Asian Nations and has become the EU's most important trading partner in the region. Vietnam is the EU's 15 trading goods partner and the EU's largest trading partner in the association of Southeast Asian nations in 2020. Vietnam is officially targeting GDP growth of 6% to 6.5% next year, closer to the international monetary fund estimates of 6,6%. Vietnam has already ratified the RCEP agreement and will therefore benefit immediately from the date of implementation day.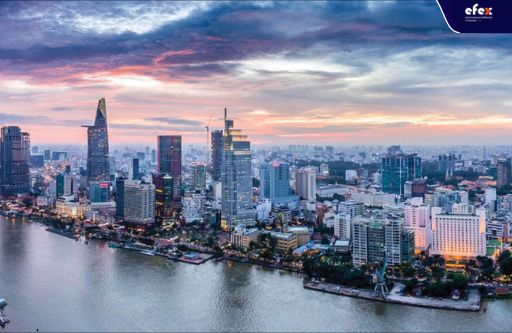 Conclusion
Above is all you need to know about the Vietnam economy in 2022. Vietnam is considered by economists as having a high potential of becoming among the world's largest economies in the 21st century. With a promising investment outlook and a fast-growing economy, Vietnam is said to be recovering fast from the effects of the ongoing, coronavirus health crisis.