Carton flow rack system is considered a solution used by many businesses in storing goods. The carton rack helps to optimize the arrangement of goods, the space used in the warehouse is maximized, and because of its scientific nature, the working time of the staff and the number of other costs are also reduced. Be minimized. So what knowledge do you need to know before you want to apply the carton flow rack in your warehouse? You need to understand the definition, how it works as well as the types of carton racks available in the market.
Definition of carton flow rack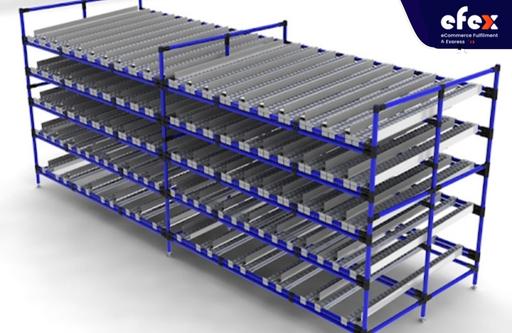 The Carton Flow Rack, also known as Carton Live Storage, is a racking system that allows for the storage of multiple cartons and lightweight products. They are considered a solution for saving space and controlling the movement of goods in the warehouse. The Carton Flow Rack system ensures product transfer under the FIFO (First In, First Out) system like the direct pallet racking system. Carton Flow Rack is widely used because of the benefits it brings, such as helping to classify the unloading and loading areas to avoid unnecessary intervention, reducing the distance covered in the warehouse, and reducing the time to operate. The system also helps to improve the working condition of some warehouses that still use outdated operating methods.
👉 Read More: What Is Cubic Capacity: Calculation, Benefit
👉 Read More: Cube Utilization: Formula And Calculation
How do carton flow rack systems work?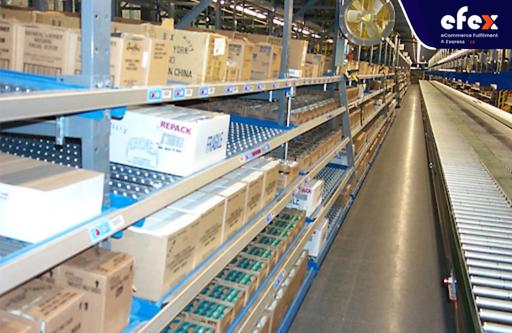 In the direct carton racking system, the goods will slide in the predetermined directions. Cargo vehicles are slightly inclined rollers that create other fast lanes. These rollers are easy to use and can be adjusted in the direction you want. Therefore, the goods are transported easily and as planned.
Advantages of carton flow rack system
Carton racking systems are being chosen by many businesses as a solution to optimize storage and working space. Because this system brings a lot of benefits such as:
Product transfer got easier
Order preparation time is shortened
Reduces the need for ingredients preparation and stockpiling
Helps increase the visibility of products and employees can know the availability of goods in stock
Optimize the space used and store more goods
Create a perfect product rotation if the FIFO system is applied
The passage in the warehouse is unobstructed
Important areas such as loading and unloading will have their own entrances, reducing confusion during operation
Reduced operating costs through improved storage space
You can install taller racks to store products
Easy to install in stock
Save time for employees and also reduce the amount of labor to save costs
Due to the reasonable allocation, employees will save time in picking up and entering goods into the warehouse
Carton flow rack designs
RACK SELECTIVE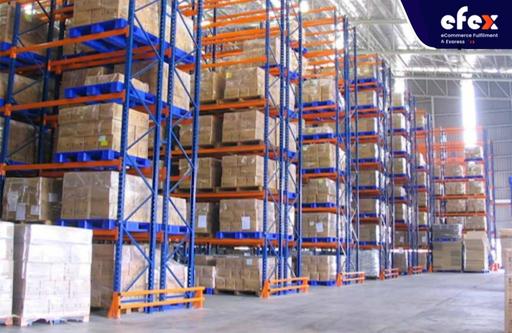 Low cost - cost savings
90-95 percent storage capacity
Fits all kinds of forklifts
DOUBLE-DEEP RACK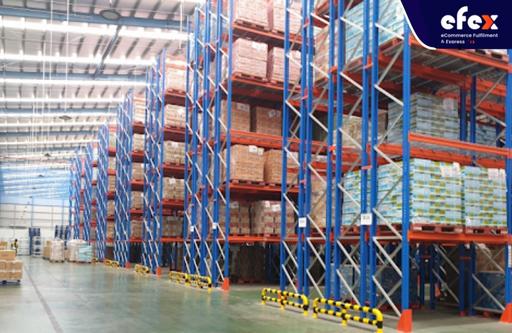 Floor space used: 60%
Possibility to match the same SKU
Special forklifts are required to move pallets into deep indoor locations
VNA RACK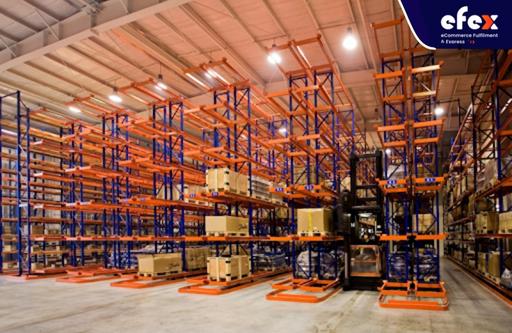 Floor area used: 95%
Merchandise accessibility: 100%
Should create a fork to make shipping easier
SHELVING RACK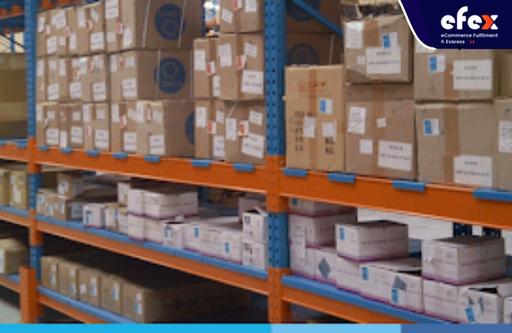 Suitable for light or medium goods
Suitable for goods handled by hand
Usable floor area: 80%
Easy installation and flexible design
MEZZANINE FLOOR RACK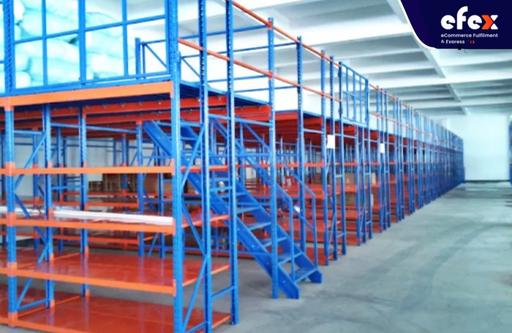 Usually used in light and medium loads
Usable space: 85%
Can install 2-3 more floors
Accessories and Components
The Carton flow rack system is used in meeting the needs of storing goods in the warehouse. Therefore, the design will be customized to suit the specifics of the operation in each warehouse. Typically, Carton flow rack systems have input and output profiles, side profiles along with guide rails. The versatility of direct storage cartons is also what makes them strong, they can vary specific elements of each field and installation such as platforms, display trays, brakes, systems, separation, etc.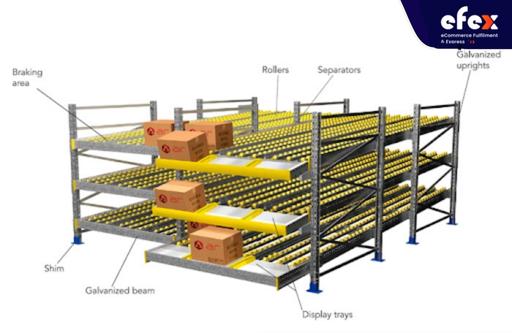 Display trays
Galvanized beam
Shim
Braking area
Carton flow rack rollers
Separators
Galvanized uprights
Carton flow rack dividers
Carton flow rack system quality and security
ISO 18001: 2004
ISO 9001: 2008
OHSAS 18001: 2007
Galvanized steel corrosion resistance certificate: UNE EN ISO 14713-1
Welding certification: UNE EN ISO 3834-2: 2006
Galvanized steel reaction to fire: EN 13501-1: 2007
👉 Read More: 3PL Warehouse Services: Benefits And Offers
👉 Read More: All Cost To Rent A Warehouse In 2023
Conclusion
If you want to optimize the workspace in the warehouse, definitely applying the Carton flow rack will be a good idea. Because it helps to solve problems related to inefficiencies in the warehouse operation, helping you to save costs for raw materials and human resources. Plus, it's also easy to install and move, so you can tailor it to how your business operates. Hope you have a good time with Efex.