According to the General Department of Customs, bilateral trade between the US and Vietnam reached a new record high of 111.56 billion USD for 2021, an increase of about 21 billion USD from the prior year. If your company wants to increase this number or is already proactively importing goods from Vietnam to the US, don't go further than this post! We know that shipping freight by air and the ocean might be complicated. For this reason, we have listed the key parts for smooth air and ocean shipping from Vietnam to US in this article.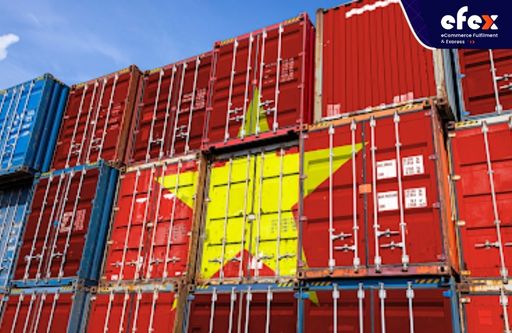 The demand for shipping From Vietnam to US
Second only to China on the entire continent, Vietnam has one of the fastest-growing economies in all of Asia. Vietnam has achieved ranked among the most fantastic locations for commerce and trade because of the nation's efforts, ideal location with a long coastline and located close to China, as well as a strong workforce.
👉 Read More: How to International Shipping From Vietnam With Cheapest Cost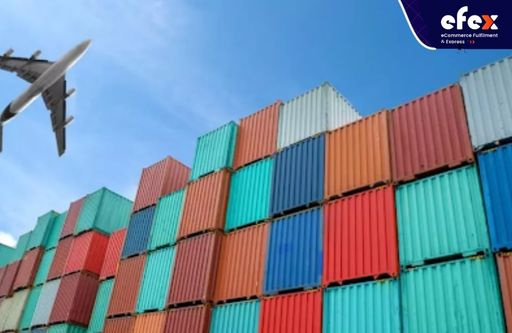 Regarding shipping from Vietnam to the US, after the Vietnam War ended and the two countries did not have any commercial relations for 20 years, bilateral trade was just re-established in the 1990s and initially progressed slowly. Following the signing of trade agreements by the two nations in 2001 and 2007, the growth in imports and exports accelerated quickly. Since then, the amount of shipments from Vietnam to the US has increased. There is a growing need for moving goods from Vietnam to the US. If you decide to export your goods between these two nations, it's crucial to understand the shipping rates, when, where, and how to send your shipment as well as how to load your container to ensure a smooth shipping process. You can fully comprehend the cost of shipping from Vietnam to the USA with the help of this Efex blog by understanding these shipping-related aspects. We can also assist you in removing any uncertainty regarding the paperwork required for customs clearance, should you decide to buy cargo insurance, as well as how to go about doing so.
Shipping cargo from Vietnam to US
Due to the lack of a direct land route to the US, shipping from Vietnam is best done by water or air. There are numerous shipping firms in Vietnam that transfer goods for rates comparable to those of Chinese carriers. Royal Cargo, APS Logistics, Efex, DB Schenker, and Unifreight Global are a few of the most well-known. The majority of them include customs clearance services, warehousing, interior transportation, and both air and sea shipping.
Sea Freight
The most popular mode of transportation between Vietnam and the US is via sea for freight. It is advised if the shipment is significant and you are not stressed for time. Sea freight charges are less expensive than those for air freight because of the longer travel time. Between FCL and LCL transport, there are two options available when shipping cargo by water. Therefore, understanding what these acronyms mean is essential. FCL (Full Container Load) is frequently used for larger-sized items. In this situation, a single sender or recipient occupies the entire container's capacity. LCL (Less Container Load), on the other hand, refers to sharing a container with additional importers or exporters. LCL is general cargo, to put it another way. Major loading ports from Vietnam:
Hai Phong
Da Nang
Ho Chi Minh
Quy Nhon
Vung Tau.
Main cargo seaports in the USA. Port of:
Long Beach
Los Angeles
Newark
Oakland
Tacoma
👉 Read More: Top 10 Popular Vietnam Freight Forwarder Companies
Transit time by the ocean transportation
Depending on whether you choose FCL or LCL shipping, the precise number of days it generally takes for maritime freight to travel between major US ports and Vietnam is listed below:
Hai Phong - Long Beach: in 20-22 days
Hai Phong - Los Angeles: in 20 days
Ho Chi Minh City - Los Angeles: in 21-30 days
Ho Chi Minh City - Long Beach: in 24 days
Ho Chi Minh City - Seattle: in 36 days
Ho Chi Minh City - Charleston: in 39 days
Da Nang - Philadelphia: in 36 days
Hai Phong - Seattle: in 31 days
Ho Chi Minh City - Baltimore: in 36 days
Ho Chi Minh City - Houston: in 37 days
Ho Chi Minh City - Oakland: in 23 days
Airfreight shipping from Vietnam to US
Undoubtedly the fastest method of transportation is air, but it is also the most expensive. When the shipment weighs no more than 200 kg and less than 2 CBM, it is advised. Food, medications, flowers, and valuable items should all be shipped by air.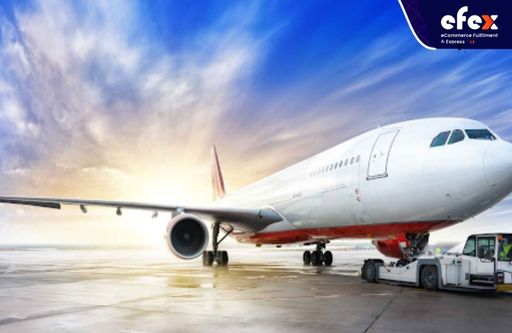 There are two choices available when considering air freight: express and economical. For non-hazardous, lightweight, and untemperature-controlled commodities, choose the economical option. Port-to-port shipping takes 3–8 business days, and door–to–door shipment needs 8–16 business days. Express or quick delivery makes it possible to transport any cargo in a hurry. As a result, the delivery of the shipment takes roughly three business days. Additionally, the freight prices are greater. Vietnam's primary freight airports
Noi Bai International Airport (HAN)
Tan Son Nhat International Airport (SGN)
Major cargo airports in the US:
Louisville International Airport (SDF)
Memphis International Airport (MEM)
Los Angeles International Airport (LAX)
Miami International Airport (MIA)
Here are a few cases of how long it takes for air freight between airports in Vietnam and the US:
Ho Chi Minh City - Los Angeles: in 2 days
Ho Chi Minh City - New York JFK: in 3 days
Hanoi - Chicago O'Hare or Dallas/Fort Worth: in 6 days
Hanoi - New York JFK or Los Angeles: in 5 days
Ocean/Sea Shipping costs from Vietnam to US
Ocean/Sea Freight FCL
With FCL ocean shipping, a container is exclusively yours. Your company must pay a set amount for the container, which you are then free to fill entirely or partially. In some cases, FCL is more expedient and affordable than LCL, particularly for larger shipments.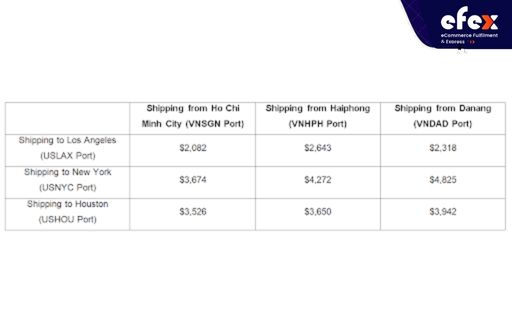 Ocean/Sea Freight LCL
If you choose to ship your commercial items by LCL, they will travel from Vietnam to the US in a shared container on a cargo ship. For smaller shipments, it's typically the most economical method.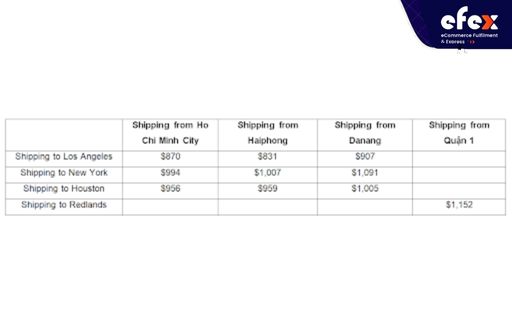 Air Freight from Vietnam to the United States
Air freight continues to be the quickest route for your shipment despite the lack of non-stop flights from Vietnam to the US. Remember that it will frequently cost significantly more than the ocean freight.
Air Freight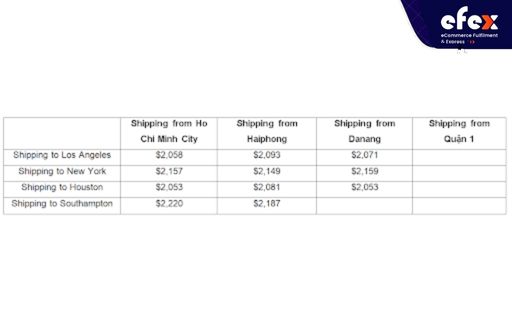 Air Freight Costs per KG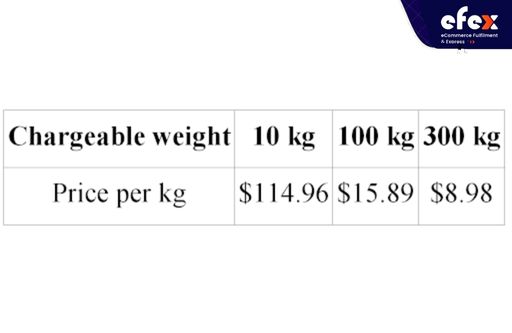 Express Shipping
Shipping time from Vietnam to the United States
How long will it take to transport something from Vietnam to the US? Location, package size, and season all have an impact on how quickly your shipment will arrive. For an estimation of delivery times for each shipping method between Vietnam and the United States, check the table below.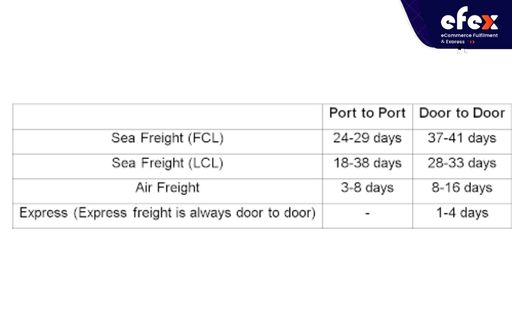 When is the Ideal Time to Ship from Vietnam to USA?
The time of year can have a significant impact on the cost of shipping from Vietnam to the USA. Freight rates can be impacted by peak times of the year and seasonal influences, particularly for FCL shipping. The peak season for shipping goods from Vietnam to the USA typically occurs in the fall as companies get ready for Thanksgiving, Christmas, and New Year's. You should take into account that shipping outside of this period could minimize the logistical costs for you and your business because container space is less plentiful and hence more expensive as demand rises.
Customs clearance of Vietnamese products
You must clear customs before exporting from Vietnam to the US. Most companies engage a skilled freight forwarder or agent to handle this operation instead of handling it themselves. This precaution guarantees that all procedures are carried out in accordance with current laws and regulations. Additionally, you spend less time on the entire process. But the provision of the necessary paperwork for customs clearance is something you must handle. Customs officials in the US and Vietnam frequently request the following:
A packing list
A commercial invoice
A certificate of origin
A letter of credit or other payment terms (relies on the contracts between the parties)
A bill of lading for air or sea freight, or an airway bill
Your freight forwarder will be able to let you know whether any other paperwork, such as licenses, permits, or certificates, is needed.
👉 Read More: Cross-Border Ecommerce: Definition, Example, and Market Size
Conclusion
Vietnam is an excellent location for trade. Indeed, Vietnam is already extremely advantageous, and thanks to the nation's rapid development, the future looks bright. It is advised that you become familiar with the most popular trade routes, ports, and necessary documentation before beginning shipping to Vietnam from US.