Buying a car has long been regarded as a significant investment in Vietnam. However, with rising purchasing power as a result of economic growth, more Vietnamese can now purchase such vehicles. Vietnam's automotive sector is now one of the most rapidly expanding in Southeast Asia. Cars, while still considered a luxury item, are quickly crowding the streets of Vietnamese cities, emerging as one of the primary ways of mobility alongside motorcycles for many city dwellers.
Let's check the overview of the automotive industry and the forecasting in the article vietnam Automotive Industry: Fact And Forecast.
Vietnam Automotive Industry: A Comprehensive Overview
Recently, Vietnam's vehicle sector has risen tremendously. Between 2015 and 2018, the average annual growth ratio of locally built vehicles was around 10%. Due to the presence of typical manufacturers such as Nissan, Toyota, Honda, Kia, and Ford in the domestic market, many spare parts companies have invested in the field, giving it a needed boost.
Motorbikes are prevalent in Vietnam, but automobile ownership is rapidly increasing as the country's middle class expands. However, because of the COVID-19 outbreak, this growth is predicted to be stifled in a short time but will restart on a long-term basis once Vietnam's economy reopens.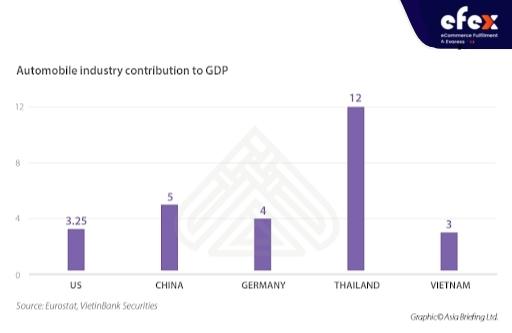 Because the automobile industry accounts for such a large portion of Vietnam's GDP, the government has traditionally given it special attention. Many big automobile assembly and manufacturing projects are now underway in this nation, with the goal of meeting domestic needs as well as gaining access to the foreign market.
- Read More: The Best Fulfillment Service in Vietnam
On June 14, 2019, local corporation Vingroup officially opened its Vinfast facility, making it Vietnam's first homegrown vehicle factory. This factory was not just cutting-edge, but it also adheres to Industry 4.0 guidelines. The Vietnamese automobile sector, on the other hand, is up against the tough competition. The policy of zero-tariff among ASEAN countries that Vietnam is a member, is one of the reasons behind this. Imported vehicles are so less expensive than vehicles made in the United States.
Despite being one of Southeast Asia's four leading automakers, the average localization rate in Vietnam is one of the lowest in the region (only 10-15 percent, and still far behind Indonesia, Thailand, and Malaysia). Furthermore, the local vehicle industry has been unable to invest more in high-tech products like transmission systems and engine production.
- Read More: Best warehouse service in Viet Nam
Seats, tires, mirrors, wire harnesses, glasses, plastic products, and batteries are among the most common low-tech items that are localized. Approximately 80-90% of the primary raw materials utilized in component manufacturing are imported. Therefore, companies must import components and parts worth between $2 billion and $3.5 billion each year for manufacturing, repair, and assembly.
As a result, the domestic automotive production cost is 10-20% more than other Southeast Asian countries. Thus, the cost of domestically produced cars is higher than that of imported fully built units (CBUs).
What cars are Vietnamese driving?
Despite Vietnam's historically high import taxes on automobiles, imported cars are extremely popular due to the indigenous sector's limited capacity and aptitude. Indeed, the importation of advanced parts is critical to the assembly of autos by local manufacturers. As a result, locally built cars are frequently more expensive than their foreign counterparts.
Furthermore, the amount of automobiles produced in Vietnam has fluctuated over the last decade and remains modest, accounting for around 10% of the market share.
- Read More: Top 10 Vietnam Online Clothing Stores in 2023
As a result of their low maintenance costs and low price tags, international brands, particularly Korean and Japanese manufacturers, have dominated the Vietnamese vehicle market. Nissan and Toyota were the most popular automobile brands among Vietnamese buyers in 2021, with each holding over 20% of the market.
As a result, seeing a German car on the streets of Vietnam is not uncommon. European vehicle brands, which are often considered symbols of luxury and status, have also won over a minority group of affluent Vietnamese consumers.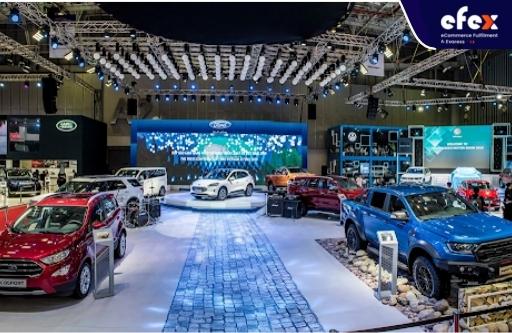 Increasing car ownership
According to government statistics, Vietnam imported over 109,000 CBUs worth US$2.4 billion in the first nine months of 2019. Imported autos surged 267% in volume and 257% in value compared to the same period last year. Imports were dominated by cars with fewer than 9 seats, which totaled 75,848 units worth $1.5 billion. Customers' purchasing power is expanding, as are their needs shifting.
Furthermore, Germany is the primary source of vehicles for EU importation. 1,197 imported German cars were registered in 2018 in Vietnam, according to the General Department of Vietnam Customs. In November 2019, the German company ZF Friedrichshafen opened its plant for the first time in Haiphong, producing automotive chassis modules.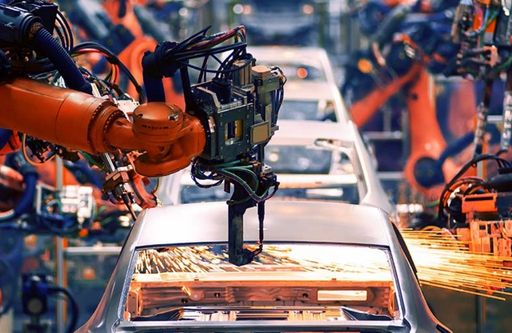 In addition, the Vietnamese Automobile Manufacturers Association (VAMA) reported that in the first nine months of 2019, VAMA members sold 219,205 cars of all varieties. This represents an 18% increase over the same time period the previous year. Also, the private automobile segment has grown, notably by 30% compared to 2019's equivalent period.
According to a CTS analysis, the cause for increased consumption of automobiles is Vietnam's robust GDP development. Vietnam is currently in the early stages of its growth cycle. In comparison with the GDP er capita of other nations in the region, Vietnam's automobile ownership growth rate is roughly 10.5% each year.
- Read More: Vietnam Retail Market in 2022: Potential and Forecast
If GDP per person rises by 1%, automobile consumption per person should rise by 1.5%. Furthermore, car costs are predicted to reduce in the near future as measures to stimulate the economy such as a motorcycle ban in the city has an impact. This implies that the rate of increase in automobile consumption could be higher as well, reaching 12-15% each year over the following ten years.
The automotive market bottoming out amid the COVID-19 pandemic
Due to the many lockdowns imposed during the COVID-19 epidemic, many Vietnamese households saw a drop in income as well as a reduced need for travel. As a result, after years of constant increase, automotive sales volume decreased dramatically in 2020. As the pandemic situation in Vietnam improved in the first half of 2021, Vietnamese citizens expressed a stronger desire to buy big-ticket things, including cars.
- Read More: Top 10 Vietnam Furniture Manufacturer In 2022 By Revenue
After months of straight declines, the automobile segment in the country experienced its first rise in sales volume in September 2021. However, it may take years for Vietnam's vehicle sector to recover to pre-pandemic levels, with more constant and sustainable consumption growth.
EVFTA: Opportunities for EU investors
The European Union Vietnam Free Trade Agreement (EVFTA) is knowns as a ambitious and comprehensive agreement that offers major benefits to both the EU and Vietnam. The pledge by Vietnam in order to abolish tariffs on EU exports once the deal takes effect is one of the most important aspects of this accord.
Once the EVFTA takes effect, Vietnam has promised to lower the import tariff on automobiles and auto parts exported from the EU to 0% after 7 to 10 years. The EVFTA agreement is likely to go into force once the Vietnamese National Assembly has ratified it. Consequently, by 2030, the Vietnamese automobile market should be entirely open to crucial European car manufacturing cities.
Furthermore, by 2030, the automotive market in Vietnam is expected to attain one million cars per year production capacity. The automobile industry in Vietnam is predicted to continue to scale up as middle-class earnings rise and the country's motorization landscape changes.
However, due to supply chain disruptions and lower demand, the vehicle sector is likely to experience short-term reductions as it adjusts. Government subsidies and Vietnam's free trade agreements, such as the EVFTA, are expected to help the industry thrive in the long run, supported by a expanding middle class.
More people in Vietnam are buying cars as a result of recent economic developments. For many Vietnamese people, what was once regarded as significant investment has become a more attainable goal. Vietnam's automotive market has exploded in the last five years, becoming one of the fastest-growing in Southeast Asia.
Despite the negative effects of the COVID-19 pandemic on automobile sales over the last two years, Vietnam automotive industry is expected to growth. In the coming years, the passenger vehicle segment, in particular, is expected to expand. Hope you guys can enjoys this article.