The development of Vietnam's economy in recent years also marks the changes in people's lives when the demand for gold and silver jewelry increases. They become popular, and anyone with the need and financial means can own them. Attached to this demand of consumers, more and more companies are appearing to manufacture and supply jewelry products made of gold, silver, or alloys of gold - a rare metal. With this type of jewelry, people can change the design, style, or price and combine materials to produce different products, creating diversity, richness, and continuous development of the market.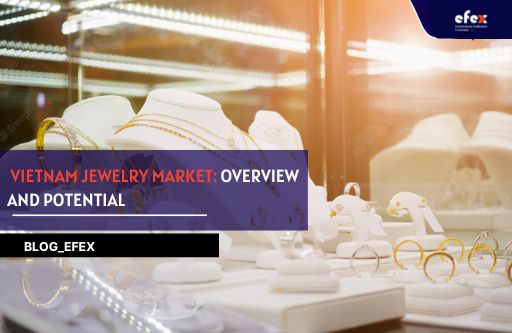 What about the future of the Vietnam Jewelry Market? Let's find out the answer in this article below.
Overview of Vietnam Jewelry Market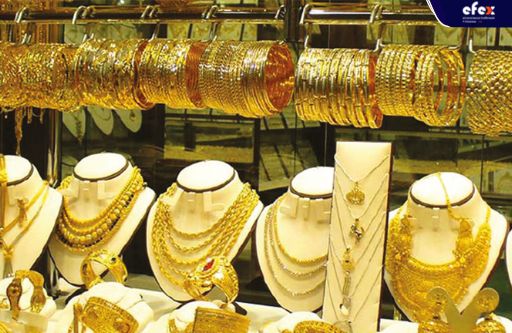 In the past 15 years, the gold market has witnessed the strong development of the 'big guys' in the industry such as Bao Tin Minh Chau, Doji Gold and Silver Group, SJC, etc. In recent years, Vietnam's gold and silver jewelry market has made much progress by winning a number of major awards in the design and manufacture of jewelry models. In 2003, there were more than 7000 gold trading enterprises, large and small, in the whole country, mostly in Ho Chi Minh City. As of 2017, Vietnam ranked 14th in the world in terms of gold consumption. The jewelry industry was struggling because of COVID-19 for the last 2 years. According to the provided data, in 2020, Vietnam's jewelry consumption will reach 7.9 tons, down 41.45% over the same period last year. The decrease in the Vietnamese market is equivalent to the decrease of the whole world but relatively positive compared to some countries in the region such as Indonesia, Singapore, and Thailand.
- Read More: The Best Fulfillment Service in Vietnam
- Read More: Best warehouse service in Viet Nam
The Development Of The Vietnam Jewelry Industry Over Time
Period 1975-1988
Output of consumption: 5 tons/year After Liberation Day, the gold market was officially halted. Business operations and manipulation were kept under wraps and limited to a small area.
Period 1988-2001
Output of consumption: 10 tons/year Decree 33/ND-CP, along with the establishment of state-owned Gold & Jewellery companies from the central to local levels (VietGold, SJC, PNJ, etc.) allowed large-scale imports of gold bars and gold raw materials for production and trading. Private companies remained small.
Period 2001-2012
Output of consumption: 15 tons/year With the establishment of the DOJI Group, Decree 174/ND-CP encouraged the private sector of gold and jewelry to develop business products in a traditional manner, attracting many foreign companies to invest in manufacturing facilities in Vietnam (Design International, Pranda, Tomei...). DOJI, PNJ, and other jewelry stores have opened across the country. Consumption was increased, and quality and gold content were ensured.
Period 2012-2018
Decree 24 / N-CP has stabilized the gold market and made it easier for large corporations like SJC, DOJI, and PNJ to expand their production facilities and business networks on a national scale.
Potential of Market
Psychology of gold and jewelry consumption
People still have traditional psychology and gold hoarding preferences, despite the fact that the total population of nearly 100 million is in a golden population structure, with the middle class rapidly rising. However, instead of purchasing gold bars, people are now purchasing gold jewelry for three reasons. Investing in jewelry and storing it are three different things.
Demand for gold in Vietnam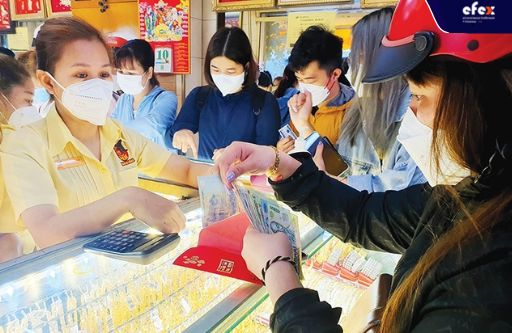 With 70 percent of the population, aged 15 to 64, 51 percent of whom are female, there will be plenty of shopping opportunities. According to World Gold Council calculations, the value of gold per capita in Vietnam in 2015 was USD$6.2, which is equivalent to 60% of Malaysia's consumption and 7% of Singapore's. Furthermore, the consumption of gold jewelry in Vietnam is only 25% of total gold consumption, whereas the rate in other countries in the region is over 50% (except Thailand: 14%), indicating that there are plenty of opportunities for future growth. By 2025, it is expected that gold jewelry consumption will have increased to an average of 40 tons per year.
- Read More: Top 10 Vietnam Textile And Garment Manufacturers in 2022 By Export Turnover
- Read More: Top 10 Vietnam T-Shirt Manufacturers in 2023
- Read More: Business In Vietnam for Indians: Potential And Opportunities
Challenges and limitations of the market
Vietnam is a precious market, but it also has limitations:
Because the majority of jewelry production in Vietnam is done on a small scale, breaking new ground in product development is difficult.
Due to the unique nature of the gold industry, which relies on small and handicraft production bases, most small businesses lack access to modern and synchronous technology, resulting in low labor productivity and inconsistent jewelry quality.
Although the gold market policy has many positive aspects, it also has some flaws that make the development of the gold industry difficult: The domestic gold price and the world market are very different because gold producers are not allowed to import gold while also making it difficult for businesses to actively source raw materials, reducing their competitiveness and making export more difficult. 61 tons in 2010, 38 tons in 2011, 0 tons in 2012 and 2013, 0.7 tons in 2014, 0.3 tons in 2015, 8 tons in 2016, and 0.8 tons in 2017.
Opportunities for the market
The Tectonic government has been working hard to create favorable conditions and timely solutions to many problems that businesses face as they operate and grow.
Decree 24 is currently being revised in order to improve business conditions and promote future growth of the gold market.
The State Bank of Vietnam is considering removing unnecessary licenses and allowing gold companies to import raw materials for jewelry production.
The high demand for jewelry in Vietnam, as well as the habits of gold storage, provide significant market opportunities.
The article on Vietnam Jewelry Market above has shown that Vietnam is a great opportunity and a potential market for the jewelry business. In fact, Vietnamese enterprises have been put under pressure by the presence of well-known international high-end jewelry brands. Vietnamese enterprises are entirely outclassed by foreign brands in retail centers such as Diamond, Parkson, and Zen Plaza. Foreign jewelry brands, on the other hand, exclusively target the high-end category, with shopping malls as their primary distribution route, whereas most Vietnamese enterprises only have tiny local retail stores. They are unable to establish a presence in shopping centers because they are unbranded. Vietnamese businesses, on the other hand, are familiar with their local market, which means they will offer products that are more tailored to their client's preferences.