Are you familiar with custom declarations? This is a type of document used in international commerce and across different industries to ensure smooth shipments.
It's important to understand the definition, purpose, and what it takes to fill out a customs declaration correctly so that goods can be processed more quickly and avoid any unnecessary delays.
Learn about why the custom declaration is important and explore the guide to handle it for crafting one in this post.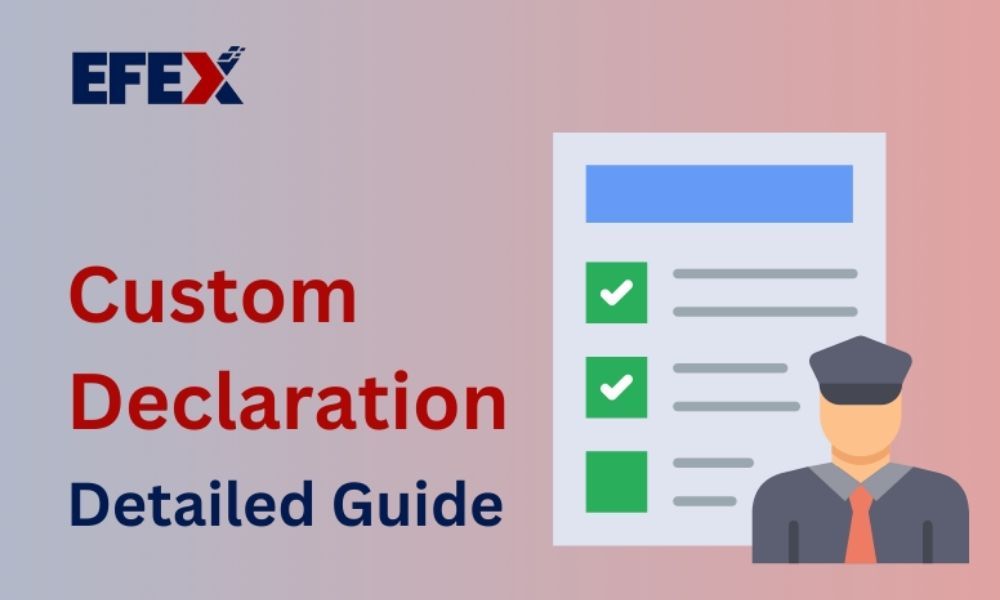 What Is Custom Declaration?
A customs declaration is a formal document that identifies and describes the items that are imported or exported. It is the act of indicating a person's desire to place items under a certain customs process.
👉 Read More: What Is Custom Clearance Meaning? Types, Process And Best Practices
Who Should Lodge A Customs Declaration?
The owner of the products or a presentative usually takes responsibility for lodging a customs declaration.
It may also be performed by the person in possession of the commodities. These people can be individuals, businesses, or groups of people in some situations.
Common Documents For Customs Declaration
There are various documents you need for custom declaration when exporting or importing goods. In this list, we list some common documents that you cannot avoid.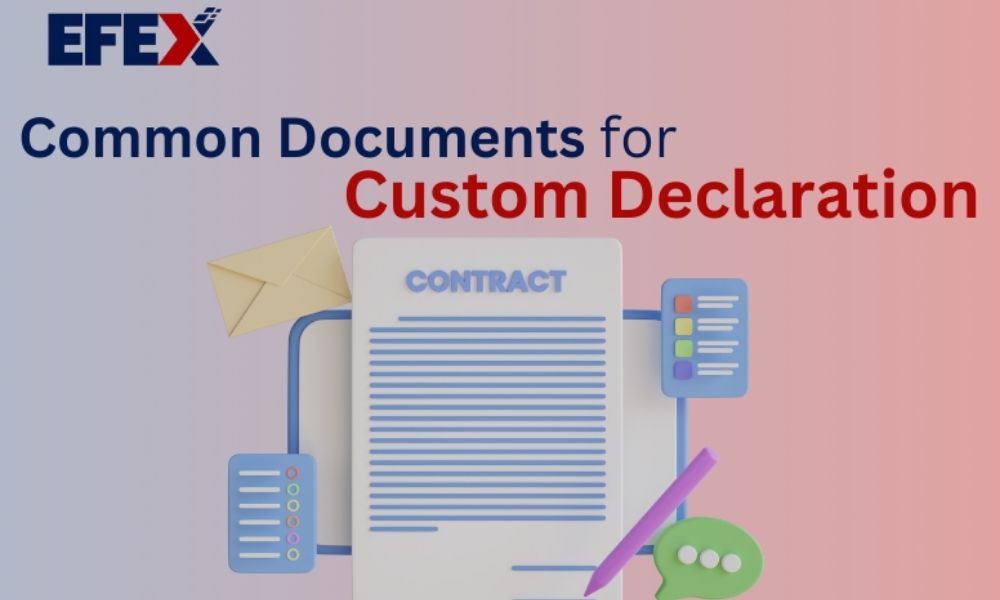 Commercial invoice
This is a legal document that defines the items to be sold along with the payment owed between the exporter and the customer. The commercial invoice is one of the key papers used by Customs in determining customs duties.
Governments frequently utilize these papers to estimate the genuine worth of products for calculating customs charges.
Packing list
Any party engaged in the transaction may contrast the customs packing list to the official invoice to determine what's inside the container. This list is sent with the foreign cargo and is extremely valuable for shipping companies since it tells them exactly what is being shipped. A packing list could potentially be considered a compliant document.
Purchase order
A purchase order represents an agreement or sale offer. A purchase order can be a single document that includes all parts deliveries. The invoice for each shipment, on the other hand, is prepared independently.
Product catalog (if any)
The goods contained in the cargo for transportation are listed in the product catalog. It comprises the weight, dimensions, and density of the items, as well as the price and commodity type. the exporter provides it to tell the relevant person about the items that are to be transported to the destination.
Insurance certificate
This certificate verifies that you have purchased insurance coverage for cargo on board for export shipments. Insurance may be acquired if the exporter is concerned about liability and huge losses.
Shipping bill
It is a standard report that serves primarily as a measurable document and emphasizes the negative. This may be accomplished with the use of a customized internet software solution (ICEGATE).
Bill of Lading/ Airway bill
A bill of lading, regarded as a legal document, is issued by the carrier to the shipper. It is evidence of the agreement for the carriage of products and goods mentioned in the carrier's bill. It also includes details about the product like the type, quantity, and eventual destination of the products.
This bill may be utilized as well as a shipping receipt at the port of destination, where the exporter must present it to the customs office for approval.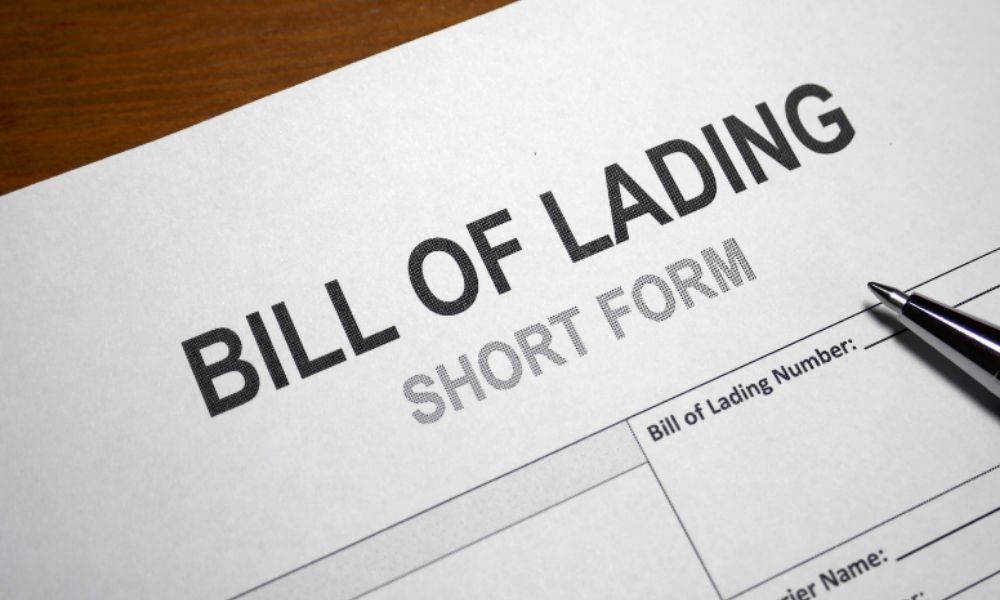 Bill of Entry (Warehouse, Ex-Bond, Home consumption)
The bill of entry is critical import paperwork for customs clearance. A Bill of Entry, as previously noted, is an official record that must be signed by either the CHA or the Importer.
The Bill of Entry is a regulated indicator of the country's total foreign remittances maintained by the Reserve Bank and Customs Department. A bill of entry must be presented within thirty days of the arrival of goods at a customs facility.
Certificate of origin and/or Certificate of analysis
The Origin Certificate A certificate is a declaration issued by the exporter that proves that the items being transported were wholly acquired, produced, manufactured, or processed in the nation in question.
Certification -ISO, IEC, etc
Legally certified export inspection or verification organizations may conduct services for the benefit of government entities. These organizations must adhere to international standards including ISO/IEC 17020, ISO Guides 62 and 65, and Codex Guidelines for the Design, Operation, Assessment, and Accreditation of Food Import and Export Inspection and Certification Systems, with a focus on personnel competence, independence, and impartiality.
FSSAI, PQIS, FDA (for agriculture/ food products)
These certificates are essential for transporting items such as food and agricultural products. These ensure that the items being exported are both safe and legal to send over the world.
Import Export Code
Import Export Code is a vital document for persons who deal with or want to begin working in the import and export sector. Unless explicitly exempted, nobody must export or import without obtaining an IEC. IEC is the paperwork that proves your company's international expansion.
Types Of Custom Declaration Form
Custom declaration form basically is divided into the 2 types:
When a person transports goods, the form is known as a customs arrival card, a landing card, or an entry voucher. Upon entering the nation, those traveling must fill out the form, sign it, and provide it to a customs or border control official.

Additional customs declaration forms, including a commercial invoice or a proforma invoice, an import declaration form, an ATA Carnet, or a re-export declaration, must be used when a person or a company transports products across borders.

The shipping and customs declaration is defined by the Incoterms on these forms. To describe the kind of commodities and their associated tax rate, a Harmonized System Code (HS code or harmonized code) may be necessary. The importer is normally expected to give information on the country of origin of the products as well as the certificate of origin.

Formal errors can result in delays or the seizure of items. As a result, importers frequently engage a customs brokerage to clear products through customs.
How To Make A Customs Declaration?
Step 1: Employ a customs agent
To make a customs declaration, you must be an expert in customs processes. Thus, you must engage a custom agent to finish the procedure for you. At EFEX, we provide a simple and quick customs declaration procedure. It is then filed on your behalf with the revenue commissioners.
Step 2: Send your documentation
After ordering a customs declaration, you will be required to furnish some of the documentation that we listed above or any additional pertinent paperwork.
Today, declarations must be made using electronic data processing techniques. However, in some circumstances, it can be filed using methods other than computerized data processing such as writing and verbally via an act that replaces a customs declaration.
Step 3: Determine the amount of VAT and Customs Duty owed
Before completing a customs declaration, you must compute the VAT and customs tax owing on the imported products.
Step 4: Payment
Customs declaration may charge you certain fees along with service charges. After paying, our employee will notify you whenever your customs declaration is done.
Make A Custom Declaration Easily With EFEX's Service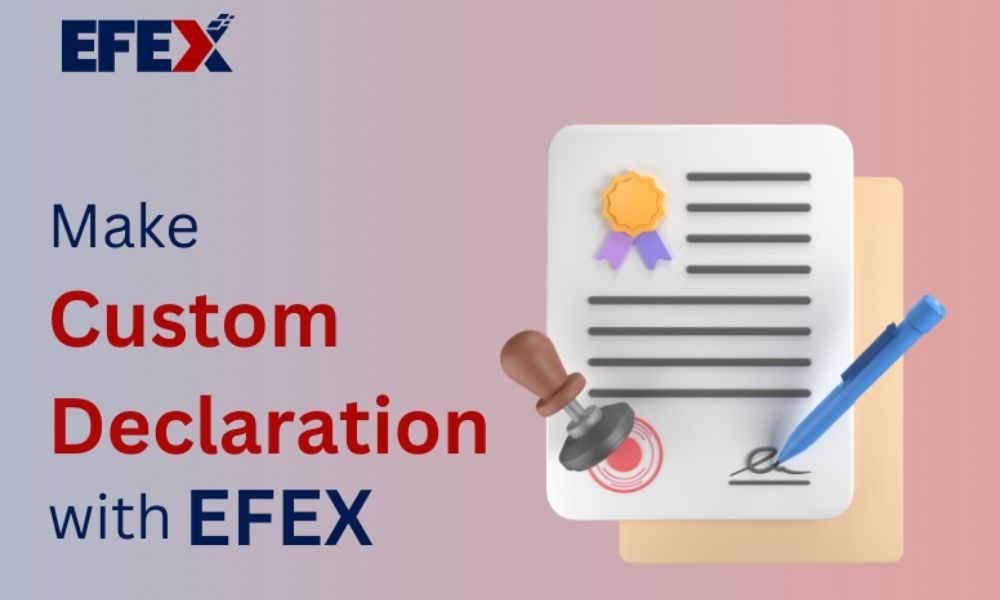 EFEX offers a streamlined and efficient customs declaration service for all your export and import needs. We understand the complexities of customs procedures and ensure that your goods are cleared smoothly without delays or errors.
Our team of experts is well-versed in the latest regulations and will handle all necessary documentation, including insurance certificates, shipping bills, bills of lading/airway bills, and certificates of origin and analysis. Our services also include assistance with obtaining necessary certifications such as ISO, FSSAI, PQIS, and FDA.
With EFEX's customs declaration service, you can rest assured that your goods will be cleared quickly and accurately, allowing for smooth transportation of your products to their destination. Trust us to handle all your custom declaration needs efficiently and professionally.
👉 Read More: Top 5 Customs Clearance Service in Hanoi (2023)
👉 Read More: Top 6 Customs Clearance Service in Ho Chi Minh
Conclusion
Custom declaration is a crucial step in the import and export process. Adequate knowledge of various types of customs declaration forms and how to make them can help avoid delays or errors that could lead to the confiscation of goods.
With EFEX's customs declaration service, you can trust that your goods will be cleared accurately and efficiently, allowing for a seamless transportation process.
Whether you are an individual traveler or a business dealing with imports and exports, make sure to have all the necessary documents in place and seek professional assistance from EFEX for smooth customs clearance.
So don't hesitate to reach out to us for all your customs declaration needs. Let us help you navigate the complex world of international trade with ease and expertise. Trust EFEX, trusted by businesses worldwide for their import and export needs.