In order to improve the management of goods as well as the quality of work in the warehouse, dynamic slotting was created as a solution to solve the problems related to the movement of goods and is now being applied by many businesses.
The way you choose to position and arrange items in your inventory is called notching. The most effective classification of goods will depend on the logical nature of the product, the frequency of purchases, which products are placed together or other aspects related to the business. And these problems are solved with the dynamic slotting method.
What is the definition of Dynamic Slotting?
Dynamic slotting is a type of technology integrated with the inventory management system, it allows to change the position of products in the warehouse due to many different reasons. The position of the product can change according to market demand as well as the profit that the business earns from that product.
With this technique, the front pick position will be created dynamically, instead of being item-specific as with conventional techniques.
👉 Read More: What Is Warehouse Slotting? Strategies And Optimization
👉 Read More: What Is Buffer Stock: Example And Advantages
👉 Read More: What Is Floor Stock And How It Works?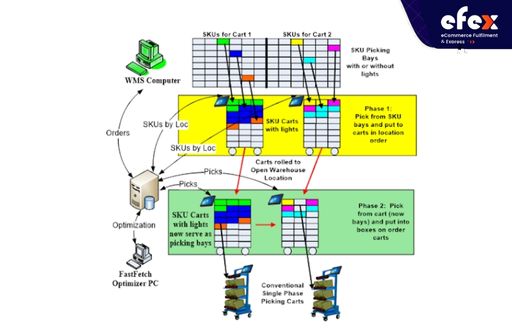 Many businesses apply this technique in their business activities because it will bring many benefits. The potential of dynamic slotting is maximized in situations where there is not enough warehouse space to handle all the SKUs that DC brings in or when the demand for SKUs in a group of orders exceeds the capacity to store them. store to store the forwarding location for the SKU in the enterprise.
How Slotting Dynamic Works?
To optimize the working time of employees, some businesses have applied the classification of goods. With these, businesses will give priority to products with large orders (often referred to as "high-speed SKUS") to easy-to-access areas such as aisles in the picking area.
However, this also brings many disadvantages as the traditional slotting method will require employees to physically transport the goods or suspend work when the goods are shipped.
And Dynamic Slotting was created as a solution to this situation. With the use of FastFetch's Bulk Pick Cart Solution and its combination with the bulk pull method, Dynamic Slotting reduces the amount of time it takes to walk to pick up low-order quantity items. spread over a large warehouse area.
Employees will save more time, which means business efficiency is significantly improved thanks to the support of Dynamic Slotting.
Overview of the System
Product positions with low order demand will be sorted by scanning and navigating via voice or light from the SKU in the shopping cart

SKUs are arranged one after another at the right places to better meet customer needs and save time for shipping staff

Bulk trucks are routed through a high-speed pick-up facility, where orders are routed straight into crates

Dynamic slotting significantly reduces overall walking time when picking orders from low-density or extremely large picking areas
Features of dynamic slotting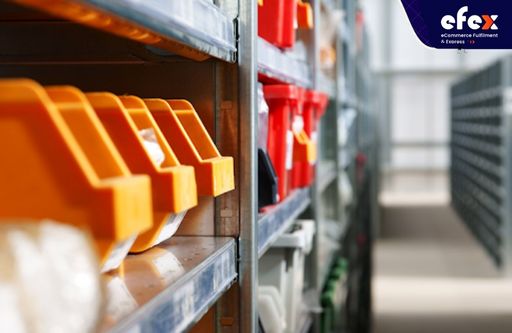 Save a lot of walking time by pulling a large number of goods in one line for a large batch of orders

Integrate with multi-modal selection methods when it is possible to include barcode scanning and voice matching. choose the direction of light or bring new technologies into a single system

Works well even if the product is not illuminated or the warehouse is not lighted

No need for host intervention in controlling the lights on the bays

Multi-language integration for user convenience

The user interface can provide selected product images

High flexibility makes it suitable for both small and large businesses

Fault-tolerant operation is also integrated with the dynamic slotting

Use information about shapes to select boxes for products
Advantages of Slotting Dynamic
Reduce the time of goods selection as well as freight, reduce the number of replenishment times

Fulfill orders faster, reducing bottlenecks when receiving orders. This helps to increase customer satisfaction and comes with increased sales

Improve customer service because communication with the customer's WMS becomes simple and convenient

On the basis of dynamic flow, the company will determine the appropriate location to store the inventory. Goods will be allocated to a suitable location to make it easier to pick up

The need for packaging and inspection will be minimized or eliminated. The company will save labor costs (estimated at about 8 to 15% of human resources costs).

With its flexible structure, dynamic rails will also quickly adapt to changes in business strategy

Easy to use, easy to get used to and simple to maintain

Fast payback time, less risk than applying other traditional methods
👉 Read More: 3PL Warehouse Services: Benefits And Offers
👉 Read More: All Cost To Rent A Warehouse In 2023
Dynamic Slotting Future
With the current speed of change and strong development in the economy and production. It is also a big challenge for businesses to find a way to stay strong when the waves of trade come. It's important to research, or ask for, innovative ways to improve workflow and increase efficiency whenever possible.
You don't have to spend millions to invest in solutions. What you need is a creative, reasonable business model of the business. Dynamic slotting is still considered to bring many benefits to the company and it is predicted to have potential for future growth. So dynamic trenching is a proven strategy for speeding up the shipping process and ameliorating many other related problems.
Conclusion
To optimize your business or production, dynamic slotting will be one of the methods that you should pay attention to. If applied in the enterprise, you will see many benefits that dynamic slotting brings in optimizing the transportation of goods as well as improving work productivity.