Each warehouse must establish how and where goods are handled. This is referred to as the process flow of warehouse management, and it must be in place first before the order fulfillment process takes place. Your company will save time and money with a well-designed process flow of warehouse management. It simplifies all of the steps of your warehouse management, allowing you to concentrate on getting the job done. Let's continue reading to learn about examples of warehouse management systems with two types of process flow charts used in warehouse management systems.
Examples of Warehouse Management Systems
In a graphic format, a warehouse system flow graph demonstrates the flow of warehouse products. Gathering, storage, and transportation are the three processes that all warehousing flow charts can be subdivided into. This flow chart is suitable for small facilities or product lines with few goods that aren't divided after delivery. Here's an example of a simple flow chart for a warehouse system: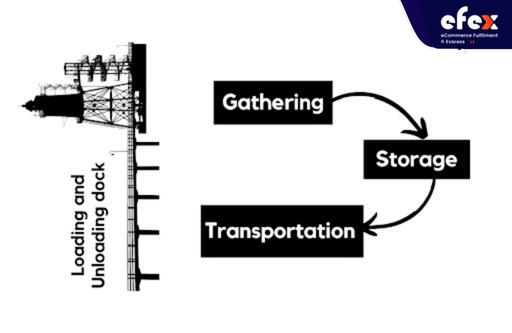 A simple flow chart of warehouse management[/caption] Medium flow charts are far more popular, and they have a greater number of stages. This type of flow chart is ideal for mid-sized businesses or businesses that have a high number of goods. Besides the 3 elements of a simple flow chart, a medium one provides sections for preparatory work (see the image below) Here's an example of a flow chart for a midsize warehouse system:
👉 Read More: 3PL Warehouse Services: Benefits And Offers
👉 Read More: All Cost To Rent A Warehouse In 2023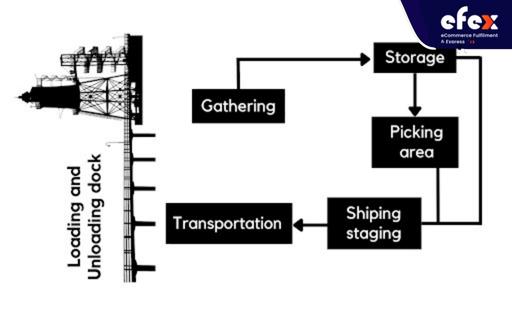 Depending on the demands of the items, complicated warehouse system flow diagrams may include ten or more steps. Temperature-controlled items, companies with high-value inventory, or products with multiple pieces are all examples of flow charts. Besides, some or all of these steps may be maintained or modified. Here is an example of a flow chart for a complicated warehousing system: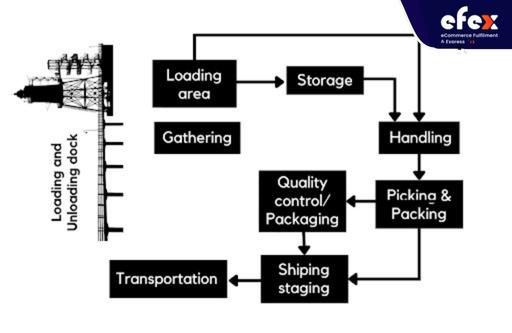 Warehouse Inbound Example
The productivity of your company depends on having an effective warehouse inbound process flow. You will need to hire new employees relying on the issues your warehouse encounters. You can rapidly draw candidates' attention by posting an attractive warehouse manager job description. You should offer a competitive warehouse manager pay as well. Once you've recruited the right candidate, it's critical to devote the same amount of attention to your inbound flow as you do to your outbound flow. The following stages should be included in your warehouse's incoming process flow:
Plan all shipments
Don't let the time of your deliveries be a guessing game because this will result in a congested distribution area and disruptions in pallet unloading. Give your delivery drivers an automatic scheduling system or mark down days and hours in advance.
Make a designated location for unloading
When creating a warehouse inbound process flow, it's easy to ignore the unloading area. This area is mainly for dismantling cases and transporting things to shelves.
Have an inventory management system
Putting things on shelves will not be enough; you also need an inventory management system that is both accurate and fast. Besides, your process flow should also include special management and storage requirements for your products in your process flow . Everything that single pieces require for storage, such as warehouse labels, should be included in the inbound flow.
Keep your reports up to date
Your warehouse inventory management software utilizes numbers to calculate all of your buyers' orders. Outbound traffic is immediately impacted if a case was never put away or was broken and never recorded. Run an inventory audit on a regular basis to ensure that all items are accounted for. Although writing down everything is a good start, the final warehouse incoming process flow chart should be visual. Here's an example of how one may appear: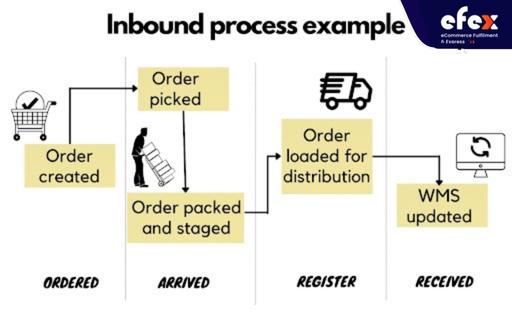 Warehouse Outbound Example
Mastering the flow of your warehouse's outbound operation is critical to your business's future. Indeed, it's an important part of ensuring that both distribution service providers and buyers are satisfied. At a basic, the process of outbound flow should have the following steps:
Set aside a space for packing
Your warehouse's packaging area should function like a well-oiled engine. In addition to the computer for processing orders, packing stations should include SKU numbers, label printers, barcode scanners, and packing supplies. To avoid delays, ensure your packing facilities are constantly well-stocked with eCommerce packaging.
Establish a staging location for shipments
This is where finished items are stored until they are available for pick up onto a truck. Since your warehouse is well-organized, drivers can begin loading items as soon as they come.
Keep track of shipments and delivery notices
Your WMS - warehouse management system (WMS) will offer an interface that allows you to view which goods have been sent and which are still being processed. When buyers get their purchases, some WMSs send out alerts. This avoids the need for extra package follow-up communication. If a shipment has problems, ask your carrier for further information.
Keep your records up to date
Documentation of items exiting your storage and where they went should be part of your outbound process flow. Whether you perform it manually or have software do the bulk of the tasks, you must have documented proof of every completed task. Using a flow chart to structure your warehouse outbound operation will help you maximize efficiency. And here is an instance of a flow chart for an outbound process: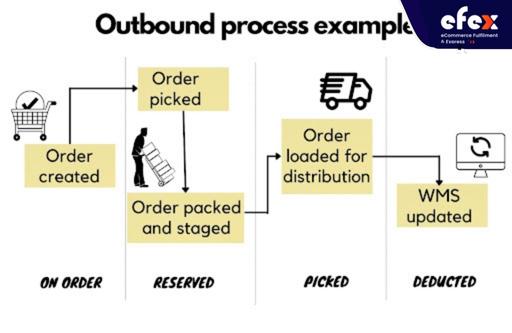 👉 Read More: 12 Challenges In Warehouse Management And How To Deal With It
👉 Read More: Top 30 Warehouse Management Kpis
Conclusion
It is vital to tailor your process flow to your warehouse requirements as you develop it. Take some time to double-check that your warehouse process flow is efficiently delivering items to customers. This will set you ahead of the competition and ensure that your profits remain consistent year after year. With several examples of warehouse management systems, you can make yourself stand out from the crowd.