In today's highly competitive e-commerce landscape, selling products online requires a strategic approach to attract customers and boost sales. Shopee, being one of the leading e-commerce platforms in Southeast Asia, offers a vast marketplace for sellers to reach a broad audience. This article will answer the question "how to boost sales in Shopee" and guide you through effective strategies.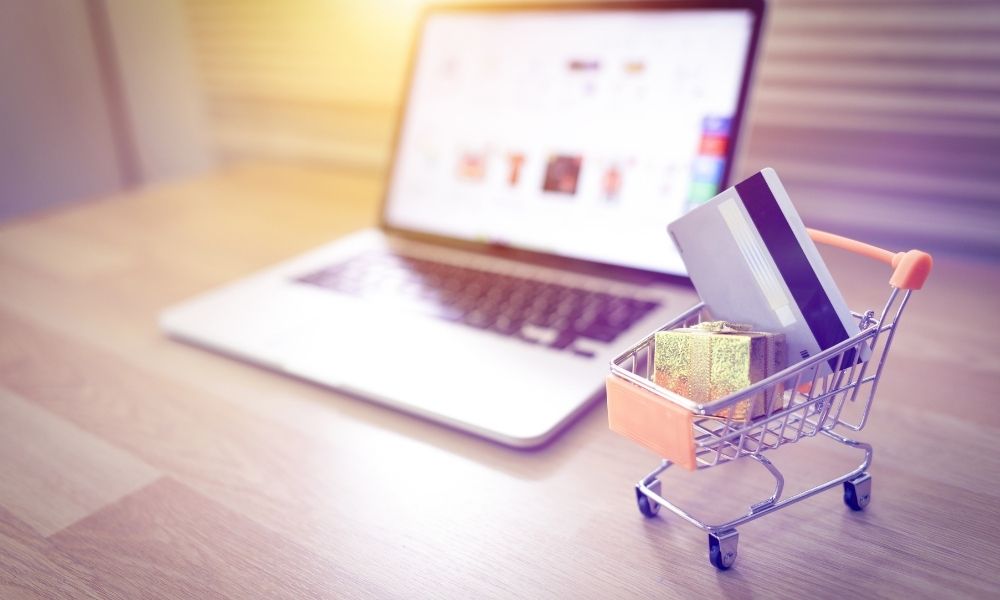 5 Reasons Why you should sales in Shopee
Selling on Shopee offers numerous advantages and opportunities for both established businesses and aspiring entrepreneurs. Here are 5 compelling reasons why you should consider selling on Shopee:
Vast and Growing Customer Base: Shopee boasts a massive and continuously expanding user base across various regions, providing sellers with access to a diverse pool of potential customers.
Easy and User-Friendly Platform: Shopee's user-friendly interface makes it easy for sellers to set up their stores and list products quickly, even for those with limited e-commerce experience.
Low Entry Barrier: Shopee provides a low entry barrier for sellers, making it an attractive option for new entrepreneurs and small businesses to start selling online without significant upfront costs.
No Listing Fees: Unlike some e-commerce platforms, Shopee does not charge listing fees for sellers to upload their products, reducing the financial burden and risk associated with starting an online store.
Platform-Wide Campaigns and Promotions: Shopee frequently hosts platform-wide campaigns and promotions, such as 11.11 and 12.12 sales, allowing sellers to leverage the increased traffic and visibility to boost sales.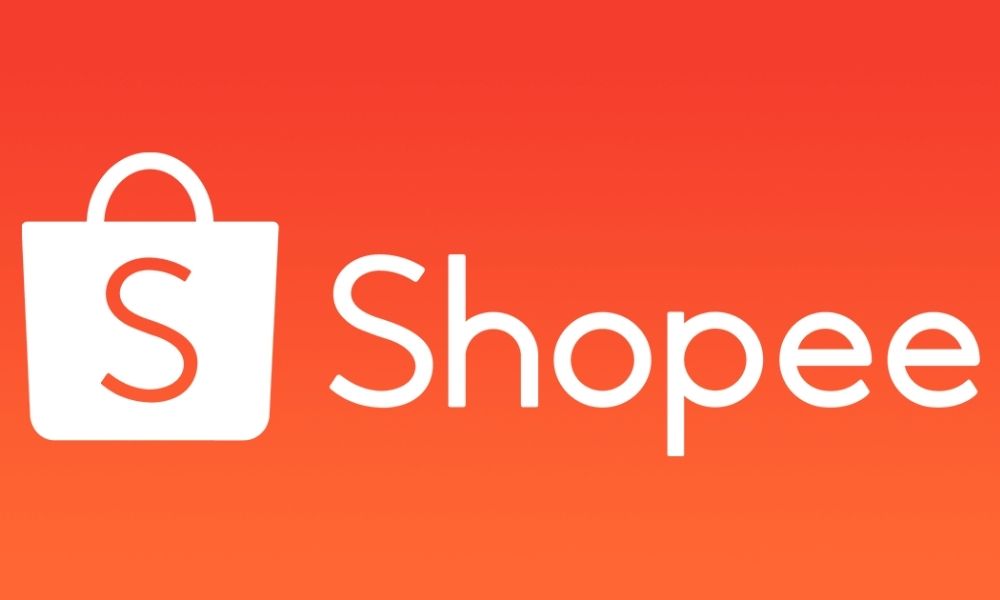 👉 Read More: Shopee Vietnam To Philippines Service
How to boost sales in shopee in 2023
Shopee offers a powerful Campaign feature that allows sellers to tap into various promotional opportunities and boost sales significantly. Let's delve into how you can make the most out of this feature to drive traffic to your store, increase product visibility, and entice buyers to make purchases.
Run Campaigns
Running campaigns is an effective way to attract more potential customers and increase sales on Shopee. Participate in Shopee's platform-wide campaigns like Shopee Mall Mega Sale, 11.11, or 12.12 to take advantage of the increased traffic during these events. Additionally, create your own promotional campaigns by offering discounts, bundle deals, or free shipping for a limited time. Utilize eye-catching visuals and compelling copy to capture the attention of shoppers and encourage them to make a purchase.
Joining a campaign on Shopee is a straightforward process that allows sellers to take advantage of various promotional opportunities and boost their sales. Here's a step-by-step guide on how to join a campaign in Shopee:
Login to Your Shopee Seller Account and navigate to the Seller Centre
Go to the Campaigns Section
Explore Available Campaign and choose the Right Campaign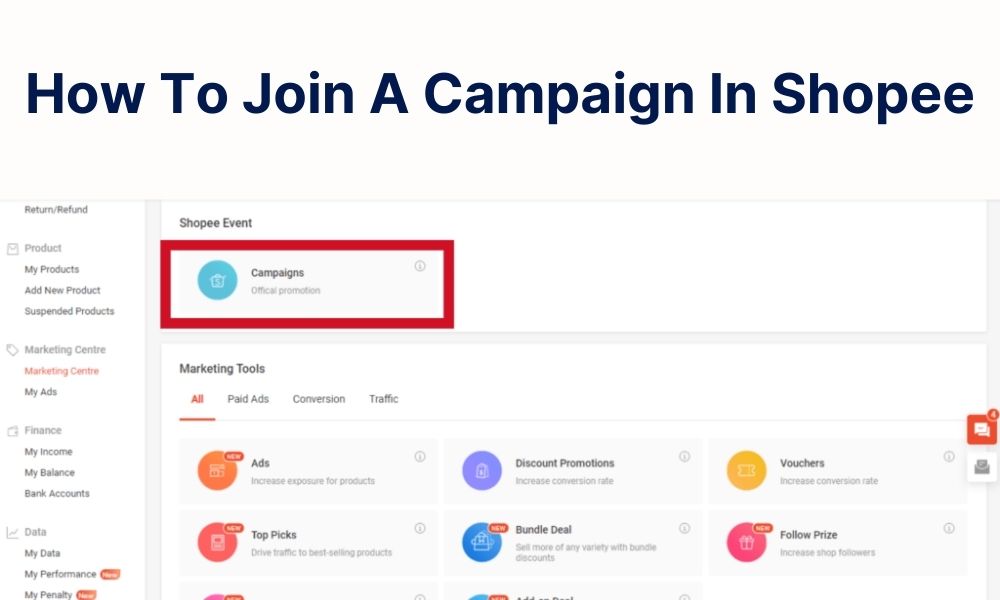 👉 Read More: Shopee Vietnam To Malaysia Service
Nominate Products For Flash Sale
Nominating products for a flash sale is an excellent way to increase visibility, create a sense of urgency, and boost sales on Shopee. Flash sales offer time-limited discounts on selected products, enticing potential customers to make immediate purchases.
How to boost sales in Shopee with this feature? Here are some steps you should follow through:
Login to Your Shopee Seller Account and Go to the Seller Centre:
Access Flash Sale Management
Choose Products for the Flash Sale and set Discount and Flash Sale Duration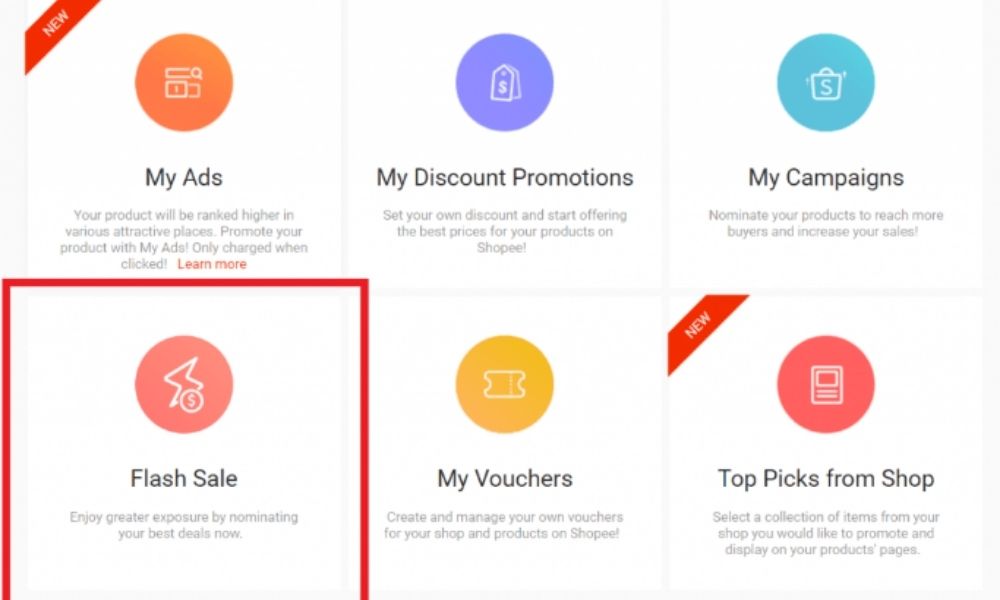 Use The Top Picks Features
The "Top Picks" feature in Shopee allows sellers to showcase their best products at the top of their shop's page. Take advantage of this feature by carefully curating your product listings. Highlight your most popular items, new arrivals, or products with the highest ratings to create a positive impression on visitors and boost the chances of making a sale.
Here's a good tips on how to effectively use the "Top Picks" feature on Shopee:
Recognize Your Top-Selling Items
Curate Your Top Picks Collection
Optimize Product Titles and Descriptions
Add High-Quality Images
Harness Customer Reviews and Ratings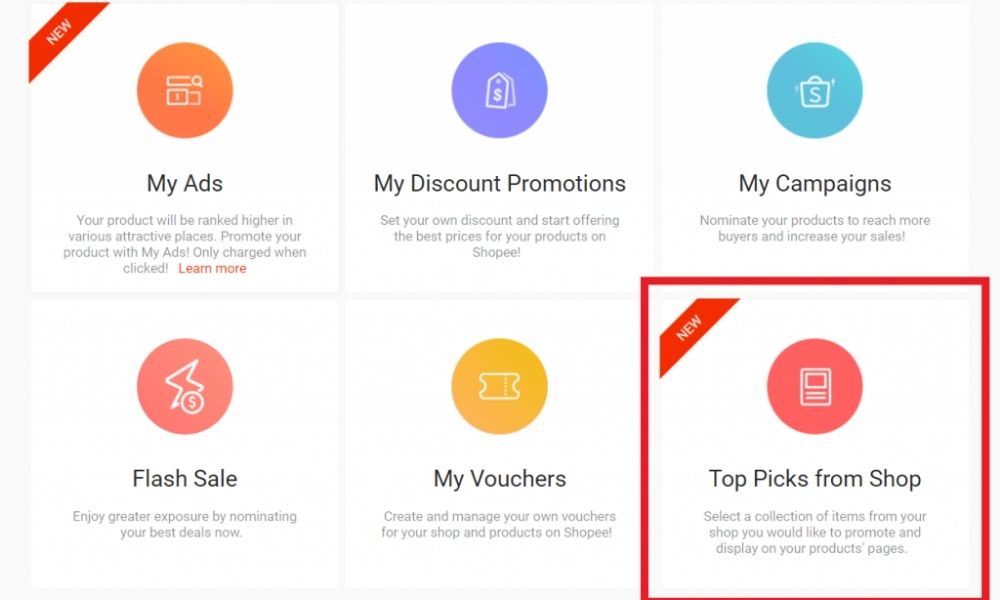 Promoting Purchase Activity Using Coupons
How to boost sales in shopee? Shopee offers various voucher types that sellers can use to incentivize buyer activities. For example, you can provide discount vouchers for new users, reward loyal customers with exclusive vouchers, or offer free shipping vouchers for purchases above a certain amount. By encouraging these activities, you can attract more customers and retain existing ones, leading to increased sales.
how to use vouchers to encourage buyer activities on Shopee more effectively? Here are some tips Efex has collected:
Offer New User Vouchers
Reward Loyal Customers
Set Minimum Spend Vouchers
Promote Free Shipping Vouchers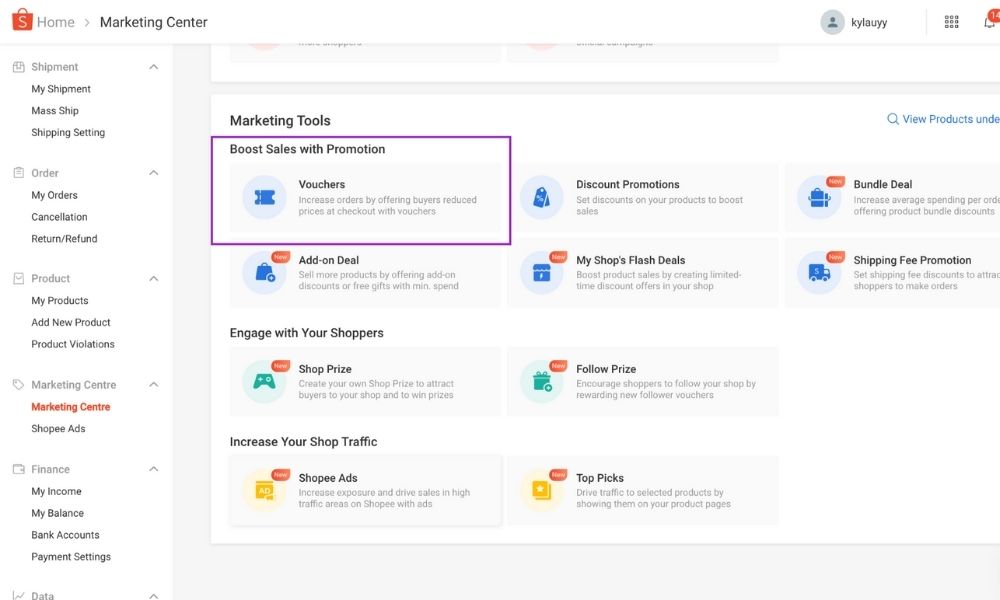 Advertise Your Products Using Price Reductions - Discounts
Promoting your products with discounts is a proven and powerful marketing strategy to attract more customers, increase sales, and create a sense of urgency among potential buyers. Offering discounts can make your products more appealing, especially in a competitive marketplace like Shopee.
Using the Discount Promotions tool in Shopee allows you to create and manage various types of discounts for your products, attracting more customers and boosting sales. Here's a step-by-step guide on how to use the Discount Promotions tool on Shopee:
Access Discount Promotions
Choose the Type of Discount
Set Discount Detail
Choose Products for Promotion
Comprehend the Sales Funnel on Shopee
Understanding the Shopee sales funnel is crucial for e-commerce success on the platform. The journey that potential customers take before making a purchase is represented by the sales funnel. It consists of several stages, each requiring different marketing strategies and efforts to guide shoppers from awareness to conversion.
By understanding and effectively navigating the Shopee sales funnel, you can optimize your marketing efforts, increase conversions, and build long-lasting relationships with customers. Continually analyze data, gather customer feedback, and adjust your strategies to improve the performance of your sales funnel over time.
Use Seller Assistant
Leverage Shopee's Seller Assistant tools to streamline your store management and improve customer engagement. Seller Assistant can help you manage orders, respond to customer inquiries promptly, and track your store's performance. By providing excellent customer service and ensuring a smooth shopping experience, you can build trust with buyers and increase the likelihood of repeat purchases.
Enable Vacation mode
If you need to take a break or temporarily stop accepting orders, make use of Shopee's Vacation Mode. This feature allows you to inform potential buyers that you are away and unable to process orders at the moment. Communicate clearly with your customers about your return date to manage their expectations and maintain a positive reputation.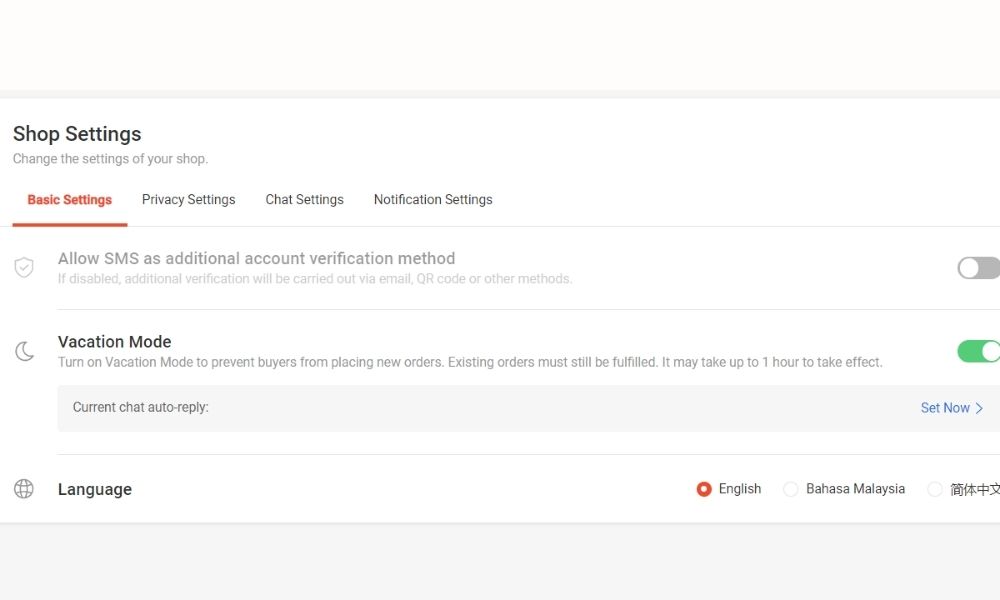 Conclusion
In conclusion, mastering how to boost sales in Shopee is essential for success as an online seller on the platform. It is crucial to continually monitor and analyze the performance of marketing efforts, adapting approaches to maximize results.With dedication and the right tools, sellers can thrive on Shopee's dynamic marketplace, achieving greater visibility and sustained growth in their online businesses.
Embracing these effective strategies is the key to unlocking the full potential of Shopee and gaining a competitive edge in the e-commerce landscape.