Successfully operating a warehouse requires many factors, especially the design of the warehouse. The layout of the warehouse must be suitable for the needs of use, ensuring good storage of goods when entering the warehouse. In this article, you will learn how to improve warehouse layout fast and effectively.
5 Useful Tips To Create Warehouse Layout
Create a warehouse Schematic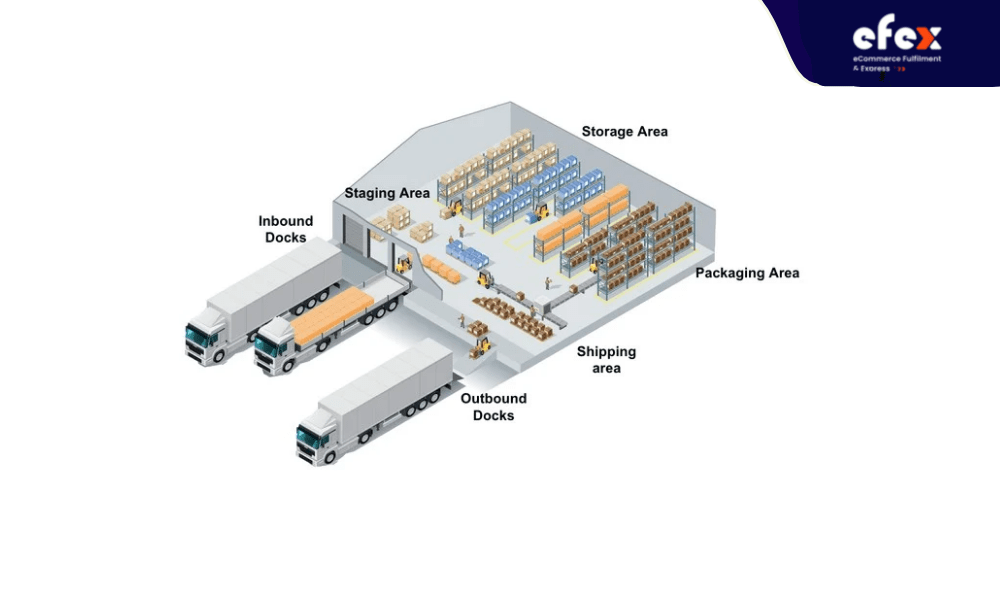 Regardless of the size of your facility, an effective warehouse plan begins with an accurate 2D description. This can be done with physical or digital paper drawings with design software.
Physical Schematics
If your warehouse is very large or has an unusual appearance, using a copy of the warehouse plan is the simplest approach to building a physical design. You can use the owner's drawings they provide when you rent. If you can't find a blueprint, you can easily create your own inventory diagram using checkered paper. Plan your layout as if one square on the checkerboard equals one square meter in your warehouse. As a result, the spatial connections in your design will correspond to your real space.
👉 Read More: 3PL Warehouse Services: Benefits And Offers
👉 Read More: All Cost To Rent A Warehouse In 2023
Attach a paper schematic to a sheet of poster or foam core to create a stable platform for designing your layout. Then, place a sheet of lined paper on top of your original to design and experiment with alternative shelf and equipment layouts. Furthermore, you can represent equipment using paper cutouts and arrange them around to evaluate alternative layouts.
Design Software
Design software is indeed an effective digital solution for quickly creating and testing your warehousing floor plan design. Some specialist online planning tools, like SmartDraw, provide unique functionality for warehouse design. Plans begin at $5.95 a month, and you can try different layout techniques by adding and removing objects around your map easily. Whether you draw your warehouse plan using grid paper or using a digital layout tool, it's critical that the warehousing dimensions you employ are correct. Every centimeter must be considered in spatial planning. Failure to do so might spell catastrophe once you invest money in storage and warehousing equipment, which may not suit if the warehouse specifications are incorrect.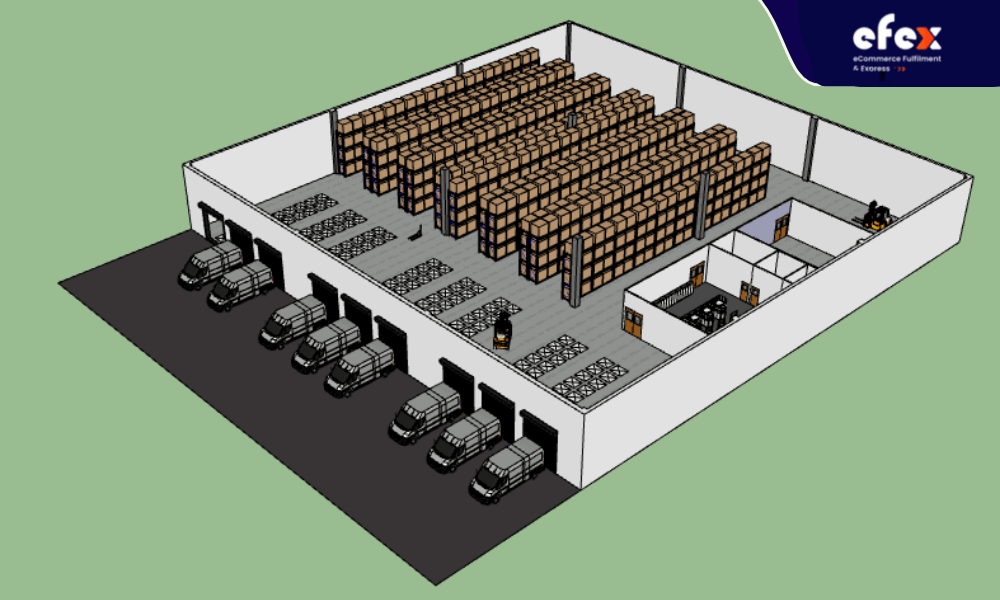 You wouldn't want to be doing last-minute facility layout adjustments that might have been prevented with careful planning, so whip out a rolling measuring tape to take correct measurements from the beginning. Note any immovable elements such as pillars or support, workspace build-outs, sloped flooring, stairwells, and equipment after you have a print or online schematics with dimensions created to scale. These spaces will impose constraints on the warehouse floor design, so make sure you precisely mark them on the layout schematic. Many warehouses make designated space for offices. What you need is a crude frame, but keep track of when office doors open and out into the warehouse. If you overlook this point, you may inadvertently obstruct door access. Once you've identified key parts of the warehouse design blueprint, You're ready to start organizing your warehouse layout.
Optimize Your Space
Begin by carefully considering how you want to use the warehouse in order to build an effective floor layout. You might be creating layouts for lightweight product manufacturing or assembly, or for a facility that stores and ships goods (like a typical e-commerce company warehouse design). Your company's own requirements will determine how you allocate space and organize your warehouse architecture.
Plan for Equipment & Surrounding Workspace
The first step in developing your warehouse layout is to identify your essential components. These are the items that take the majority of your area and/or serve as the central focus of your production areas. For example, metal shelving and pallet racking will be important factors if you own an eCommerce company that supplies and ships items. The figure below depicts how this layout appears.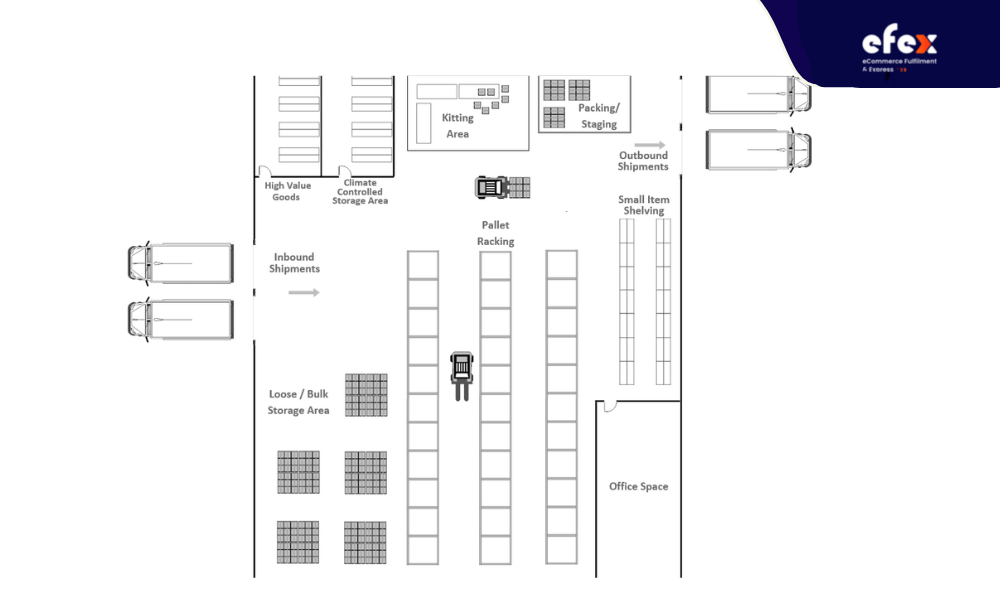 The essential warehousing units of a company, such as production equipment or terminals, will differ depending on the facility's principal purpose. Whatever your important units are, you must first identify and include them in your strategy. Most e-commerce warehouses are focused on receiving, warehousing, selecting, packaging, and delivering merchandise. Inventory storage facilities are the principal equipment in these cases. The storage containers utilized are commonly shelves or bins, although their size, weight, and shape vary widely. Other tasks that affect the entire warehouse floor layout for eCommerce firms include order packaging and shipping, and also receiving goods. It is critical to create sufficient space around the numerous work areas so that staff can accomplish these activities efficiently. Allow enough space for any equipment needed, from forklifts to hand trucks, to efficiently travel the warehouse aisles. Assembly facilities or lightweight industrial machinery are likely a major emphasis if you undertake light assembly in conjunction with some shipments. Following that, you'll need to consider storage space for both components and finished items, as well as suitable packaging and shipping rooms. Before beginning any warehouse floor design process, it is critical that you do a complete analysis of your demands. Failure to take into account the entire spectrum of your requirements may result in poor warehouse design.
Create Warehouse Production Zones & Workflow Areas
Following the consideration of core components like equipment, stock storage, and assembly stations, the following stage is to consider how people, materials, and items flow in and around your essential elements. You must also consider the quantity of area necessary for your manufacturing process to be carried out safely. In manufacturing, space must be set aside for workbenches, containers, tools, and security stations that are required for production. Furthermore, enough production zones must be set aside around equipment to allow employees to transport materials and make things securely. There is no one-size-fits-all criterion for what is deemed enough space when it comes to production equipment and production procedures. Pay particular attention to the equipment manufacturer's instructions, since each piece of technology will come with detailed operating instructions. One important work location for a stock and ship operation is the aisle area between floating shelves. This is where you or your staff will want the appropriate room to stock packages and choose things for orders. You'll also need to provide room for staff to move items into, around, or out of the production zones, which include your packaging, shipment, and receiving areas.
Establish Warehouse Storage Areas
Another important element to consider in the arrangement is storage. In reality, for package and ship (as well as some assembly procedures), an effective storage space layout is likely to be your top priority. To calculate the amount of storage space you'll require, as well as the sort of storage units you'll require, you must first examine what you'll be keeping. Your warehousing and distribution requirements might take numerous forms, including:
Small assembly components are stored in containers on light-duty shelves
Pallets containing mechanical parts
Boxed products for pick-up, packing, and shipping
Overstock merchandise
Manufacturing raw materials
The sort of storage in your design as well as the area you have to preserve mostly around storage spaces—such as aisle widths between shelves and clearance zones for moving things in and out of storage—depends on what you're keeping. Aisle spacing is determined by how you transport supplies and/or commodities in your warehouse. You'll need plenty of room between bookshelves or around other units if you employ a hydraulic jack or lift to transport pallets or machinery in your storage locations. To traverse between shelves, pallet jacks require at least a corridor length of 4' to 5'. Forklift trucks require more open aisle space. If you intend to use forklifts in a warehouse, the aisle width needed will range from 11' to 13', depending on what type of forklift. Hand-held bins or roller carts are everything you want to stock and retrieve stored products if your warehouse designs include hand-stocking tiny boxes for assembling or bundling. In these circumstances, your shelving aisles should be between 3.6' and 4' broad. If your warehouse plan incorporates miniature craft boxes for assembly or packing, a portable or wheelchair-accessible container is all you need to store and collect items. saved. In this case, 3.4' to 4' would be the ideal distance for your shelf aisle.
Choose Your Warehouse Equipment
Many small business warehouses require some types of workstation and warehousing equipment, including assembly tables or packing stations, whether they are manufactured, assembled, selected, or a combination of the three. The kind of warehousing, shelves, and workplace equipment all play a role in warehouse layout planning. Common warehouse solutions include forklifts, light-duty shelves and many sorts of containers.
Warehouse Storage & Shelving Options
| | | |
| --- | --- | --- |
| Storage/Shelving Types | Best For | Common Sizes and Space Needed in Your Warehouse Layout |
| Pallet rack | Storage requirements ranging from middleweight to heavyweight | Each unit is 4' deep x 8' long |
| Heavy-duty shelving | Storage requirements ranging from light to medium weight | Each unit is 3' to 4' deep by 6' to 8' long |
| Light-duty shelving | Needs for light-weight storage | Each unit is 18" to 2' deep x 4' long |
| Specialty shelving and Cantilever rack | Oversized things have their own storage space | Depending on the situation |
| Hoppers, Bins and Boxes | Storage of loose components and materials | Pallet size is a typical allowance that varies: 48" x 40" |
| Assembly bins and Small parts | Managing small goods in a short place | None, typically seen on shelves, trolleys, and/or workstations |
Your storage and distribution equipment can be obtained from a local specialist supplier. Buying used hardware is a more common and affordable alternative instead of buying new equipment. You just need to make sure that the quality and type of equipment match your facility's requirements. Other choices include purchasing warehouse equipment through importers like Alibaba, which frequently sells warehouse equipment at substantial rates. Amazon, Lowe's, and HomeDepot are other useful places to get common equipment, especially in modest amounts.
Workspace Equipment Options
Your warehouse may require work area equipment. Here are some possibilities:
| | | |
| --- | --- | --- |
| Type of Workspace Equipment | Best For | Sizes to Allow for in Warehouse Space Planning |
| Workbenches with multiple functions | Manufacturing, assembling, picking, and packaging | Varies. The most common sizes are 3' deep x 5' to 8' long |
| Assembly lines for specialized manufacturing | Production and assembly requirements | Varies. The most common sizes are 2' to 3' deep x 5' to 8' long |
| Packing stations with specific functions | Daily shipment requirements | The most common dimensions are 3' deep x 6' to 8' long |
| Freight weighing station for pallet packaging | Frequent truck freight transportation operations | 4' x 4' or 6' long x 4' deep |
| Table with a dedicated shipping station | Regular package shipment operations | Varies. The most common sizes are 3' deep x 5' to 8' long |
Material Handling Equipment Options
You must also consider how you will transport stock and commodities around in your warehouses, as well as obtain the essential transport equipment. Popular alternatives include:
| | | |
| --- | --- | --- |
| Logistics Equipment Types | Best For | Sizes to Allow for in Warehouse Space Planning |
| Pallet jacks and Stock carts | Operations that transport items inside a warehouse | Allow about 3' broad x 5' length for storage |
| Rolling staircases | Operations that keep a large amount of product on shelves that are more than 8 feet tall | 4' broad x 8' length approx |
| Conveyors | Operations that carry out light assembly | Variable, with widths ranging from 18" to 30" and lengths ranging from 2' to 24' being the most prevalent |
| Forklifts | Operations involving the movement of big goods inside a warehouse | Aisle clearance is around 11' - 13' |
Use Efficient Traffic Flow Strategies
Now that you know what kind of hardware and storage you'll need for your warehouse, as well as where things should go in your plan, it's time to create a comprehensive plan. The purpose of a warehouse diagram is to organize every component to create an efficient, productive flow of output traffic. Take a look at your business by investigating the following warehouse utilization requirements:
Evaluate how much time you and your staff will spend in different areas of your warehouse.
Determine where the majority of the work will be centered—manufacturing equipment, storage rooms, or work tables.
Investigate the many requirements you and your staff will have for mobility throughout the warehouse, how products will be acquired from various warehouse areas, and what items must be maintained nearby to accomplish daily activities.
Test Your Warehouse Traffic Flow Plan
The next step before beginning to install machines, racks, and tables is to actually walk through your completed layout. To do so, map out all the space and use sticky tape on the floor to outline the placement of your primary units—whether they're machinery, workstations, or shelves. You don't have to do this for every component, but it's crucial to model up major workflow and production zone locations. Then, walk around the area as though you were performing duties in your warehouse:
Carry containers, equipment, or supplies around while you examine your layout. Make certain that you have ample room in all directions. Move trolleys or pallets through the layout design to ensure that products travel effortlessly along the intended pathways, even when fully laden.
Workers should be involved in testing your design layout: If you already have staff, get them to participate in playing out work operations. If you don't yet have staff, seek the aid of relatives or friends to role-play crucial warehouse tasks. Make sure your employees have enough space to do the duties that will be assigned to them.
Check difficult-to-change layout areas several times: If your warehouse layout includes enormous sections that will store heavy machinery or massive storage units, check these locations several times. It's considerably preferable to make traffic improvements now (when changes may be made simply) than to relocate large fixtures and machinery after they've been installed.
5 Useful Tips To Improve Warehouse Layout
Although there is no universal formula for warehouse design. There are still some effective tips that you can apply. The parts of loading, unloading, purchasing, preserving, taking goods, and transporting goods are present in all warehouses. You can make the most of the warehouse space you have with the following strategy:
Space out the loading and unloading area
Warehouse handling spaces are incorporated within or distinct from the structure. If your warehouse has pre-built loading/unloading space, the point of access will allow trucks to connect and unload their goods instantly inside the facility. If there is not enough room for your equipment to move, loading and unloading will have to be done manually, which will add time and money. If this space is separate from your warehouse, you'll need to take two steps: use a forklift to transport items from the truck into the warehouse, and then place them in the reception area.
Separate the Reception Area
The receiving space is where deliveries are received, and quality check and sorting are carried out. This is where the product sorting begins. If you want your reception area to be isolated from the rest of the warehouse, you can utilize an I or L and U design. If your warehouse doesn't have enough inventory space for all of the products you acquire, having a bottleneck at the start of emptying is beneficial.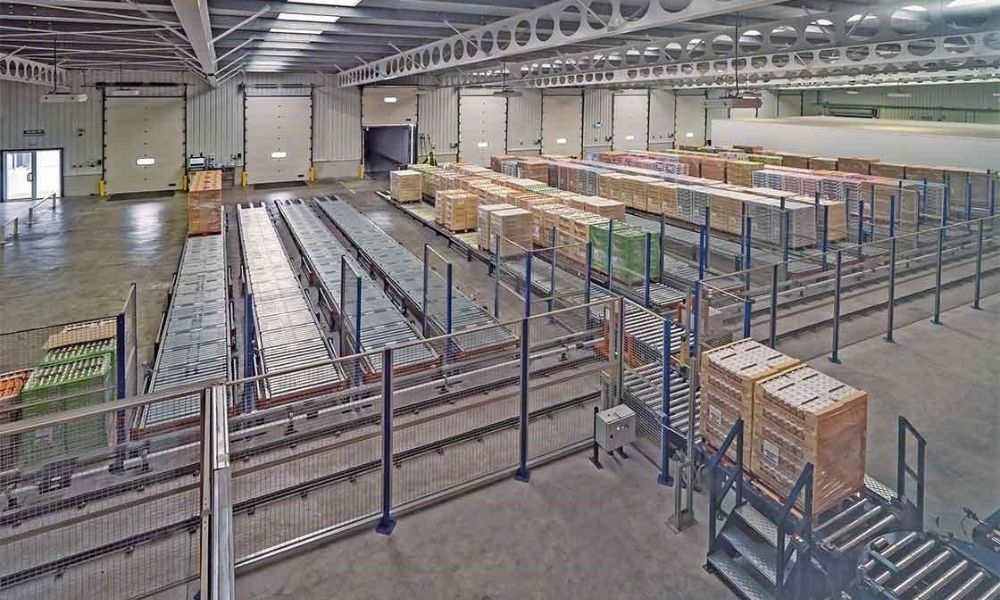 Everything must be verified and evaluated precisely, that's why it must be segregated from the other parts of your warehouse and as large as possible. Ample room is required here to enable proper product inspections and to minimize bottlenecking.
Organize the Storage Area
One suggestion is to stack vertically, although there are other ways to do this. Stacking is a method frequently used by many warehouses, however, it is effective when used on loads with high internal strength, such as dust bags, and rigid packagings, such as cardboard or plastic boxes. All other items should be stored on a rack. Another technique to make the most of your storage capacity is to split your static or dynamic data. The part of the storage space designated for popular products is known as dynamic storage. Your stationery store is made up of things that sit for a short period of time before being transported out. Differences between these two areas need to be discovered so that errors such as faulty inventory can be prevented. In a case study, Johnson Controls, a manufacturer of fire safety equipment, claimed that optimizing storage areas in a warehouse resulted in locating and packing pick-ups or orders 30% increase. This is important because it will improve the customer experience and increase profits for the business owner.
Create a Separate Picking Area
The picking area is where orders are prepared. This area is usually built separately in the shipping facilities rather than all the warehouses. The picking area should be inside or next to the storage area. This will save more time when searching for items.
Adjust the Shipping and Packing Area
The shipping and packing area is where all the steps are involved in preparing and shipping the goods before they are shipped. This area should be built separately from other areas of the warehouse. Effective warehouse storage optimization is the greatest strategy to perfect your shipment space and shipping procedure. Make a point of identifying your most popular goods and keeping them near the shipping area, followed by the second most popular, and so on. A U-shaped or L-shaped arrangement makes this easy. Your warehouse requirements may differ from those of others, but make certain that your requirements are satisfied, such as having the appropriate warehouse equipment and the most effective warehouse architecture.
👉 Read More: Top 12 Tips To Improve Warehouse Operations Efficiency Easily
👉 Read More: 15 Warehouse Optimization Tips To Make Your Work Better
3 Ways to design warehouse layout
Having an efficient warehouse layout will help optimize operational processes, which in turn will make the business run smoother. Here are three warehouse layout designs that can be suitable for your warehouse that you can refer to.
U-Shaped Design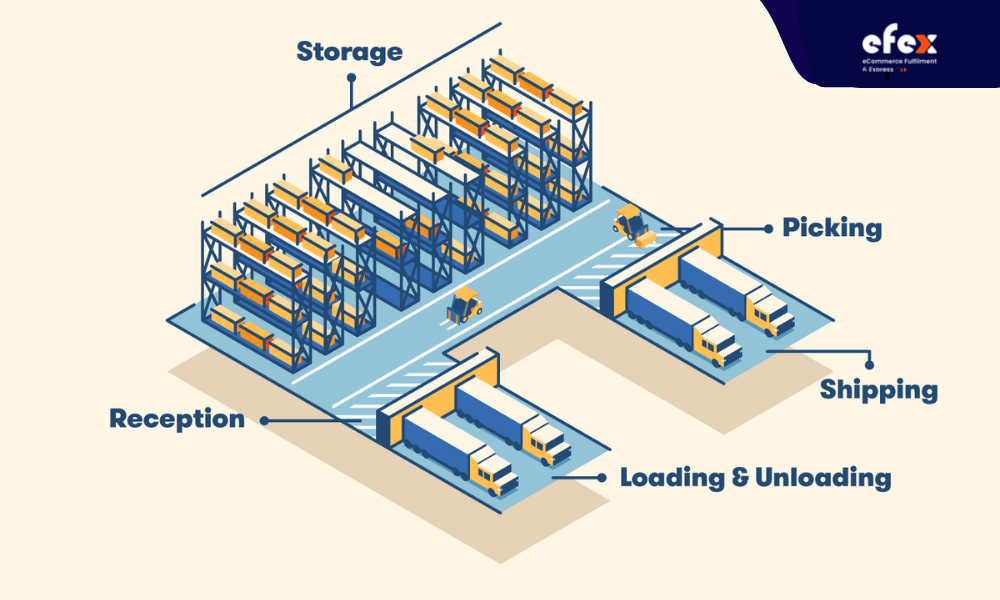 Because of its basic form that can be copied practically anywhere, the U-shaped plan is an excellent option for any sized warehouse. The warehouse is constructed in the shape of a "U," similar to a semicircle, as the name indicates. The pickup and shipment areas should be next to one another. The reception area should then be placed behind the loading and unloading area and behind the shipping.
I-Shaped Design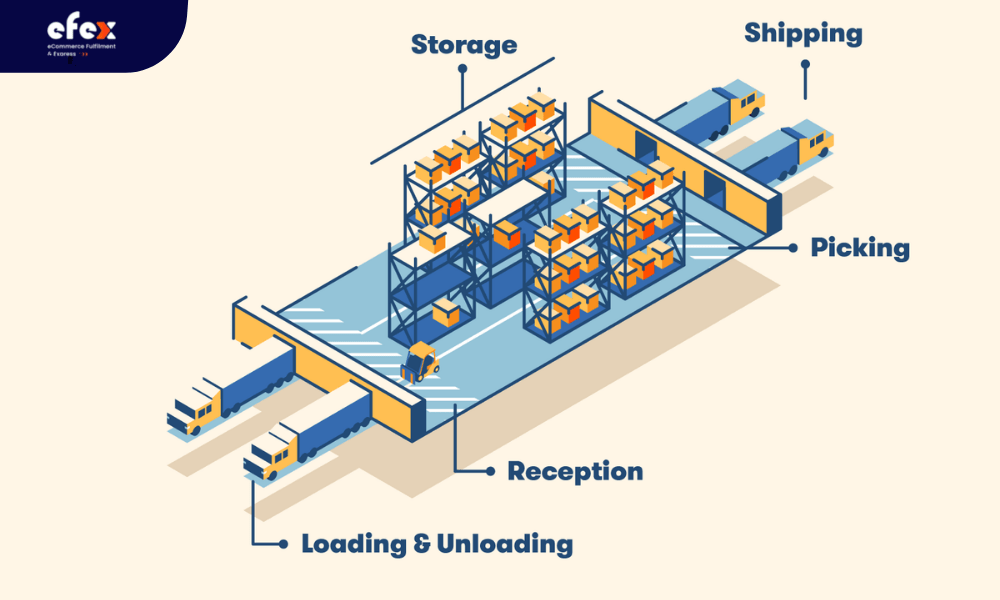 I-shaped diagrams often referred to as flow diagrams, are ideal for high-volume warehouses. It is designed in an "I" shape, with loading/unloading space at one end as well as a shipping area at the other and central storage space. The products are organized in such a way that the larger items are easily accessible. However, items must normally travel the entire length of the warehouse before being shipped out.
L-Shaped Design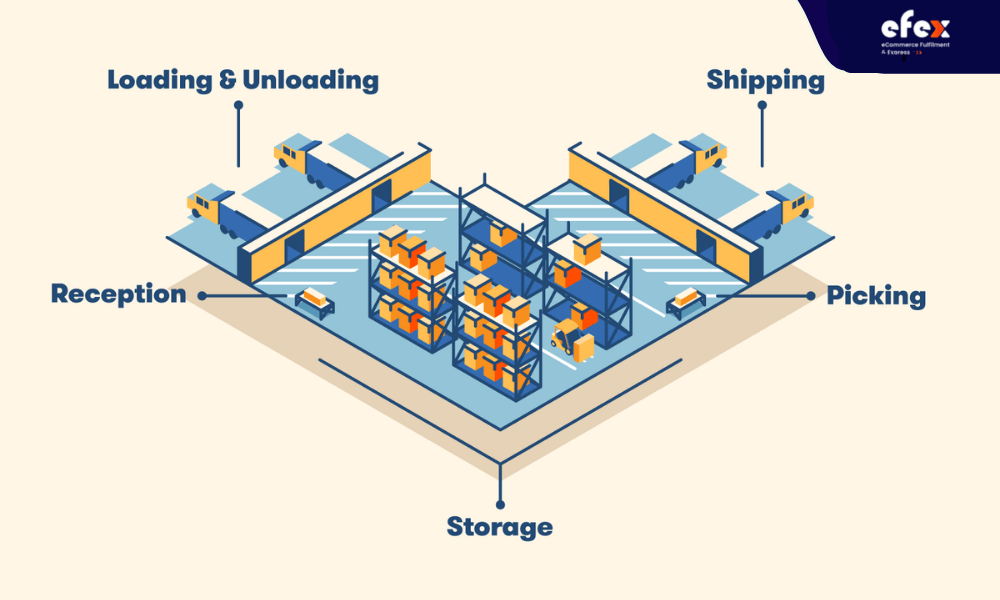 The L-shaped layout directs traffic in the form of an "L." The loading and receiving facilities are on one side of the building, while the ship and pick areas are on the opposite side. The remainder of the room is occupied by merchandise, with lots of storage space.
Bottom line
The layout of the warehouse will greatly affect the speed and productivity of work. Therefore, you should spend a lot of time figuring out how to optimize warehouse layout. If so, the business will become smooth and convenient.