A warehouse will not be able to function effectively if it is poorly organized, which leads to many damaging consequences for the business. So, this article will list 12 ways to improve warehouse operations efficiency for your business effectively. Scroll down to read the article right now!
Maximize and Optimise All Available
The benefit of optimizing warehouse space is to save space, processing time, and shipping orders. However, it is not a simple task. Because even when the warehouse is neatly designed, things can get messier as you go in or out. So, how to improve warehouse operations? A warehouse shelf is an assistant in arranging goods and storing products and materials in the warehouse. Warehouse shelves have many types, sizes, and designs. It is suitable for using and managing goods in different warehouses. The distance between the shelves of warehouses serves to store goods that can raise and lower the shelf as desired. It saves time and increases operations in stock significantly. Using all kinds of warehouse racks for warehouses is the best solution to save maximum warehouse space and display space.
👉 Read More: 3PL Warehouse Services: Benefits And Offers
The most useful simple methods of storage are to create additional space in the warehouse. Usually, a warehouse system will have a mixture of items stored on a pallet. All the space above the shelf system needs to be fully utilized that saves a lot of floor space. Multiple shelves are the best way to make the most of vertical space. You can request to design additional pallet floors to allow more storage.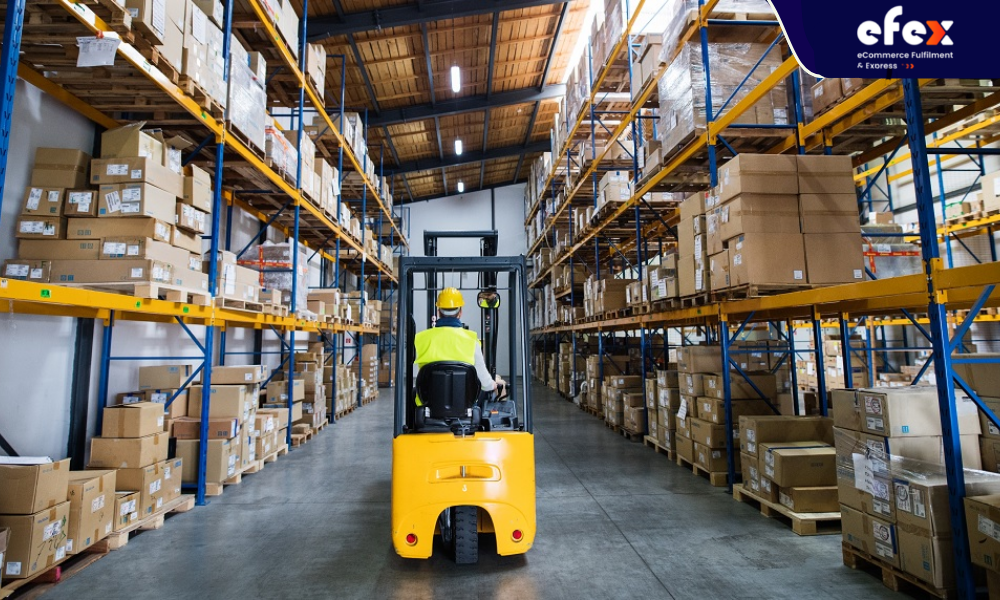 Improve Pick and Stow Routes To Improve Warehouse Efficiency
One of the causes of inefficient warehouse operations is that the amount of time pickers spend moving between orders and locating the selected product is too long. Implementing a supply chain management system can help you save a significant amount of money. This system keeps track of every product's data and whereabouts in the warehouse as soon as it is put into place. The system will direct the placement of products as they arrive at your warehouse. In addition, a well-designed order fulfillment system will ensure that pickers have an efficient route to follow. Pickers will be provided with an optimal path through the warehouse based on product variables and incoming orders. As a result, less time is spent walking around looking for products, which saves both money and energy.
Update Mobile Technology for Your Warehouse
In smart warehouses, they deployed an automated inventory control platform to include elements such as labor, guesswork, and the timing factor away from traditional inventory control. Most of these platforms count inventory and aggregate data for fast, real-time, and accurate reporting that can be remotely accessed for tracking. You can have the control and data extraction of a smart warehouse.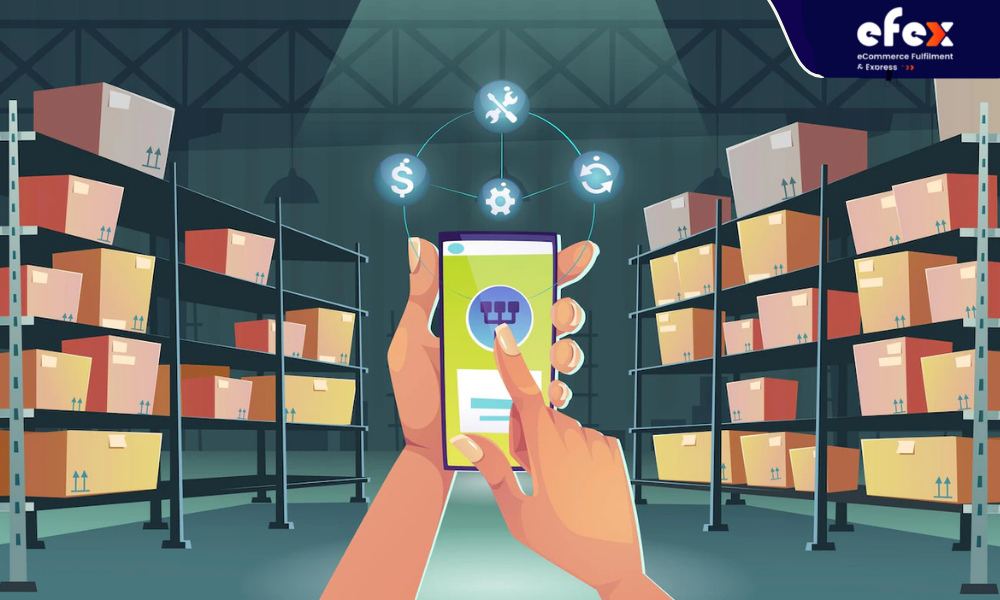 Audit Packaging for Product and Shipment
There are many ways to improve warehouse operations. Auditing packaging for products and shipments is not an exception. Before sampling, the uniformity of the consignment should be checked against the general requirements and compared with the accompanying batch record, and fully checked the condition of the packages in that lot. If the consignment is in stock, the stock condition should be checked. For non-uniform products such as partial damage or wetness and production processes, we must divide the lot into several small parts, each with nearly the same nature as a separate shipment. Product damaged in packaging should be discarded and noted on the sampling record.
Standardize and Audit Workflows For Improving Warehouse operations
Logistics is not a single activity, but it is a series of processes that logistics enterprises need to plan specifically for each stage. The reasonable arrangement will help maximize time and cost savings for businesses. It also helps logistics companies impress their customers.
👉 Read More: All Cost To Rent A Warehouse In 2023
Below is the process that you should consider to optimize your warehouse in the logistics chain.
Quotation and signing a contract: The enterprise will receive basic information about quantity, type, and request to transport goods. Then there is the basic quote sent to the client. The contract will be available based on quotation and agreement in terms of both parties.
Receiving goods: Receiving goods, as agreed at the required place
Packaging: write symbols of goods and products
Transport: take goods from the production place to the distribution warehouse.
Storage: Store goods before reaching the hands of consumers
Prepare the documents for the logistics process
Do the customs clearance for the goods
Delivery to the recipient.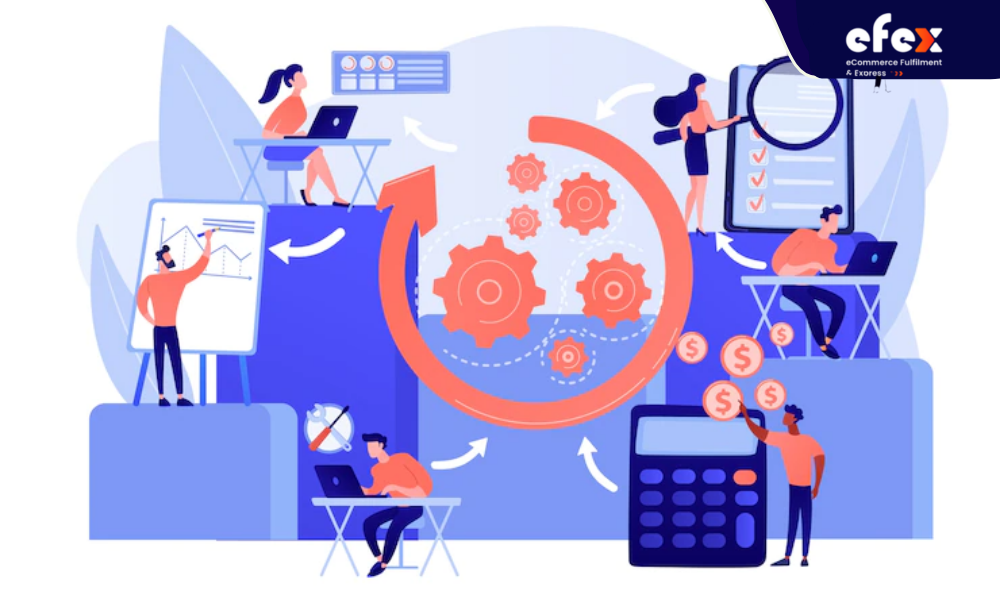 Improve Warehouse Management Systems (WMS)
A warehouse management system (WMS) is a comprehensive software system that organizes all of your important data into one platform. It is ideal for internal users and any members of the supply chain. These data organizations make reporting lightning-fast and improve warehouse operations. When used cleverly, you can use it for efficient planning, even for the scenarios you have seen. Using warehouse management software, or warehouse execution that completely complements other automated elements will help smart warehouses run better with higher productivity. It is an answer to the question of improving warehouse efficiency.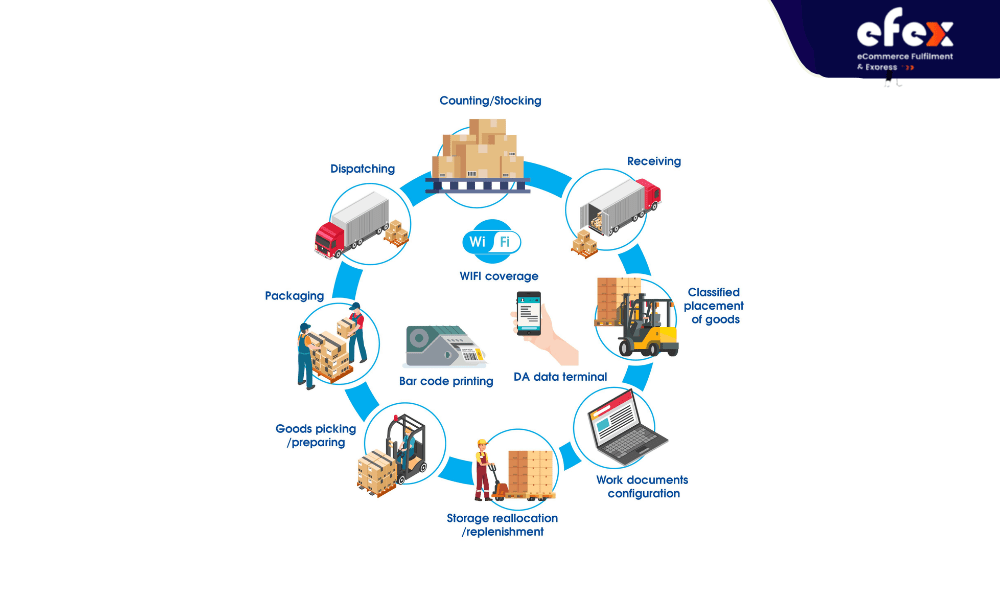 Optimize Labour Efficiency To Improve warehouse productivity
How to improve warehouse operations efficiency? Collaborative robots (Cobots) are a part of the increasingly common use of smart warehouses. Along with AGV self-propelled vehicles, 3-axis, 4-axis, 5-axis, and 6-axis robots are also increasingly available. The most popular is the 6-axis robot with models UR3, UR5, and UR10 for loading and unloading applications. You might not know that an increasing number of repositories of collaborative robots of autonomous elements are built to work with your current associates, not on them. Cobots allow the repository to preserve multiple processes and your infrastructure design choices, while still benefiting from the optimized workflow that fully autonomous elements provide. It is an excellent way how to improve a warehouse. But keep in mind that it is not always viable for every immediate warehouse. Capture that technology, especially this implementation, requires funding and infrastructure changes.
Quality Training Process
Developing one's skills and abilities is critical in almost every aspect of one's life. Your job requires that you have the proper training and skills. In order to effectively manage the tasks in the warehouse, warehouse supervisors and employees must be properly trained. You must make certain that the right person is given the proper training and given the opportunity to work to his or her fullest ability. You can ease your problems by teaching them suitable skills. Listening to employees' concerns and sharing your own thoughts will contribute to increased warehouse efficiency. Most importantly, don't forget to encourage their growth and make sure to keep an eye on their health.
Review Effectiveness
In order to improve something, you must first recognize that there is a problem. Analyzing your strengths and weaknesses will help you identify areas for improvement. As long as you're making the most of your available resources, you'll be able to see how effective they are. If you want to know if a tool is effective, track its effects on your business and evaluate its value. Maintain a close eye on the negative flow of goods and take the necessary steps to reduce it.
Lean Inventory List In Warehouses
Maintaining a low warehouse inventory is critical, and this holds true for manufacturing as well. The most important rule of lean inventory is to only keep track of what you need. You get rid of it. Alternatively, you can reduce the overstock. This method also maximizes your space and reduces waste... One way to improve warehouse operations is to implement lean inventory.
Adopt More Uniform Processes and Organization
Internet of Things (IoT) is a broader concept than a single technology. This feature will incorporate it into the smartest warehouses worldwide to control and manage. This system can control any automatic and manual compartment in the warehouse. It can also optimize all data to give the best mathematical methods.
👉 Read More: 15 Tips To Improve Warehouse Layout Fast And Effectively
👉 Read More: 15 Most Importance Warehouse Management Best Practice In short, IoT can optimize the control panels, labor plan, and the overall customer experience of any smart warehouse in the world to give better productivity. So, you can work faster and improve warehouse operations more efficiently.