Retail products generally utilize UPC (Universal Product Code) barcodes, a method of identifying items. There are several UPC barcode types available, and there are certain purposes for which businesses would require them for processing orders.
You have to have a UPC barcode for each of your items. Your business, suppliers, or customers will use the UPC to scan the code as well as quickly obtain information about the product.
What is the universal product code and how can you make sure your items are properly coded? In this post, let's learn more about it.
What does UPC stand for?
The term "UPC," or "Universal Product Code," refers to a specific kind of code that is written on retail goods packaging to help identify a specific item. There are two components to it: the machine-readable barcode (a series of distinctive black bars) and the distinctive 12-digit number below it.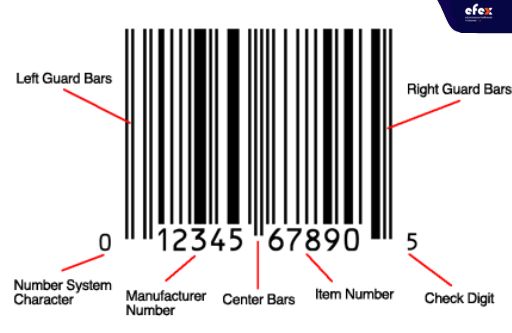 When a product is scanned at the cashier, Universal Product Code UPC is intended to make it simple to recognize product information such as the brand name, category, size, or color.
In reality, streamlining the grocery store checkout experience is the main reason they were developed initially. UPCs can be used to keep track of stock inside a warehouse facility or a store.
A business must submit an application to join the system before receiving a UPC for usage on a commodity. The allocation of UPCs in the US is regulated by GS1 US (the Global Standards Organization) which is previously known as the Uniform Code Council.
👉 Read More: What Is Demand Variability And How To Reduce
UPC elements
When a firm joins GS1, they are given a 6-digit producer id number, which has become the first 6 digits in the UPC on all of their products, in exchange for a membership fee. The specific producer of the item is identified by that number.
An item number is the following five digits of the UPC. The phrase alludes to the product itself. To prevent the same item number from being used more than once and to guarantee that old numbers pertaining to defunct items are phased out, each firm has a designated employee in charge of providing item numbers.
👉 Read More: Reorder Point (ROP): Formula and How to calculate it
Numerous consumer goods come in various forms depending on factors like size or color. Each variation needs a different item number. The 12-digit UPC's check digit is the last digit. To prove the UPC's validity to the checkout scanner, a number of computations were performed. The UPC won't scan properly if the check digit code is wrong.
Benefits of UPCs
Both companies and individuals may benefit from UPCs in many ways. UPCs increase speed because they enable barcode scanners to instantly recognize a product and its related price.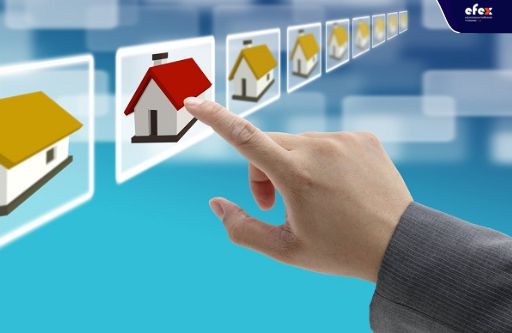 By doing away with the necessity for manual product details entry, they increase productivity and efficiency. They also make it feasible to track inventory far more exactly than manual counting, allowing you to determine when you need to add additional stock to warehouses or retail stores.
UPCs also enable items to be tracked from manufacture through distribution to retail outlets and even into customer houses whenever there is a problem with a specific item and buyers who bought it needs to be informed or a recall issued.
How Does The UPC Function?
A UPC barcode is defined as a number called a UPC along with a visual, machine-readable form of the UPC. Almost every retail item sold at physical stores and online stores worldwide has a UPC barcode. A series of lines or bars with gaps among them make up the real barcode.
Depending on the kind of code, the number has 8 to 12 digits. The product's identification number is represented by the first 6 to 10 digits, followed by the product number and the last check digit, which guarantees the authenticity of the code.
The first barcode labeling method that gained widespread acceptance was the Universal Product Code. In 1973, the supermarket sector became the first to adopt UPC as the default barcode encoding for product labeling.
The EAN code system, which is similar to UPC and was adopted in 1977 as a result of foreign interest. UPC barcodes are now essential to a normal sales transaction:
At the checkout, a retailer scans a product's UPC barcode using a barcode reader.
The point-of-sale (POS) system searches up the number using the UPC data that the barcode reader transmitted.
The retailer is able to charge a fair price for the company's goods since the POS system instantly obtains details of the product, such as its current pricing.
👉 Read More: Backorder Cost: Meaning, Importance and Formula
While barcode Universal Product Code is most suited for areas with large scanning volumes, like retail outlets, other industries also utilize them for identification.
They can be used, for instance, to recognize medical equipment in the healthcare sector. Additionally, logistics, information tracking, and security all employ barcodes.
UPC barcode types
UPC barcodes come in two types:
UPC-A
This is the version of the UPC that is often used for retail POS transactions. Its 12 digits represent a form of data known as a "Global Trade Item Number" (GTIN-12). It is widely employed for retail goods, particularly privately held goods offered only at a single merchant's outlets.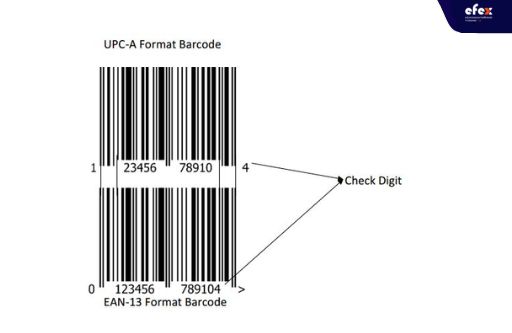 UPC-E
The UPC-E is a condensed form that has 8 digits. It encodes GTIN-12 data similarly to UPC-A; however, it is typically applied if there isn't enough space for applying the 12-digit code. As a result, you'll typically find it on small retail products like cigarettes, gum, and cosmetics.
How to Get Universal Product Code
Organizations interested in using a UPC code must submit an application to GS1, a nonprofit organization that manages international specifications for product identification and handles bar code issuing & maintenance.
The UPC code for each product is unique. That's why only one organization is authorized to generate them. In order to obtain a UPC in the US, you will generally need to:
Determine how many goods require UPCs
Each product, including those with varying sizes, quantities, tastes, etc., needs a unique UPC.
For instance, your dress is available in three different colors—pink, red, and yellow and each color scheme is available in small, medium, and large sizes. Then you will need a total of 9 UPCs, which are three each for the pink, red, and yellow dress.
To determine how many Item Reference Numbers (IRNs) are needed and how many digits your maximum IRN will get, you can make a list of all of your items that need UPCs.
Your 12-digit UPC will include a part of the digits in your highest IRN. The total of IRN digits may then be subtracted from 11 to determine how many digits the business prefix must-have. Your UPC's check digit deduced numerically from other values, will be the twelfth digit.
For a Universal Product Code example, your highest IRN will be 9145 (4 numbers) if you have 9,145 items that require UPCs. Your business prefix will thereafter be made up of 7 digits (11 - 4). Your UPC will then appear as follows:
Register for your GS1 company prefix by joining GS1 US
The only authorized provider of UPC codes is GS1. GS1 US is a company that supports American companies. You must apply for membership in order to receive your firm prefix, a special string of numbers that designates your business as the manufacturer for the supply chain of your product.
To apply to join and your company prefix, complete the GS1 US online application. Before making an online payment, you must provide the contact information for your business and your prefix pricing strategy.
The quantity of UPCs you require will determine your membership price and the number of digits in your company prefix. For the GS1 US price list, see the table below.
| | | |
| --- | --- | --- |
| Number of Products | Initial Fee | Annual Renewal Fee |
| 1 - 10 | $250.00 | $50.00 |
| 11 - 100 | $750.00 | $150.00 |
| 101 - 1,000 | $2,500.00 | $500.00 |
| 1,001 - 10,000 | $6,500.00 | $1,300.00 |
| 10,001 - 100,000 | $10,500.00 | $2,100.00 |
| NDC/NHRIC Company Prefix | $2,100.00 | $2,100.00 |
Give each product a unique number
For each of your items, you must give a unique product number. The number of digits in your IRN will determine how this works. If you have 9,145 items, you will begin allocating product numbers from 0001 to 9145 using the above example.
Then, your business prefix will be combined with these product numbers to create 11 of the UPC's 12 numbers. The IRNs for each product can be assigned independently, and you can get the UPC's twelfth digit using the free check digit calculator provided by GS1.
Checking all the IRNs, though, might be difficult if you have a wide selection of items. You will be able to access the GS1 online Data Hub as part of your subscription, which will enable you to generate, monitor, and check your IRNs.
Select a barcode design
You can use vertical black lines on a white backdrop to define standard barcodes, but you may instead use blue lines on a red or yellow background. Select the color scheme that you want and that works best for your items.
Choose a display method for the barcode
You can buy digital barcodes that can be included in the packaging or label design if you haven't yet generated the box or labels for your items. The digital barcode has to be placed on the box or labeled on a flat, unwrinkled area to assist in scanning.
Additionally, you should confirm the size you require because modifying the barcode's size might interfere with scanning. On the rear of the packaging, digital barcodes are often positioned in the bottom right corner.
If the box or labels for your items have already been printed, you can obtain printed numbers in the form of sticky labels and physically stick them to the box or labels. On all of your items, the barcode labels should be placed in the same spot.
Purchase UPC barcodes
On the GS1 website, you can purchase digital barcodes that include your own UPCs. Your UPC barcodes will be delivered to you in file format (eps.), which you can include into the style of your label or package using a tool like Adobe Photoshop.
On the GS1 website, you may also obtain actual barcodes that include your own UPCs. The printed barcodes on adhesive labels that you will get may be physically stuck to all of your items.
Depending on the number of UPCs you purchase, the cost of UPC barcodes in each batch can vary from $400 to $13,000. Your membership fee is included in this price.
Check the printed barcodes
You should validate the printed barcodes to ensure they can scan after you have ordered your barcodes and added them to your packaging. You have two options for barcode verification: you can pay for a certified service to do it for you, or you can purchase your own equipment from GS1.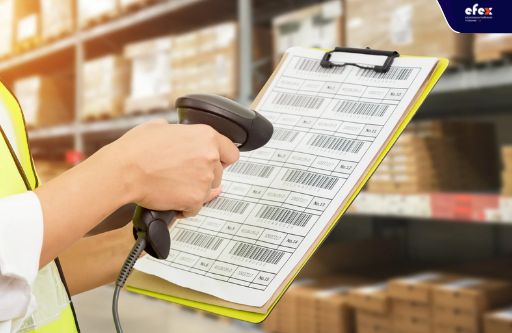 What Is the Price of Universal Product Code Barcodes?
Getting a barcode will set you back an amount. Depending on the barcode option you choose and the quantity you need, GS1 US will charge between $400.00 and $13,000.00 per batch for printed or digital barcodes.
Your GS1 membership fee is included in this pricing. Additionally, third-party resellers offer lower prices on bulk or discontinued UPCs.
👉 Read More: Probability Of Stockout: Formula And Calculation
Conclusion
For businesses that want to comprehend their sales, a standardized product code is necessary. Selling on an internet marketplace or doing business internationally can do this.
A Universal Product Code is more than simply a collection of numbers. Information about a product is linked to a UPC barcode. They are practical and highly controlled. You must apply for a GS1 company prefix in order to get a legitimate UPC.
Although the procedure isn't as easy as it first appears, it's worthwhile. They can assist with straightforward product tracking.