While the primary concept of order management is to efficiently process orders, different businesses require different order management systems. Businesses employ a well-defined order management system that is tailored to their industry's specific requirements. An e-commerce company like Amazon, which processes hundreds of orders each day, would utilize a different order management system than a stock market behemoth like Goldman Sachs, which processes hundreds of orders in nanoseconds. Manual processing of orders is not possible in any circumstance. To handle orders at such a large scale, businesses require technology. To create a faultless operational environment, they deploy order management software (OMS), which simplifies and automates order processing operations. Let's view the 15 best open source Order Management Systems to select the best one in the following writing.
Hydra - Free Open Source Order Management System
Hydra is an open-source order management software suite that aids in the management of service and job orders. This task is handled by its BPM engine. This free order management software differs from other generic order management software in that it uses business processing management concepts to manage orders, whereas most other OMS does not.
👉 Read More: Top 20 Free Order Management Software in 2023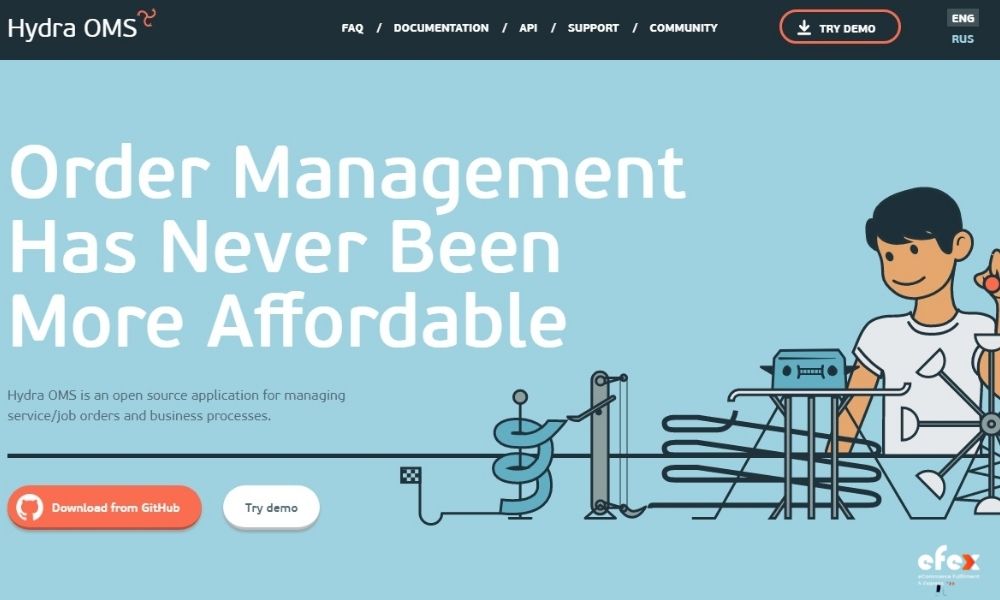 Features:
Automate the order execution process
An easy-to-use order execution wizard
Order execution is completed quickly
Powerful integration with external software
Orders can be modified, and the changes take effect instantly for all new orders.
Customization options are available for the Hydra billing system.
Claim orders, refund orders, churn customer orders, re-billing, and other types of orders can be completed.
Completed orders are now accessible for report statements and analytics.
Hydra's Execution Wizard can be highly customized via configuration files.
Integration of SQL databases
Pros:
The setting is extensive, and You can able to create my own routines
Overall, a positive free software experience
Cons:
To set up the software, you'll need technical knowledge. The setup has a significant learning curve.
Materialistic design may be included into the user interface.
Price:
StoneEdge Order Manager
Stone Edge is order management software designed for shops that need additional features and flexible setups in their order management software. It can generate RMAs (Return Merchandise Authorization) and process returns and exchanges.

Features:
Orders can be searched by last name, company name, addresses, products in orders, Web order number, various order-related dates, and so on.
Use Quick Filters like Today's Pending Orders, DropShips to Order, Backorders to Fill, and so on.
Orders can be found using names, custom fields, and other criteria.
Line items can be added and removed.
Backorders can be filled, forced, or canceled.
Payments are processed.
Make a re-order.
Billing and shipping addresses should be edited and validated.
To email customers, use a pre-designed email template.
View shipping and tracking information.
Create purchase orders for drop-shipping.
Pros:
It's quite inexpensive
The program can manage hundreds of thousands of records and is scalable from modest to big businesses.
Have a Forums and Group User Support.
Cons:
Awful Customer's Support
Old Technologies
Price
No Public Price And Trial. Need Contact Directly
Deckcommerce
Deck Commerce is an order management software that makes managing customer orders in omnichannel retailing easier. A market-leading client order management solution for omnichannel retailing that takes advantage of cutting-edge, cloud-based technology.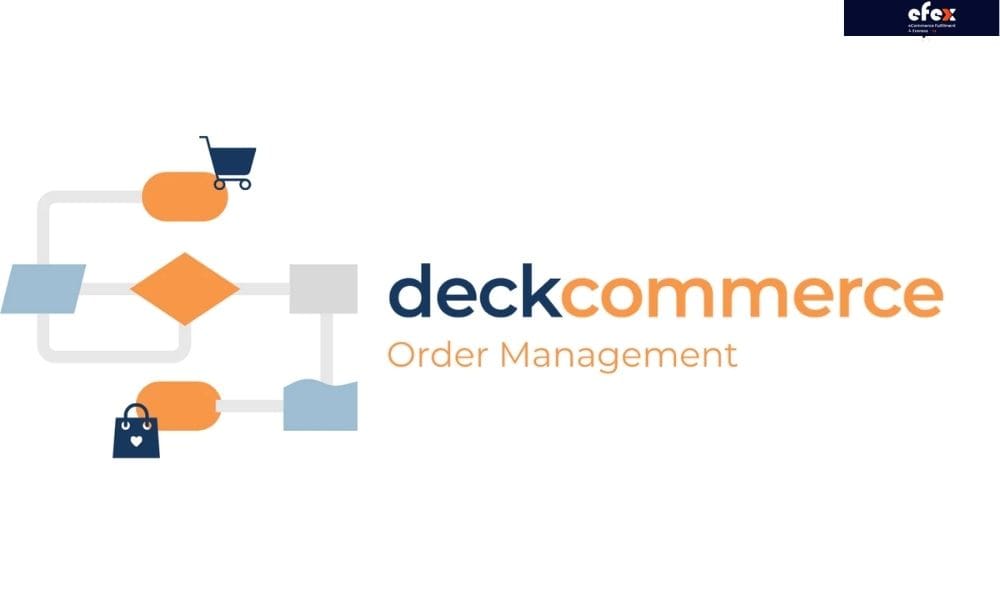 Features:
Process orders from a variety of sources.
Orders must be coordinated across a distributed fulfillment network.
Order aggregation and processing in real-time
Routing for Fulfillment
Shipments in Pieces
Pre-Orders and Back-Orders
Allocation and Aggregation of Inventory
Order processing coordination in real-time across various sales channels
Manage the payment, tax, and fraud requirements for processing an order.
Make your stores fulfillment centers by enabling flexible fulfillment choices such as In-Store Pickup & Ship-from-Store
With the straightforward, easy-to-use web-based customer service interface, you can support orders throughout their entire lifecycle.
Payments processes should be streamlined.
Pros:
Helpful to Manage our online retail sales and returns
You can use the program to process returns and refunds for returned merchandise.
Cons:
When utilizing the program, a user is provided with a lot of information, and we've observed unskilled users struggle to determine important/necessary information when processing requests.
Price
No Public Price And Trial. Need Contact Directly
Vienna Advantage - The Best ERP CRM and DMS for Organizations
Vienna advantage is order management software that allows users to properly manage their orders while lowering order management expenditures. It also cuts down on the number of workers needed for order administration. It generates statistics and analytics that aid in the identification of your most profitable consumers and engagements. It also aids in the development of sales and supply chain designs.
👉 Read More: Top 10 Best Retail Order Management Systems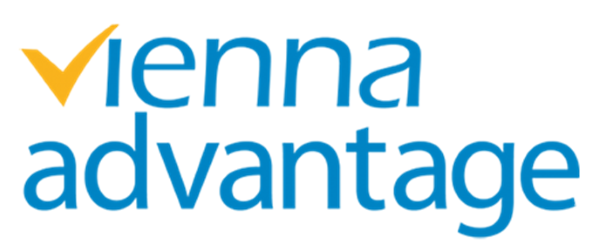 Features:
All of your orders are visible from every angle.
Set triggers manually or automatically.
Lower the number of human entries by automation and eliminates mistakes.
View existing orders, create new orders, and modify orders.
Make a sales order with the customer's name on it.
Get all of the information about a customer's order history and preferences in one click.
See the entire product description in a new window.
Powerful cloud computing features.
Pros:
With a wide range of functions and connections with major ERP systems, developing new modules on the ViennaAdvantage framework is quick and straightforward.
Our developers may interact and speak directly with the VA development team, and there are extra training classes available to speed the learning curve.
Vienna Advantage allows you to access corporate data in a variety of languages and at any time
Cons:
The update method could be lot smoother; improvements are being made.
Because the trial option is so limited, it may be beneficial to include additional tutorials for complicated topics.
Price:
Have a trial and Free version
Contact Directly for Price
Now Commerce - Best Overall open source order management systems
Now Commerce is a business-to-business (B2B) online ordering system for companies that sell to professionals. It offers a more sophisticated online sales experience than a traditional shopping cart. It's an online order system that's available 24 hours a day, seven days a week, with full access to all features including custom pricing, inventory, and account history. Customers can view invoices and track orders. Commerce is now accessible for free to QuickBooks Desktop users.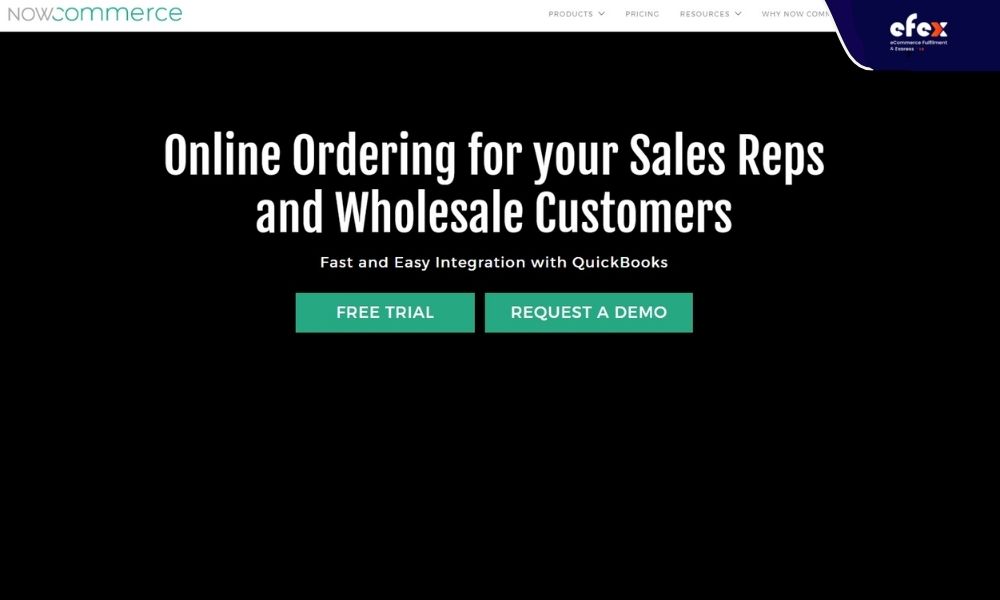 Features:
Simplify ordering.
Matrix order forms range from basic to sophisticated.
The reports tab displays the entire Order history.
View sales orders, invoices, estimates, and more.
The stock status is displayed.
Account Information Management
Online orders are automatically entered into QuickBooks.
Check View real-time pricing and inventory status.
View orders that are still pending
Check out your whole account history, including credits and returns.
Using your company's logo to brand
Integrate Quickbooks with Reliability
Pros:
The platform maintains track of your earnings, saves tax information, and assists you in managing your business without the need for additional applications.
It's really easy to use, intuitive, and tidy - no double entering, and no mistakes. The customer service that comes with this product makes it even better. I work with the rep and have him on fast dial; whenever I required assistance, he came up with a solution.
Cons:
The disadvantages are that it is difficult to grasp the concept of utilizing this platform at first, but once you do, you will adore it.
The majority of the information is self-evident. Working with products in a table to allow for the import and modification of many items is one improvement that might be made
Price:
Have a Free Trial
Flat Rate: 100$/month
Ordant - Best Customer Review for Open Source Order Management System
Ordant is a sophisticated order management system that includes a remote publishing storefront. This online tool helps you save time by reducing the number of times you have to re-enter information from one software to another.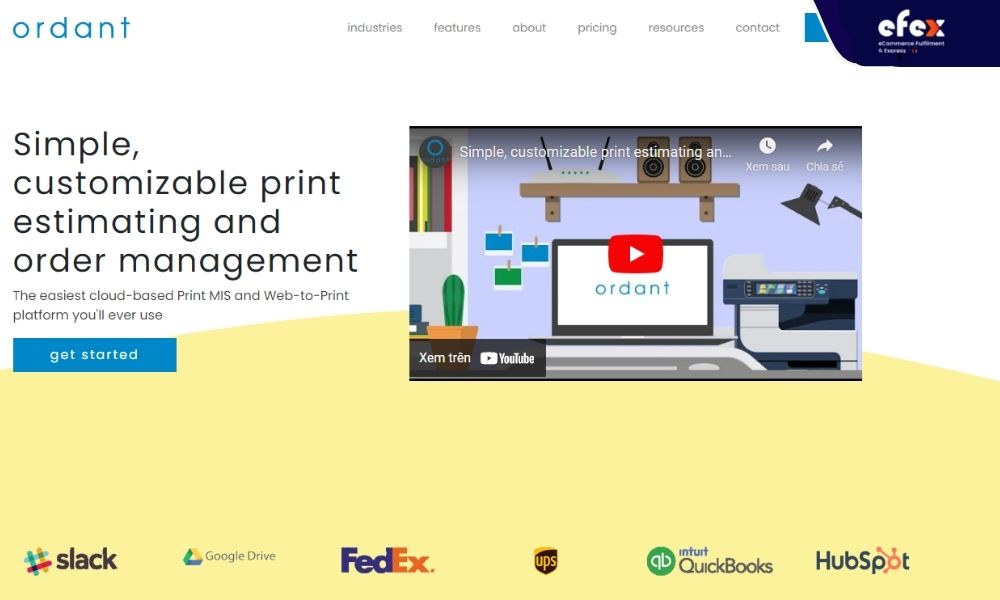 Features:
Use the storefront to get a price estimate and place an order.
View your order history and place a new order.
Keep track of the status of your current orders.
Send a PDF proof to your customer through email.
After then, the consumer will be able to remark on, approve, or reject the proof in real-time.
Keep track of proofs and their due dates.
Include a vendor list.
Make a list of all the products along with their prices.
Create a new RFQ for your vendor using order/estimate.
Customers have the option to accept or reject the estimate.
Get an email message when clients approve or reject an order.
Pros:
Ordant can be tailored to the things we sell.
VERY logical. It's simple to get started. Excellent assistance.
We can achieve more with less using Ordant (an objective every business owner is after). We were able to shorten our front end process in half and enhance communication across departments because to its integrated estimating, proofreading, and billing.
Cons:
Because it is always being developed, there may be some glitches. But that just means things will get better. There is no such thing as flawless software.
One would be not being able to use fractions in certain fields, and the other would be not being able to change particular forms that are special to my company.
Price:
No Public Price And Trial. Need Contact Directly
4Psite
4PSite is a fully integrated order management system that pulls orders from your partner stores and channels automatically. It has a simple UI that gives you comprehensive visibility into your whole operation. It supports 40 distinct carts and channels, as well as a manual ordering system, wholesale orders, and a simple point-of-sale system. From start to finish, you can easily manage your everyday business operations, including fulfillment, shipping, payment processing, inventory management, CRM, and refunds. The technology helps you to streamline the process whether you process a few orders, a few hundred, or thousands of orders every day.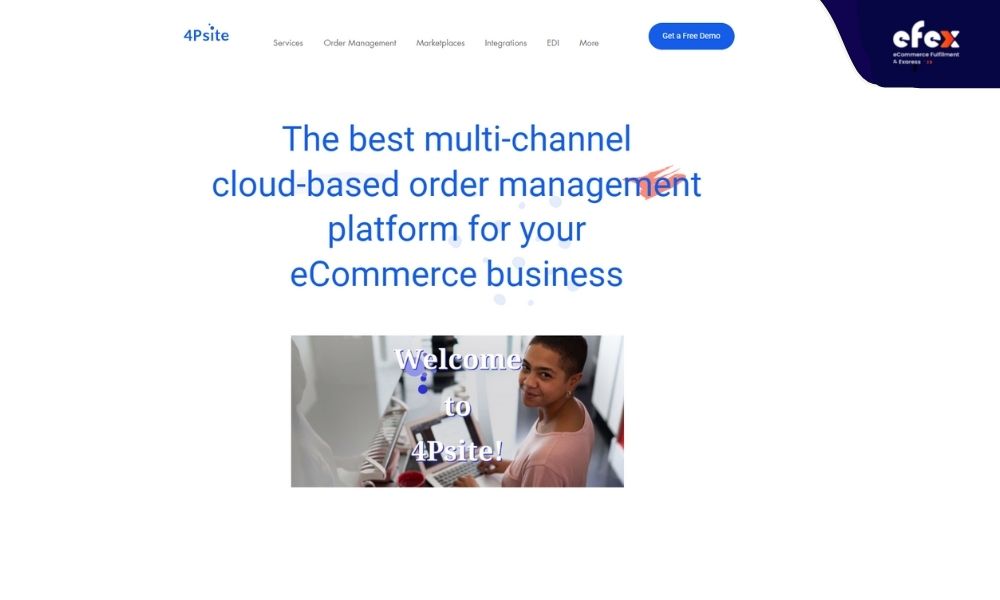 Features:
4PSite records real-time orders.
The fraud screening tool is completely customizable.
Orders can be modified as needed.
Order tracking with advanced search and filter options.
A feature that automatically "holds" out-of-stock items.
Packing slips, invoices, and shipping labels should all be printed.
Returns management is the process of tracking and managing returns.
Customers are automatically emailed tracking information.
The cloud-based system with a single interface.
Flexibility and automatic functions.
Orders might be processed concurrently or sequentially.
Pros:
Simple page/interface.
The majority of an order's information is included on a single page.
It's simple to use after you've set it up, but that's largely due to the restricted possibilities.
Support for numerous channels is excellent
Configuration/setup is quite simple
Cons:
The initial setup might be time-consuming and inconvenient.
The customer service might be enhanced more.
Price:
Has a Free Trail
No Public Price And Trial. Need Contact Directly
Dolibarr
Dolibarr is an open-source order management software that can handle orders from both customers and suppliers. It allows you to create rules for your product stock and aids in the efficiency of processing orders. It has one of the best-preconfigured statistics pages in the industry for getting information and analytics on the success of your sales representative.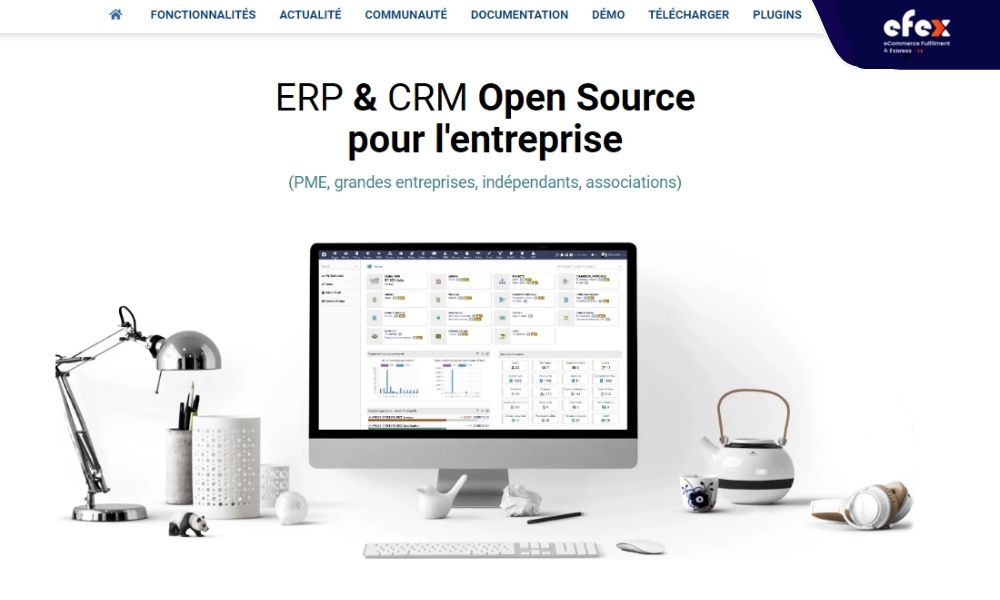 Features:
Pre-defined content fields.
Multiple options to add new fields.
Create your orders using the customer sheet.
Order statement PDF is automatically generated and updated.
Send an email acknowledging your order.
Make use of your existing email templates.
Make your order into a contract (module contract)
Manage shipments.
Orders can be filtered and sorted based on any criterion.
Export orders by using the export module.
Use third-party tools to re-use exported orders.
Examine the performance of sales and delivery.
Pros:
If you have a web hosting account, you may install this program there and then access it from anywhere in the cloud.
the modular approach allows you to run only the components you require.
Dolibarr is free and open source.
The software is quite easy to use.
Cons:
The features for employee contract management are just too minimal!
Very few free modules - based on an obsolete technology, thus you'll have to work with a non-mvc model to implement special features..
Price:
Chikpea
Chikpea's O2B is an order management solution that assists businesses with order management. Chikpea's O2B focuses on telecom order management and includes several important features like partial and line-item payment management. It's a piece of software that can be utilized to replace your current legacy billing system.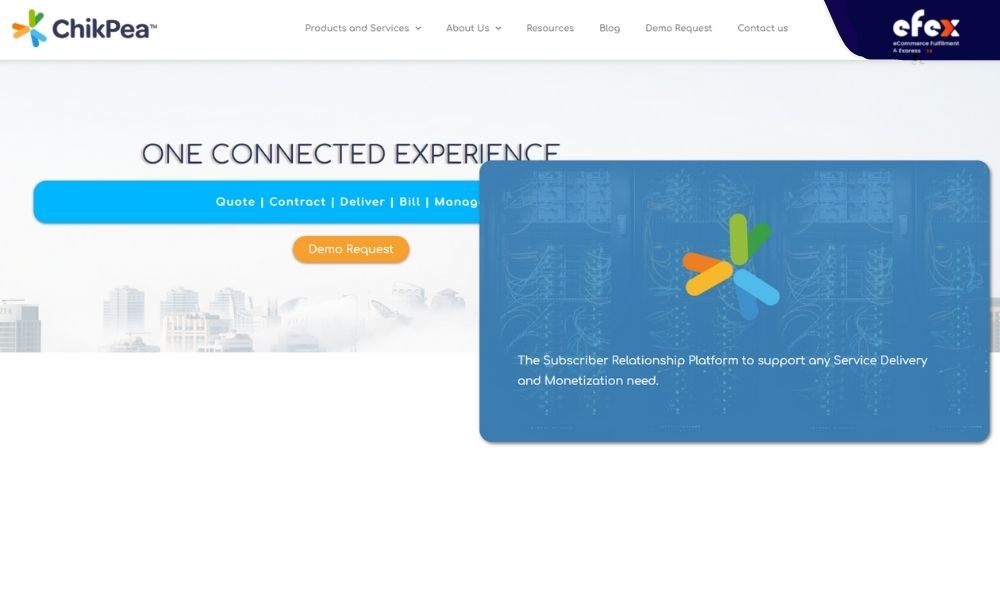 Features:
Manage your subscriptions—add or remove any subscription plan.
Billing types include Distributed Billing and Hierarchical Billing.
Different types of pricing exist, including tiered pricing, volume pricing, and contract pricing.
Orders are triggered by the passage of time.
Payments on the Line.
Service category.
Groups of Bill Processes.
Accounting Link for Price Booking and Billing by Location.
Pros:
Salesforce native and simple to use.
Support crew is quite responsive.
Cons:
There is no way to change the relationships between items.
Price:
No Public Price And Trial. Need Contact Directly
Orderwave
Orderwave is an order management software that allows you to easily handle orders with its user-friendly interface. Orderwave strikes the ideal blend between features and personalization. It includes warehouse routing technologies to improve order delivery time. Orderwave features a robust backend that supports your e-commerce site.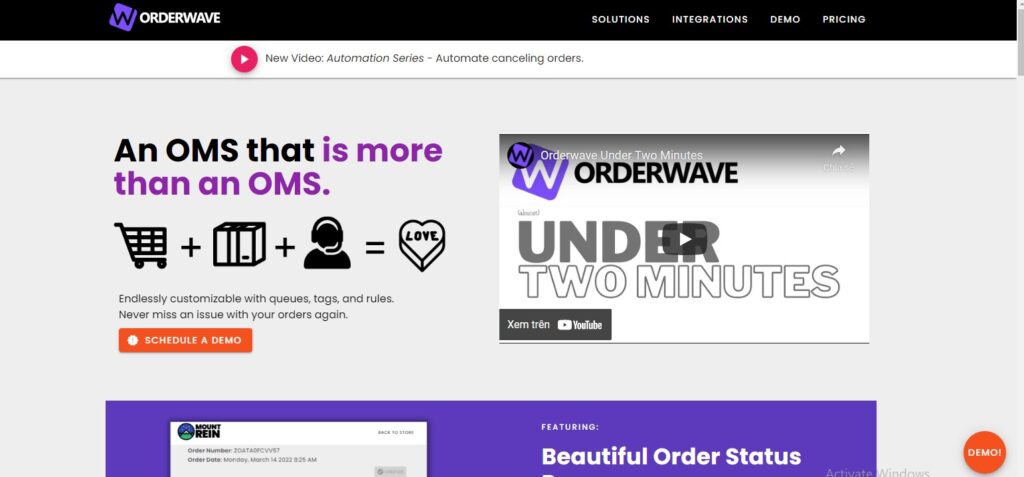 Features:
Information from all touchpoints is combined.
Tasks that are customized.
To-do reminders that are sent automatically.
Correct payment processing.
To send your customers order messages, create HTML-rich emails.
Using its reports to analyze buyer behavior.
Real-time capture of partially entered order information synchronization of inventory.
Customer Communication Automation via Shipping Carrier Integration.
There are no limits to the number of systems that can be integrated.
Pros:
It's simple to find goods and quantities delivered, adjusted, and on hand.
Can write order confirmation emails directly in the app and utilize variables to input the customer's information dynamically.
Incorporate a product suggestion tool (from a different solution) into our Orderwave emails, which has helped enhance product discovery and, as a result, sales.
Cons:
Email template editing isn't the most user-friendly process.
The web app is not mobile-friendly.
Some operations, such as inventory allocation, might need additional documentation (albeit this isn't critical because the support team is present).
Price:
No Public Price And Trial. Need Contact Directly
Odoo
Customer relationship management (CRM), sales, enterprise resource planning (ERP), project management, manufacturing, inventory management, point of sale (POS), accounting, and more are all covered by Odoo, an open-source business applications package. Odoo is a cloud-based ERP system that can be implemented on-premise or hosted in the cloud to fit the demands of every business, regardless of size or budget.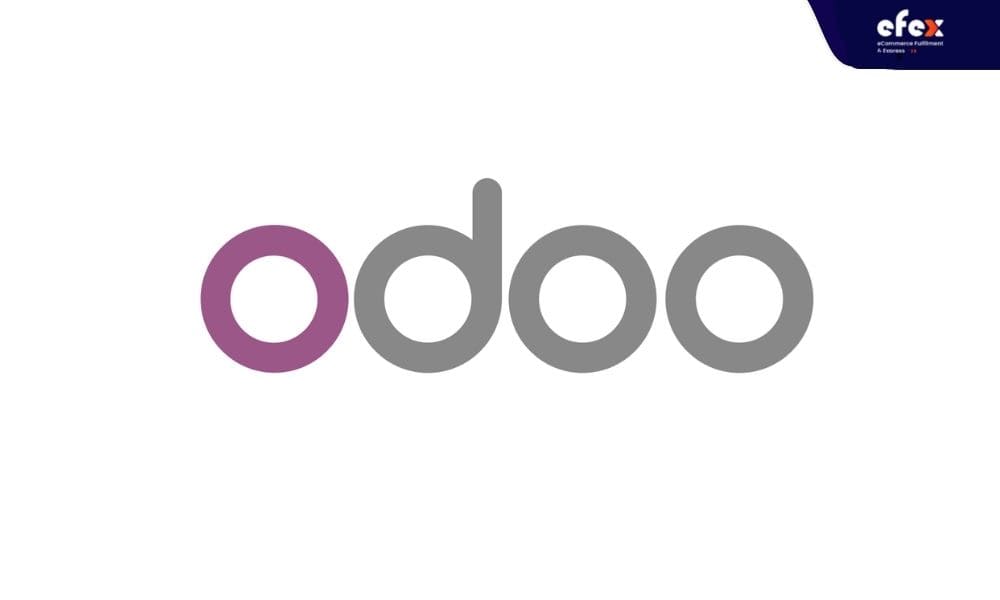 Features:
Offer totally integrated solutions.
Allow users to customize modules with full source code.
Don't necessitate technical knowledge.
Provide a collection of fully integrated business apps.
View shipping and tracking information.
Pros:
The design idea is the most beneficial aspect of the ERP.
You may use the very flexible import and export mechanism to access it and update it with large imports.
You may access it from anywhere and there are no cumbersome "clients" to install.
The sales order to purchase order to manufacture order transaction is handled in such a way that it streamlines operations and reduces the amount of water-cooler discussion necessary to keep everyone up to date on the latest happenings.
Cons:
When faults or modifications occur, the ERP is frequently overly strict.
Your IT team's extensive technical understanding will be required to customize the ERP to your operation.
This makes ODOO ERP extremely reliant on ODOO partners, raising implementation and maintenance expenses.
Price:
Free trial is available.
24$/user monthly
Openbravo open source order management systems
One of the open source order management systems you should not miss is Openbravo. Retail and restaurant businesses that want to speed up innovation and omnichannel execution choose Openbravo's cloud-based omnichannel software platform. Its adaptable technology enables increased agility and creativity while reducing IT expenses, resulting in more distinctive and tailored customer experiences across all channels.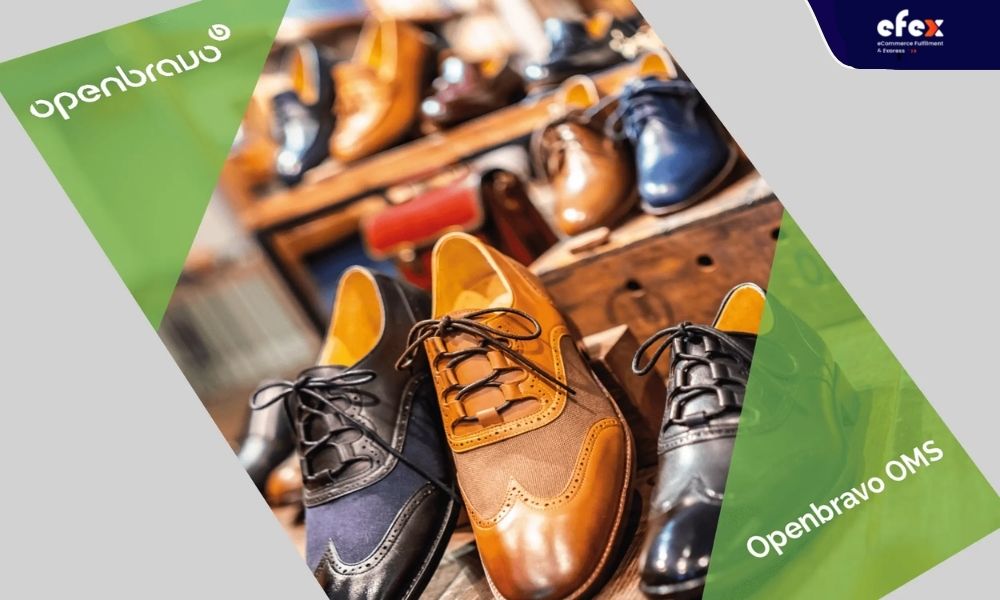 Features:
Include Openbravo Store, a multi-store management solution with a mobile point-of-sale system.
Thanks to an open API, it's easy to integrate with a variety of systems and technologies.
Allows for optimizing Openbravo WMS and the fulfillment process.
Pros:
Strong community support.
Cost-effective integration of practically all functional elements.
Provide a high level of personalization.
Cons:
As an ERP, it has inherent intricacies that need a certain amount of skill in order to deploy.
The number of entries needed to complete or publish a transaction.
Price:
No Public Price And Trial. Need Contact Directly
Datasurf open source order management systems
Datasurf is a cloud-based program that uses APIs to manage sales across several channels, both online and offline, using a single application. A corporation selling its products on eCommerce, through B2B and B2C channels, sales agents, shops, and marketplaces will be able to do so with a single in-cloud application that is simple to use and fully integrated with the company's existing software and processes. Datasurf assists you in digitizing your business without disrupting existing processes and tools.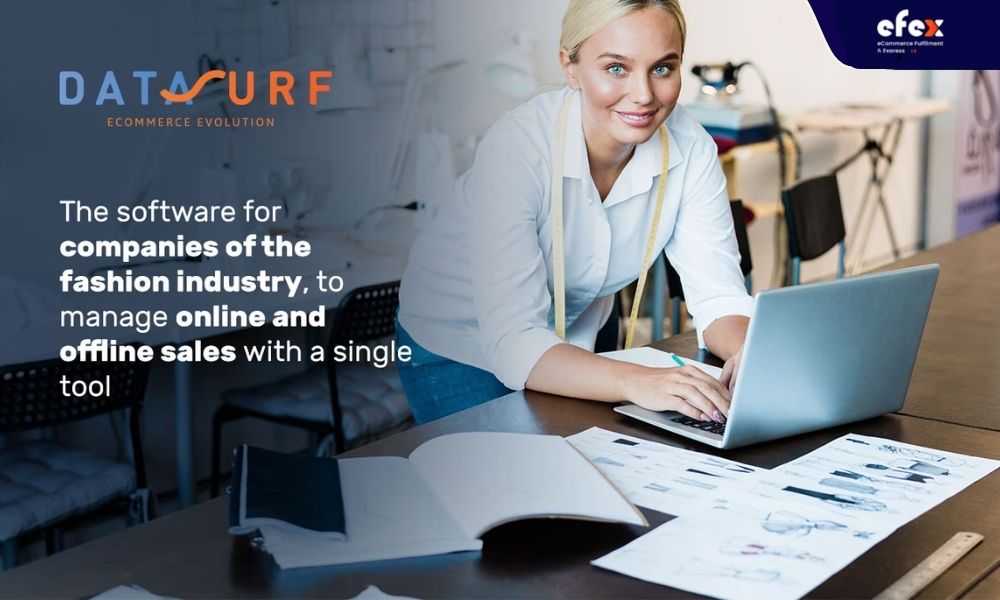 Features:
Convert every company's commercial needs into a digital format.
Save time for your eCommerce platforms.
Manage all your sales through a single instrument.
Help agents assigned specific lines or price lists.
PrestaShop open source order management systems
PrestaShop wants to become the reference commerce platform for the growth of businesses across the world, based on its values of boldness, closeness, tenacity, and engagement, as a vital partner in the digitalization of commerce. PrestaShop is the most popular open-source eCommerce system in Europe and Latin America, with almost 300,000 sites employing its software. PrestaShop allows businesses to simply deploy their business on a broader scale thanks to PrestaShop Essentials, a suite of modules that offer safe payment options worldwide, performance analysis, and web marketing, as well as PrestaShop Platform, its hosting offering.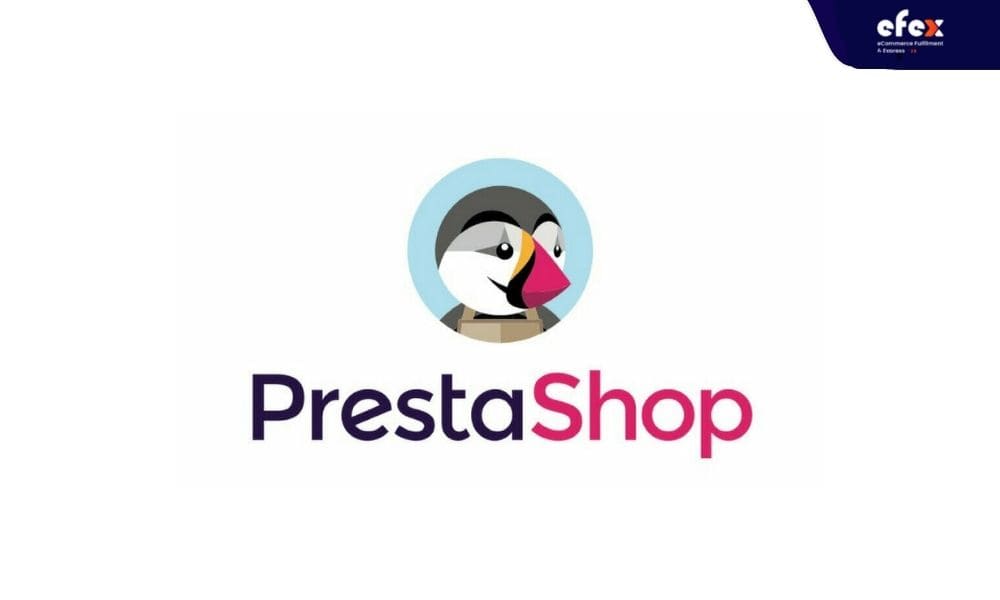 Features:
Provide unlimited listings.
Inventory management services such as item monitoring and out-of-stock warnings are available.
Advanced navigation and search.
Multiple store management.
Compatibility with a huge variety of third-party add-ons and connectors.
Pros:
Prestashop is simple to install, use, and personalize.
You have a plethora of design alternatives to pick from, each meant to showcase a different part of your online business, depending on the industry.
Prestashop also allows you to customize the front end of your website, or its visual appeal, in order to make your online store distinctive and unrepeatable.
Cons:
Limited scalability and support, and a poor mobile version.
To set up and operate the event, you'll need someone with experience.
Price:
No Public Price And Trial. Need Contact Directly
Linnworks open source order management systems
Linnworks can put eCommerce control at the heart of your business, allowing you to do things like: Expand your company.
Promote your business everywhere your clients are.
Multi-channel capabilities allow you to scale up easily.
Boost client happiness even as your company grows.
Automate your processes.
Combine all of your commerce technologies into a single system.
Integrate numerous selling and fulfillment channels into a single procedure.
Automatically sync and update your activities across dozens of marketplaces.
Take command.
Have complete control over your company's data and information.
Use your dashboard to get fast insights into your company's success.
Make timely data-driven decisions to increase your revenue.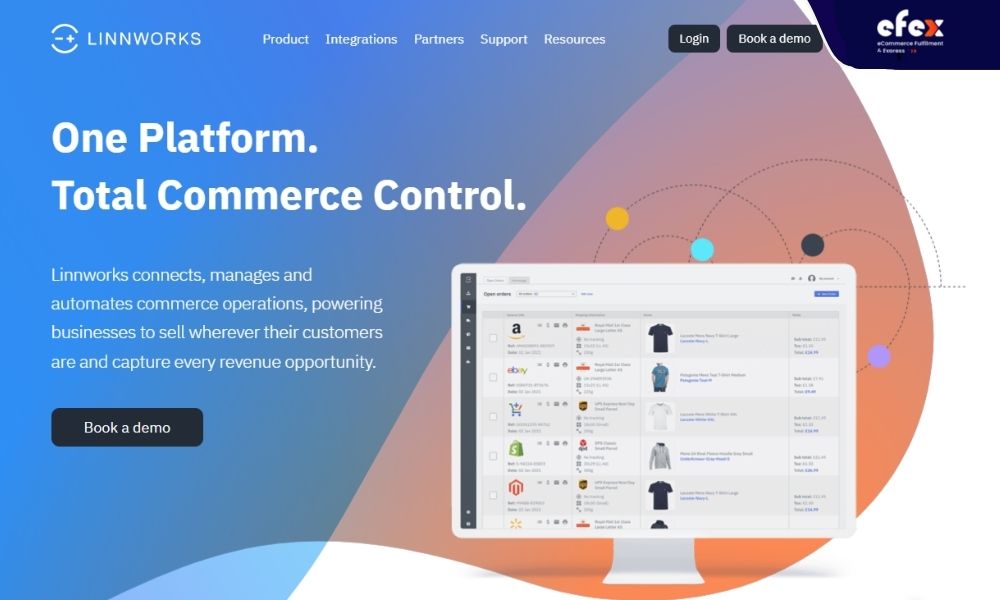 Features:
Allows users to sync with Shopify, Amazon, and other e-commerce integrations from one single spot.
Keep track of inventory levels and stock control from anywhere in the world with the inventory module.
Take complete control of your warehouse with the extensive shipping module.
First In, First Out (FIFO) policies help to eliminate product waste.
View and analyze metrics like historical sales data, consumer buying trends, and product lines with customized reports.
Pros:
Linnworks has a variety of ways to communicate with their team.
They also provide a variety of options for building efficient procedures for order processing, inventory counting, reporting, and listing, allowing you to choose the best method for your team.
There are several connectors available on the site, making it simple to handle all channels and couriers in one location.
Cons:
Price increases are never justified, while service levels remain same.
The email automation system has become obsolete.
Price:
No Public Price And Trial. Need Contact Directly
👉 Read More: Order Management System: Definition, Process And Value
👉 Read More: Order Management System For Ecommerce: Definition, Key Effect, Benefit
This article demonstrates that order management software is the first thing you need to keep your firm running in today's fast-paced business environment and remain ahead of your competition. Readers can choose any order management software mentioned in this post that meets their requirements. We'd love to hear your thoughts on the topic in the comments box below. If you've used any of the free and open-source order management systems listed above, please let us know what you thought. Hope you have a good time with Efex.