Order management is not an easy task that can be finished by hand. Each retailer with omnichannel e-commerce or multichannel strategy should be aware of the finest solutions for resolving this critical stage of the lifecycle of products. One of the best solutions is using order management software. Without further ado, let's glance at the top 10 best retail order management systems – we've got alternatives for small, medium, and large businesses seeking the best fit.
Oracle Retail Order Management System Cloud Service
Oracle Retail is a division of Oracle that specializes in retail application development. They provide software application modules to support almost any process that retail businesses need to perform efficiently. The program is primarily used to improve the company's ability to manage inventory, decrease waste, improve customer experience, and, most significantly, boost revenue and profit.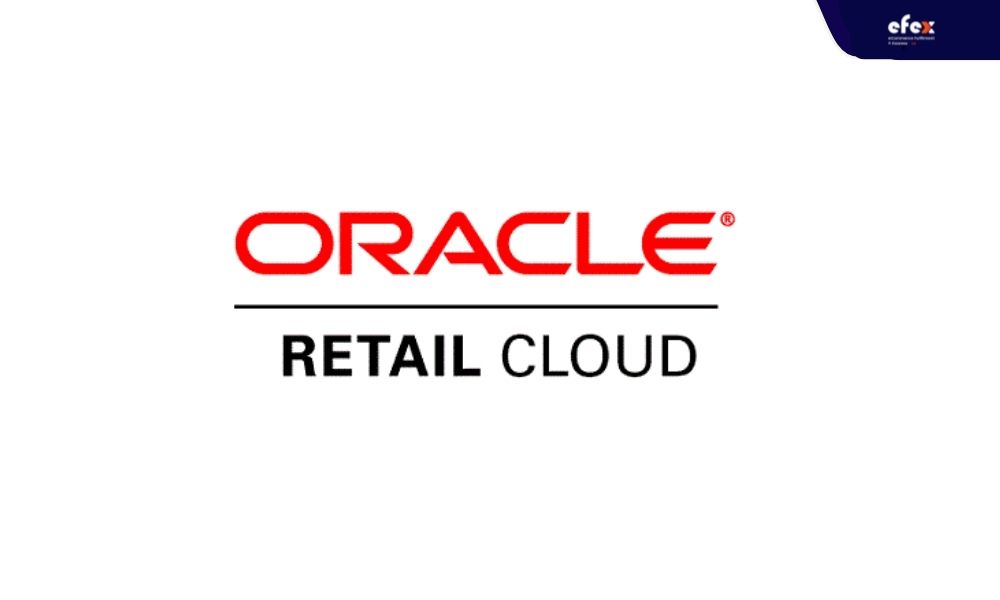 Features
Oracle has the most powerful features for retail order management software, including CRM (Customer Relationship Management), SCM (Supply Chain Management), Point-of-Sale (POS), Just-in-Time Inventory, as well as multicurrency, dropshipping option, automatically reorders - all based on a modular platform that's completely scalable and customizable.
Pros
Oracle Retail's vast portfolio of fully integrated features is a major selling point.
Oracle Retail has been working hard to improve retailers' ability to provide an omnichannel, linked, and highly personalized customer experience.
Cons
It's a pricey system
Oracle's features can be somewhat difficult, and its customer care isn't the best, so you'll need a highly qualified IT staff to implement it.
Price
The price starts at $999.
👉 Read More: Top 15 Open Source Order Management Systems in 2023 [Free]
Veeqo - Best Order Management System for Retail Brand
Veeqo assists omnichannel retailers with increasing sales. It gives you the ability to manage your whole online retail business from a single cloud-based platform. You can rapidly and easily expand your eCommerce business with Veeqo.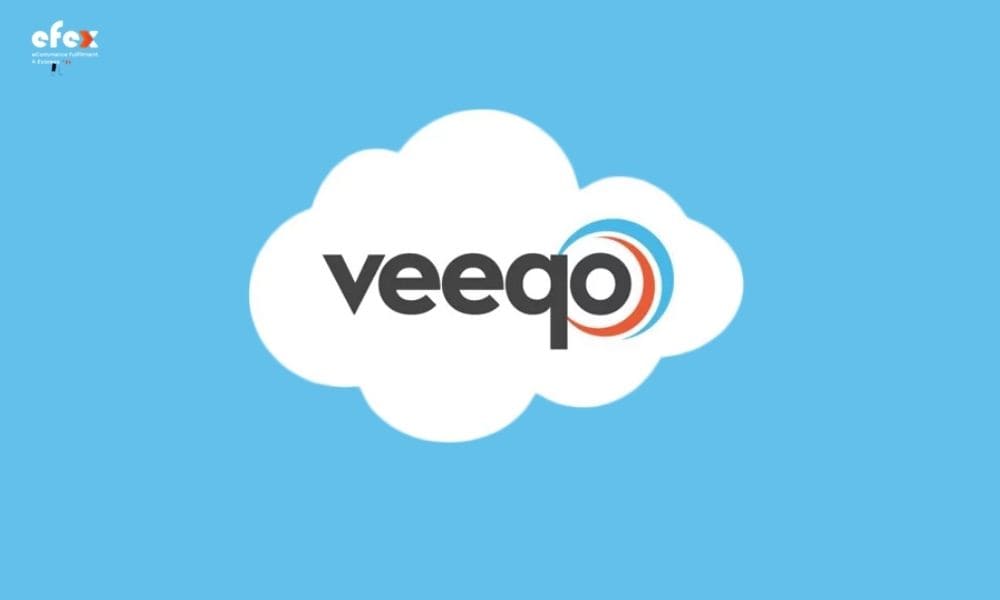 Features
Veeqo enables you to manage orders from many channels as well as inventory from several warehouses. You can send up to 100 orders in one click and obtain vital information about your company's performance.
Ecommerce orders, marketplace orders, shipping, accounting, and reporting are all handled by the system.
Veeqo even has a smartphone app that allows you to monitor everything from the palm of your hand.
Pros
It's simple to use and set up, and it frees up your time to focus on what matters most: building your eCommerce business.
Cons
While many reviewers emphasize how simple the setup process may be, some argue that the length of time it takes to get started can be a significant barrier for businesses with a large inventory. While this is most likely accurate, the same can be said for any inventory management software.
There are occasional glitches and updating takes too long.
Price
Veeqo offers 4 Tiers - Accelerator, High Growth, Premium, and Enterprise.
Price starts from $156/month/feature
Tecsys - Best Retail Order Management Systems for Small Business
Tecsys is a global provider of disruptive supply chain solutions, providing industry-leading services and technologies to help expanding companies achieve operational excellence. Tecsys' solutions are intended to bring clarity to the complex supply chain difficulties that enterprises confront as their growth, customer expectations, and inventory levels rise.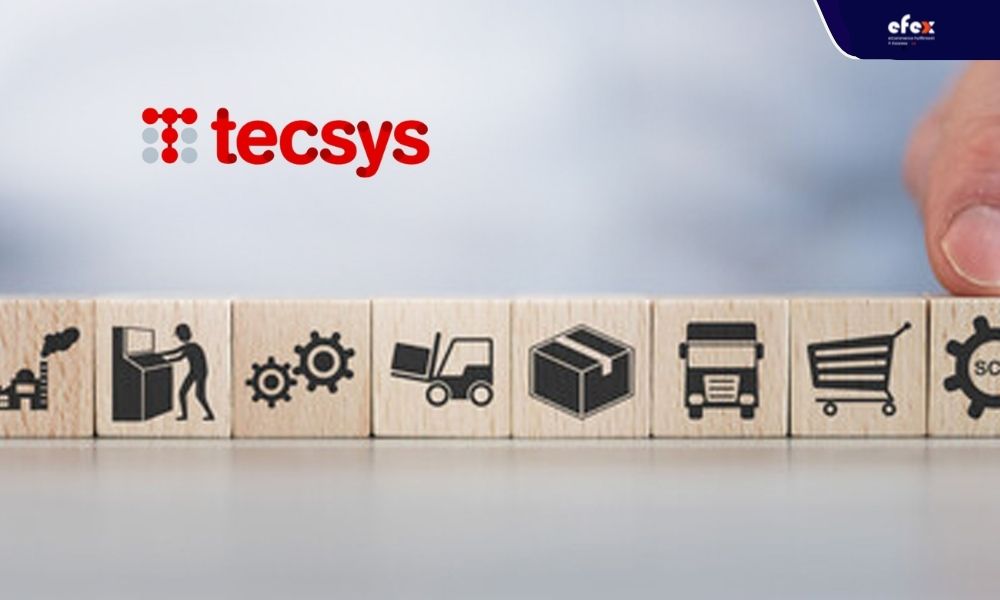 Features
For speed and efficiency, Tecsys' simplified order picking can separate orders into optimum picking tasks and sequences grouped by store section.
With its easy receiving capabilities, Tecsys reduces frequent inventory margins of error by maintaining visibility of all products in stores and instantly updating inventory levels.
Tecsys' solution, which is integrated with a retailer's point of sale (POS) system, allows for real-time adjustments to store inventory as items are sold, independent of which channel captures the transaction.
Pros
Tecsys is a user-friendly and fully functional system.
We can all work in the same room and track and exchange inventory/supply data between all of our sites thanks to Tecsys products.
Cons
If data is entered incorrectly (with character problems, etc.) the application will freeze, and the fees will be quite high if Tecsys is forced to log in and rectify the problem manually.
Price For the current price, contact Tecsys.
Vendhq
Vend is the all-in-one POS system for retail success, from one to 100+ locations. It's utilized by businesses of all sizes to provide the best possible customer experience while also managing revenue, inventory, and customers.
👉 Read More: Top 10 Omnichannel Retail Software In 2023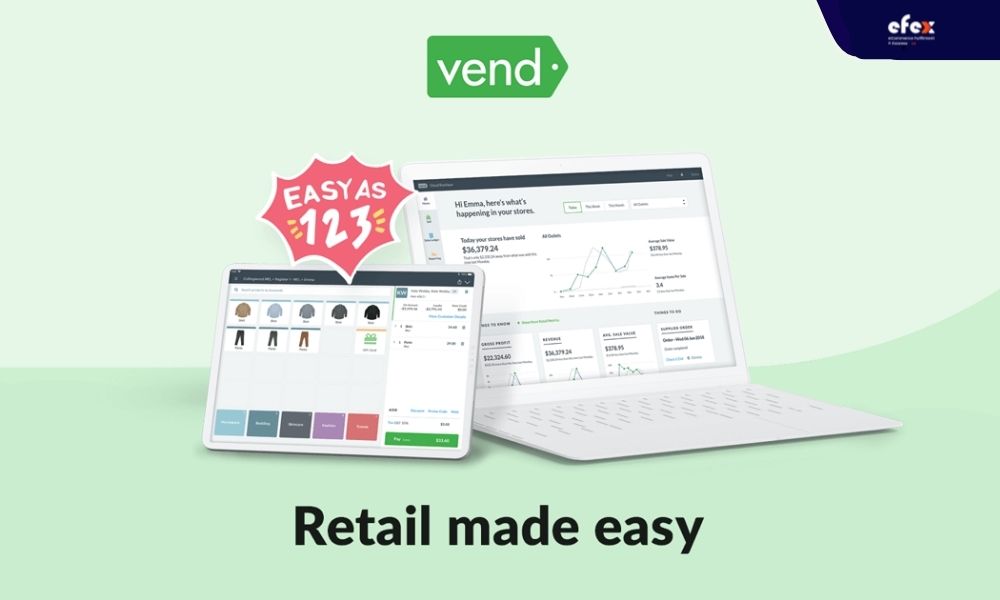 Features
Vend Create unique consumer experiences and frictionless sales online, on the road, or in-store.
With Vend software, you can increase productivity, automate your most time-consuming tasks, and gain visibility into your inventory.
With Vend reporting, you can remove the guesswork from retail and gain meaningful insights into your important figures.
Pros
Work on users' stock and order operations both online and offline to get a wealth of insights and data about your products and improve their performance.
It provides excellent point-of-sale features and combines payment processing, inventory management, and consumer analysis into one package. It's quite reasonable, starting at $99 per month for the Lite package.
Cons
Vend is a cloud-based software that can only be used on a website or on an iPad. However, its main functions are extremely powerful, making it an excellent choice for SMEs, albeit it may be limited for larger businesses.
Price
There is a free 30-day trial available with no credit card necessary.
Standard plan starts at $119/month/register/location
Advanced plan starts at $199/month/user/location.
Brightpearl
Brightpearl is a platform for retail operations. Brightpearl combines your sales orders, inventory management, fulfillment, reporting and planning, accounting, replenishment, warehouse management, and more with all of your sales channels.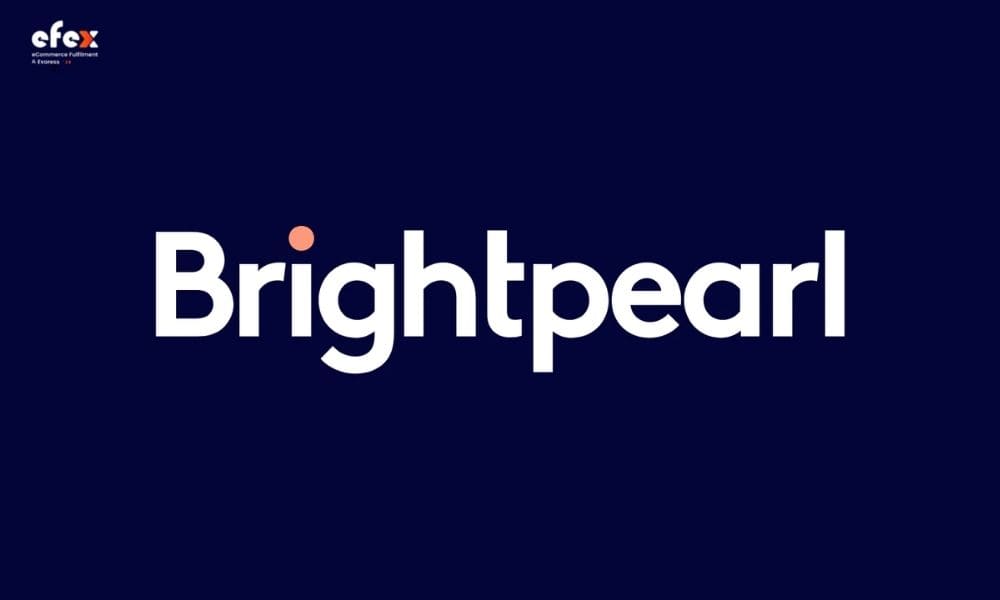 Features
Configuration is not coding and is intended for usage by merchants rather than IT employees; every new feature is relevant, and the integrations and ecosystem are entirely retail.
Brightpearl retail specialists can get you up and running three times faster than standard ERP and at a set cost.
Pros
Brightpearl covers the fundamentals of inventory and asset management, such as orders placed by customers and sent to suppliers, cross-platform reports, POS, supply chain overview, real-time cash flow and accounting.
The software also offers some fantastic add-ons that analyze users' inventory, such as profitability by channel and SKU.
It is compatible with some e-commerce systems, payment platforms, or marketplaces, including eBay and Amazon.
The key code to any effective management software is totally automated.
Cons
Brightpearl is only available as a cloud system for the IOS devices and website, and the accounting and template customization options need to be improved.
Price
Brightpearl is for merchants who trade $1 million or more per month or expect to do so in the next 12 months.
Symphony RetailAI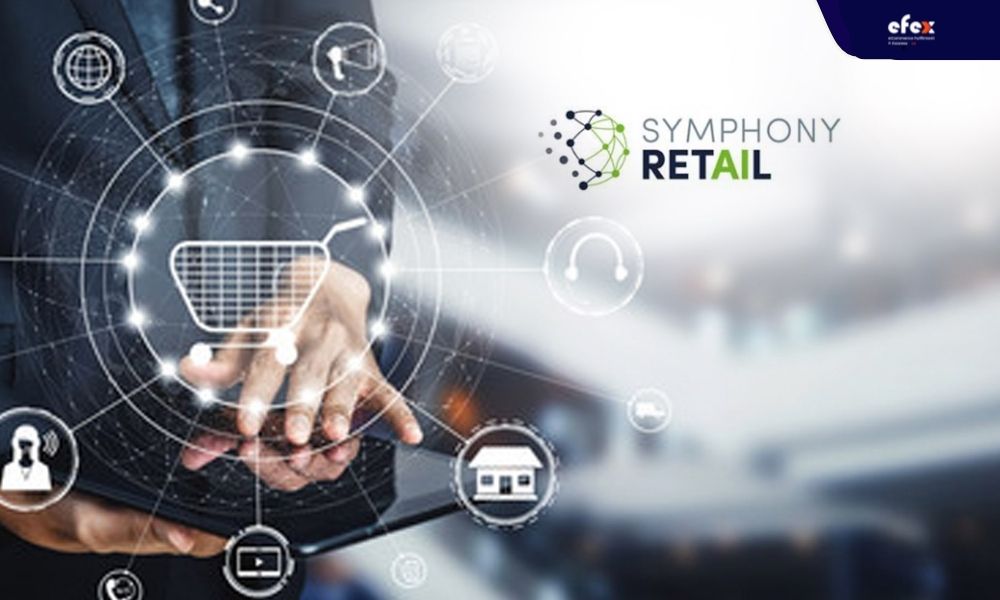 Pros
Symphony RetailAI is AI-powered marketing, supply chain, and merchandising platform for FMCG retailers and CPGs. Symphony RetailAI helps company leaders and their teams find, activate, and achieve lucrative growth possibilities in today's highly competitive omnichannel environment – more efficiently and effectively – with more than 30 years of customer-centricity at the heart of all they do. Symphony RetailAI's innovations, which are based on CINDE and GOLD enterprise solutions, cover the retail value chain, giving actionable insights that promote greater performance and CPG collaboration – and, as a result, revenue and margin expansion.
Acumatica
Automatica is a simple inventory management software that can be used on-premise or in the cloud, and it's also incredibly simple to use on mobile devices (both iOS and Android).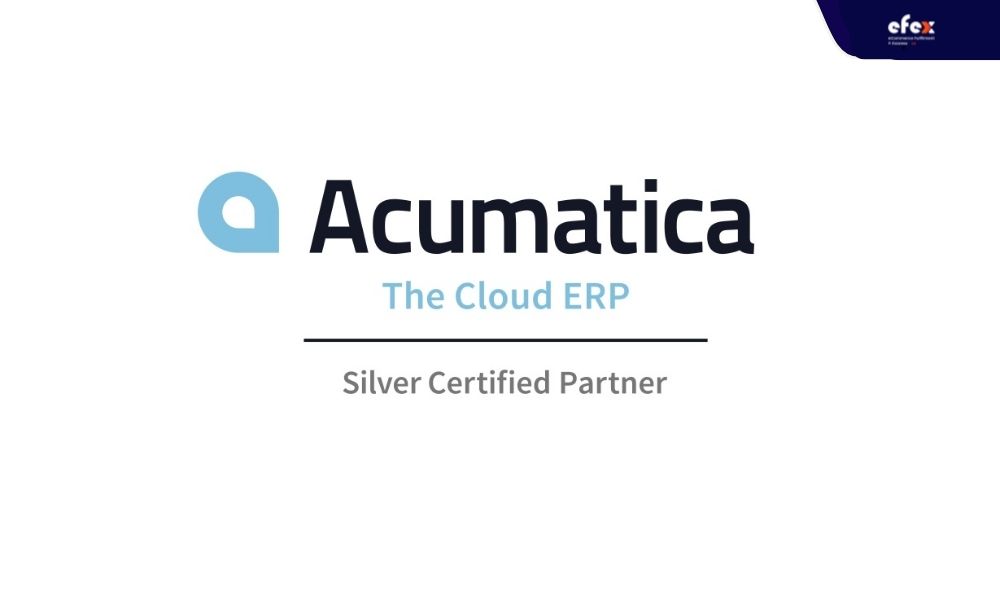 Features
Reduce stockouts and backorders by implementing an integrated solution capable of automating replenishment and facilitating customer delivery.
Acumatica only requires an internet connection and a browser to work from any location and involve the entire organization in business process optimization.
Acumatica is based on a future-proof platform with an open architecture that allows for quick integrations, scalability, and ease of usage.
Pros
It has an easy-to-use interface and provides a comprehensive set of functionality as well as scalability possibilities for medium-sized businesses.
Cons:
Acumatica is likewise a top-tier retail inventory management software, with a starting price of $1,000. You will also need to customize some of the features, which might be difficult without a robust ERP integration and a committed team.
Price Acumatica pricing is determined by the resources used rather than the number of users. Option 1: Traditional License (Buy the software and pay annual maintenance fees) Option 2: SaaS - (A low monthly fee that includes software, the environment, and maintenance) Parameters: - Suite pricing (Distribution, Financial, eCommerce, CRM, manufacturing) - Resource-based pricing (pay for processing power) - Infinite users
EZOOfficeInventory - Best Retail Inventory Management System Overall
EZOOfficeInventory is defined as one of the best retail inventory management software that centralizes and covers the entire product lifecycle, including spreadsheet imports, barcoding, QR codes, stock, and position tracking.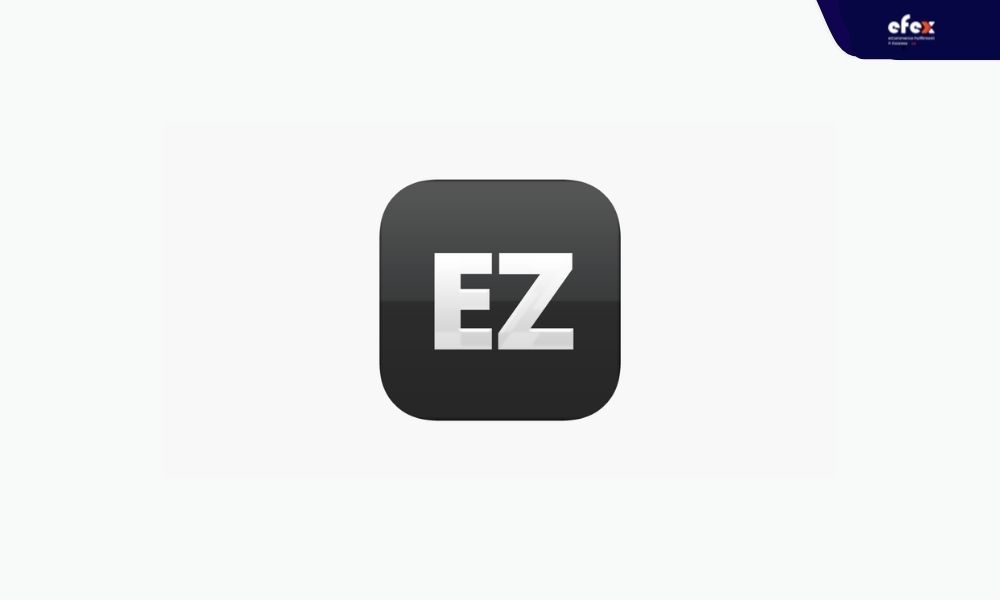 Features
Track users' assets across several locations, divide them into subgroups and groups, and even restrict access to individual personnel.
Create service tickets and set up recurring services to easily manage all equipment maintenance. This means fewer downtimes and longer equipment life.
Pros
EZOOfficeInventory offers a free trial, but it has a wonderful beginning price of $35/month. You can work as a website or app-based cloud or SaaS system.
Cons
Their customer support can be a little rudimentary at times (just online queries). There aren't many search and bulk editing options, and certain displays aren't responsive.
Price
Essential: starting at $35
Advanced: starting at $45
Premium: starting at $50
Enterprise: custom
Multiorders
Multiorders is a cloud-based inventory management solution for various types of enterprises. Order management, shipping label production, inventory tracking, and customer information tracking are all important elements.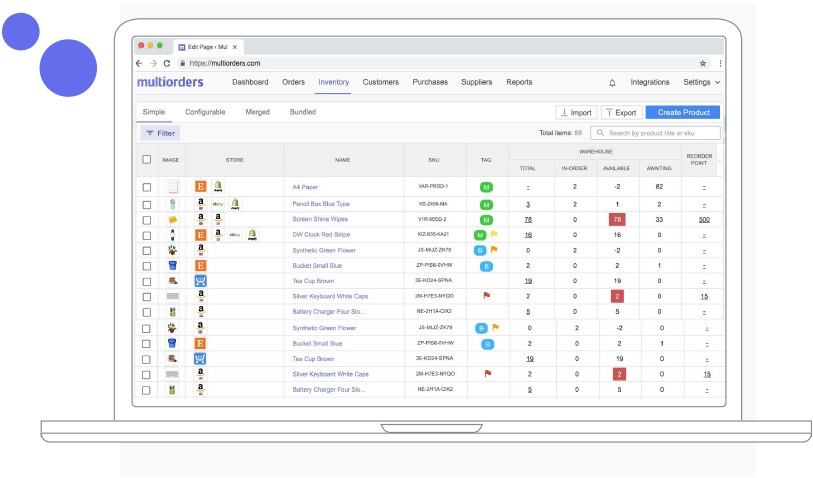 Features
Multiorders allow users to upload items, inventory details, and customer information from a variety of sources automatically.
Users can update stock levels, delivery status, and pricing details on marketplaces using the service.
Users may sync orders, produce bills, manage customer inquiries, and examine order histories using the order management module.
Pros
Not all shops and vendors require the most advanced inventory management software, and many can get by with a less expensive package.
Multiorders is an excellent choice for SMEs with a limited product line. Orders and stock can be easily managed from your own web store or via markets like Etsy.
Cons
Multiorders is a fairly accessible application for SMEs, however, it lacks a lot of features for more complex administration procedures, such as barcoding creation.
Price Trial period: 14 days, no credit card necessary.
Pro 500: $49/month - 500 monthly orders
Pro 1K: $99/month - 1000 monthly orders
Pro 2K: $149/month - 2000 monthly orders
Pro 5K: $249/month - 5000 monthly orders
TradeGecko (QuickBooks Commerce right now)
QuickBooks Commerce lets users manage inventory and orders for your multichannel business, as well as keep track of your products as they sell and refill across numerous warehouse locations and channels. [caption id="attachment_6819" align="aligncenter" width="1000"]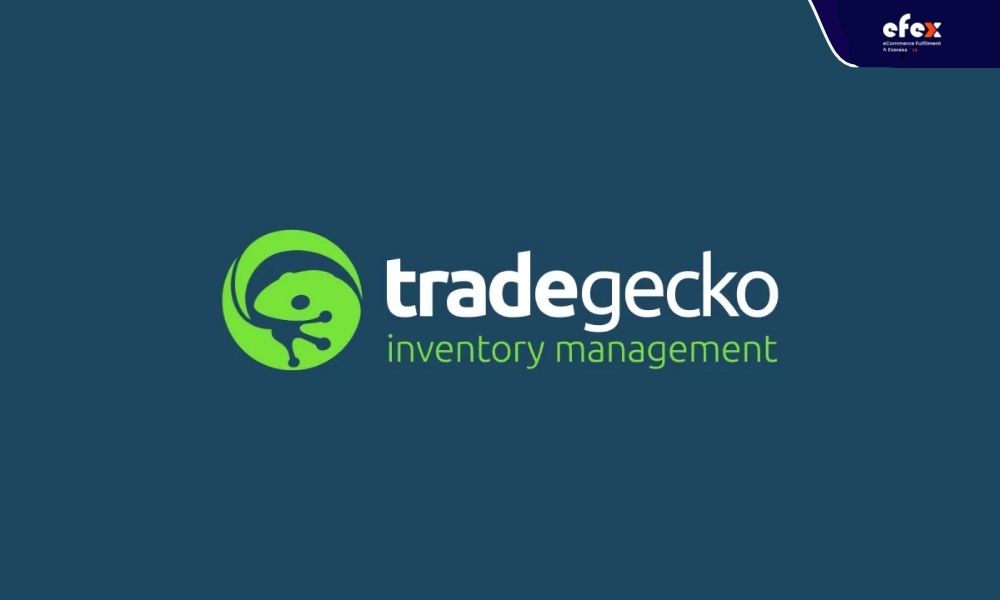 Features
QuickBooks Commerce enables organizations to integrate and automate their commerce platforms, as well as gain strong on-demand insights into all of their sales data.
From warehouse management to customer happiness, this platform includes all you need to know and control for multi-channel B2C and B2B organizations.
Pros
Users can maintain track of batches or individual goods in a centralized and automated manner.
They've also incorporated an interesting Expiry Tracking function for sellers who sell things that have an expiration date.
Cons
The number of users allowed in each plan is somewhat restricted: only two in the Lite plan and five in the Small Business plan. If you have a large team of more than 15 people, you'll need to upgrade to a premium service.
Price
Lite plan: $79/month, paid annually
Small business plan: $199/month, paid annually
Business plan: $799/month, paid annually
👉 Read More: Order Management System: Definition, Process And Value
👉 Read More: Order Management System For Ecommerce: Definition, Key Effect, Benefit
The article on the top 10 best Retail Order Management Systems in 2023 may help you choose the best software to manage an inventory effectively. Keep in mind that the greatest retail inventory management software cannot function in isolation and must be part of a larger tool network. Keeping your catalogs and items organized, up to date, and synchronized in real-time is the foundation of any order management strategy.