E-commerce is undergoing a global expansion that is reshaping the online retail scene. As more consumers have been driven online since the start of the Covid-19 pandemic, this movement has only accelerated. The order management process, warehouse management, and order fulfillment process have all been put under additional strain as e-commerce sales have soared. E-commerce is expected to reach its first trillion-dollar year in 2022. Retailers must be prepared to fulfill the rising demand for products and services by processing orders quickly and efficiently. Order management system for eCommerce: Definition, Key Effect, Benefit may provide you with the perfect answer.
What is Order Management System for Ecommerce?
The back-end procedure for monitoring and completing online orders is known as eCommerce order management. Everything is handled, from order routing to shipping label printing to refunds and subscription management.
👉 Read More: Order Management System: Definition, Process And Value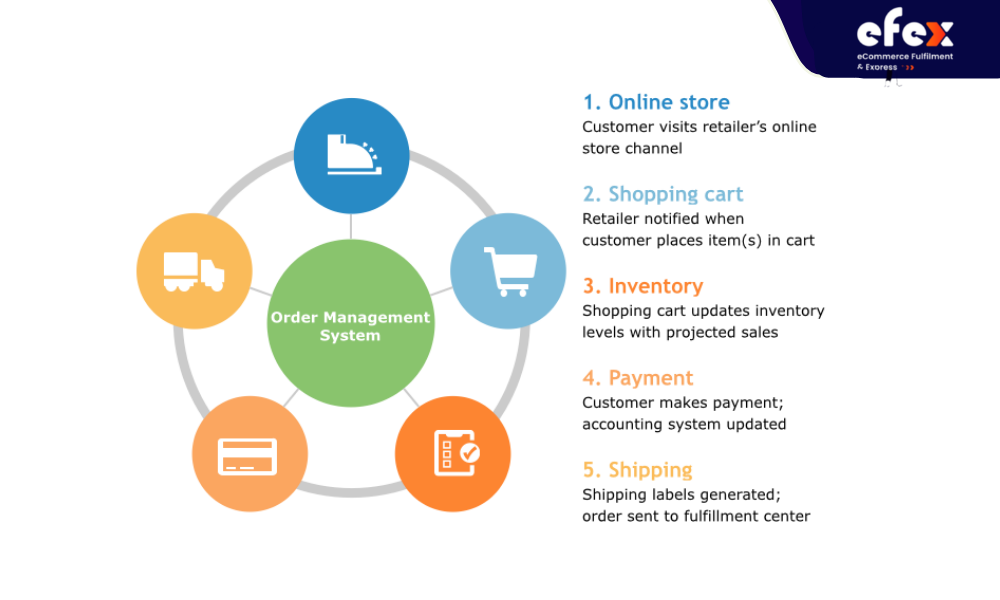 How Does Ecommerce Order Management System Work?
An order management system's purpose is to deliver a product to the hands of a client as quickly as possible. It keeps track of every single item in a customer's order from the moment it's added to their basket to the time it's delivered to their door – as well as any returns.
👉 Read More: Cross-Border Ecommerce: Definition, Example, and Market Size
Order fulfillment process
Every company has its own strategy for fulfillment. Customers, fulfillment centers, return procedures, and vendors can all have an impact on this. While order fulfillment procedures differ, most of them include the following steps:
Step 1: The customer places an order with the company.
Step 2: The order is entered into the company's system.
Step 3: The customer is notified that the order has been received by the company.
Step 4: The order is forwarded to the closest fulfillment location or warehouse.
Step 5: The order is taken by an employee.
Step 6: The company ships the order and produces the shipping labels.
Step 7: The order is shipped by the company.
Step 8: The consumer is notified that their order has been dispatched.
Step 9: The order has arrived.
👉 Read More: Order Fulfillment Service: Benefit, Cost, And Who Should Choose
👉 Read More: Order Fulfillment Cost: All of the Fee You Need to Pay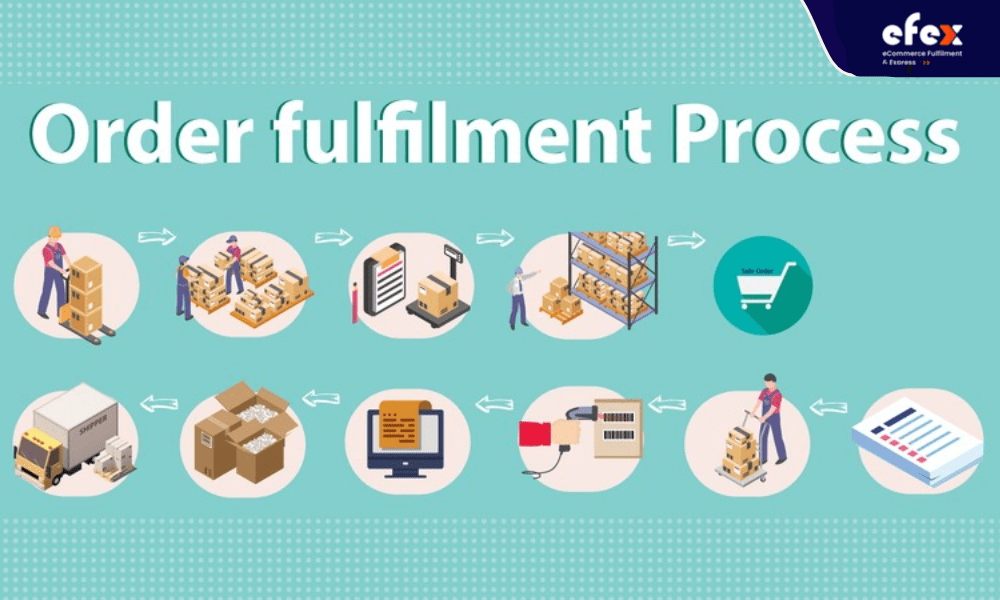 How does OMS facilitate order fulfillment?
The job of an order management system is to make the order fulfillment process as efficient, easy, and automated as possible. It optimizes those stages to save money on overhead costs and shipping, improve data quality, and choose and pack as efficiently as possible. A lot of order management systems include functionality to help with return handling and payment card processing as well. To adapt to the way you do business, the greatest operational software shall interact with the major eCommerce platforms and tools. When a person purchases something, the order management system will keep updating your Quickbooks accounting software, issue an invoice, and produce a shipping label. When an order delivers, the eCommerce order management software can track its progress by linking with your shipping providers (such as DHL or FedEx), 3PL, or FBA. When an order is picked up from a warehouse, your customer can watch its journey until it arrives at their door. The OMS makes this possible in many circumstances.
How do you manage e-commerce orders?
Optimizing the order routing and fulfillment process while lowering the number of errors that occur along the way is the goal of managing e-commerce orders. Although the workflow varies depending on the purchase, a typical order procedure includes the following steps:
A customer places an order on the company's website or through a third-party e-commerce platform.
The purchase order is logged and accepted by the company. They can accomplish this manually or with the help of order management software.
The consumer is notified by email that their order has been received and that payment has been taken. A delivery estimate or a link to track the order's progress may also be supplied.
A sales order is generated, and items from the company's inventory are assigned to it. This process can be done manually or with the help of OMS automation.
The order information is forwarded to the company's warehouse. Product availability is confirmed after stock levels are checked. The warehouse team then picks, packages, and ships the products.
Customers are notified when their orders have been shipped. A business may also provide information to track orders as they progress through the delivery process. After verifying stock levels, a company might contact its suppliers to refill at this point.
The consumer receives their purchase, and it is checked to ensure that they are satisfied.
The client raises a complaint by contacting the company via phone, email, social media, or other means.
Any issues that have been raised are (maybe) fixed. This could be accomplished by offering a replacement product, a refund, or other options. A corporation must account for the inventory or financial consequences of correcting the problem in this case.
The business can now request a consumer review.
👉 Read More: Ecommerce Order Fulfillment Guide: Process And Strategy To Improve
Why Is Order Management System For Ecommerce Important?
Most eCommerce firms would struggle to grow if they didn't have an order management system. Customers want order fulfillment to be speedy, personalized, and cost-effective. There is no room for human error in this situation. Employees should concentrate on improving the brand experience rather than triaging backorder SKUs, printing paperwork, or calling carriers.
Faster delivery
Companies must discover ways to send goods out faster and faster in a time when two-day shipping has been the norm. The window of opportunity for fulfillment is shrinking. The automation that an order management system may give is crucial in this situation. When a client puts an order, an OMS may select the fulfillment site or the warehouse closest to the incoming order's destination right away. It can choose the manner of fulfillment based on order details or order history. Then it will send a fulfillment request to the warehouse, telling its personnel to prepare the order as rapidly as possible and ship it using the least expensive carrier.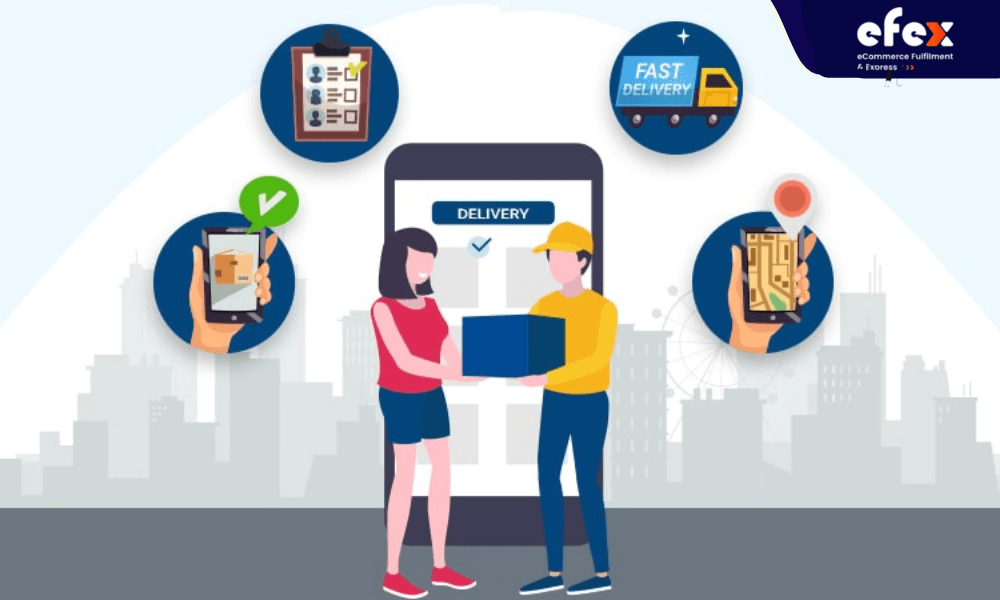 Fewer Mistakes
Human mistakes are reduced by using an order management system. Human-caused errors waste a lot of money and time for organizations, and they're the leading cause of fulfillment issues in many warehouses. By providing alerts when stock levels become too low or even when you need to liquidate, an order management system may perform multichannel inventory management and warehouse optimization. This can prevent delivery delays, marketplace costs, and customer loss. An order management system could also facilitate quick, direct communication between warehouses about which items to pick and ship at the same time. Employees cannot cause delays by overlooking or misplacing orders as a result of this.
More Scalability
An order management system will have the ability to scale up and down with your business. A well-implemented order management system, unlike outdated systems or manual entries, will not be overwhelmed by a rise in omnichannel fulfillment needs. Its unique software is likely to scale with your company as it grows.
Greater Multi-Channel Opportunities
Ecommerce is no longer restricted to purchases made through a company's website. Brands must be direct-to-consumer. We are living in an era of multichannel and omnichannel sales that span websites or marketplaces, especially Amazon, and social media platforms such as YouTube, Facebook, Pinterest, and Instagram. When orders come in from all over the place and client traffic is routed through multiple systems, keeping track of and fulfilling them can be difficult. This has the potential to affect fulfillment time and customer satisfaction. Data, inventory turnover rates, and order routing across several channels can all be consolidated and tracked through order management systems. This is regarded as one of the most significant features of an eCommerce order management system in today's market.
Controlled Costs And Increased Revenue
When it comes to keeping expenses low and revenue high, automation is your friend, and an order management system gives you the automation capabilities you need to succeed. For one thing, the technology can help you keep track of your inventory by automatically creating reports that show you where you're running low and what you should sell. Based on historical data, it can estimate future inventory trends so you know what to budget for and when to have them in stock. Another benefit of automation is that it eliminates manual operations whenever possible. Human error will cost you money and cause you to lose consumers. It also depletes profitability and diverts focus away from high-value, brand-building efforts.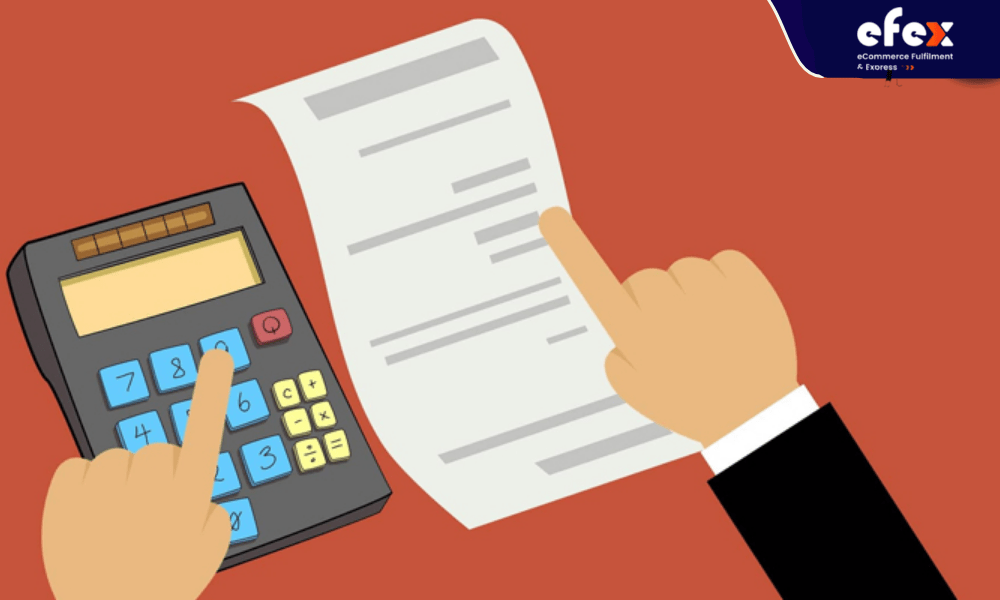 Better Employee Experience
The use of an order management system to replace manual processes has a positive effect on your employees. As your firm grows, it won't have to alter slow manual processes to meet greater demand. They'll be able to focus on the most crucial component of your company: your customers. Employees will also benefit from the increased efficiency that an order management system provides. The solution would allow staff to do a better job by delivering real-time data and integrating it across the supply chain.
👉 Read More: 3PL Warehouse Services: Benefits And Offers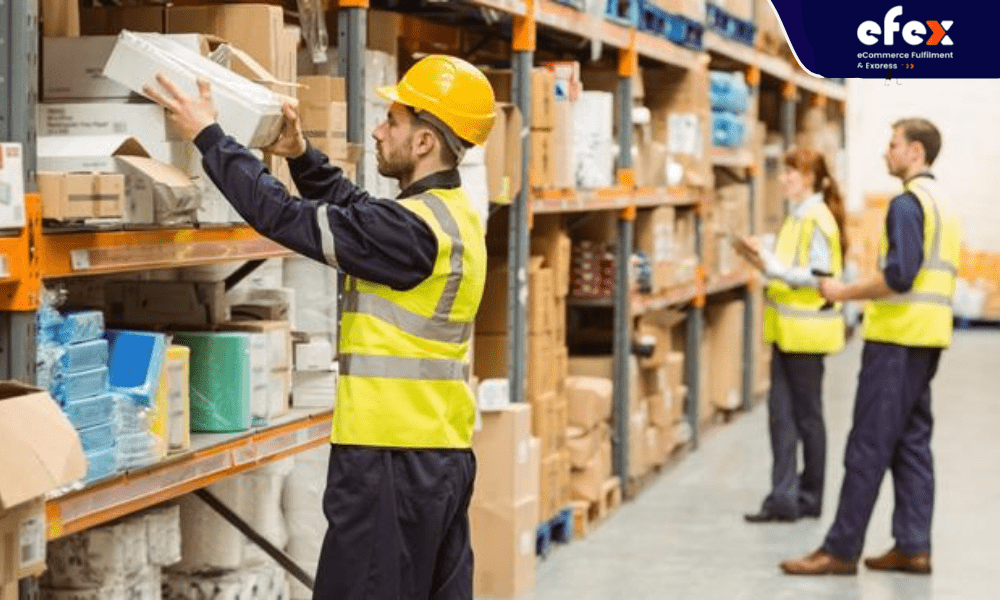 Better Customer Satisfaction
The greatest benefit of an order management system is its positive impact on customer satisfaction. Order management systems aim to get products to customers faster, reduce errors, and provide a more personalized experience. Customers will reap the benefits of an order management system once it is implemented.
The Experience You And Your Customers Need
An order management system is designed to efficiently fulfill orders across all of your eCommerce sales channels. Your firm will struggle to stay up with the competition if it does not have current, integrated, and dedicated order management software. You don't want your clients to identify your company with adjectives like "dated," "slow," or "old fashioned" when they think of you. They'll notice the improved customer experience you can deliver with the proper order management solution, and your business will flourish as a result.
Key features of an effective e-Commerce order management system
To take advantage of e-commerce's rapid growth, businesses should search for an order management system that works with their existing infrastructure. The ability to manage orders can make or ruin your company. Here are some things to keep in mind.
Eliminate manual processes with automation
The most advanced OMS will automate fulfillment and warehouse management procedures, creating a one-stop-shop. By studying your operations, automation rules will adapt to your company's specific needs. Automation increases your company's efficiency by eliminating the need for manual order modifications, delivering real-time financial reporting and auto-invoicing, rapidly hitting dispatch targets with auto-filling new orders, and using auto-tagging to categorize consumers for marketing.
Work on every sales channel
The capacity to manage multi-channel sales orders is one of the most important capabilities of an OMS. An OMS gives firms improved visibility into their whole order processing operation by combining orders from various channels into one system. There is also a constant flow of data across e-commerce platforms, allowing your organization to provide more personalized service. Customers' account information, stock levels, product descriptions, and pricing can be communicated across platforms through providers who offer connections with Amazon and eBay, allowing customers to avoid the hazards of poorly synchronized order integration. Regardless of where your customers buy, data is shared across sales channels so that decisions can be made based on the most up-to-date customer information and without the need for manual administration.
No limits on order volumes
It can be difficult to increase the number of accepted purchases as a small or medium-sized business that relies on small teams to fulfill orders. An OMS eliminates the need for manual labor, allowing a company of any size to process significantly more orders. A company may handle order volume growth without hiring more employees if it uses the best order management system. Indeed, an automated system eliminates the costly human errors that might occur while processing high-volume orders. Each order, regardless of volume, becomes as simple as the last thanks to pre-configured bulk actions and recurring jobs.
Provide a real-time view of inventory
An order management system is designed to receive real-time inventory views from a variety of sources. This means that companies can accurately determine their Available Sell (ATS) inventory. Retailers who rely on ERP systems only get a rough idea of stock availability, with limited communication between the POS and the rest of the fulfillment ecosystem. An OMS, on the other hand, provides a unified view of inventory feeds from numerous systems, as well as a real-time view of third-party stocks. Vendors can now know exactly how much stock they have ready to sell thanks to this technology.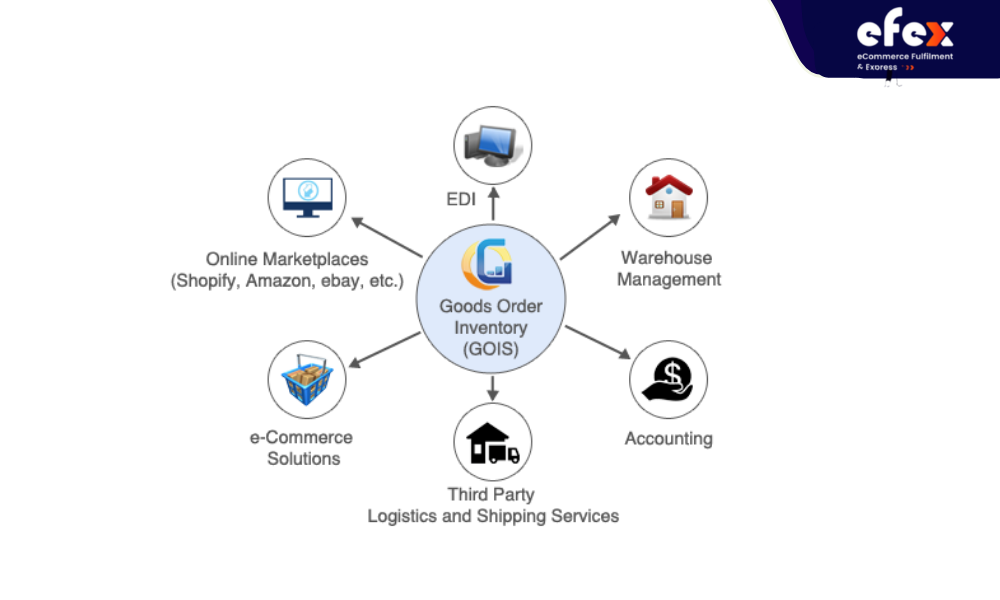 Forecast replenishment
To minimize over-ordering and overselling, effective order management tools will estimate exactly how much safety stock you'll need. An OMS can plan your supply needs using up-to-date analytics and sales estimates to guarantee demand is met without producing deadstock. Manual forecasting can be a tough operation, as it is dependent on several variables, and errors can diminish the accuracy of predictions greatly. These issues are avoided with automated forecasting. It can forecast future ups and downs using historical data and order replenishments in reaction to instantaneous inventory changes.
Provide insights by sales channel, product, and customer
By offering insights unique to the items you offer and the customers who buy them, an OMS can help you achieve your performance goals. A system can provide insights through methods like retail reporting analytics and business intelligence, depending on the software you use. A top-quality OMS can provide your team with the appropriate insights to streamline their processes by combining real-time sales and performance data. Better decision-making is ensured across your company with the metrics most relevant to their responsibilities. Brightpearl provides merchants with dashboards and KPIs based on data stored in the operations platform. This ensures end-to-end performance visibility and allows for business decisions based on a variety of statistics. As a result, organizations may get a full picture of their operations and focus on the goods, channels, geographies, and consumers that will help them develop.
Extensible integration capability
The best OMS will interact with other sales channels or software applications that are necessary for unique business requirements. As a company grows, its order management system must be able to interface with diverse infrastructures, service providers, and supply chain technology. While most OMSs include accounting, warehouse, inventory, and customer service, look for a vendor that has more specialized retail connections. An integrated CRM, for example, can provide opportunities for client order history analysis. Brightpearl offers extensive API access and support, as well as a wide range of pre-built, high-performance interfaces. E-commerce platforms like Shopify, Magento, and BigCommerce, as well as accounting software like QuickBooks, are among them.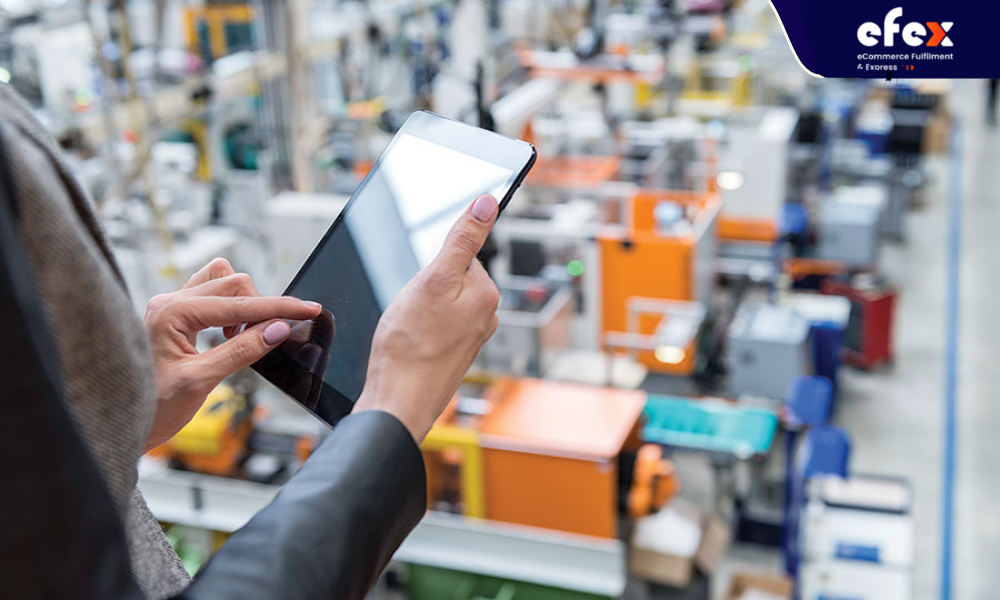 Step-by-Step Ecommerce Order Management Process
The goal of order management is to provide a positive client experience throughout the process. An order management system tries to meet client needs from start to finish, from order placement to delivery, and even returns and refunds.
Even before a customer submits a sales order, the order management process begins. When a customer adds an item to their online cart, the order management system may notice and adjust inventory automatically. The system can also notify you if an item is in your cart or if it has been abandoned.
Order placement
When a customer makes a purchase, the order management system connects to your back-end services to confirm credit card payments and process order details. The order can be sent to fulfillment once it has been approved.
Order fulfillment
An OMS will optimize warehouse selection based on order information and proximity to the order destination. Based on preset parameters, it will then compute shipping prices and the fastest carriers. It may also generate packing slips and shipping labels, as well as alert your warehouse management system to changes in inventory levels.
Warehouse management
If an SKU is out of stock, the OMS can notify your vendors and suppliers to have inventory dispatched to that warehouse ahead of time. Stock-outs can also be avoided if your order management system can issue a buy order automatically when inventory levels are low or when a reorder point is reached. By identifying where in the warehouse personnel may find the item, warehouse KPIs to monitor, what goods to ship together, and whether the item requires specialized handling, the system can improve staff efficiency.
Shipping
The order management system can notify the customer that their purchase has shipped after the warehouse chooses, packs, and ships the products. Based on their delivery address and order details, it can also tell them when to anticipate it. You and the client may both track the package as it makes its way to its final destination, whether it's the customer's home or a store.
Returns and refunds
Even if a disgruntled client returns an item, a smooth return and refund process might help to restore goodwill. An order management system can process a refund request in real-time and communicate with your back-end systems to complete the transaction. It can also communicate with your returns provider to verify that data is correct and current as the process progresses.
Challenges of Order Management
You must be aware of the hurdles before diving into the implementation of an order management system. Despite the benefits of order management systems, there are several barriers to their adoption.
The difficulty of choice
With so many order management software on the market, finding the right one to satisfy all of your online store's demands can be difficult. The following are some of the difficulties you might face: An order management system that isn't compatible with your current website or eCommerce platform. An order management system that isn't updated regularly to reflect changing customer wants or requirements. An order management system that makes inventory visibility and ordering from suppliers more difficult. Before making a decision, do your homework, ask questions, and consider a variety of choices.
Cost
An order management system can cost from a few hundred dollars to tens of thousands of dollars every month. If your business can't afford a full-featured ERP system, you might have to settle for a more focused operations solution
👉 Read More: All Cost To Rent A Warehouse In 2023
Complicated implementation
Fear of a sophisticated system that they don't comprehend is one of the main deterrents to using order management software. Look for a vendor who gives a demo, guides implementation, and continues to help to fix this problem. Don't be hesitant to ask questions; switching order management systems might be difficult once you've implemented one that doesn't work. An order management system for ECommerce is the way of the future. It's the most efficient way to give customers the rapid, personalized, and error-free order fulfillment they expect.