Do you know which company is the largest furniture company in Vietnam today? There are a lot of articles online, but most of them are labeled "feelings", "unfounded", etc., even some unknown and extremely small-scale firms pretend to be "Vietnam's leading furniture enterprises". Getting information about "top largest Vietnam furniture companies" is a difficult and time-consuming task. Therefore, we will provide you with a reliable list of the top 10 largest Vietnam furniture manufacturers.
An Cuong Wood - Vietnam Furniture Manufacturer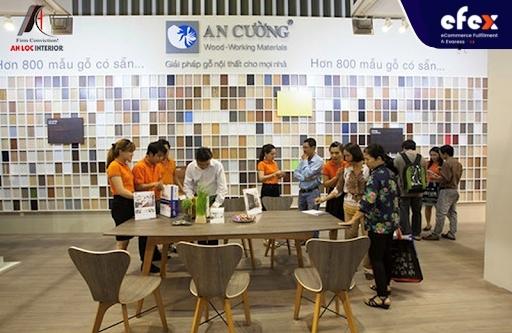 The first wood manufacturer in this article is An Cuong Wood. An Cuong is one of the enterprises that is evaluated as one of the big furniture enterprises in Vietnam. According to the published report. Revenue of An Cuong Wood Joint Stock Company reached VND 4,457 billion in 2019, ranking first in the wood furniture industry in Vietnam. Due to the impact of the Covid epidemic, the revenue of this company decreased slightly but still achieved a desirable figure of more than VND 3,781 billion.
- Read More: The Best Fulfillment Service in Vietnam
- Read More: Best warehouse service in Viet Nam
Established in 1994, An Cuong Wood Joint Stock Company is currently supplying many high-class materials and manufacturing furniture and decorations, with standard quality. Raw material products such as melamine coated boards, MFC boards, laminate panels, veneers and wooden floors. Currently, An Cuong Wood Company is also a partner to supply furniture for large domestic and foreign enterprises such as Walmart.
Besides, the company also exports to big countries such as the US, Japan, Europe, Thailand,... Regarding the size of the company, An Cuong currently owns 3000 employees and more than 25 showrooms distributed throughout Vietnam. The company also has many representative offices in many countries around the world. The factory covers an area of ​​over 240,000 m2 with modern machinery and equipment.
AA Corporation - Vietnam Furniture Manufacturer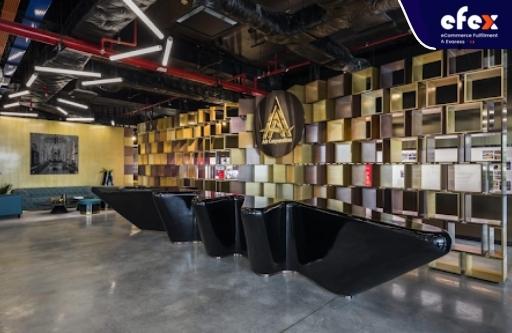 In 2019, AA Corporation's revenue was VND 2,797 billion, profit was VND 426 billion. Therefore, the company is one of the largest furniture enterprises in Vietnam today. AA Corporation – AA Architecture Construction Joint Stock Company was put into operation in 1993 in Saigon, specializing in manufacturing furniture as well as exporting royal chemicals. The company currently owns 13 subsidiaries, operates in 7 different large and small countries such as: Japan, Thailand, Myanmar, Singapore, and the US,... and exports furniture to more than 40 countries in the world. Around the world.
- Read More: Vietnam Furniture Market In 2022: Overview and Forecast
The business areas that AA Corporation is focusing on developing are full-service interior design, hotel furniture, retail, exclusive design, high-class office furniture and ArtA. The company may not be really popular among Vietnamese people, but it is already familiar with brands like BoConcept, Nha Pretty, Bellavita Luxury and Calligaris,... These famous brands are all under the management of AKA. Furniture – a member of AA Corporation.
AKA Corporation currently has more than 20 modern furniture showrooms in Saigon and Hanoi. These spaces will help customers experience the actual interior products. With professional and attentive customer care, customers have responded that they are very satisfied with the company's services. Thereby motivating them to purchase and increase sales for the company.
AA Corporation currently has 4 large furniture factories located in:
Factory in Duc Hoa Ha commune - Duc Hoa District - Long An with an area of ​​100,000 m2 and more than 2000 employees
Factory in Duc Hoa Dong commune - Duc Hoa District - Long An, specializes in manufacturing laminate products and surface solutions for interior projects. Main products are wardrobe, kitchen, door, vanity,...
Factory in Tay Ninh with a total area of ​​more than 5 hectares with more than 2000 employees. Currently, the factory is focusing on manufacturing and distributing loose furniture products for apartments, buildings, retail at home and abroad
Factory in Adruka - Bhutan. The factory specializes in manufacturing furniture products such as: wardrobes, upholstery, loose furniture for the market in Bhutan and neighboring countries
Location: Google Map.
Hoa Phat Furniture - Vietnam Furniture Factories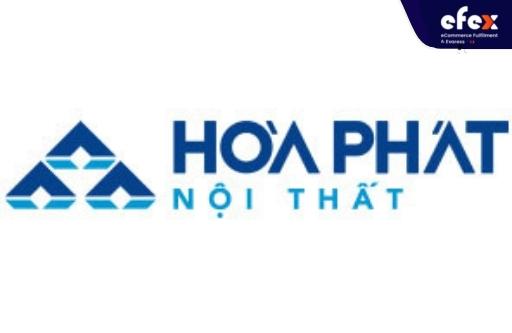 The revenue in 2019 of Hoa Phat Furniture Company is 1,836 billion VND, profit is 310 billion VND. Hoa Phat Furniture has long been recognized as one of the largest and most famous furniture manufacturers in Vietnam. With more than 1,800 employees, 5 production facilities, and a nationwide delivery system.
In addition, Hoa Phat furniture is also shipped to international markets such as Asia, Eastern Europe, Central Europe and other regions. Hoa Phat Furniture Joint Stock Company was established and put into production in Hung Yen since 1995. The main products of Hoa Phat Furniture include home furniture, office furniture, school furniture, and hospital furniture. and construction works, safes and decorative goods.
With a series of large projects and a wide retail system throughout Vietnam through its distribution infrastructure, Hoa Phat Furniture is continuously leading in the office furniture market in Vietnam. According to the corporation's published data, more than 30 million Hoa Phat chairs have been used throughout Vietnam for more than 25 years of operation. In 2018, the home furniture category grew by 46%.
190 Furniture - Vietnam Furniture Factories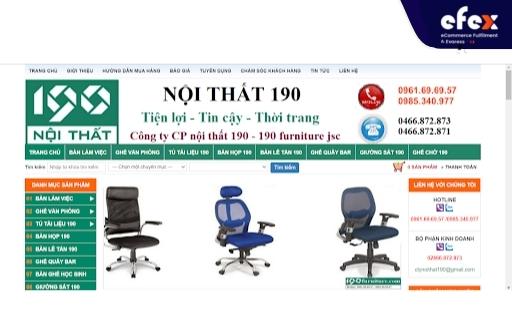 190 Furniture is a furniture company that cannot be ignored when it comes to leading office furniture suppliers in Vietnam. It is also one of the top ten leading furniture manufacturing and trading companies in Vietnam. With revenue exceeding VND 866 billion in 2019, profit exceeded VND 74 billion. 190 Furniture Joint Stock Company, formerly known as 190 Steel Pipe Factory, was established in 2006 in Hai Phong.
Perhaps thanks to this significant advantage, the company's furniture is now a combination of many components of the company. Iron and steel items include: iron bunk beds, skeleton tables and chairs, iron library bookshelves, iron file cabinets, accessories...
There are also hardwood tables and chairs, plastic or leather furniture. The main products that Furniture 190 is manufacturing and distributing include school, civil, and project furniture. Director desk and chair, shoe cabinet, office desk and chair, document cabinet, student desk and chair, front desk, etc.
- Read More: Vietnam Economy System: Type And Source
Furniture 190 also produces domestic furniture such as mattresses, tea tables, sofas. 190 Furniture Joint Stock Company currently has two production factories: a steel pipe factory and a furniture factory, with a total area of about 40,000 m2. It will certainly be capable of undertaking large projects and supplying more than 20 distribution agents across the country.
Thuan An Wood - Vietnam Furniture Company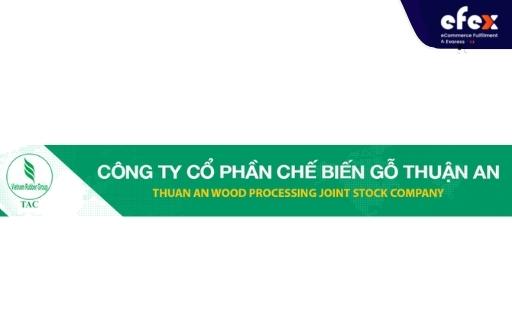 Next on the list is Thuan An Wood - one of the leading wooden furniture manufacturing and selling enterprises in Vietnam listed on the stock market (code GTA). In 2019, the company achieved more than VND 662 billion in sales revenue. This figure in 2020 decreased slightly to 568 billion VND due to the impact of the Covid-19 epidemic.
Thuan An Wood Processing Joint Stock Company was established in 2001 with only shares of Vietnam Rubber Industry Group. Specializing in logging and preliminary processing of wood as well as manufacturing raw wood products and wooden furniture for export. For domestic products, the main market that the company exports is the United States.
Thuan An Furniture Production Joint Stock Company has had a closed production process with imported modern wood processing lines since 2002. Currently, the company has more than 900 employees and two large production units in Binh Phuoc and Binh Duong.
Xuan Hoa Furniture - Vietnam Furniture Company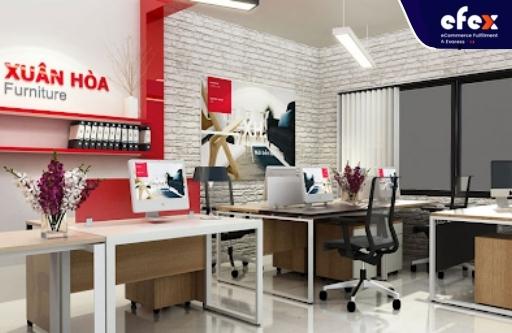 With the confirmed product quality as well as the reputation that the company has built up in the process of establishment and development, Xuan Hoa Furniture Company is considered as one of the 10 largest furniture manufacturing and trading companies. Vietnam today. The company is famous as a leading company in the field of office and home furniture. Profit in 2019 is estimated at 80 billion VND, of which revenue exceeds 564 billion VND.
In 2020, revenue increased slightly to VND 594 billion, with profit after tax of VND 41 billion. Xuan Hoa Vietnam Joint Stock Company was established in 1980, is a division of a long-standing furniture company. With the key product lines that the company is producing, they can be mentioned as:
Office furniture items (the most famous and well known) are quite diverse in both materials and designs
Wardrobe, dining room table and chair, shoe cabinet… are examples of home furniture.
School things
Medical equipment
Public furniture
Products from the supporting industry
With more than 90 level 1 agents and many additional level 2 agents, Xuan Hoa furniture products are now covered all over Vietnam. Supply for a number of large domestic and international projects...
Truong Thanh Wood - Vietnam Furniture Brand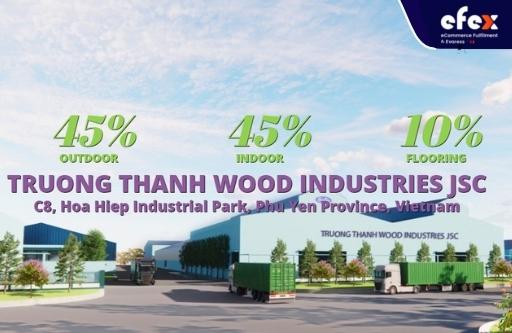 Truong Thanh Wood is one of the big furniture companies in Vietnam both in terms of sales volume as well as production scale. According to the financial account announced by the company, the company achieved revenue of more than 410 billion VND in 2019 and revenue in 2020 is 878 billion VND - an impressive number despite being affected by Covid - 19. Truong Thanh Wood Industry Group Joint Stock Company (stock code TTF) was established in 1993 in Dak Lak. Specializing in manufacturing, distributing, assembling, building and exporting interior and exterior products.
With main product lines including loose furniture, couches, outdoor furniture, collections, kitchen cabinets, semi-flooring, etc. Great Wall Wood's goods are being sold to many countries such as Japan, Korea, the United States, and more. The items are widely used in modern interior decoration for domestic and foreign customers in the domestic market. Residential areas, apartments, hospitals, schools, resorts, commercial centers, etc.
Wood Industry Group Joint Stock Company currently has 6 member companies and 13 furniture production facilities in Dak Lak and Binh Duong. With about 2000 workers, the company will have enough resources to meet all the needs of the investor.
Location: Google Map
Duc Thanh Wood - Vietnam Furniture Brand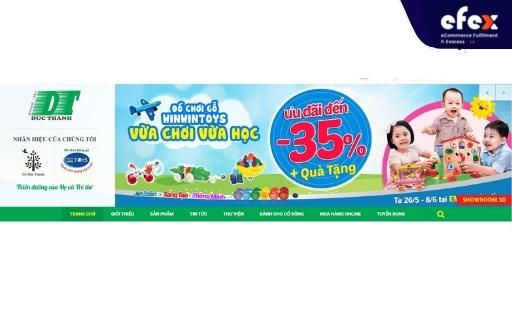 Duc Thanh Wood Processing and Production Joint Stock Company is one of the prestigious furniture companies in Vietnam, listed on the Ho Chi Minh City Stock Exchange (code GDT). Revenue in 2019 is 345 billion VND, while revenue in 2020 is still increasing strongly despite Covid-19 being 402 billion VND. Duc Thanh Wood Joint Stock Company was established in 1991 in Ho Chi Minh City. Specializes in manufacturing and trading wooden products such as kitchen products, wooden furniture, household appliances, children's toys and wooden decorations, project furniture, and many other products.
- Read More: Top 10 Website To Find Vietnam Suppliers in All Major
Furniture products of Duc Thanh Wood Company are now widely available in more than 1,200 stores, agents, supermarkets across the country and exported to many countries around the world. Currently, the company has about 1200 employees and has two factories in Ho Chi Minh City (7,800m2 with a capacity of 2,500m3 of finished wood per year) and Binh Duong (38,000m2 in area with a capacity of 6,000m2 of wood products per year).
Phu Tai Wood - Vietnam Furniture Manufacturer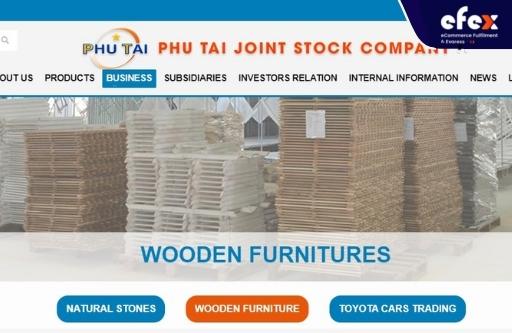 The main specialty of Phu Tai Joint Stock Company is the production of wooden furniture. That is why the quality of the furniture is always of the best quality. Currently, the Company has two subsidiaries in the wood industry (Phu Tai Dong Nai One Member Company Limited and Vina G7 Joint Stock Company) as well as two affiliates, Thang Loi Enterprise, Phu Cat Wood Factory and Processing Company.
The strength of Phu Tai Wood is that all wood sources are FSC certified, allowing the export of products to fastidious markets such as the United States and European countries. The wood position of Phu Tai is always appreciated by users during use. Phu Tai Wood currently offers two product lines, indoor and outdoor furniture. The majority of products are intended for export.
Minh Duong Wood - Vietnam Furniture Factories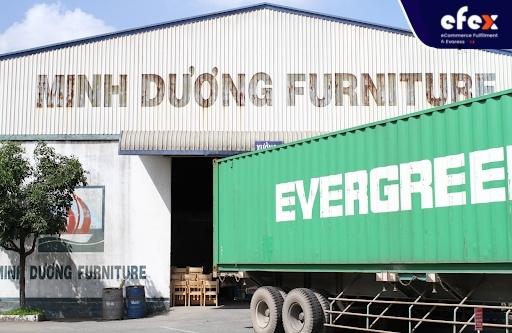 Last in the list cannot fail to mention Minh Duong Wood Joint Stock Company. The company is currently considered as one of the leading furniture processing and manufacturing companies in Vietnam. With key products such as living room furniture, kitchen furniture, coffee table, TV shelf, etc. The company mainly serves the export market while increasing domestic consumption.
The company's factory and headquarters are currently located in Binh Duong province, with about 2000 employees being trained and working. In addition, the company has a large production base in Quang Nam province (Minh Duong Chu Lai Joint Stock Company).
Conclusion
In this article, we have provided you with the Top 10 Vietnam Furniture Manufacturer. All design firms, manufacturing companies, selling and exporting companies are included in this list. The best furniture companies on this list are identified from reliable sources so you can rest assured to consult.
Vietnam's booming e-commerce sector presents new opportunities to directly reach consumers online. By leveraging cross-border e-commerce services like Efex's Sell in Vietnam solution, furniture sellers can quickly launch and scale online sales in Vietnam. With integrated capabilities spanning product registration, import-export operations, order fulfillment and after-sales support, furniture companies can effectively test and build their presence in this high-potential market.