At the first glance, warehouse inventory management appears to be a straightforward operation. Yet, it is not all! Admittedly, warehouse inventory management is a significantly more complicated task. It covers too much work so many studies conducted to find out the optimum approach to successful warehouse inventory management, leading to a few frameworks given for managing warehouse inventory. In reality, besides these frameworks, there are lots of inventory management techniques that target maximizing performance.
Do you want to know what those techniques are? This guide (which also covers practice) is the way to go!
What is the definition of warehouse inventory management?
Warehouse and inventory management is defined as a process that entails several activities including receiving, warehousing, and tracking. Moreover, it is also involved in supervising warehouse personnel as well as minimizing storage capacity and expenses. All of these operations have a direct influence on fulfillment, delivery, and customer satisfaction.
How do inventory management systems in warehouses work?
Warehouse inventory management software comes with a number of useful features that will help you keep track of the goods in your warehouses and supervise controlling inventory.
- Read More: How much does it cost to build a warehouse in 2023?
- Read More: 3PL Warehouse Services: Benefits And Offers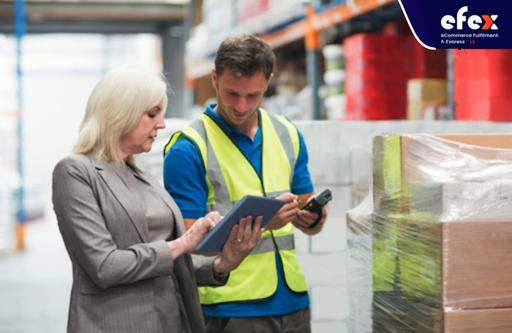 Warehouse management technology is often integrated into larger enterprise resource planning (ERP) software packages, though it can also be employed as a stand-alone program. If you want to control your inventory across your whole business's network, you should invest in a seamlessly integrated system. Inventory management software takes care of product procurement, monitoring, and delivery; therefore, you always know exactly where your goods are and when they'll arrive.
These tools can also be implemented as forecasting techniques, allowing you to place orders through the data of estimated consumer demand based on previous sales data. Some tools also include warnings and notifications to greatly enhance your warehouse's process flow, such as the time of completing cycle counts.
Warehouse inventory management best practices
We include 4 steps that are essential for ensuring the performance and success of your warehouse. When you're first setting up your warehouse, make sure these practices are in place to enhance productivity and transport products promptly when they're required.
Hire a warehouse manager
The first practice in operating a successful warehouse is to hire a qualified leader; your company should hire a warehouse manager with substantial expertise in operating a warehouse identical to the one you'll be managing. Hiring a warehouse manager is a must in order to ensure that everything works properly if you have a physical warehouse.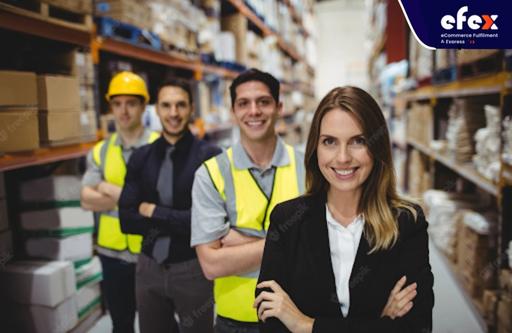 They are, in fact, the warehouse's quarterbacks because they're well-organized, know how to run a warehouse, and are familiar with the technology. The other role of a warehouse manager will keep an eye on your personnel in their daily tasks to ensure that things are correctly scanned and cataloged. They'll also check in with your warehouse inventory management software on a regular basis to keep an eye on your stock. Finally, your warehouse manager will manage any anomalies or problems that occur, so they'll have to react quickly once your warehouse staff sees trouble.
Determine the layout of the warehouse
When a sale or a transferring order is placed, the physical structure of your warehouse will either assist or prevent your warehouse personnel from efficiently picking, wrapping, and shipping products out. Warehouse personnel can navigate the warehouse more successfully by dividing warehouses into areas or blocks and marking aisles and bins. Although not all warehouses are set up similarly, a well-organized warehouse is a requirement for effective performance. Depending on the goods in your warehouse, the way you plan your warehouse space may differ.
For instance, a warehouse storing heavy machinery may have specialized zones but not bins and aisles, but a warehouse carrying smaller retail merchandise would. When planning the physical layout of your warehouse, think about how a warehouse worker would travel across the warehouse. Ensure you have quick access to your valuable and high-transaction-volume items.
Usually, you'd possess rows of racks that you'd organize into separate areas. As your company expands, you will need to restructure your warehouse. Some of this involves identifying the things that move swiftly through your warehouse and placing them in more accessible locations.
- Read More: Types of warehouse management systems: Definition and Benefits
- Read More: Top 15 Warehouse Management System Open Source
- Read More: How To Create Warehouse Management System Excel
Make a workflow
You'll need to set up an actual workflow once you've chosen a leader to supervise your warehouse's activities and developed an organizational system. Working closely with the warehouse manager on how to build a warehouse workflow that fits best your organization should be a priority. Several critical factors should be addressed in your workflow, such as:
What is the procedure for receiving new inventory?
Where does the new stock go when it arrives?
When inventory comes, it is moved, and it exits the warehouse, how is it tracked?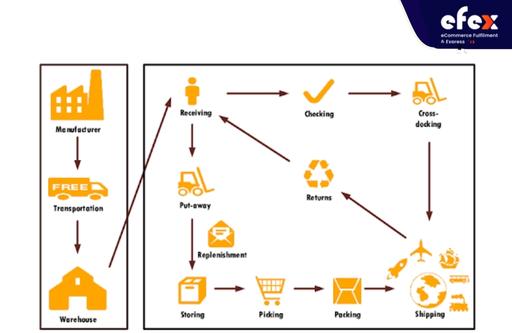 Knowing where that item is stored can come in handy when it goes up for sale. You'll need a method that will direct you to the specific location where the merchandise is stored. You'll also need to keep track of it as it moves from one location to another, all the way to the customer's door. Furthermore, you should talk to your warehouse manager about a few operational issues, such as:
Tracking inventory locations
Identify whether serial tracking, lot tracking, or a combination of the two is required. Tracking refers to an important aspect of inventory control since it allows operators to know exactly the location of a product and the time to pick it up. Serial tracking is appropriate for high-value products that are available in small quantities, whereas lot tracking is appropriate for low-value and high-quantity products. Within the software of inventory management in warehouses, barcoding features can be used to simplify the update of tracking data on specific products. Besides, when selling on several sales channels, tracking is extremely vital to avoid overselling and accidentally running into negative numbers.
Regular inventory checks and cycle counts
Loss prevention, as well as inventory control both, benefit from regular cycle counts. Units may be reported stolen or lost without your warehouse manager's notice if cycle counts aren't performed on a frequent basis. If you simply count your stock once a year, you'll quickly see that you've lost a lot of it over time. When working with products that are about to expire, regular cycle counts are also very critical. Therefore, you should conduct inventory counts on your most valuable or bestselling products more regularly.
You may opt to use FIFO (first in first out), LIFO (last in first out), or average costing techniques, depending on the way your warehouse functions. Since most inventory management software integrates with the accounting system, eliminating the double entry and the possibility of human mistakes, these accounting systems are vital to your warehouse administration. The costing method in your warehouse inventory management software should be consistent with the existing of your accounting.
Data collection and reporting
Warehouse managers are in charge of creating and disseminating data reports, which can be created and modified with warehouse inventory management software. Product counts, sales data, vendor requisition data, and details concerning any missing or expired goods are all included in these reports.
Deploy inventory management software at your warehouse
The role of the warehouse inventory management system is to automate and streamline various warehouse management duties, as well as the real-time updating of a database of all current products.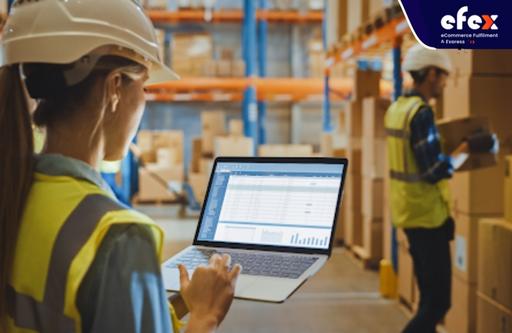 Your warehouse inventory management software will show all of your current inventory and its specific place in the facility as long as your warehouse personnel scans and catalogs products separately as they enter and travel throughout the warehouse. The ERP software should have the majority of the data. The information originates from transactional data and informs you which products must be cycle counted and how much they should be checked.
Additionally, estimating trends over time, such as how many shipments you made this month compared to the previous month and the month before is necessary. Check for tendencies to determine if something is preventing shipment and receiving on the activities of a company.
Furthermore, warehouse inventory management software can also be configured to automatically replenish stock whenever a preset minimum amount of products is reached. The finest software evaluates previous sales data to identify the most suitable minimum numbers for automatic reordering, and the quantities in which each product should be replenished.
How to Manage Warehouse Inventory
Managing inventory in warehouses entails beyond just product organization. It necessitates the proper coordination of networking systems, facility and processing methods, as well as technological infrastructure in order to provide inventory accuracy and visibility.
As a result, you'll be able to better serve your customers through their chosen sales channel while also lowering your cost-to-service. Warehouse inventory management can be difficult, but by following this helpful advice below, you can boost productivity and cut expenses.
Redesign your warehouse layout
To guarantee that operations proceed smoothly and effectively, your warehouse layout should support the logical flow of inventory, from receipt and inspections to picking and packaging. A small, crowded arrangement will be a challenge for inventory management staff to reach products and offers inadequate space for critical processes like receiving, increasing the risk of making mistakes. Therefore, it is extremely critical to rethink your warehouse plan in order to support rising company sales, which require more space. Consider the following questions when you alter your warehouse layout:
Is my current arrangement effective in terms of space utilization?
Is there enough space for my personnel to execute their tasks effectively?
Is it true that I haven't updated my layout in a long time? Has our sales volume increased much throughout that time?
Do I need to use any unique inventory management tactics in my layout?
Reorganize your SKUs (stock keeping units)
Arrange goods so that inventory management staff can readily access them to guarantee the efficiency of operations as well as inventory control in your warehouse. This approach is applicable not just to the basic layout of your warehouse, but also to your SKUs. Shorten the time people spent looking for certain products by systematically classifying your SKUs and using slotting to group objects together determined by size, volume, seasonality, and other criteria.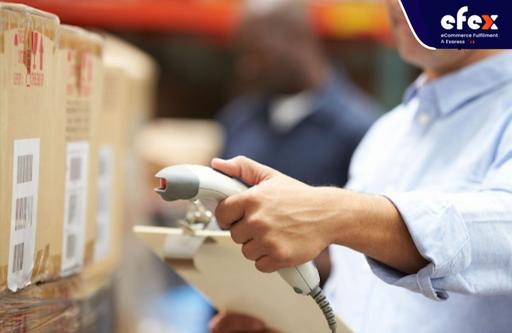 To make order picking and slotting easier, try defining areas according to pick type. Place large-quantity, fast-moving SKUs in easy-to-reach places near the shipping zone so staff can fetch them quickly. Lastly, employ lean inventory management. You will substantially cut stock levels and improve worker productivity in order fulfillment by detecting and removing
Make an investment in technology
Starting with a warehouse management system (WMS) is an excellent idea. A WMS is a tool that supports and streamlines warehouse operations. To maintain peak inventory control effectiveness, a WMS will integrate systems and workflows, properly structure execution processes, boost inventory visibility, lessen the chances of demand volatility, and much more.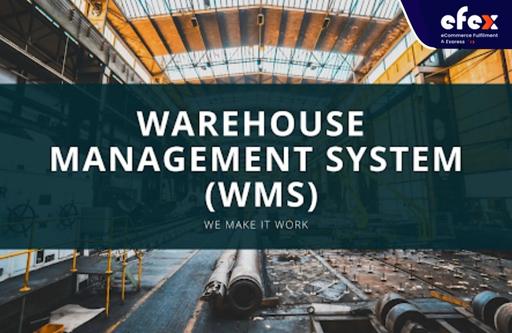 It's also a good decision to spend on systems that can provide business intelligence (BI). BI uses techniques to gather, evaluate, and convert data into actionable information.
Everything should be automated
Having the capacity to automate critical workflows is among the advantages of investing in tech. An inventory management system for a warehouse that is automated allows for more scalability, lower the chance of human mistake, improves efficiency, and keeps costs and time down on manual labor. After you've installed inventory management warehouse software, be sure to examine your automation plan on a regular basis to make sure that it's still meeting your company's performance requirements.
Give your employees the tools they need
Making it easy for warehouse staff to execute their duties and do them properly has become one of the greatest solutions to increase overall inventory warehouse management. Setting strong safety rules to protect your staff from potential harm or altering your cleaning routine to a more appropriate period can be as simple as this. Create a detailed organizational plan to make it easy for employees to locate high-volume products.
Moreover, take the time to train and familiarize all warehouse staff with new systems and software when you introduce new technology. By equipping your employees with this essential knowledge, you're giving them more possibilities to improve inventory management on a daily basis.
Final Thoughts
The way you handle inventory in a warehouse has an impact on how much you pay for logistics and how effectively your supply chain operates. There's a lot more to warehouse inventory management than you may think, which is one of the main reasons why many businesses outsource this role to a third party. Finding a third-party partner maybe be a difficult undertaking. With that in mind, we'd like to offer you an option that can not be better than ever - EFEX.