Your business has outgrown its existing space and now requires a warehouse? It is obvious that a new warehouse requires significant finance from your business, then how much does it cost to build a warehouse? Wait no more, let's read this post as we'll show a detailed guide on how to estimate your own warehousing project for your budget business.
Total cost to build a warehouse
How much does a warehouse cost? Prices for a small 30x40 construction can be as little as $15,000 and as high as $475,000 for a 50,000-square-foot distribution center. The base metal building package, as well as transport, construction, and foundation are included in this figure. For the total cost estimates, here's an estimate of warehousing costs per square foot.
👉 Read More: 3PL Warehouse Services: Benefits And Offers
👉 Read More: All Cost To Rent A Warehouse In 2023
Metal Building
Metal building is certified to withstand hurricane-force winds and heavy snow loads. Stability is ensured by the building's rigid frame backbone, which is made up of vertical and horizontal beams welded together at strategic angles, which cost about $3.50-$15 a square foot.
Shell
A building's shell is the component that separates the structure's interior space from its exterior and surrounding areas, estimated from $19-$25 per square foot.
Turnkey
Turkey furnishes end-to-end, extremely efficient automation systems which include the design, development, and launch and are also instrumental in providing a wholesome answer to all the fulfillment needs like Warehouse Management Systems, ERPs, Logistics, etc. It estimates about $55-$70 a square foot.
Hard Costs
The "brick-and-mortar" costs of constructing a warehouse are considered to be the hard costs, which is the only one of 4 cost categories (hard cost, soft cost, long-term cost, and financing cost) to build a warehouse. Labor, materials, electricity, sewer, plumbing, grading (also known as leveling), HVAC, parking lots, and LEED certifications are all included in the hard costs.
Soft Costs
Soft costs cover the expenditures for insurance, permits, legal fees, taxes, architectural drawings, engineering, non-permanent furniture (such as desks, chairs), movable equipment (such as a forklift), and other expenditures that are not related to hard costs.
Long-Term Costs
Utility bills, continuous maintenance, and upkeep are all included in the long-term cost of the warehouse building. These variables will have a huge impact on the overall cost of a warehouse. The insulation of the warehouse will help you save a lot of money on your power bill. It is more expensive upfront; however, it lowers your monthly cost. You should calculate to figure out when extra insulation pays for itself in terms of lower monthly expenses. It's certainly worth doing so if it is not over 10 years.
Financing Costs
The amount you pay the bank in borrowing expenses related to your construction loan is referred to as financing costs. Your financing costs will be reduced if your interest rate and fees are lower.
How Big is an Average Warehouse
Warehouse and Storage Sizes
Most warehouses in the past were less than 10,000 square feet in size. However, the average American warehousing unit has expanded to over 25,000 square feet in size over the last few decades in the US. There are only about 35% of warehouses that are smaller than this, and about half of the existing warehouses are 50,001 square feet or larger already. E-commerce companies frequently make use of small warehouses (those with a floor area of less than 25,000 square feet).
It's a great way for business owners to store inventory without taking up a lot of valuable floor space. Importers, exporters, manufacturers, and wholesalers all use large warehouses (those with a floor area greater than 100,000 square feet). Industrial parks and ports with easy access to highways and loading docks are common locations for these larger structures.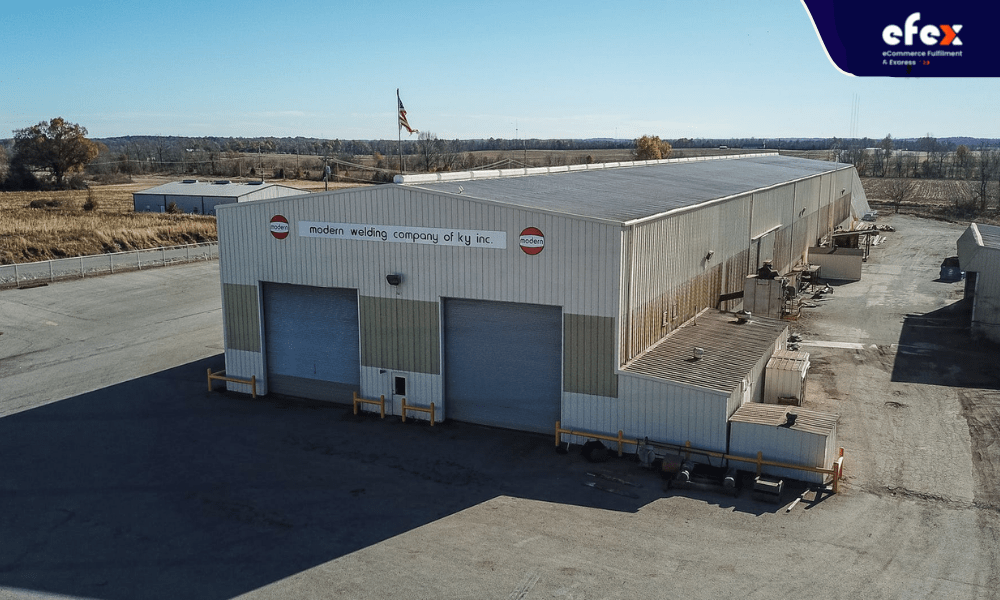 Warehouse Concrete Foundation Cost
A concrete foundation is compulsory for all warehouses to secure the structure. It is not a regular concrete slab, as one would find in a house, but features specifically constructed concrete footers with rebar to withstand the wind, snow, and seismic activity in the region. The 4-inch concrete foundation normally costs $6-$7 per square foot, which contains the concrete, shaping, pouring, and finishing.
Due to the increased labor and equipment needed, this figure can increase when a warehouse is greater than 10,000 ft.2. It will also cost extra if you want thicker concrete.
Warehouse Erection Cost
Erection, construction, and assembling are all terms used to describe the process of putting up a steel building. Construction by a 5-man erection group with a 6,000-pound boom forklift costs $5-$6 per square foot on average. The construction of most steel buildings requires only a few days. Larger projects may take two to three weeks to process, depending on the design.
Other Costs to Consider
Other points to consider include the costs of shelving, racking, equipment, racking, security, forklifts, and other specific systems that your warehouse may require. Besides, you should also consider warehouse automation. Software, robots, as well as automated package retrieval systems, are instances of this. Most of these costs aren't included in building costs, but they'll add to the total cost of your warehouse construction plan.
How much does it cost to build a warehouse?
How much does it cost to build a 5000 sq ft warehouse
Pre-engineered steel building total costs are estimated at $45,500 with $9.10 per sq ft. Rigid-frame structures cost $11-$20 per square foot; therefore, the cost to build a 5000 sq ft warehouse will be $55,000 to $100,000. You also should expect to pay $95,000 to $140,000 for a 5000-square-foot enclosed and completed structure, but it might cost up to $200,000 if your building has any special features.
How much does it cost to build a 10000 sq ft warehouse
Prefabricated 10,000 square feet warehouse construction kits go from $86,250 to $97,750 ($7.50 to $8.50 per square foot). Rigid-frame 10,000 square feet warehouses range from $126,500 to $230,000 ($11.00 to $20.00 per square foot). A finished and enclosed warehouse of 10,000 square feet costs between $20 and $40 per square foot, or $230,000 to $460,000.
How much does it cost to build a 20 000 sq ft warehouse
The typical cost of a 20,000 sq ft warehouse is between $12 and $19 per square foot, or $240,000 to $380,000. Tilt-up construction costs $28 to $48 per square foot, whereas wood-framed warehouses cost $22 to $39 per square foot.
How much does it cost to build a 4000 sq ft warehouse
The cost to build a 4000 sq ft warehouse depends on the size of the warehouse, let's refer to it in the following table:
| | | |
| --- | --- | --- |
| Building size | Square Footage (SF) | Estimate cost |
| 50 x 80 | 4,000 | $41,000 |
| 50 x 100 | 5,000 | $45,500 |
| 60 x 100 | 6,000 | $54,600 |
How much does it cost to build a 6000 sq ft warehouse
The cost to build a 6000 sq ft warehouse is estimated in the table below:
| | | |
| --- | --- | --- |
| Dimensions | Square feet | Turnkey Estimate |
| 50 x 100 | 5,000 | $312,500 |
| 60x100 | 6,000 | $375,000 |
| 80x80 | 6,400 | $400,000 |
Types of Warehouses (and Their Costs)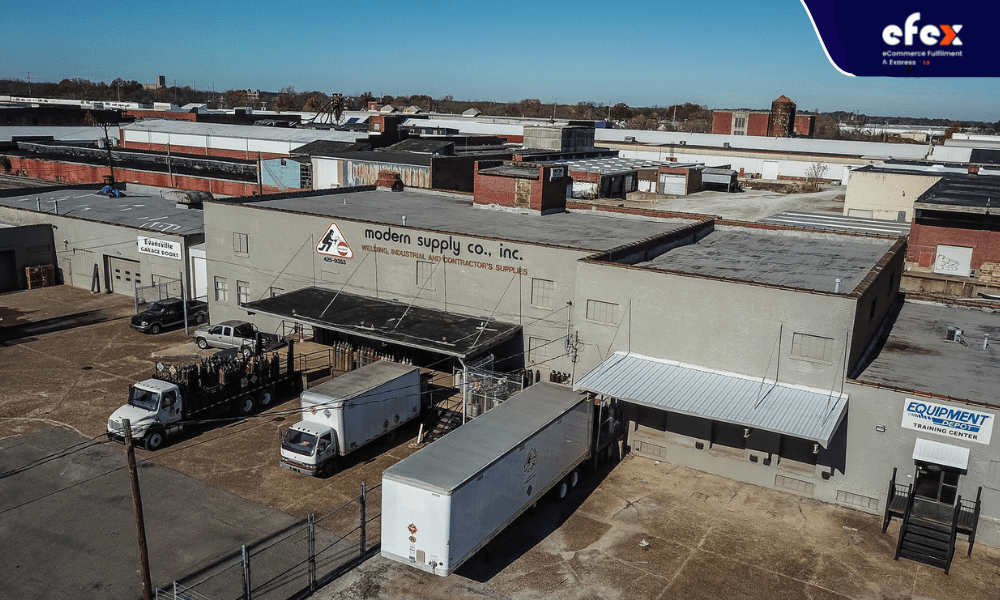 Since the type of warehouse you're constructing influences the price per square foot, there's a caveat to all of the prices. Here are the most popular warehouse types, as well as any changes you'll need to make in your budgeting on the back of a napkin.
Storage warehouse: All figures in this post are related to this sort of warehouse.
Office warehouse: On average, an office buildout costs $100-$200 per square foot. Because warehouses rarely require high-quality offices, the lower end of that scale is most likely correct.
Cold storage warehouse: On average, a cold storage warehouse costs $150-$170 per square foot.
Data warehouse: On average, data warehouses cost $170-$300 per square foot. However, there have been rumors that Google paid up to $3,000 per square foot for a data warehouse.
Real Estate Costs for Building a Warehouse
You may be very irritating to search for the price but only receives around 75% of the cost. Because of region-specific land and location-specific grading, "land and grading" can not be covered in the costs above. For instance, industrial land in Los Angeles will be significantly more costly than the same plot in Commerce, Georgia. Looking at pricing on sites like Loopnet.com is the only approach to figure out how much land will cost in your location. It's also worth noting that you need to have the land rezoned.
How Much Is Grading Cost For A Warehouse?
Since the cost of grading your plot is 100% location-specific, it's almost hard to estimate an average amount. However the cost of grading (leveling) your land can range from a few thousand dollars to millions of dollars. You can ask and answer some questions below to consider to start determining the cost.
Is there a swamp or a creek nearby?
Is a retention pond required?
Is a retaining wall required? If so, how big will it be?
How many acres will be razed?
Is it located on a hill?
Is it a combination of rocks, hard clay, soft sand, or something else entirely?
How many trees must be cut down (and stumps removed)?
A Step-by-step to build a warehouse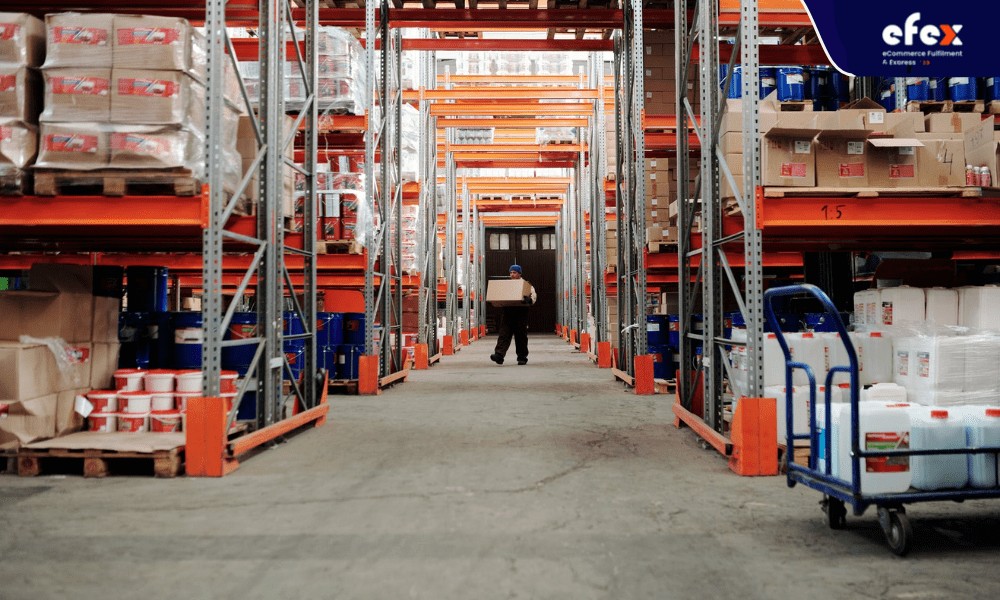 Initiation
The first step is to do a feasibility study. It simply questions if the timeframe, budget, and scope of work are all in sync. For instance, expecting to build a 1 million square foot factory in a week makes no sense, while expecting to build an 808 garden shed in a week makes reasonable.
Pre-Construction
Permits, design, hiring a General Contractor, and procurement (getting the stuff)are all part of the pre-construction phase.
Construction
This phase is where you finally break ground and begin physically constructing your warehouse.
Post-Construction
Demobilization, punch lists, and documentation closeouts are all part of the post-construction phase.
Building With Steel
According to the Metal Building Manufacturers Association, metal framing is used in 95% of industrial construction, the market leader in industrial warehouses. The steel is a red iron steel structure with I-beam columns and rafters, metal cladding (roof and wall panels), and metal girts and purlins. The various parts of a pre-engineered metal structure used for warehouses are labeled in the image below.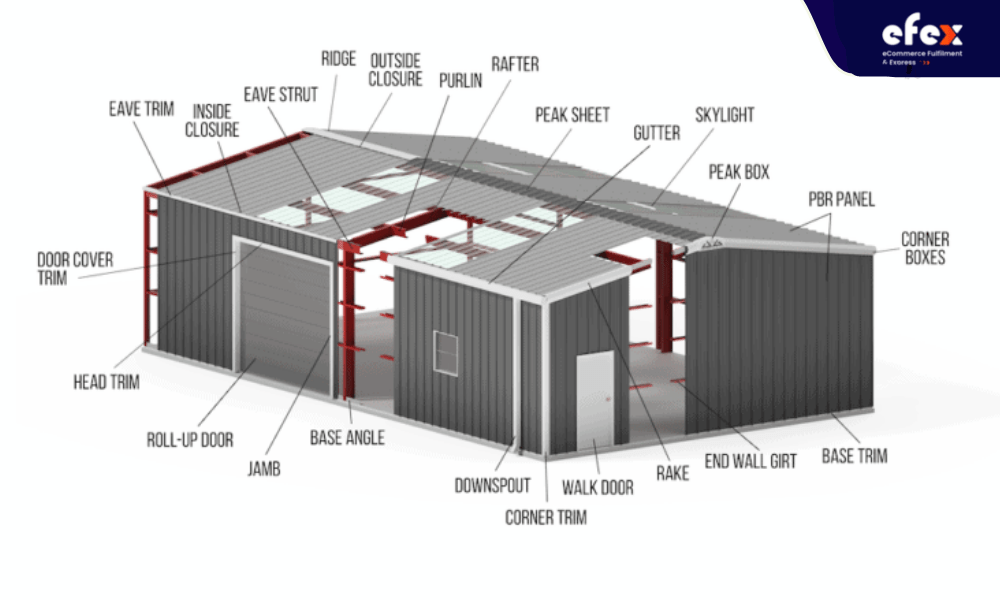 👉 Read More: How To Build A Small Warehouse: Price And Advantages
👉 Read More: 11 Detailed Steps To Build An Office In A Warehouse
Conclusion
We hope that this post has provided you with all of the information you need to know how much does it cost to build a warehouse to get started with your warehouse construction cost plan.
In today's world of global supply chain disruptions and economic uncertainties, attempting to build your own ecommerce fulfillment warehouse would be an extremely risky endeavor. Constructing, staffing and managing a profitable in-house operation requires tremendous upfront capital investment and specialized expertise that is difficult to acquire. Not to mention keeping pace with rapidly evolving technological innovations that drive efficiency.
By leveraging our proven fulfillment infrastructure and extensive experience honed over years of evolving with ecommerce trends, you can avoid the pitfalls of building your own warehouse operation. We'll seamlessly scale capacity to your needs and provide a reliability of service impossible to match on your own.
You also gain access to advanced shipping solutions and preferred carrier rates beyond reach for small businesses.Outsource fulfillment with us so that 2023 is a landmark year marking your business's leap into profitability and success!