Without a well-managed and linked warehouse system, providing highly distinctive and exceptional customer service is just impossible. Whether you're a world-class business, a small-business owner, or a franchise, you must strive for a realistic balance between demand and supply. Today's consumers have a higher bar to meet. With an interconnected network of data and operations, your warehouse system should be able to function on a worldwide scale. A good warehouse management open source will help any firm to be aware of the situation and operate with predictive skills in order to meet today's and tomorrow's demands swiftly and easily. Let's take a look at our top picks of 15 warehouse management system open source below
Openboxes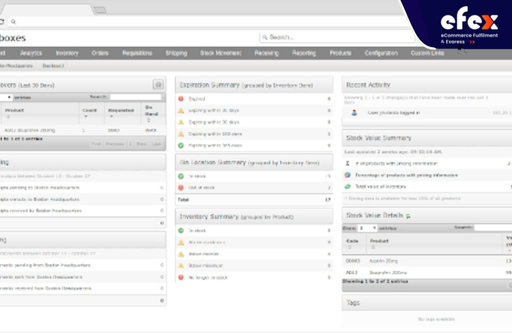 OpenBoxes is a web-based inventory and asset management system that is free to use. It's an open source software package that lets developers add new features and company owners utilize it for free.
Improves visibility and allows users to see stock history for every product. Users are kept up to date on stock levels, which helps to reduce the possibility of stockouts.
Decreases wastage by using the FEFO (first-expiry-first-out) method, which ensures that medication is utilized before it expires.
As this warehouse management application gives the feature of improved forecasting, customers can evaluate conveniently available demand data.
This web-based tool aids in the improvement of traceability by utilizing data standards. It can manage unusual product lifecycle events such as product recalls with ease.
Offer a Java-based cross-platform software package, which means it'll run on any platform that supports Java.
Pros
It's great for stock tracking
It has a lot of customizing options
Cons
Because the platform is open-source, it takes some technical knowledge to effectively exploit it.
👉 Read More: 3PL Warehouse Services: Benefits And Offers
👉 Read More: All Cost To Rent A Warehouse In 2023
Odoo MRP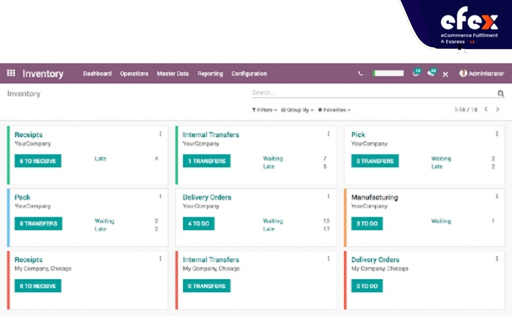 Let's move to the next solution! Odoo is an open source ERP system for businesses.
It includes a robust ecosystem and several extensions which can be used to replace or alter the built-in modules.
You can increase the efficiency of your warehouse. You can also easily arrange your warehouse functions with the aid of the clever double entry inventory system.
The program enables the user to easily improve performance and processing times. Odoo can provide complete traceability in your supply chain. It generates detailed and accurate real-time information.
Pros
It is completely integrated and simple to use
The ability to keep up with serial numbers or lots
Cons
Creating products and production steps requires a lot of time and work
myWMS
myWMS is a free software for manually running warehousing management. You can easily adapt this free warehouse control software to meet your needs.
This WMS application offers a simple user interface and works with mobile devices as well as barcode scanners to support all relevant processes.
It supports the creation of a warehouse management system by providing a data model and key services for inventory management.
Through various integration methods, the application can provide a customized and effective inventory management procedure.
Pros
WMS is built on a modular structure, so anyone can use and improve the source code for this app
Cons
Not very common compared to other solutions in this list
Xinerji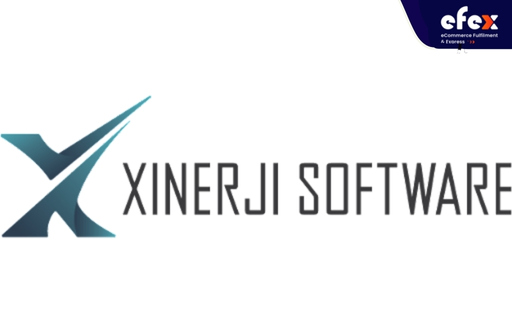 Xinerji is an open source app for managing warehouses that helps users properly arrange their warehouse's resources. This program offers warehouse simulation, warehouse design, and modeling, as well as decision support tools. With the aid of Xinerji, users may increase the efficiency of inventory management and supply tracking. Using this WMS technology, the user can optimize the process of obtaining and choosing items faster and more effectively.
Pros
Great support team
Include most main features for warehouse management
Cons
Like, myWMS solution, people are not likely to choose Xinerji
Foysonis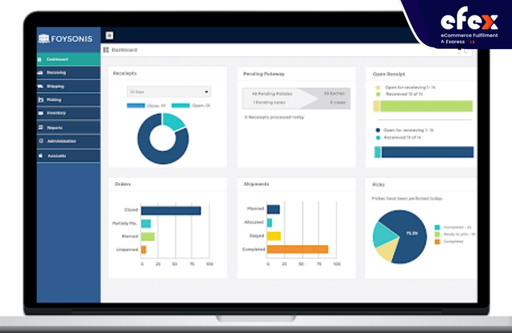 If you're searching for software for warehouse management that will help you streamline your operations, Foysonis is a great option.
By using this cloud-based contemporary WMS, The efficiency and precision of logistics operations can be enhanced.
It offers a contemporary user interface that works across all platforms.
This program also offers email, phone, and chat help all the time. It's simple to set up and operate a warehouse in a matter of hours.
This WMS system offers a 30-day free trial and is based on the SaaS software concept. This cost-effective warehousing solution is ideal. Foysonis is ideal for small and medium-sized businesses.
Pros
In comparison to most WMS applications, this program's platform is exceptionally user-friendly
This software's layout is really well-organized and logical
The customer service team is quite fast
Cons
There are still a lot of bugs and lags here and there.
This program does not cover all of the features that a WMS software should have.
The program does not contain cycle counting.
You cannot add pictures of inventory goods to this program.
Intellitrack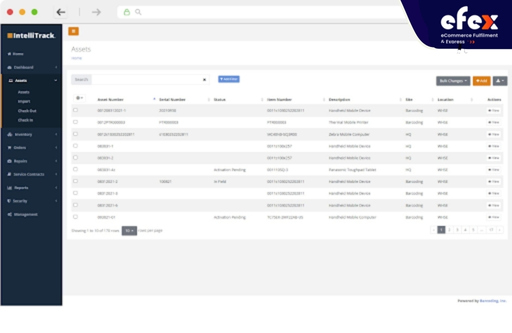 Intellitrack offers your company an easy and effective solution for warehouse management.
You can have complete control throughout your warehouse & inventory operations by using this straightforward and adaptable software.
This adaptable system offers you easy and safe access to data, allowing you to complete your inventory tasks quickly.
It is suitable for large-scale warehouse operations, e-commerce fulfillment, SMB distribution, and home-based use, and can consolidate all warehouse activities as well as information.
With the aid of this WMS technology, users will make strategic business decisions.
Pros
The order management feature proved to be incredibly beneficial to retailers
Regardless matter how quickly orders came in, the program is able to keep track of them.
IntelliTrack was versatile enough to handle many orders at once
Cons
There isn't a supply chain widget
The search bar that isn't working
There are situations when no results are returned
There are no vendor controls
There is a lack of manufacturing support
Orderhive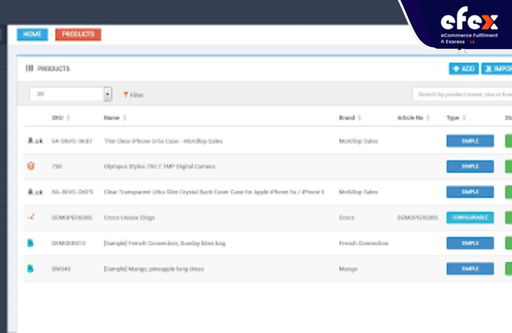 For your eCommerce business, Orderhive acts as a full warehouse management solution.
You can enhance the performance of your warehouse with minimal time and effort by utilizing this program. With Orderhive, you can make the most of your warehouse resources.
You will have full customization. This feature-rich warehouse management system efficiently manages warehouse activities. This program allows customers to customize it according to their company's needs.
With this WMS technology, you can achieve inventory accuracy. It helps you to increase productivity by allowing you to choose and pack items faster.
This tool can effectively remove paperwork and human mistakes, allowing your warehouse personnel to save time and effort.
Pros
The solution with the most integrations was this one
The support team is available 24/7 to help users
Cons
Recent UI changes have rendered the platform less user-friendly
PartKeepr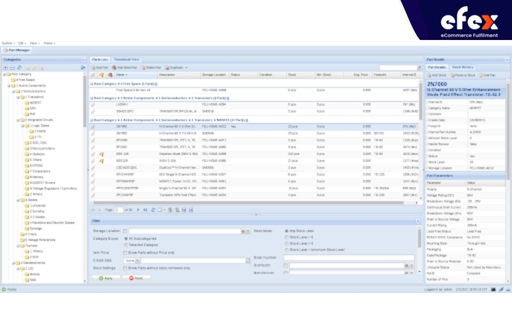 PartKeepr is inventory management which is self-hosted and distributed under the GPL as a free Libre software. PartKeepr provides both community and commercial assistance, as well as a number of advanced tools that allow users to easily identify, monitor, change, and control their inventory. Small and medium-sized businesses, inventory, and warehouses should utilize PartKeepr.
Pros
Allows you to keep track of your global inventory history and examine any modifications, deletions, or additions
Cons
Operation necessitates some technical knowledge
Snipe-IT
[caption id="attachment_10522" align="aligncenter" width="512"]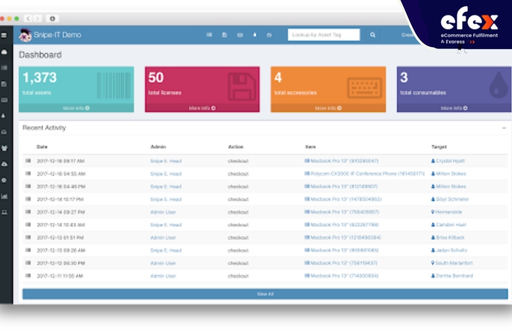 Snipe-IT is a web-based asset and warehouse management tool that is open source as well as self-hosted. This bundle is ideal for companies with various locations and hundreds of users.
Pros
It's been a good and quick method to keep track of our inventory and hold employees accountable when it comes to software and hardware usage
It is quite simple to get started right away
You've been able to put procedures in place to track and maintain IT assets and resources thanks to Snipe-IT
Cons
Fixing anything that goes wrong can be a pain
The presence of two search boxes on the same page is a little perplexing. They may obstruct your search, which is inconvenient for users
Importing isn't always easy, and it's hit-or-miss
Storaji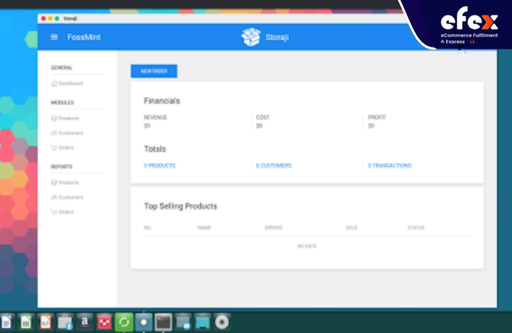 Storaji is also another choice for free inventory management that is both simple and powerful. It's a well-liked initiative among seasoned computer users and programmers. It is, however, now unmaintained. Storaji is compatible with both mobile and desktop devices. It has a responsive design that allows it to function on a variety of mobile and desktop screens, as well as touch screens such as tablets and big screens.
Pros
It's quick, has a user-friendly UI and UX design, and includes a cloud data service
Cons
Although the software is no longer supported, you can still use it with your own private server
Inventory Manager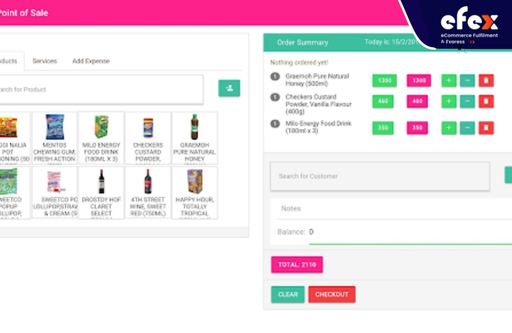 Inventory Manager is an open source desktop inventory manager. It's ideal for small businesses. It was produced by the same team who made Pharmacy. Regarding stock management plus barcode/ QR code scanning, it also has a lot in common with it. Besides, this tool is also simple to set up, operate, and use for anyone with some technical knowledge. It also has a desktop version for Windows and macOS.
Pros
Cons
ERPNext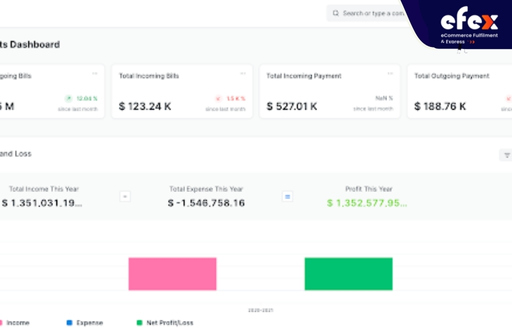 ERPNext is an open source ERP system that is perfect for small, medium, and large businesses. It includes an inventory management module as well as a number of other modules required by the facility. ERPNext is a supply chain ERP that is designed to handle all operations. Many businesses all around the world have used it.
Pros
It enables users to handle all aspects of the business
The ability to change the elements, and by extension, the UI components, is amazing
Cons
It is not recommended for big projects
Technical expertise is necessary to apply the software
InoERP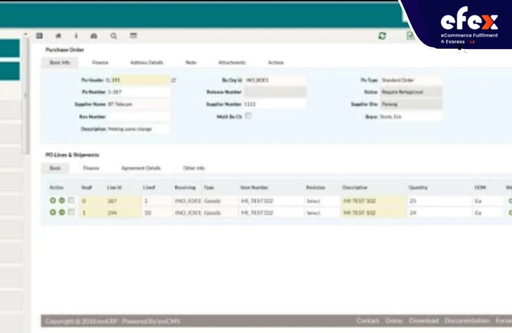 InoERP is a free ERP solution that is simple to set up, customize, and operate depending on users' needs. It includes a variety of supply chain modules as well as extensions. Besides, InoERP also provides a lot of benefits because of its ecosystem, which includes a lot of themes, extensions, and language packages. This tool offers a mobile and tablet-friendly interface, as well as a powerful reporting system with built-in diagram visualization capabilities.
Pros
It is a dynamic pull based system
Cons
Project Management module not available
It's not very widely used
ERP5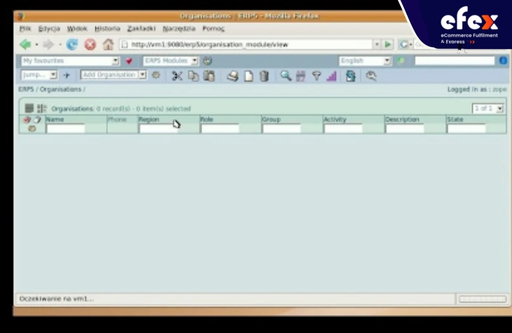 ERP5 is a self-hosted open source ERP system. NGOs, governments in various nations throughout the world, and medium to small businesses all prefer it. Inventory, supply chain management, accounting, eCommerce, POS (Point-of-Sale), HR, and CRM are all integrated into ERP5.
Pros
The innovative Unified Business Model minimizes configuration complexity while increasing flexibility
Cons
Only support via email
It's not a great choice for a big company
LedgerSMB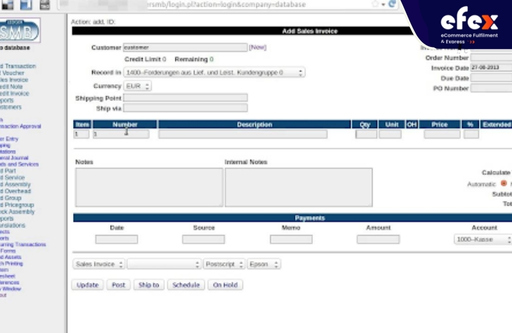 LedgerSMB is the final pick in this list of open source software for warehouse management. It is an ERP and accounting system created with small and medium-sized enterprises in mind. LedgerSMB is a simple yet sophisticated accounting system that includes inventory management and sales management, with options for fixed asset management, monitoring items, and department administration. This open source system has an email notification system with attachment support, as well as the ability to export documents to a variety of formats, including PDF, HTML, CSV, as well as standard office formats.
Pros
Ease of use
It's perfect for freelancers
Cons
👉 Read More: [Free] Top 20 Warehouse Management Courses In 2023
👉 Read More: Top 10 3PL Warehouse Management Software
Conclusion
Your warehouse's warehouse management system aids in the streamlining of customer service and, as a result, customer retention. Accurate stock counts and tracking are possible with an open source warehouse management system. This system aids in the efficient growth of manufacturers. Real-time monitoring transforms the entire warehouse management system. Because of the precision, scalability, as well as speed given by WMS technologies, the whole supply chain's performance improves. Users may simplify their billing process by using the list of warehouse management open source. With the aid of a warehouse management system, you may improve inventory visibility while lowering operational costs. You can also increase the success and profitability of your business fast and easily. Furthermore, you can meet your company's specific needs using open source warehouse inventory management software. If you've used any of the following free and open source warehouse management tools, we'd love to hear your thoughts. Please feel free to offer your useful feedback.