To save your time, in this article, we listed the top 20 warehouse management courses that are most popular in 2022 for you to learn. All of them have been generated by some of the world's most significant thought leaders and organizations in the logistics industry, especially since they are all free resources.
Applied Operations Management - Inventory Models
This course will begin by teaching you about inventories and inventory models. You will learn about material management and how to store resources for later use. The course will next go through the two most crucial questions to ask when buying supplies and the categorization of inventory models and the three demand categories. You will also investigate expenses, order cost components, and back order or shortfall cost components.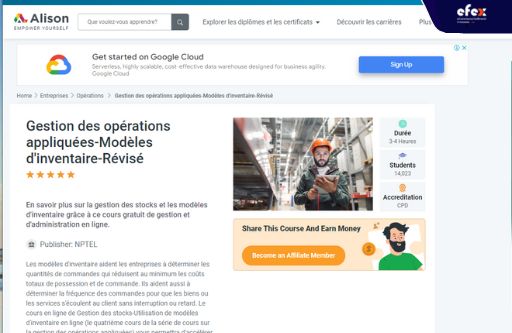 Key features:
Discuss the Economic Order Quantity (EOQ) model
Learn the inventory management fundamentals, different types of inventory models, and how to calculate inventory levels by using inventory models
Learners must achieve 80% above of the course to earn the certificate
Price: Free
👉 Read More: 3PL Warehouse Services: Benefits And Offers
👉 Read More: All Cost To Rent A Warehouse In 2023
How to Create a Lean Warehouse Culture
Inbound Logistics is a supply chain educational resource for firms looking to better fit the need to supply and change operations to facilitate the process. How to Create a Lean Warehouse Culture is a management how-to that looks at six lean warehouse approaches.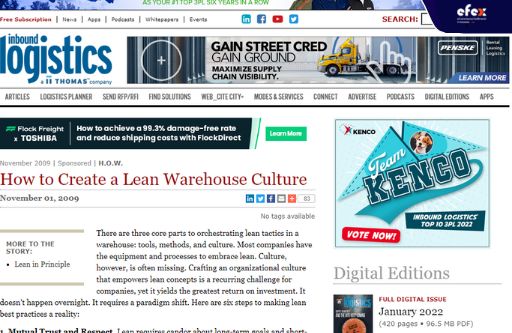 Key features:
Learn to develop mutual trust and respect by training employees in problem resolution and making them feel like a highly valued corporate asset.
Recognize and celebrate the accomplishment, no matter how modest.
Communicate the lean vision and the need for changes, including why employees should operate differently than they did previously.
Price: Free
Scaling Multichannel Fulfillment: How to Increase Inventory Accuracy While Improving Warehouse Efficiencies
This on-demand webinar, presented by Jake Gasaway who is the co-founder and VP of Stitch Labs, and Eric Luoma who is the CEO of Scout, examines how integrated warehouse and inventory management systems generate efficiency and increase supply chain transparency. Stitch Labs provides leading inventory management software to assist modern retailers in streamlining omnichannel operations, increasing efficiency, and increasing profitability.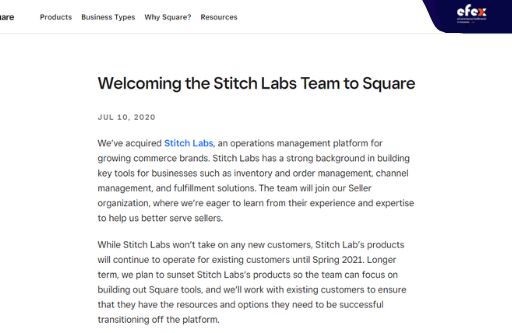 Key features:
Increasing warehouse inventory management efficiency.
Improving operational efficiencies by streamlining procedures.
Increasing supply chain visibility by automating and integrating operations.
Price: Free
Warehouse Management Courses Best Practices Part 1: Improve Inventory Accuracy with Cycle Counting
Datex is a software solution provider for warehousing, manufacturing, cold storage, distribution, and the 3PL industries. This Datex webinar course looks at effective warehouse management methods, intending to improve inventory accuracy through cycle counting.
Key features:
Warehouse managers strive to simplify labor-intensive physical inventory count methods, which frequently result in various inventory mistakes.
Warehouse personnel may count, check, and update inventory data in real-time using automated data gathering technologies for customized cycle counting.
With real-time warehouse management systems and tailored cycle counting programs, you may better serve customers, cut inventory holding costs, and boost warehouse efficiency.
Price: Free
Lean Warehousing Concepts and Principles
A 48-minute video provided by the Georgia Tech Supply Chain & Logistics Institute and LeanCor Supply Chain Group introduces listeners to adopting proven lean management principles to reduce waste and increase warehouse operations. You will learn with Brad Bossence who is the vice president at LeanCor and the instructor for the Georgia Tech Supply Chain & Logistics Institute.
Lean warehousing concepts and principles course video
Key features:
The essential principles of lean thinking that should be implemented in the warehouse.
How to use lean tools to minimize waste in the warehouse.
How to run a warehouse using visual management and real-time issue resolution.
How to foster cooperation between warehousing and other functional areas.
Price: Free
5 Ways to Improve Order Picking Productivity
Supply Chain 24/7 is an online business reference for professionals in transportation, distribution, logistics, and supply chain. Marc Wulfraat who is the WMPVL president acknowledges the problems of lowering labor costs while completing more orders with smaller quantities in this warehouse management how-to and suggests five ideas to enhance picking operations to handle those challenges. Key features:
Learn to avoid putting numerous SKUs in the same container.
Learn to combine orders into a single trip instance to save time on the road.
Price: Free
5 Tips to Maximize Your Warehouse Storage
HiCube is a full-service warehouse and storage provider that offers services such as architecture and design, engineering, leasing, storage system, installation, and permit coordination. Their warehouse management webinar provides a concise, insightful look at how to maximize warehouse storage.
Key features:
Use drawers and container storage for minor components.
Use vertical dividers to increase productivity by keeping components and goods in their proper locations.
Consider using moveable shelving to effortlessly change your plan to changing demands.
Price: Free
Warehouse Management – A Complete Guide to Improving Efficiency and Minimizing Costs in the Modern Warehouse
Knovel, a subsidiary of Elsevier R&D Solutions, provides engineering information and data analytics to facilitate innovation. This handbook which is written by Gwynne Richards and divided into seven chapters focuses on increasing efficiency and lowering expenses.
Key features:
Receiving, put-away, and pick preparation are all examples of warehouse procedures.
The most recent technical developments in warehouse management and operations.
Cost reduction, productivity, personnel management, and warehouse operations are all critical parts of warehouse management.
Price: Free for Knovel subscribers
In Greg's Top Tips for Warehouse Accuracy, a SlideShare that offers information from a presentation in white paper form, barcoding expert and warehouse process specialist Greg Dow shares remedies for frequent warehouse system design problems. Key features:
Select readable barcodes for your warehouse's items and components.
Barcodes should be used for all data entry, including location tagging.
To match scanners to labels, test targeted readers with your barcodes.
Price: Free
Applying Lean Concepts in a Warehouse Operation
Advent Design Corporation offers manufacturing and engineering solutions to businesses in practically every industry. Advent Design partner Frank Garcia discusses basic lean principles for warehouse optimization, value stream maps for present and future states, and even more.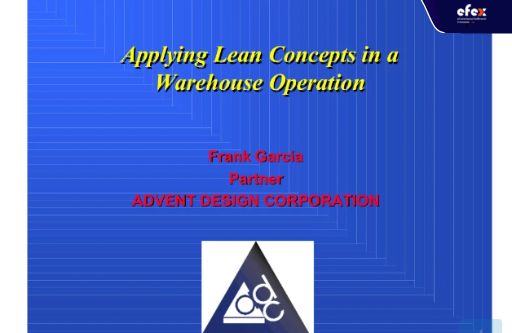 Key features:
Personnel and management are involved in lean warehouse improvement techniques.
Using value stream maps to enhance lean entails educating team members on lean principles and including a lean implementation strategy.
Consider rack storage and usage, order picking and shipping, and walking and lifting in palletizing when looking for ways to enhance efficiency and productivity.
Price: Free
The Definitive Guide to Warehousing
This e-book is presented by the Council of Supply Chain Management Professionals, Scott B. Keller who is a professor of logistics and marketing, and Brian C. Keller who is an independent consultant that works with commercial industry companies and government entities. This guide excerpt explains how to manage the storage and handling of materials and products throughout the supply chain.
Key features:
Modern warehouses are expected to contribute to overall client business objectives and reduce costs.
Receiving, storing, maintaining, selecting, and delivering supplies and components to enable large-volume purchase discounts adds value for manufacturers, assembly operations, and consolidation sites.
The costs of maintaining and storing higher volumes of inventory in warehouses must be weighed against the costs of moving huge quantities.
Price: Free
Advanced Warehouse Management Guide
JD Edwards World's Advanced Warehouse Management Guide is the most complete warehouse management guide available, covering all information from day-to-day organization to long-term compliance tactics and beyond. The book also contains a comprehensive look at all of the Oracle JD Edwards World software solutions that are most typically used in warehouses, containing datasheets and tools that may be utilized to strengthen your warehouse's processes.
Download Advanced warehouse management guide book pdf version
Key features:
Providing a large amount of completed information related to warehouse management.
Providing a deep look at all kinds of Oracle JD Edwards World's software.
Price: Free
Five Strategies for Improving Inventory Management Across Complex Supply Chain Networks
Supply Chain Digest's "CSCO Insights" series provides helpful information on the possible pitfalls and victories of inventory management. In addition to industry-approved ideas and tactics, the guide includes important, real-world measurements that may be used to improve your warehouse's inventory planning procedures.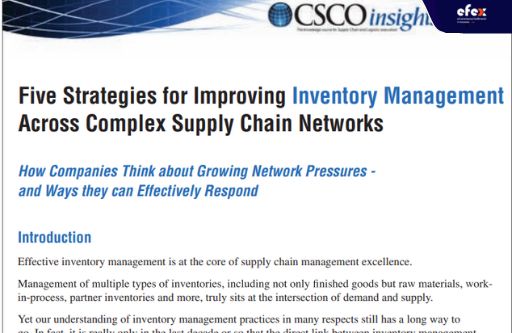 Key features:
Concluding the summary of five of the most essential tactics used to define some of the most difficult inventory circumstances.
Learn the victories and pitfalls of inventory management.
Price: Free
Inventory and Warehouse Management Best Practices
In its Inventory and Warehouse Management Best Practices handbook, the industry-leading software provider DiCentral offers a distinct, tech-savvy perspective. The 82-page guide starts with knowledge of the company's signature SmartTurn software, but as the guide progresses, the readers receive helpful management tips. A fantastic resource for managers looking for a thorough refresher.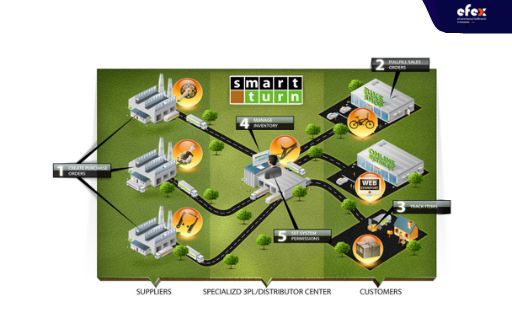 Key features:
Providing warehouse management tips on topics like safety security, warehouse layout design strategies, inventory management ideas, and other practices like replenishment.
Price: Free
How to Be an Effective Warehouse Manager
The Houston Chronicle is one of Texas' major news institutions, publishing in both print and online. They discuss Ruth Mayhew's article How to Be an Effective Warehouse Manager, which describes how simplified warehouse processes boost profitability, efficiency, and production. Key features:
Build trusting connections with your team members and communicate frequently.
Manage warehouse operations to verify that they are following industry standards and applicable legislation.
Assign lead personnel to undertake inventory control checks and balances.
Price: Free
Promising Practices: Warehousing and Inventory Management
SIAPS Program, a global organization dedicated to expanding pharmaceutical and medical services, has created a comprehensive guideline on warehousing and inventory management. It is a guide with the general knowledge that may be used in any industry, but it is especially useful for pharmaceutical warehouse managers. Its "Outsourcing" section offers some lesser-known tactics for acquiring and retaining outside workers, even in the most remote parts of the world.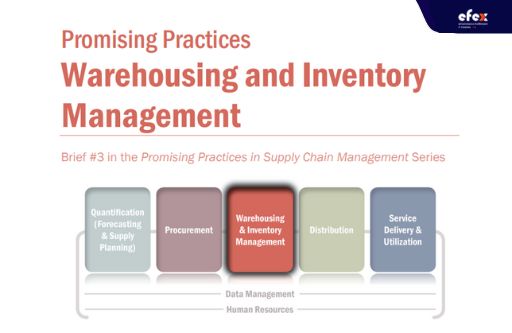 Key features:
A detailed guideline for the pharmaceutical warehouses to consult
Can also be used in many different industries
Price: Free
6 Ways to Optimize Your Warehouse Management System
With this SlideShare, Stitch Labs hopes to assist warehouse managers in optimizing system operations to enhance sales, improve productivity, and become organized. 6 Ways to Optimize Your Warehouse Management System is written in the style of a short e-book and provides insight into each recommendation.
Key features:
Understand that investing time in warehouse cleaning is wasteful and can be irritating, taxing a manager's mental energy and affecting the bottom line.
Learn to increase the accessibility of best-selling items to streamline the selection process and create a more efficient system.
Learn to analyze your stock layout and order data to locate goods that regularly ship together in the warehouse.
Price: Free
Warehouse Operations Best Practices: 51 Awesome Tips and Tactics to Help Improve Warehouse Management and Operations
Camcode's blog article includes 51 suggestions from industry thought leaders for enhancing warehouse management and operations. Tips and methods for warehouse managers involve asset monitoring, warehouse operations logistics, safety, and risk management, enhancing inventory management, and optimizing warehouse operations.
Key features:
Learn to keep aisles free to ensure proper inventory flow.
Learn to improve cycle time utilization with lean applications to make better use of floor space.
Price: Free
10 Tips to Improve Your Warehouse Productivity
StarTrack, an Australia Post subsidiary, is equipped to handle any logistical difficulty. They also aim to provide warehouse managers with their top 10 ideas for improving efficiency and production.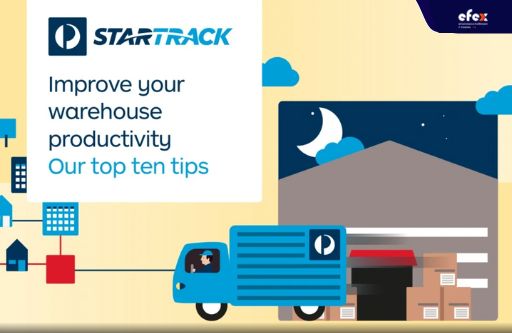 Key features:
Review your floor layout regularly to guarantee maximum efficiency.
Learn to select shelf choices that allow you to quickly expand.
Install speech recognition software to increase the speed with which your employees communicate with your warehouse infrastructure.
Price: Free
Essent Webinars: Warehouse Management Systems Optimize Inventory and Fulfillment
Essent which is a technology firm that delivers solutions to a wide range of industries has delivered hundreds of useful webinars over the years. But the company's hallmark WMS subject is especially useful for warehouse managers like yourself. It will walk you through various topics, including inventory value, inventory replenishment, and packaging efficiency.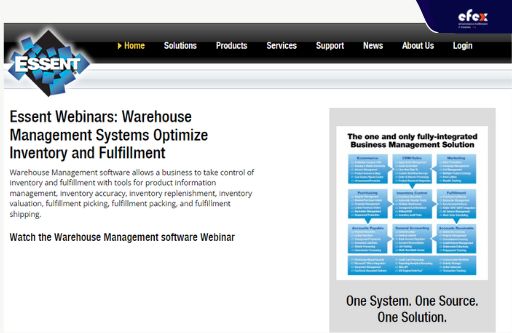 Key features:
The majority of the subjects are given inside the Essent product framework.
Contains a lot of general knowledge that may be applied to various warehouse management systems.
Price: Free
👉 Read More: 16 Warehouse Management Certifications To Enhance Your Career
👉 Read More: Top 15 Warehouse Management System Open Source
Because there are so many facets to warehouse management, continuing training and professional development are important to the success of any warehouse manager. That is why these top warehouse management courses article is published to help not only warehouse managers but also employees broaden their knowledge and gain more necessary skills in warehouse management.