A barcode inventory system allows businesses to keep track of their inventory more quickly and efficiently. A barcode is scanned with a mobile device and instantaneously linked with inventory management software when a product has one. While managing inventory by hand or using spreadsheets is conceivable, these approaches are inefficient and prone to human mistakes.
As a result, many businesses use barcoding to keep track of their inventory. Coming up, we'll go through barcoding in detail, including how this system works and how your company can use it to improve inventory management.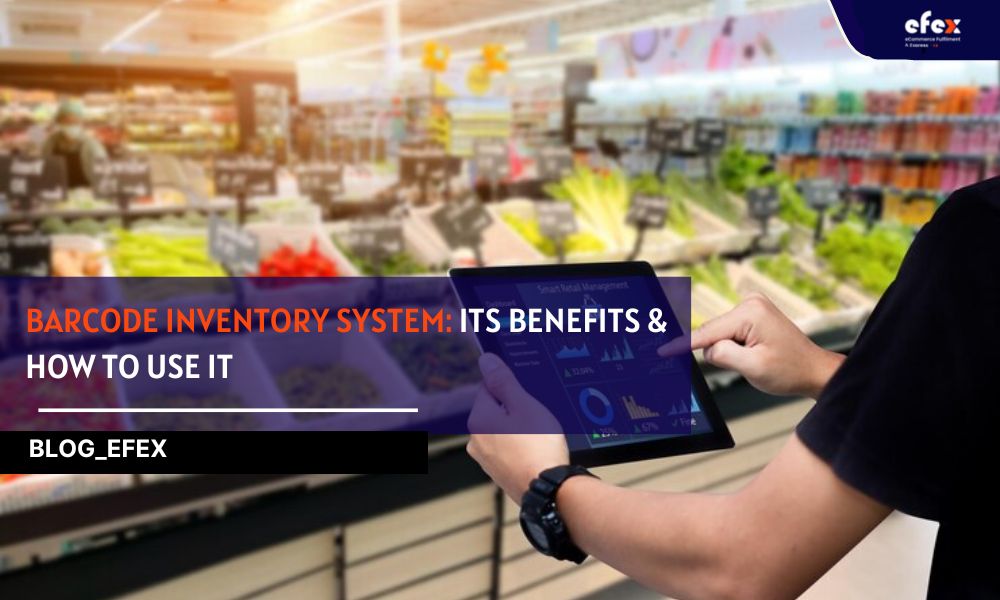 Definition of Barcode
A barcode is basically a one-of-a-kind symbol containing numbers or text, similar to what you might find on grocery merchandise, Which visually represents data. When a barcode is read, the product's data is immediately sent to a computer. Barcodes are classified into two types: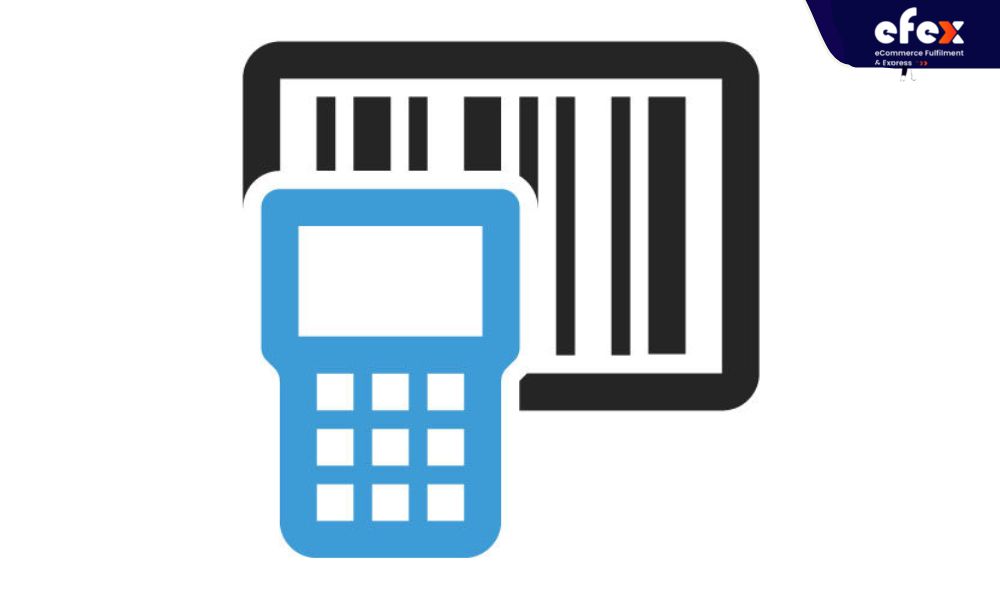 1D barcodes
One-dimensional barcodes, which are typically found on consumer goods, are the most prevalent type of barcode. The pattern of vertical black lines on a white backdrop distinguishes 1D barcode labels from 2D barcode labels. The barcode scanner can read the product data because of the space between the lines. For businesses with a huge number of stock-keeping items (SKUs), 1D barcodes are essential because they increase inventory accuracy and minimize the need for manual inventory management.
- See more: Order Management System: Definition, Process And Value
- See more: Order management system for Ecommerce: Definition, Key Effect, Benefit
2D barcodes
Two-dimensional barcodes use squares, dots, and other shapes to encode data. Due to their elaborate shapes, these barcodes may contain more data than 1D barcodes, like website information, audio and images. One of the most common instances of 2D barcodes is a QR code, which can be scanned with a smartphone to access a website.
Why are barcodes important?
With more inventory to handle, a barcode inventory system becomes more and more vital as a business grows. Implementing one today will help you prepare for the future while also providing you with a number of benefits in the interim! Keeping stock by hand is substantially less accurate than using a barcode inventory system.
With barcodes, human error is greatly reduced, and your inventory data is more accurate. In fact, studies suggest that for every 250 keystrokes, a person will make at least one data-entry error. One inaccuracy occurs per 36 trillion characters scanned by a machine. With barcodes, you can immediately establish what you have in stock and what you don't.
👉 Read More: QR Code Inventory Management: How To Create And Specific Example
You may scan the code and delete it from your inventory records as soon as a customer makes a purchase. You'll always have the most up-to-date inventory information, allowing you to make smart business decisions at all times of the day. All of your products can be promptly read with barcodes on your inventory, and data can be simply uploaded to a computer.
This will drastically reduce the time it takes to check a customer out after purchase. You might have the computer do the work for you instead of manually entering each product and calculating the total price.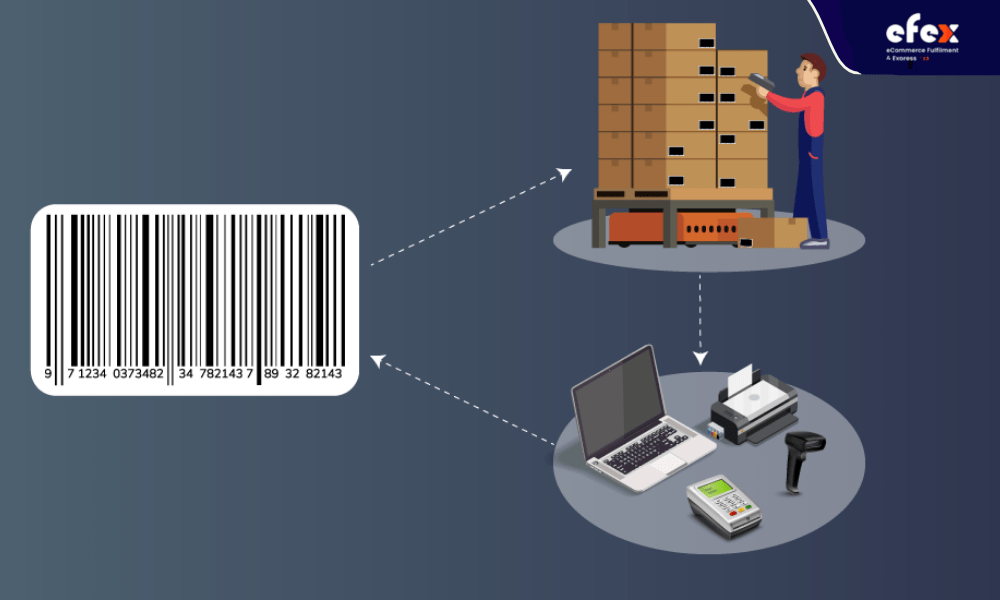 What is the operation of a barcode inventory system?
It's critical to determine whether a barcode inventory system is right for your company before using it. This technique will most certainly assist you if you're in charge of any kind of physical inventory.
You keep inventory in a warehouse: Control vast numbers of items in a warehouse without a system to track them can be difficult.
Even if the business can function without a barcode inventory system, the retailers/vendors you work with will require barcodes for the items they purchase from you.
Consider the following scenario to better understand how barcode systems work. Assume you're an online apparel retailer. You have hundreds of SKUs and want to keep track of them everywhere they travel, whether they're being shipped across the nation or just moved about your warehouse.
Because things are scanned every time they move places, the barcode inventory system decreases the chances of them becoming misplaced. This system also allows you to conduct real-time inventory analysis on items in your warehouse. Instead of scrambling to find the most recent inventory report, you can just log onto your computer and see every item in stock and where it is located.
What are the benefits of a barcode inventory system?
Here are four major benefits that a barcoding system can provide for your company:
A barcode inventory system dramatically decreases the possibility of human mistakes while tracking inventory goods, resulting in more efficient supply chain management.
Real-time inventory data allows you to remain ahead of the sales cycle, maximizing earnings and keeping track of orders.
Barcodes are versatile in that they may be used to track and organize a variety of data in seconds, such as pricing and product information.
Employee training is quicker and less expensive with barcode systems because they only need to learn about the technology rather than the inventory.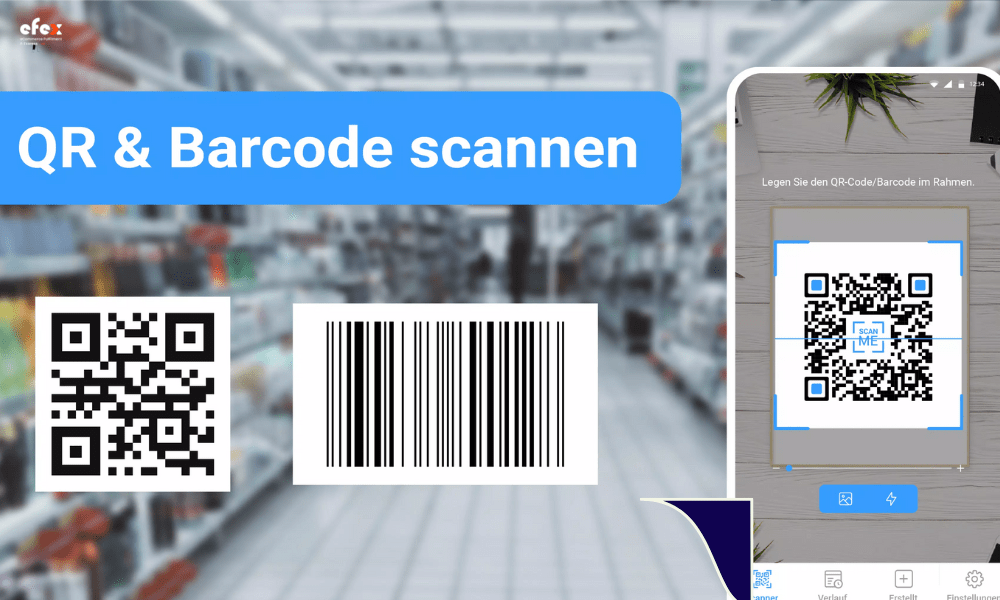 What are the drawbacks of using a barcode inventory system?
Although barcode technology is beneficial and cost-effective, there are a few disadvantages to be aware of before moving forward:
While barcoding saves time in the long run, labeling your things takes a long time.
When inventory is received, shipped, or transferred, workers must remember to scan it. Otherwise, the system risks creating more problems than it solves.
What do you consider when developing a barcode inventory system?
Using barcodes to manage inventory provides numerous advantages, beginning with perpetual inventory counts rather than a periodic inventory method. Additionally, You'll get more data to work with when it comes to inventory control such as calculating reorder points, setting safety stock levels, and estimating economic order quantities (EOQ).
However, before printing barcodes and affixing them to objects, consider what you desire to get with a barcode inventory system and examine your software and hardware requirements.
Inventory goals
Barcode inventory management brings you up to date on what you have in stock and what you don't. It can also do the following functions that depend on your requirements: order fulfillment pace, theft protection, and FIFO accounting.
Software
If you own a retail business, you'll be able to create barcodes with your POS system. You may wish to invest in inventory-specific barcode software in case you have a large number of products, various warehouses, or you are a logistics service.
Hardware
You must also choose the type of barcode hardware you will utilize. Do you require portable inventory scanners or flatbed scanners that will be used on a long-term basis? Will you scan only one type of barcode or a variety of them? What will be the operating conditions for your scanners?
How to get your business started with a barcode inventory system?
The key to properly using inventory barcodes is to plan ahead of time. You don't want a system that requires regular retooling. To establish a barcode system that satisfies your current requirements while also exceeding your expectations as your inventory management needs grow, follow the steps below.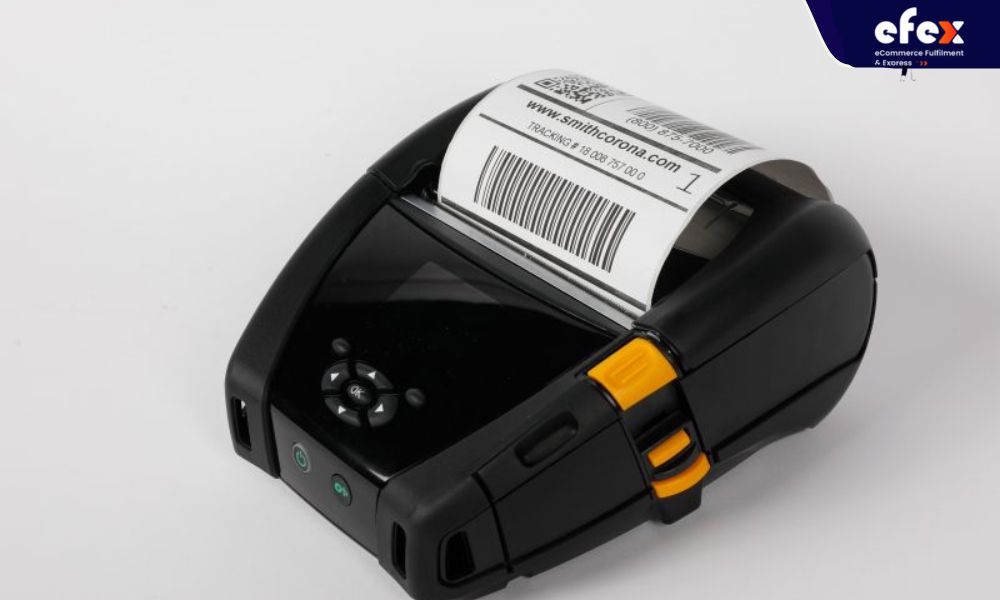 Identify industry barcode standards
SKU barcodes are useful for inventory control, but they will also be present on the products you sell. If you sell to other companies, the barcode that you employ must follow industry standards or usage guidelines. The following are examples of industry-specific barcodes:
Code 39: Automotive and defense
Bookland EAN-13: Book publishing
Code 128: Supply chain management
Codabar: Logistics and healthcare
Data Matrix: Electronics, government, and retail
The size that you require — Data Matrix barcodes can be used on little things, but Code 39 barcodes should be bigger to be read effectively — as well as the amount of data it stores, will influence your barcode selection. Two-dimensional barcodes like QR codes and other two-dimensional barcodes can contain more information than one-dimensional UPC barcodes.
Define barcode functions
Define your inventory barcode functions since "inventory" refers to a huge range of assets, including products you've created, items you purchased to resell, and products you obtained to use. The following are the different types of inventory functions:
The raw ingredients
Finished products
Items to resell
Materials for packing
MRO (operating, maintenance and repairing) supplies
The proper labeling of stocks by the function will improve your accounting procedures. Cost of goods sold (COGS) calculations are aided by tracing raw materials to final items, and depreciation estimates are aided by tracking permanent physical inventory - autos, office furniture, software, and hardware.
Choose barcode information
Following that, choose what data you would like to store/keep in your barcodes. Which barcode to choose is determined by the amount of data you want to encode as well as any industry requirements. You won't normally include the retail price because it can change, and when the item is scanned during a transaction, the most recent pricing will be applied by your POS system. Below is some useful information:
Name and description of the item
Size and color variations are examples of variations
Product classification
Purchase price
Location of the vendor's store/warehouse
A one-dimensional barcode can only contain 100 characters, whereas Up to 1,500 characters can be stored in a two-dimensional Data Matrix barcode. The more data that a two-dimensional barcode holds, the more complicated its pattern. Use 800 characters or lower to enhance scanning accuracy and speed.
Select software and hardware
If you generate SKU barcodes with your POS system, keeping track of stock shouldn't be an issue. To get the most out of your investment, ensure your barcode software is compatible with your accounting software or your POS if you use more complex barcodes (ROI). Barcode scanners are available in a variety of sizes, forms, and prices. A handheld one-dimensional scanner can be had for less than $25, whereas a flatbed barcode scanner would set you back more than $1,000.
👉 Read More: How to Create a Barcode Inventory in Excel
Scanning settings, such as illumination, air quality, and barcodes used, all have an impact on your decision. The following are the three most common barcode scanners:
Wireless: Handheld scanners that send data to your inventory management system in real-time.
Portable batches: It saves scanned data to be downloaded later.
Fixed: This category includes devices that are mounted to your flatbed scanners or POS terminal like those used at grocery checkout lines.
Barcode scanners for tablets and smartphones are available for free download. While these are acceptable for a fast barcode lookup, they should not be used mainly in business situations.
Implement barcode inventory procedures
For data accuracy, you must adopt consistent inventory techniques. When it comes to inventory control, the computer science dictum "garbage in, garbage out" (GIGO) should be avoided. The following are some of the top barcode inventory practices:
Defining barcode size and positioning: Barcode scanning is aided by uniform barcode sizes and placement on items, boxes, and pallets.
Creating inventory KPIs: To free up cash kept in inventory, use inventory KPIs including stock-to-sales ratios, safety stock levels, and sell-through rates.
Training your employees: It's not only about learning how to utilize a barcode inventory system; it's also about getting everyone on board with why you're doing it. To create consistent and reliable outcomes, everyone must be in agreement.
👉 Read More: How To Manage Inventory With Excel?
👉 Read More: How To Create Inventory Management System In Excel [Pre-made Template]
If you have numerous warehouses with thousands of products, you may want to scan SKUs for each retail transaction to maintain store inventory control. In either case, careful preparation ahead of time will help you get the most out of your barcode inventory. As you can see, installing a barcode inventory system appears more complicated yet is a simple process. The effort required to transition from taking stock by hand to a barcode inventory system will be well worth it in the long run, promisingly bringing many benefits for your business!