Consumers in Vietnam, the 28th-largest e-commerce market in the world, enjoy making online purchases. Online retailers serve the Vietnamese market, where consumers buy everything from electronic products to clothing and furniture. Now is a perfect time if you want to increase your retail business in Vietnam. And it's possible to serve customers in Vietnam inexpensively if you have the proper logistics provider and the tools needed for international selling, especially if you work with a 3PL like Efex. This post offers advice on better planning international shipping operations for eCommerce businesses as well as instructions on shipping to Vietnam from USA.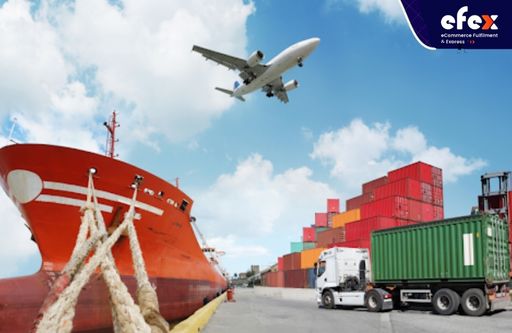 Shipping costs and delivery times from the US to Vietnam
Here are the popular services provided by the top four international carriers, which you may choose from based on your shipping cost and how quickly you need the product to be delivered. Knowing the various shipping alternatives offered by US airlines is also crucial for optimizing your shipment plan. Top carriers including UPS, USPS, DHL, and FedEx are all great options. Using each carrier's specific price calculators, the following charges have been determined for a typical example of a 2.2 pounds package in February 2022. Prices in effect could vary.
👉 Read More: Cross-Border Ecommerce: Definition, Example, and Market Size
👉 Read More: International Shipping From Vietnam With Cheapest Cost
Please take note that these are basic cargo shipping from USA to Vietnam order options. The exact prices charged by Efex to consumers will vary since we bill a total "fulfillment cost" that takes selection, packaging, and shipping into account, among other things.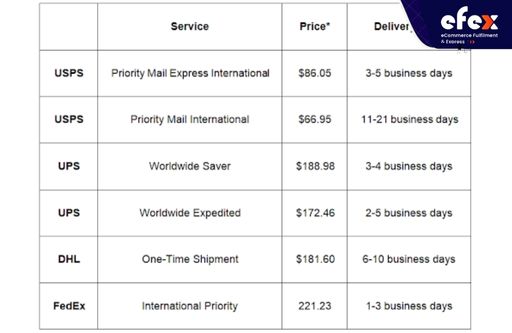 How to Ship US Products to Vietnam?
Even if you wish to buy from companies that don't offer delivery straight to Vietnam, we make global shipping simple. Here is how to accomplish it:
You are given a new Efex shipping address when you become a member.
Use your new American address as your shipping address when you order online.
Your new Efex shipping address is where retailers ship your purchases from.
In less than 2-4 days, we can have your products shipped to your door after we have received them on your behalf, and repackaged them to save on shipping costs.
With Efex, buying stuff for your favorite well-known American brands is simple. Become a member today and add your voice to the countless others who rely on us for quick, dependable, and reasonably priced international shipping.
What Does it Cost If You Ship to VN from USA Using Efex Service?
When you become an Efex member, overseas deliveries become more economical than before. Efex discovers ways for our clients to save money even as postal costs increase.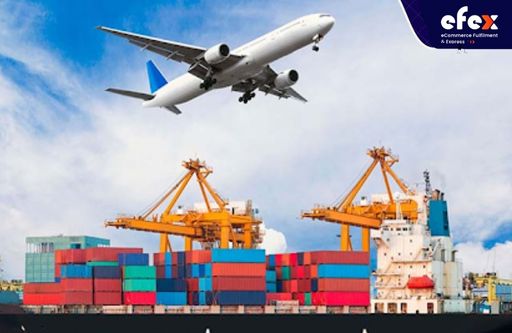 As we consistently utilize the same transportation partners (such as FedEx and DHL), we are capable of negotiating greatly reduced delivery prices and can pass those savings forward to you. To receive an extra discount on each shipment, members can subscribe to a Premium Membership. Bundling, repackaging, and aircraft fuel taxes are never charged by Efex. We locate coupons for our customers' preferred brands.
Duties and Tax On Parcels Shipped to Vietnam
Tax and duty are not charged if your American purchase is below the "de minimis value" threshold. You might have to pay customs and taxes if the amount is greater than the value.
Value for Duty De minimis: 1,000,000 VND*
Value for Tax De Minimis: 1,000,000 VND
*not including alcohol and tobacco, which are subject to tax and duty.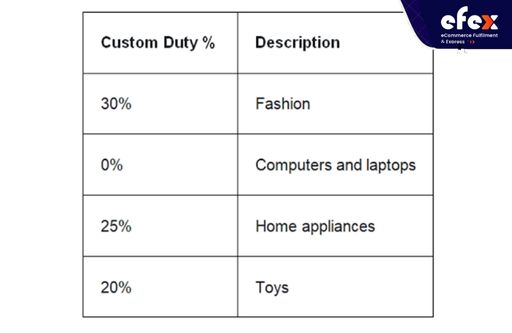 You are able to import products into Vietnam if you have a trading company and a trading license. When it gets to the country's borders, it must pass strict customs clearance requirements. Documents such as a commercial invoice, a bill of lading, and a registration certificate for your import/export business code must also be submitted. Possibilities for Delivery Duty Paid: For exports that qualify, Efex provides the option to deliver packages of Delivery Duty Paid (DDP). This implies that rather than paying them in your nation once they arrive, you can pay the necessary duties directly to Efex whenever you make a ship request. You can pay for all duties and your shipping fees in one easy payment when this option is chosen in your online account or shipment request. This simplifies the delivery procedure so you may pay for all of your expenses in one go, and Efex ensures the balance of your payment.
What Date Can You Get Your Package?
Deliveries to Vietnam from the US usually average:
2 to 4 business days for express
5 to 10 business days in the economy
All packages are handled with great care and promptly prepared for shipping.
Don't Buy Prohibited Products and Goods
Ensure your products do not appear on Vietnam's list of prohibited or restricted goods before deciding to import any orders there. Retailers must obtain additional government licenses before importing some products into the nation. You should be aware of the following banned things, both internationally and locally:
Cologne and perfume
Alcoholic beverages
Tobacco
Coffee
Corrosives
Newspapers
Ammunition
Why can choose Efex to Shipping to Vietnam from USA?
With a fantastic brand experience, Efex manages to connect with customers throughout the globe.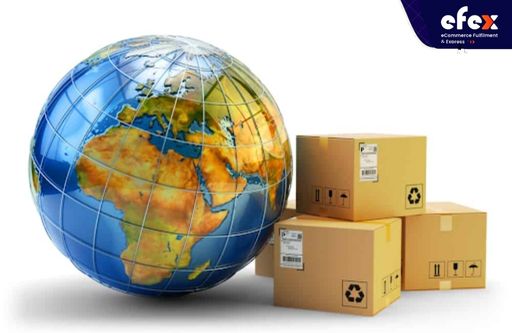 Selling abroad can be difficult, time-consuming, and expensive. However, Efex gives you everything you require to serve clients all around the world while saving time on logistics. Along with picking, packaging, and delivering your things to Vietnam, we also provide upfront fulfillment charges for additional taxes, tariffs, and customs fees. By working with Efex, you may do away with the need to oversee labor hiring, logistics, and retail fulfillment. By partnering with Efex, you can boost sales and provide the shipping alternatives, transit durations, and delivery rates that customers demand, effectively transforming logistics and warehouses into revenue generators. The benefit of working with Efex is that you gain time back to concentrate on other important tasks like marketing and customer service. We can offer customers so many services with the cheapest shipping from USA to Vietnam. So, feel free to make a shipping request right away!
👉 Read More: Does eBay Ship To Vietnam?
Conclusion
Selling to foreign customers in Vietnam at this moment is ideal. After all, the nation's eCommerce market is predicted to have 70 million consumers by 2025. To learn more about how to achieve a successful entry into this South-East Asian nation, get in touch with Efex right away. We will offer you much more useful information about shipping to Vietnam from USA.