The trade war, now in its fourth year, has sparked a surge of industrial activity relocating to Vietnam and other nations outside of China. Thailand and Vietnam, meanwhile, are seen as two attractive places for international manufacturers. However, Vietnam is considered to acquire a competitive edge over this Southeast Asian competitor for several reasons. We will explain those reasons to you through an in-depth comparison between Vietnam vs Thailand economy in this article.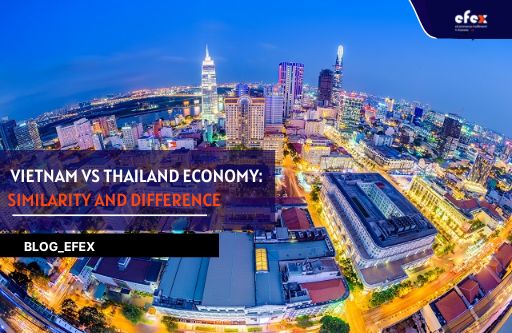 Vietnam vs Thailand: Population
Vietnam's population and structure of society are undergoing transformation, according to the World Bank. The population in Vietnam is expected to hit 120 million by 2050, up from more than 97 million in 2020. 70% of the population in Vietnam is presently under the age of 35, and the average life expectancy is approximately 76 years. This figure is the highest among Southeast Asian nations with similar GDP. The Human Capital Index (HCI) of Vietnam ranks 48th out of 157 nations and territories, and 2nd in ASEAN, only behind Singapore. Thailand's population has grown to almost 70 million people. According to the United Nations (UN), Thailand's fertility rate has fallen to nearly the same level as Finland and Switzerland, two industrialized nations that have seen their fertility rates decline over many years. By 2030, more than 25% of Thailand's population would be over 60 years old, according to the United Nations. The drop in Thailand's national workforce, according to the International Monetary Fund (IMF), will limit Thailand's economic growth over the next two decades.
- Read More: The Best Fulfillment Service in Vietnam
- Read More: Best warehouse service in Viet Nam
Vietnam vs Thailand: Benefits of FTAs (Free trade agreements)
In comparison to Thailand as well as other Southeast Asian nations, Vietnam is steadily increasing its competitive edge by signing a high number of free trade agreements (FTAs). You can check the data from WTO (2019) shown in the table below.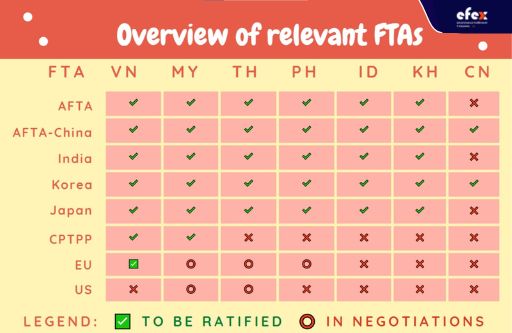 On the word of the Ministry of Industry and Trade, the CPTPP (standing for Comprehensive and Progressive Agreement for Trans-Pacific Partnership) has benefited the economy in Vietnam immediately one year after it went into force. For instance, Vietnam's exports to member nations under the CPTPP grew at a positive pace in the first ten months of the year 2019. Vietnam's exports to Mexico and Canada, two nations with whom Vietnam presently has no free trade agreements, increased dramatically as a result of the CPTPP states' unrestricted access to the market. Exports to Canada climbed by 28.6 % in the first ten months of the year 2019, while exports to Mexico increased by 29%. Though Japan may not be a new market having an FTA relation with Vietnam, it benefited from lower taxes as a result of the CPTPP, and export turnover grew by 8.9% in May 2019. Furthermore, as the first nation in Southeast Asia to join a trade relations agreement with the market in European Union, EVFTA (Vietnam-European Union Free Trade Agreement), Vietnam has significantly increased its economic benefits over Thailand and has speeded up the relocation of manufacturing and services to Vietnam. According to a study conducted by the Ministry of Planning and Investment, The export volume of Vietnam to Europe is predicted to increase by 42.7 percent in 2025, along with 44.37 % in 2030 following the implementation of the EVFTA.
- Read More: Vietnam vs Philippines Economy: Detailed Comparison and Stats
- Read More: Top 10 Vietnam Wholesale Websites in 2023
- Read More: Vietnam Jewelry Market: Overview And Potential
Vietnam vs Thailand: Strong Growth in Domestic Consumption
Vietnam's GDP per capita quadrupled from over USD600 per year in 2005 to almost USD2,800 per year in 2019 thanks to Vietnam's economic conditions improving quickly. Consumers can enhance their spending power as their income goes up. According to a report by the World Bank, Vietnam's middle class now makes up 13% of the country's population and therefore is expected to grow to 26% by 2026. Vietnam, along with Thailand, Indonesia, Malaysia, and the Philippines, is one of the top five nations in the area in terms of middle-class population growth.
According to the World Bank, the Vietnamese middle class is described as a group of individuals with a daily living cost of more than USD15. According to NCIF (the National Center for Socio-Economic Information and Forecasting), the increase in middle-class expenditure would help boost national consumer spending and, as a result, lead to economic growth. Of the 6 Southeast Asian economies, Vietnam is the only one with positive growth in 2020. Following a 2.91% increase in 2020, S&P Global predicted that Vietnam will have a significant economic rebound in 2021, with a GDP growth rate of 10.9%, the highest of any nation in the Asia-Pacific area.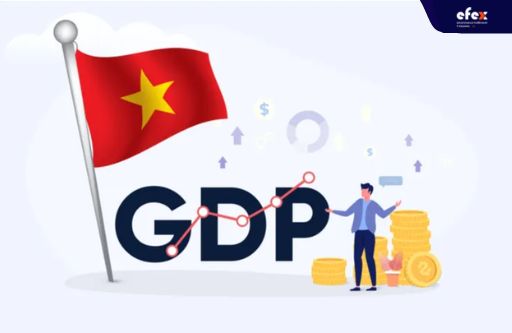 Meanwhile, other ASEAN economies' development prospects are gloomy. GDP in Thailand is predicted to fall by 6%, while GDP in Singapore would fall by 5.7%, GDP in Malaysia by 3.9%, GDP in the Philippines by 3.5%, and GDP in Indonesia by 1%. According to Bloomberg's 2021 forecast, Vietnam will have one of the fastest-growing countries among ASEAN countries, with a GDP growth rate of 8.1%, while Thailand will have a 4% growth rate.
Vietnam vs Thailand: Stability in Politics
Thailand has been engulfed in a spiraling political conflict since the 1932 coup that transformed the Kingdom of Siam into a constitutional monarchy. COVID-19 increased social unrest in Thailand, which had been exacerbated by years of internal conflict. Since areas that had been influenced by political instability, such as private sector investment and consumer expenditures, were severely impacted by the epidemic.
Whereas, political stability is one of the primary elements that attract businesses to Vietnam. Vietnam's success in attracting international investment may be attributed to an excellent financial management system that includes accounting, tax, and foreign exchange regulation. In Vietnam, the process of investment licensing, as well as tax administration, is decentralized, and then has gradually enhanced since province and local authorities have significant control over how companies are founded and operated. With statistics obtained from the Global Peace Institute and the World Economic Forum, Global Finance Magazine released a graphic in 2019 depicting the world's safest and most hazardous nations.
In this graph, Vietnam was ranked 83rd out of 128 nations, with an 11.15-point safety index, just ahead of Thailand (12.27). This ranking is unsurprising given Vietnam's stable political structure, which has seen no violence and territorial disputes in recent decades and improving human safety indexes. In the meanwhile, despite having a high human security rating, Thailand is regularly hit by natural disasters and political unrest.
Vietnam vs Thailand: Geographical Location
Vietnam benefits from an advantageous geographic location that allows for easy access to significant global commercial maritime routes, allowing for the development of sea transport, particularly for logistics activities.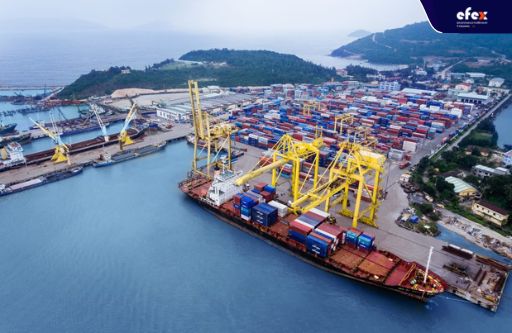 The East Sea is directly close to Vietnam, making it a vital commerce "bridge" on the world maritime map. One of the world's ten major waterways passes through Vietnam, and five more are connected to it. On a daily basis, 250-300 ships are estimated to pass through the East Sea, with 50% having a tonnage of over 5,000 DWT and roughly 15% to 20% having a tonnage of more than 30,000 DWT. These vessels make up a fourth of all worldwide shipping tonnage.
Furthermore, as a nation bordering China, Vietnam would be the first destination in Southeast Asia for international investors seeking to lower costs and expand supply chains through a China+1 strategy. As operating expenses in the Chinese market continue to rise, many companies are expanding their manufacturing lines to neighboring nations.
61 stats between Vietnam vs Thailand Economy
Gross Domestic Product & Income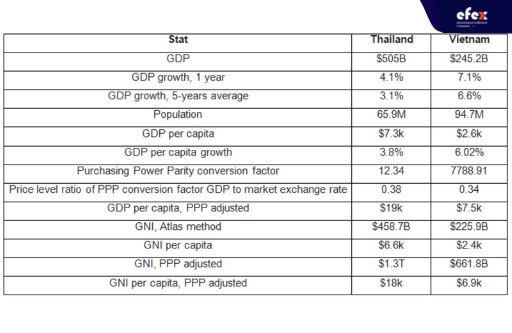 Financial System and Human Development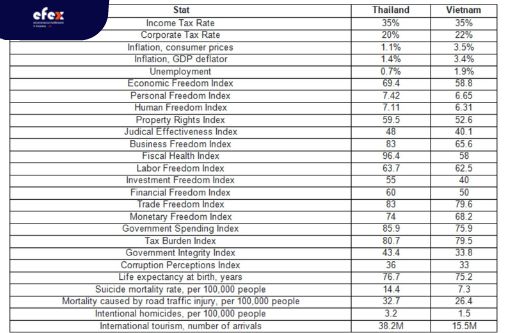 Government debt & reserves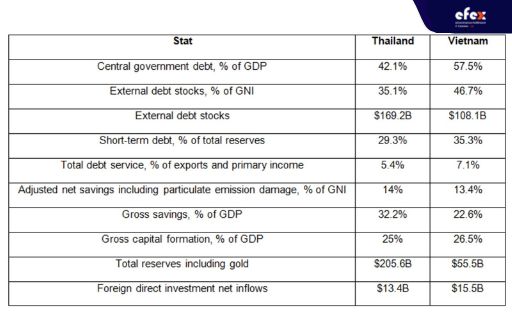 Exports, imports, and economic structure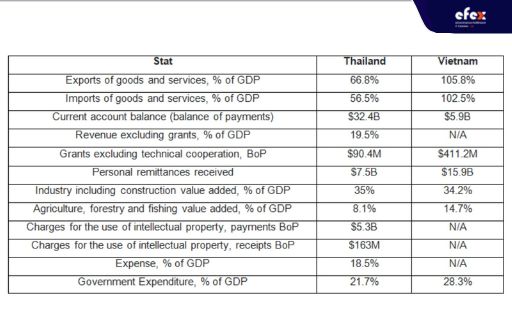 Conclusion
Have you figured out how these two Asian economies differ? Vietnam vs Thailand economy: which nation brings foreign investors more benefits? Overall, international investors who invest in Vietnam benefit far more than those who invest in Thailand. In spite of that, Thailand also has its own advantages that you need deeper research. As a result, before making a final decision on an investment, smart investors must do a thorough and extensive investigation.