Wholesale inventory management is known as the process of acquiring, storing, and earning from B2B commodities. It all comes down to determining how much merchandise your organization should have in stock at various price points and locations and forecasting those same demands into the next days, weeks, and months.
This article provides you with the top 10 wholesale inventory management software that can help you manage your wholesale inventory effectively. Scroll down to discover these software and also their advantages and disadvantages.
Inform ERP Wholesale Inventory Management Software
Inform ERP is a software solution that aids in distribution, manufacturing, and finance operations. It combines these procedures to automate and simplify activities across several parts of an organization. Its financial management technology works in tandem with production workflows to ensure that all transactions are automatically recorded in the general ledger. Users may benefit from tailored dashboards that use real-time data to produce faster and more relevant insights.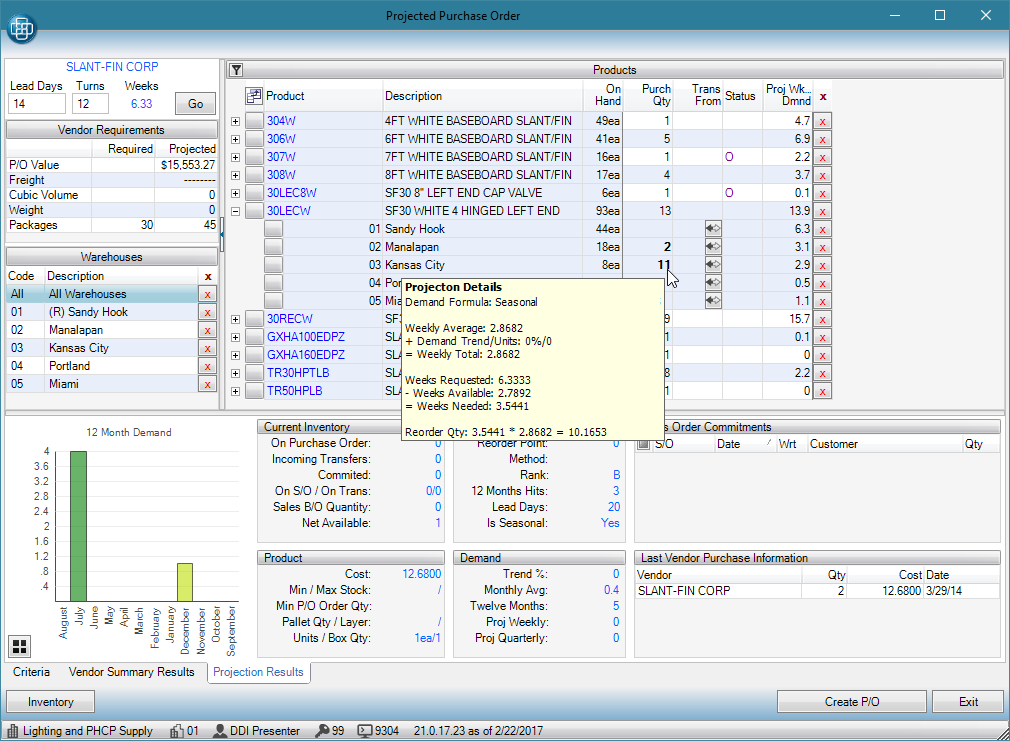 Key features
Advanced analytics and reporting: Making smarter and faster decisions with drill-down data visibility.
Embedded CRM: Improving customer service, making a lasting impression, and managing sales opportunities.
Accounting and financial tools: Simplified reporting provides smart insights into accounting and financial information, allowing wholesalers to save money.
Inventory management: Providing wholesalers benefit from a variety of technologies, including powerful forecast algorithms, simple exception management, and distinctive, straightforward ordering interfaces.
Shared calendaring: For visibility across operations, wholesale distributors use Inform's individual and group calendars.
Pros
Stable and flexible software
Excellent support from the customer service team
Work effectively for warehouse and sales staff management, as well as accounting
Constant updates
Cons
Lack of customization options
Do not work well on mobile and ordering app
Price This product or service's pricing has not been published by Inform ERP. This is standard procedure for software vendors and service providers. To discover current pricing, please contact Inform ERP.
- Read More: Order Management System: Definition, Process And Value
- Read More: Order management system for Ecommerce: Definition, Key Effect, Benefit
Netsuite Software
NetSuite is cloud-based accounting software within an ERP platform that offers a comprehensive picture of financial performance along with cash flow analysis. It is an ideal software if your company wishes to expedite accounts receivable and payable, quicken transaction closings, and meet financial compliance responsibilities while benefiting from a comprehensive range of strong business management tools.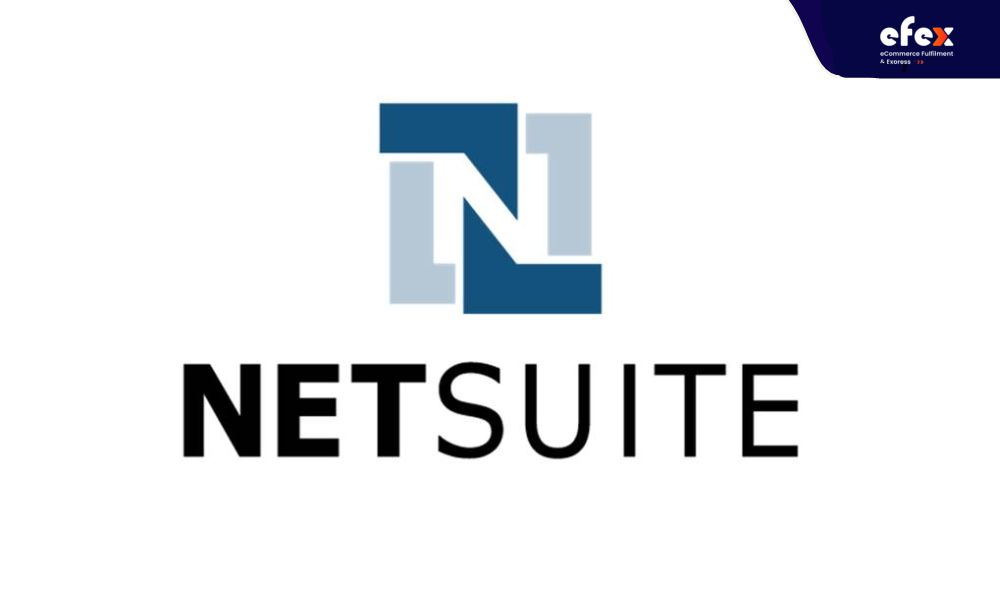 Key features
Finance and accounting: Providing real-time access to your financial information and allowing you to drill down into crucial information, address bottlenecks, and prepare compliance reports and declarations for your stakeholders.
Billing: Managing your billing operations whether your company runs on a transaction basis.
Revenue recognition: Quickly meet accounting standards like ASC 605, 606, and IFRS 15. Using the system's rule-based event-handling structure to automate revenue management and reporting process.
Human capital management: Streamlining your staff onboarding and data collecting for recruits while also ensuring transparency in workforce operations.
Pros
Suitable for all sizes of businesses in any industry that need financial management software
Fully robust and customizable
Have an API in place to communicate with 3rd companies and other technologies
Provide multiple currencies, locations, and internationalization to access several subsidiaries
Excellent reporting tools
Cons
The user interface is a bit old
Heavy documentation and sometimes difficult to find things
Price NetSuite software has two pricing versions which are $99 and $999 per month. The $99 edition is the access cost edition while the other one is the base license. Unluckily, there is no free trial for NetSuite software.
👉 Read More: Top 10 Vendor Inventory Management Software in 2022
Blue Link ERP Software
Blue Link is a small and medium business ERP, inventory management, and cloud-based accounting system that assists firms in meeting their back-office, logistical, and operational demands. This all-in-one solution software assists businesses in automating their operations with comprehensive functionality and a dedicated professional in-house team including support employees and consultants.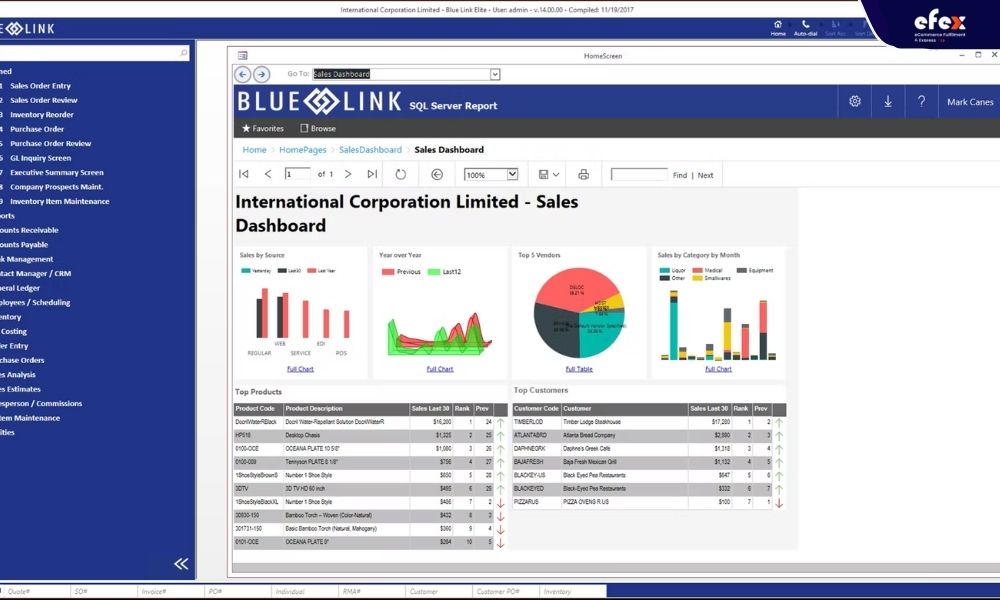 Key features
Inventory counts: Allowing for complete and cycle counts, as well as the retroactive input of counted items.
Lot tracking and costing: Essential for businesses in the medical, food, and pharmaceutical industries.
Backorder management: Automatic allocation of received inventory to backorders based on rules.
Automated replenishment routines: Refer to purchase orders created by the system.
Pros
Highly customizable for specific needs
Professional user interface for wholesale inventory management
Save time and money
An intuitive system with multiple functions
Cons
The software interface is antiquated at times which makes navigating difficult
A bit complicated database management
Price
Blue Link ERP is a monthly fee service, while on-premises require an upfront commitment.
Blue Link ERP is intended for small-medium-sized firms with 5 to 200 people. It is preferable to organize a 10 to 15 minutes first exploration call with someone from our sales team to receive an estimate of the price of Blue Link ERP.
JD Edwards EnterpriseOne Software
JD Ewards EnterpriseOne is a cloud-based ERP and supply chain management solution that offers ERP software and capabilities for finance, consumer products, human resources, distribution, and manufacturing industries. JD Edwards EnterpriseOne integrates business value, deep industry capability, and standard-based technologies into a system that will revolutionize your business with over 80 application modules, customization features, and end-user reporting.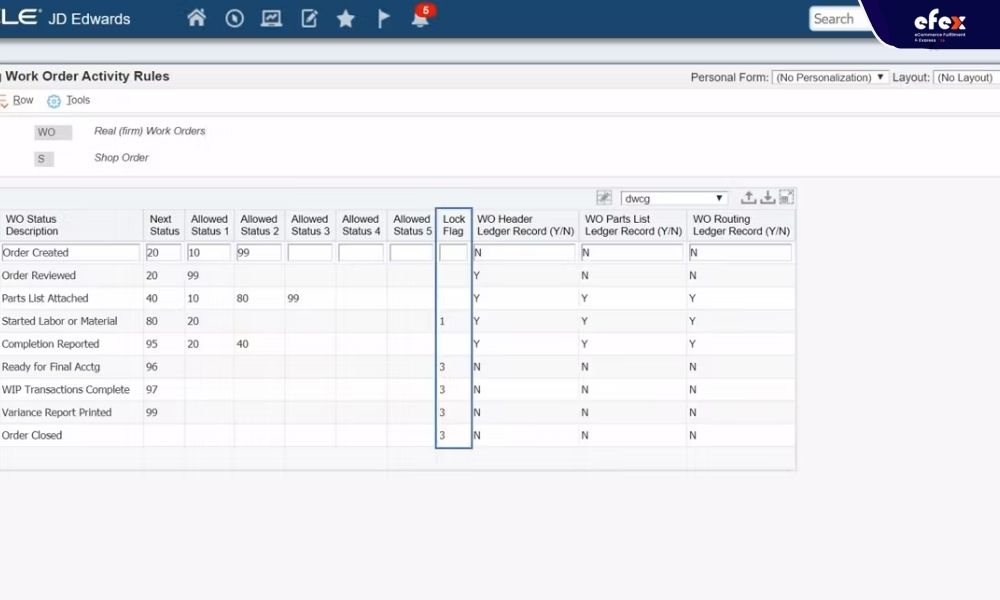 Key features
Asset lifecycle management: condition-based maintenance, rental management, capital asset management, equipment cost analysis, and resource assignments
Financial management: accounts receivable and payable, expense management, general ledger, advanced cost accounting
Human capital management: payroll, time and labor, human resources management, and self-service human resources
Project management: advanced contract billing, in-memory project portfolio advisor, contract and service billing, advanced job forecasting, and project costing.
Pros
Can easily integrate with other software
Flexible and easy to customize with good support
Suitable for all sizes of business
Can download real-time data to be managed and polished in MS excel
Cons
Require IT-based employee helps to update or adjust the software
Cannot change your vendors' master data when they change their information
Price The software does not offer a specific price for users. You should contact them for detailed pricing information.
👉 Read More: Top 15 Ecommerce Inventory Management Software In 2023
ERP-ONE Wholesale Inventory Management Software
Distribution One's ERP software for distributors and retailers is ERP-ONE+. This 64-bit turnkey solution, which is available for Cloud or On-Premise implementation, includes all of the functionality needed to automate distribution operations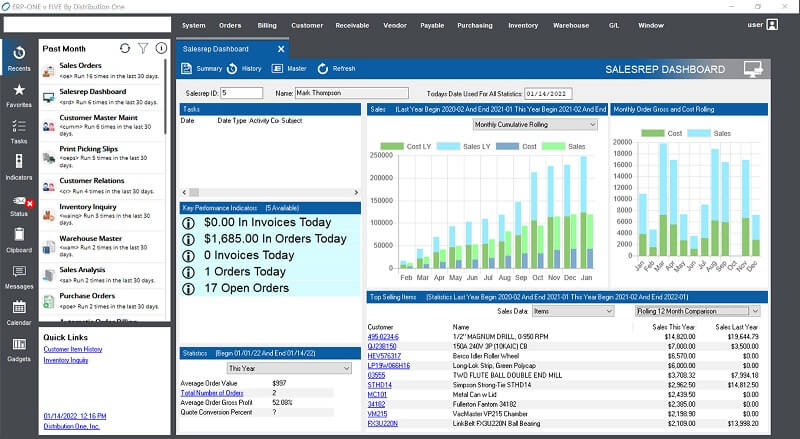 Key features
Financial management: Users may access a general ledger, cash flow management and accounts receivable, supplier and accounts payable, along with invoicing and billing, using the financial management tool.
Warehouse and inventory: The Bluetooth-enabled wireless warehouse gadget detects user-generated disturbances to boost staff productivity and corporate efficiency.
Customer relationship management: Tracking call activities, calendar management, one-touch order for quotation submission and quote duplication, limitless corporate contacts and freeform notes, order sources tracking, prospect tracking, and more.
Electronic data exchange: Sharing information with other systems, coming with reversal function, trading partner choices, sophisticated ship notification, and user roles.
Order management: Considering trends, providing a multi-bracket price book that can manage almost any pricing circumstance.
Pros
Easy to use
Good intuitive use and graphics
Plenty of detailed function and solid forms
Work well for distribution
Cons
The accounting system is not robust
Requesting assistance through email is ineffective
Price Customers must contact ERP-ONE software's company which is Distribution One for detailed pricing information.
Fishbowl Software
Fishbowl is a hybrid production and warehousing management system for small and medium-sized businesses in dealing with demand patterns and supply challenges. Fishbowl uses an inventory-centric strategy to provide real-time inventory management. The software is designed to work with QuickBooks, automatically updating records in real-time based on an item's sales or orders.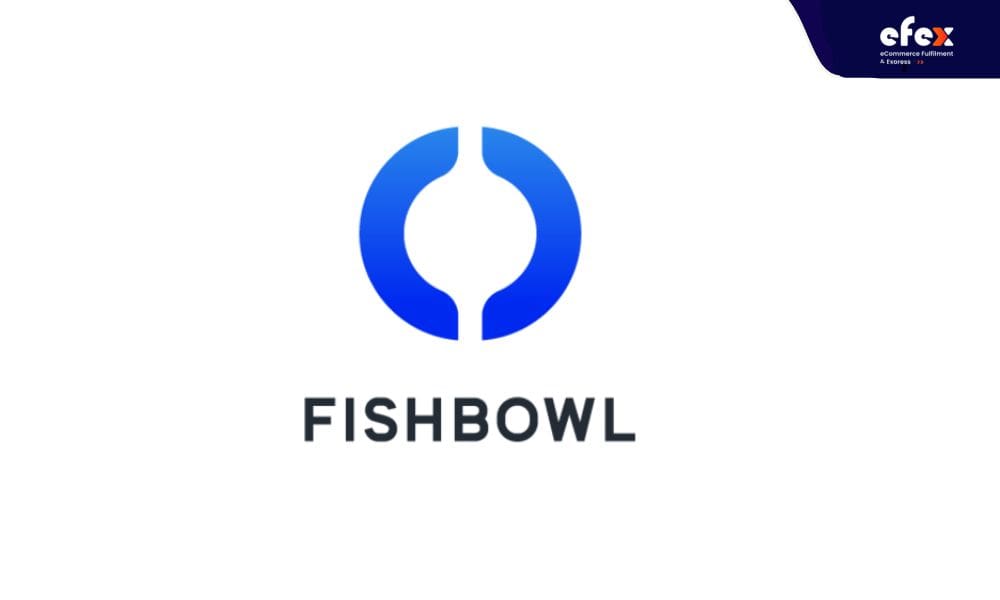 Key features
Inventory management: Automating and expanding inventory management procedure.
Order management: Building up price levels for subdivided consumer groups and automatically producing purchase orders and production orders.
Fishbowl GO: Transforming clients' tablets and smartphones into a barcode reader. Working in tandem with the Fishbowl program.
Business intelligence: Designing dashboards to view essential data quickly and schedule report deliveries on a daily, monthly, hourly, or annual basis.
Pros
Easy to use and deploy
Support great extension for QuickBooks users
Capable of emailing client estimates based on sales orders
Capable of saving documents to the drive for subsequent retrieval
Numerous people can utilize the system at the same time without slowing it down
Cons
Point of sale software is almost useless
Updates can occasionally cause problems with the program
Customer assistance is only available from 8a.m to 6p.m
Price Fishbowl offers a one-time payment per feature with a price of $4395. It also provides a free trial.
BizAutomation Wholesale Inventory Management Software
BizAutomation is a comprehensive and powerful ERP platform designed to accelerate and simplify all operational and back-office procedures. The software caters to a wide range of businesses, including retail, manufacturing, distribution, and the professional services industry. It focuses on the small to medium-sized company market to provide equal capabilities to big ERP suppliers at a fraction of the cost.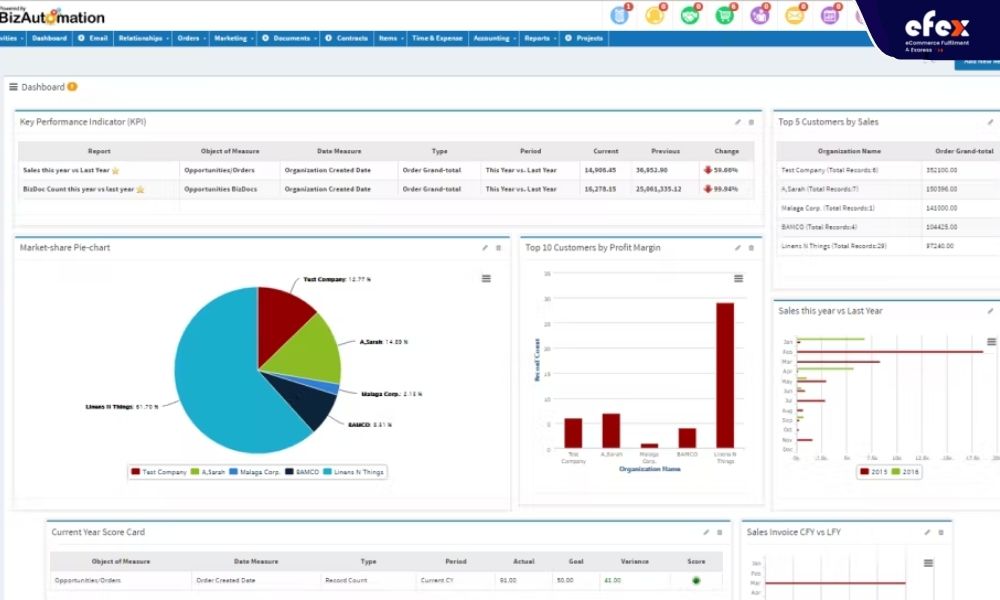 Key features
Inventory and warehouse management: Controlling over several exteriors and interior locations including numerous capabilities for material tracking.
Demand planning and procurement: Defining general and specific release dates, taking into account the timeframes of suppliers in transit, and storing sales history.
Workflow automation: Utilizing an expert to define complicated rules that trigger actions and alarms.
Shipment automation: Interacting with the majority of couriers and providing the recovery of shipping rates.
Price and promotion management: Setting ideal pricing by modifying margins depending on suppliers' cost lists and discounting based on customer levels, prior price history, etc.
Pros
Nice and modern user interface
Flexible during the implementation process
Great customer support from employees
Cons
Only suitable for small to medium-sized businesses
Do not have 24/7 customer support
Price BizAutomation software has a price of $79.95 per user and is charged monthly at the present. It also contains a free trial.
SYSPRO Software
SYSPRO is an industry-built enterprise resource planning (ERP) system that delivers last-mile capabilities for manufacturing and distribution firms. SYSPRO capabilities report comprises 2,539 features that are supported in different ways by the program. It provides a wide range of software modules, including typical ERP modules and over 50 modules created specifically for SYSPRO clients in industries such as automotive, electronics, food, equipment, and medical services.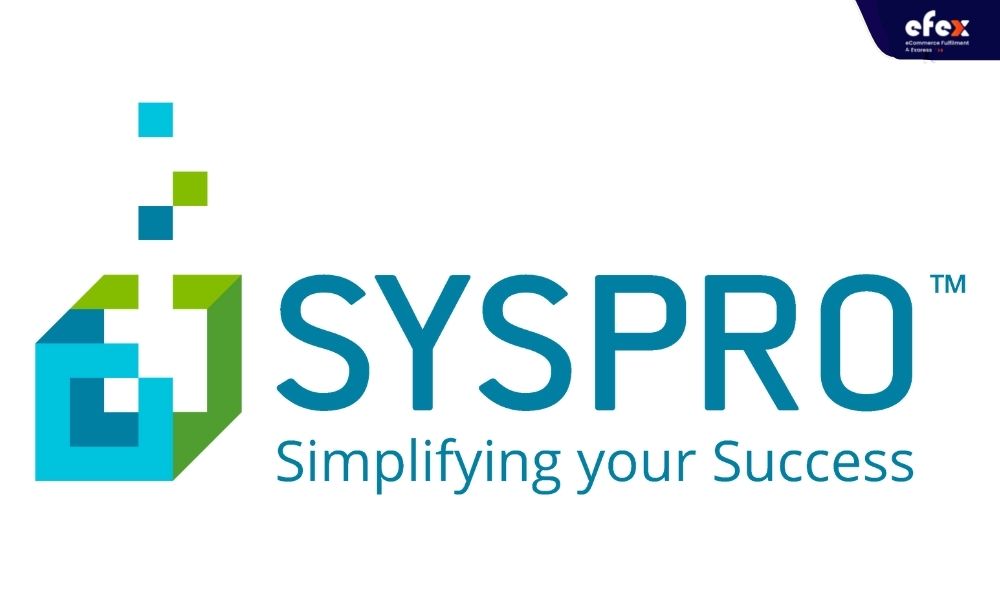 Key features
Inspection: Coordination of various evaluations for items with unpredictable chemical methods, as well as working with systems to capture product inspection data.
Lot traceability and serial tracking: Tracing products from their original place to their final destinations while maintaining total visibility of diverse physical and virtual sites.
Sales forecast and optimal pricing: Sorting through profitable customers and estimating product sales trends.
Lean inventory management: Allowing adaptions and automated KPI monitoring to achieve balance for inventory services and investments.
Pros
Perfect for small businesses that do not need to scale
Provide almost report by using MS-SQL database
Can easily extract, import, and compile data you need into your favorite spreadsheet program
Simple to use
Provide robust business object framework for particular situations
Cons
Customization possibilities do not work well
Price Syspro starts at $199 per user per month and goes up from there depending on the modules you choose. A simple on-premises installation typically starts at about $12,000.
Acctivate Inventory Management Software
Acctivate is premium inventory management and multi-channel order fulfillment add-on designed for developing product-selling enterprises using QuickBooks. It is intended for expanding businesses who want to continue with QuickBooks rather than invest in pricey enterprise resource planning (ERP) software.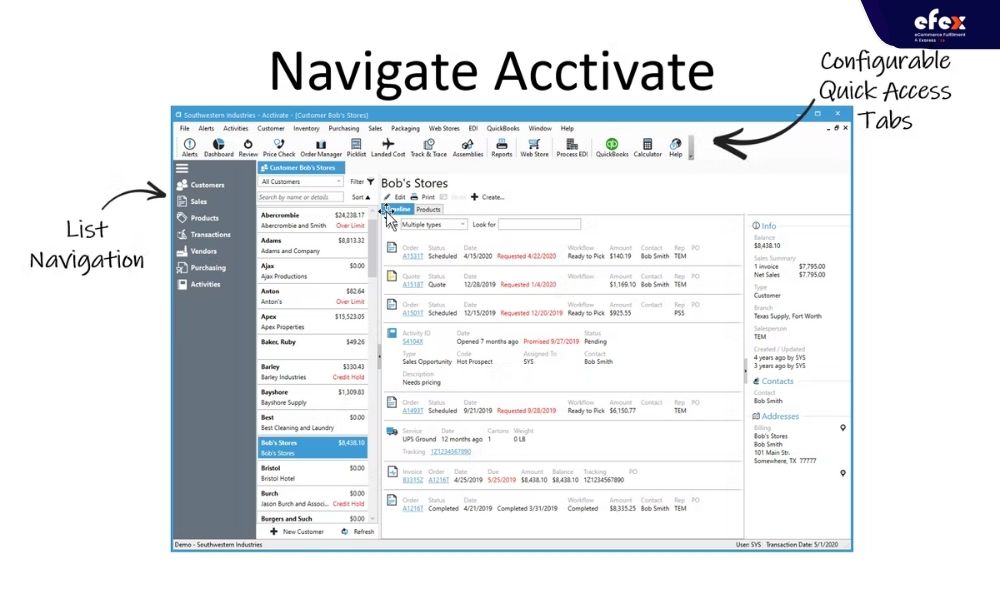 Key features
Inventory management: Comprehensive inventory management capabilities are available to users, which aid in the integration of all online stores and e-commerce operations with specialized omnichannel customer support employees.
Inventory forecasting: Combining trend research with anticipated seasonal changes, promotional events, and other factors.
Activity monitoring: Planning personal and team activities and getting warnings.
Catch management: Selling various items and establishing prices depending on their sizes.
Credit management: Handling late bills, maintaining credit-held orders and priority, and performing reporting and trend analysis.
Pros
Easy to use with highly functional
Reasonable price
Robust system
Cons
Lack of original reporting
Lack of vendor options and vendor control
Price The software offers a wide range of prices with lots of options for you to choose from.
Brightpearl Software
Brightpearl is omnichannel-native and particularly built for retail. It is designed to manage peak trading safely, and it interfaces with the whole retail IT ecosystem, giving real-time trade analytics. Brightpearl is also praised for its smooth connection with well-known eCommerce platforms like Shopify and Magento. It also connects smoothly with internet markets like Amazon and eBay. This provides firms with access to a variety of growth channels and platforms.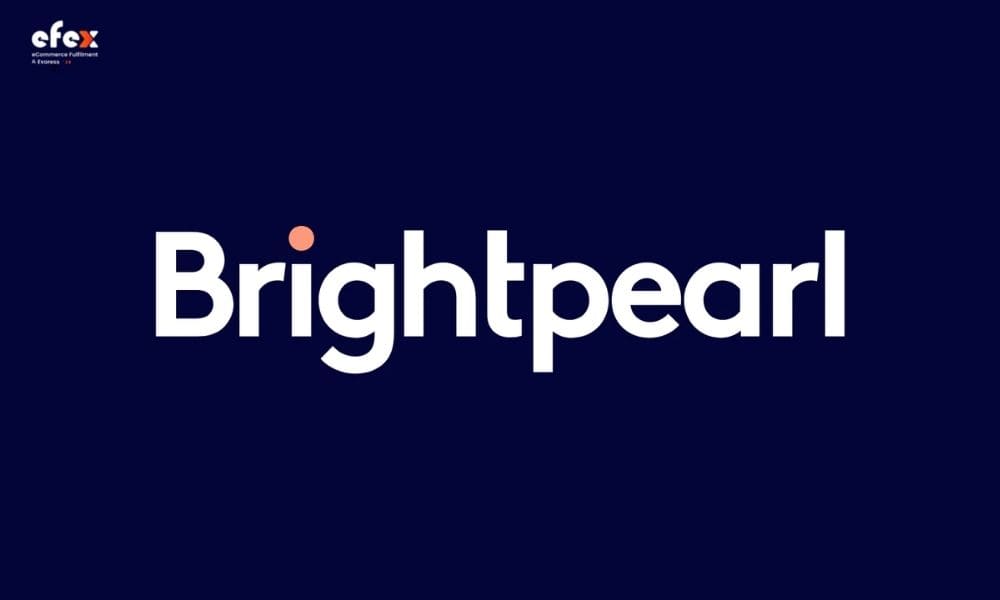 Key features
Retail accounting: Automatically accounting for trading activities, creating a profit and loss statement and income statement, growing through cross-border commerce with multi-currency support.
Payments: Sending click-to-pay invoices, B2B payment process, and accepting money over the phone
Purchasing supplier management: Including real-time accounts payable, landed cost control, managing distribution networks, and updating inventory costs that use the FIFO approach.
Reporting and business intelligence: Assessing sales and performance, real-time accounts payable and receivable, constructing a profit and loss statement and balance sheet based on demand, and establishing low-inventory numbers.
Pros
Easy to access customer information in one place
Combine all technology necessities of e-commerce
Simple to use with quick implementation
Cons
Not suitable for manufacturing companies
Lack of support and weak reporting
Price Brightpearl is just for retailers who are trading $1 million or more, or who anticipate being in the next 12 months. Its pricing is depending on a tried-and-true methodology that takes into account the rate of your growth. You will never pay for more than what you require.
👉 Read More: Top 20 Inventory Management Software (Free And Paid)
👉 Read More: Top 15 Retail Inventory Management Software in 2023
As your company expands, your order volume will increase while your cost per order will decrease. It is hard to choose wholesale inventory management software that matches your company's demands among the diverse software brands. But once you find out your true software, it will bring many benefits to your business. Its two biggest benefits are saving time and increasing profits. Hope you have a good time with Efex.