Vendor inventory management is a supply chain arrangement in which the manufacturer or supplier manages inventory choices for the sale or retailer. It indicates that the upstream agency is in charge of the downstream agent's inventory. Vendor inventory management software which is also known as vendor managed inventory software (VMI software) is inventory management software in which a vendor produces orders for their clients depending on the demand information received from the customer.
VMI systems assist in the management of inventory kept at a customer's location. Let's stay with us till the end to have detailed reviews about the top 10 vendor inventory management software in 2023.
Vanta Vendor Inventory Management Software
Vanta is a cloud-based compliance management tool that assists organizations in streamlining operations connected to the compilation of SOC 2 audit reports. The software helps firms to handle client data following the AICPA's trust principles, which include processing integrity, security, confidentiality, privacy, and availability.
- See more: Order Management System: Definition, Process And Value
- See more: Order management system for Ecommerce: Definition, Key Effect, Benefit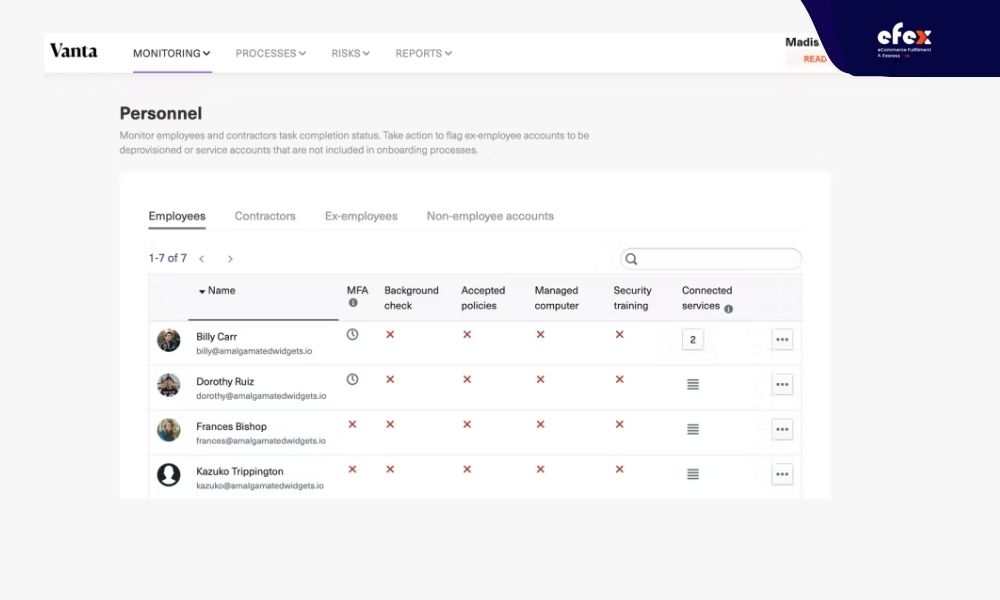 Key Features
Inventory management: Automatically pulling inventory from AWS and warns clients if it fails to fulfill specific compliance thresholds. Managing the asset management database entirely.
Onboarding automation: Offering new clients the policies and documenting their reading in the app.
Managing policy agreement outside of onboarding: When a new policy is implemented or an old policy is updated, Vanta will run through the cycle again to ensure that all employees acknowledge it.
Recognize dismissed alerts with a remark explaining why the notification does not apply to them.
SLA tracking: For security events in Github and informs on violations. Defining customers' internal SLA and keeping their team responding to it.
Pros
Intuitive user interface
Straightforward onboarding
Integrate with most of the software
Cons
Products update emails sometimes get lost in the daily task list item emails
Price Vanta has not published its pricing yet. You have to contact them to negotiate the price.
Airbase Software
Airbase is a comprehensive expenditure management platform that includes bill pay, spend approvals, corporate card issuance, employee reimbursements, and other features. Airbase is designed for CEOs/ CFOs, VPs of finance, controllers, accounting managers, and other business employees to use. It employs accounting automation that spans the whole transaction lifecycle from the beginning to the end to increase accuracy and save time.
👉 Read More: Top 15 Ecommerce Inventory Management Software In 2023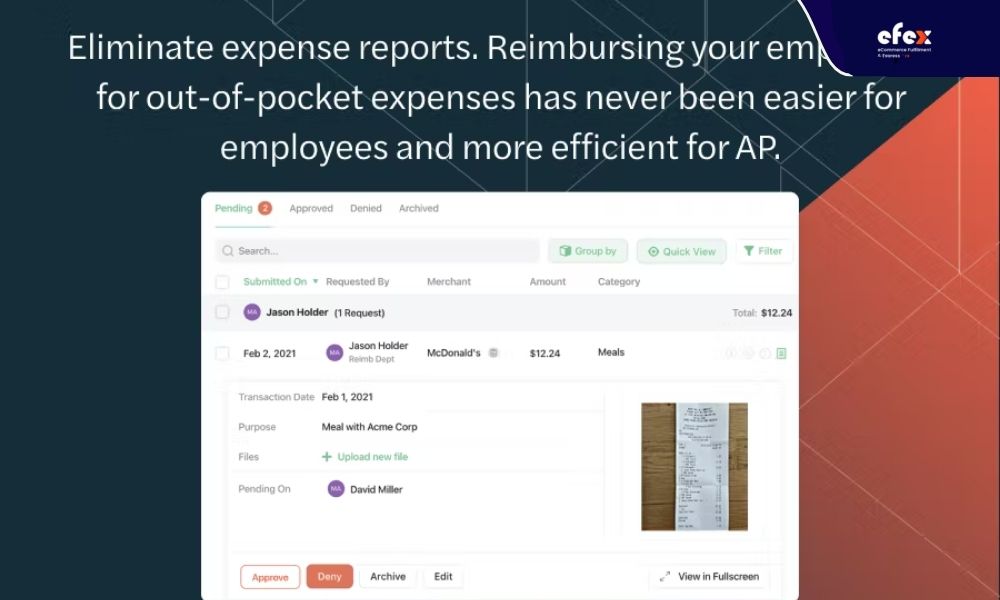 Key features
Automatic audit trail: Recording transaction information as they occur and save them to a readily accessible audit trail.
Delegated access: Granting secure, restricted access to a colleague or teammates for them to make changes to their Airbase account.
Receipt management: The system will act as an enforcer, sending reminders and, if enabled, suspending their cards when they do not.
Virtual card: The design of Airbase virtual cards is the most sophisticated available, which gives visibility, spend management, and accounting automation.
Spend control: Implementing at every level from permissions to spending amounts to expiry dates.
Pros
iOS and Android apps are available
Quickbooks Online, Sage Intacct, Xero, and Oracle NetSuite are all compatible with the platform
Easy to use and follow expenses
Fast and meaningful product improvements
Nice user interface
Cons
No warning when you are running low on finances
Virtual cards are only available through the desktop portal
Price Airbase software does not have public pricing. However, it offers two software editions which are the growth for mid-market companies and the enterprise for pre-IPO and beyond companies. Fortunately, it also provides a free edition which is the essential edition for early-stage companies.
Quickbooks Online Software
Quickbooks Online is a web-based accounting program that manages all elements of a company's finance. Because of a web-based accounting solution, Quickbooks Online can be accessed through any web browser. There will be no installation or downloads required. Users may photograph invoices and submit them as expenditure proofs or share them with the appropriate stakeholders, along with downloading and reconciling credit card transactions.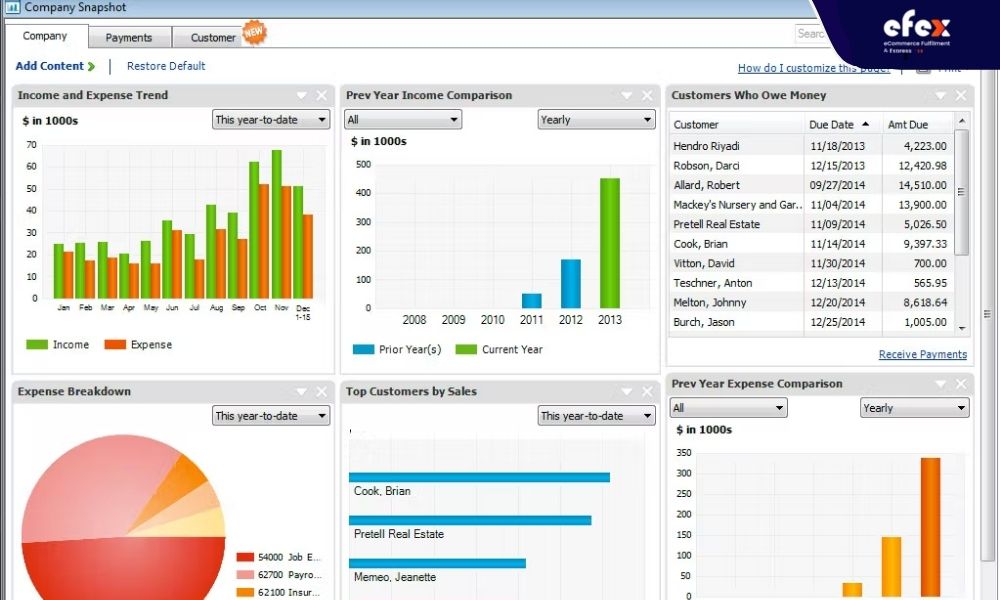 Key features
Invoices and estimates: Quickly making predictions, emailing them to customers, and transforming them into invoices.
Report and budgeting: Once you go through the price tiers, you'll gain access to detailed reports. QBO Plus and Advanced customers may also use the budgeting feature.
Tax support: Providing tax assistance with all of its plans while e-filling incurs an extra cost.
Contact management: Making it simple to add, modify, and remove customers and vendors.
Pros
Send out down alerts immediately
Include some tutorials in each section of the application
Ease of use and customize
Time-saving for tax during the tax time
Reports are always ready to access, clear to understand, and automatically updated
Cons
Splitting bills, marking transactions, and classifying costs may be time-consuming and inefficient
Price There are four price options for QuickBooks Online. It also provides a 30-day free trial of three of its plans, as well as a QuickBooks Plus test drive account and a demo of its Advanced plan.
👉 Read More: Top 20 Inventory Management Software (Free And Paid)
Tradeshift Software - Best Vendor Inventory Management Software for B2B Marketplaces
Tradeshift is a pioneer in supplier financing and B2B marketplaces, as well as an industry leader in e-invoicing and accounts payable automation. It is cloud-based technology that assists buyers and suppliers in digitizing invoice processing, automating accounts payment procedures, and scaling indefinitely.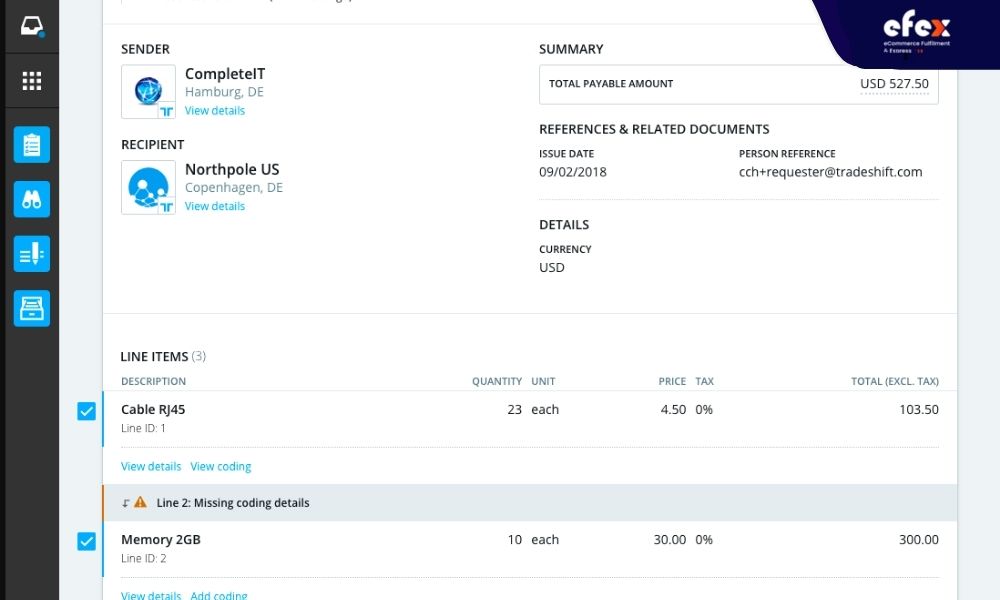 Key features
Tradeshift engages: Providing a corporation with full access to supplier cooperation and analysis.
Insight and analytics: Increasing value by providing actionable insights that help improve decision-making.
center communication hub: All Tradeshift platform interactions are logged and documented. The hub has a quick and easy-to-use interface that consolidates all of the data required to expedite vendor contact.
Spend management: Integrating the solution with your corporate credit card system and using only one web interface to issue pre-approved, secured virtual cards.
Pros
End-to-end supply chain payment support
Completely automate accounts payable
Free for small businesses
Cons
Price Tradeshift provides a free edition that you may use to see the improvements that will be seen in your company the minute you buy it.
SAP Fieldglass vendor inventory management software
SAP Fieldglass is a cloud-based vendor management system (VMS) that assists organizations in locating, hiring, and managing external labor. SAP Fielglass includes an API that allows for integration with various third-party platforms, including Microsoft Active Directory, Kronos, Salesforce, Infor, Oracle NetSuite, Workday, and others.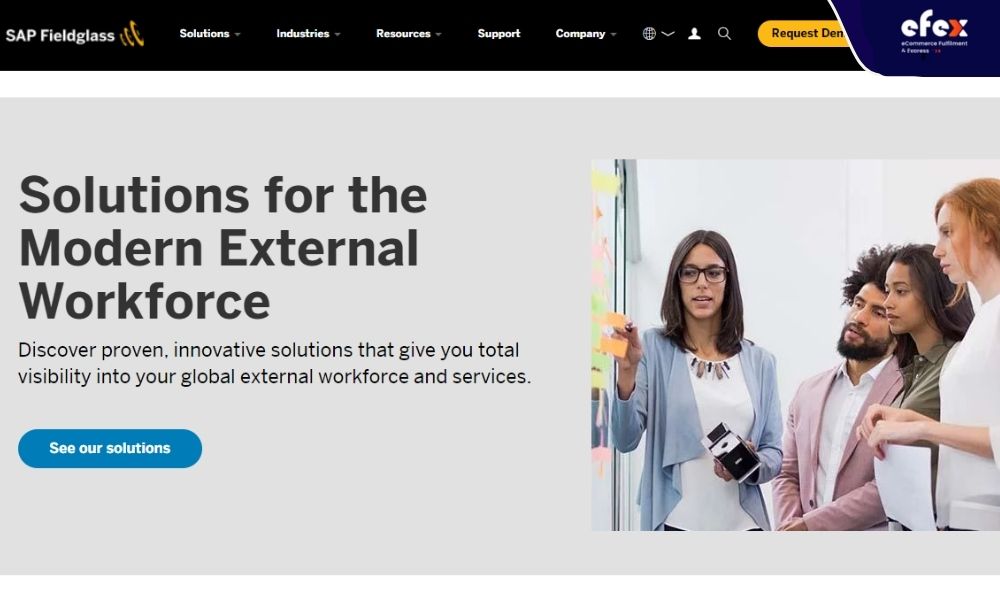 Key features
Timecard and expense reporting: Offering several web-based costs and timesheet capabilities and providing a standard timesheet upload mechanism that assures timesheet accuracy.
Service procurement: Monitoring employee and supplier performance to guarantee that the user receives the proper service. Handling categories and resulting in superior outcomes
Business intelligence: Identifying vital data and insights to optimize external labor and service procurement initiatives. Extracting data enables cost reduction, performance improvement, and efficiency enhancement.
Worker profile management: Providing reliable reports on non-employee workforce data.
Pros
Work well for medium-sized to very large businesses
Easily manages contract workers
Helpful for contingent workers to access and know when their contract is expired
Cons
Slow updating worker details for large companies
Price SAP Fieldglass does not publish the pricing plan.
Precoro Software
Precoro is another cloud-based purchasing platform that helps SMBs and Enterprises optimize their procurement procedures. Precoro has numerous capabilities which are interfaces with NetSuite and Quickbooks, as well as a free API. Users also get entire protection with SSO and dependable 2-factor authentication, along with the transparency of the buying process via automated reporting.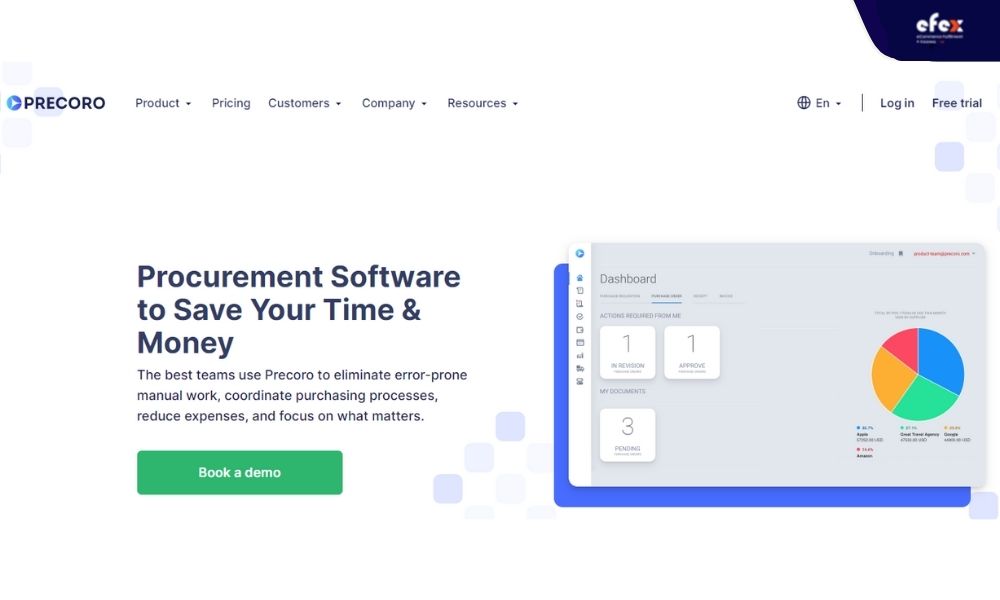 Key features
Purchase requests: All requests in one place. Status updates streamlined the approval process. Product catalog e-commerce experience. Analytics for requests.
Purchase orders: Purchase orders are generated automatically. Requests are instantly converted into orders, File attachments, PO export, and internal comments are automatically sent to suppliers
Approval workflow: Adaptable approval workflow. Departments, custom fields, and locations require approval. Intelligent notifications. Policies and thresholds for the exact route. On-the-go mobile approval
3-way match: Receipt to purchase order to invoice and vice versa with everything synchronized in real-time. Tracking discrepancies. Tolerance rates for supplier invoices. Exceptions that may be customized and extra workflows
Pros
It offers more than 150 different data points, which can be created into bespoke reports and export papers
Easy to implement and friendly user interface
Reliable customer service
Cons
A bit difficult to interact with suppliers
It sometimes stops working abruptly
Price Procoro offers two subscription plans which are monthly and annual. The monthly plan is $29 per user while the other one is $348 per user. It also has a free trial.
Venminder vendor inventory management software
Venminder is a world-class SaaS platform for guiding and automating third-party risk management. Its platform enables users to cooperate on any vendor-related issues and leads them through essential processes. Venminder's team of highly experienced specialists often present at conferences, give the latest research and instructional information, conduct CPE credit-worthy webinars, and provide access to Third Party ThinkTank, an online networking platform for third-party risk professionals.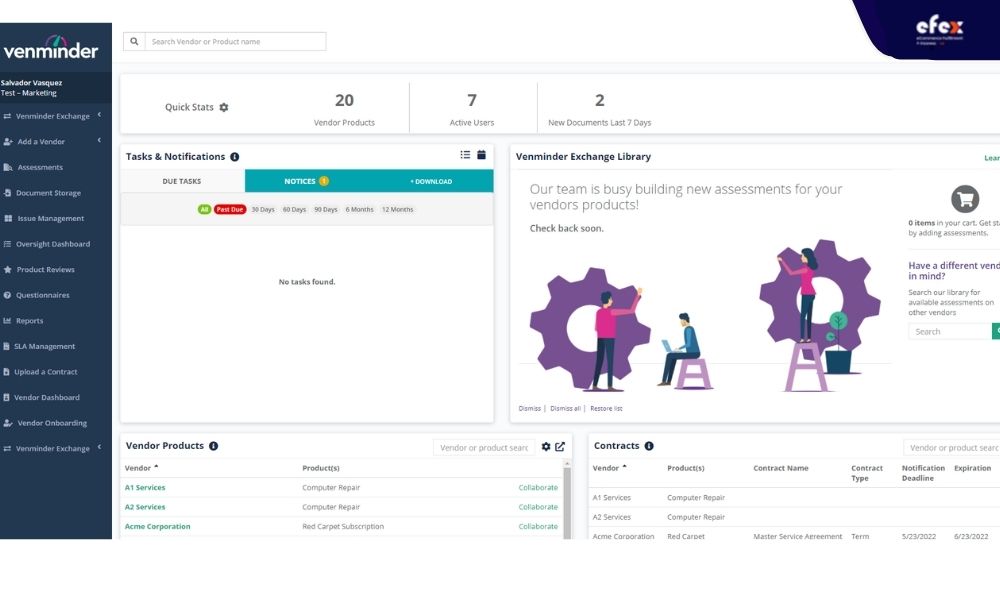 Key features
Risk assessments: Designing unique risk assessment inquiries, inviting employees to submit responses, applying scoring preferences, and generating clear and succinct risk rating reports.
Questionnaires: Gaining rapid access to status metrics and boosting risk accuracy with the broad scoring customization possibilities.
Oversight management: Establishing needed duties and allocating them out to promote responsibility across the business.
Continuous monitoring: Getting a relatively high-risk profile of any supplier quickly.
Pros
Good training that the software company offers for their customers
Everything is kept in one place and easy to access
Able to identify high-risk and critical vendors easily
Innovative, supportive, and responsive vendor software
Cons
Cannot request documentation collection via the dashboard
Price The software does not have a specific price. Instead, Venminder provides customizable pricing plans designed for the growth and scale of your company along with various choices.
PRM360 Software
PRM360 is an AI-powered and cloud-based procurement software system that unifies all of the various procedures in the Procure-to-pay lifecycle. PRM360 not only improves vendor satisfaction but also removes the time-consuming chore of buying teams doing repetitive follow-ups.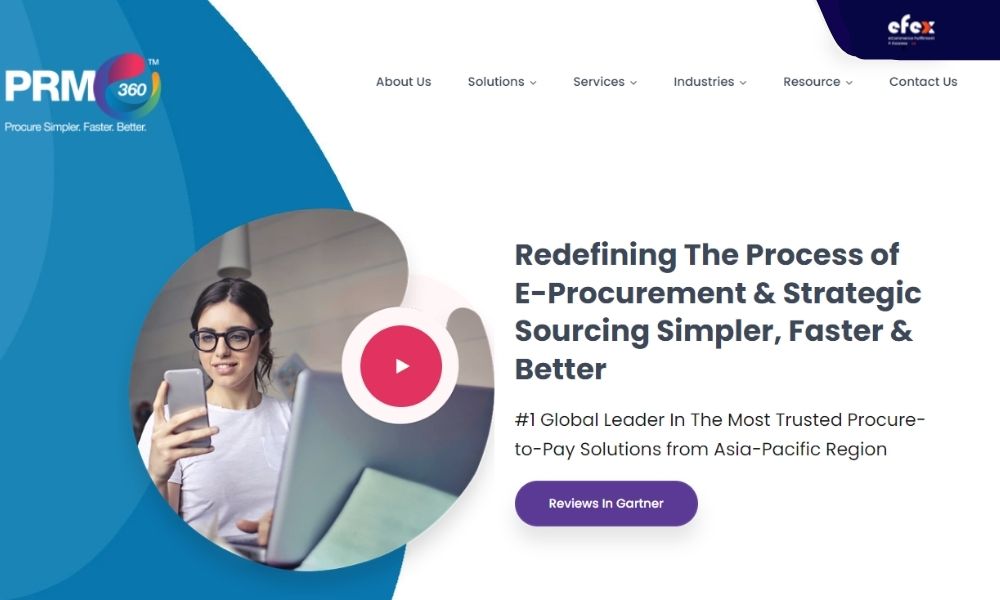 Key features
e-Procurement: Enabling purchasing officers to determine the right offer available, saving nearly 5-15% of the time over other methods.
e-Auction: Allowing for e-bidding and negotiation with a variety of auction kinds to optimize revenues.
Contract management: Automating every contract step, from creating to collaborating, signing to track. Digitizing the signing of the contract process.
Catalog management: rapid assessment, approval, or rejection of catalog revisions before publication. Configuring approval protocols and tracking version updates automatically.
e-Invoice management: Redefining the invoice handling process, optimizes processes by removing complexities, and automates accounts payable.
Pros
Highly customizable to the company demands
Easy to use and access
Quick order placement
Haggle free negotiation depending on the rank transparency
Incredibly versatile since it can accomplish anything from communicating orders to negotiating and placing final orders
Cons
Do not have 24/7 customer support
Price PRM360 has not published the specific price yet. You have to contact them to discuss a suitable price plan for your company. This software provides an application programming interface (API) that allows organizations to integrate many third-party platforms into the system, including QuickBooks Online, NetSuite, Google Suite, Expensify, Xero, Intacct, Zendesk, Salesforce, and others.
Blissfully Software
Blissfully is a SaaS management software solution that supports IT professionals in monitoring and managing business applications throughout the firm.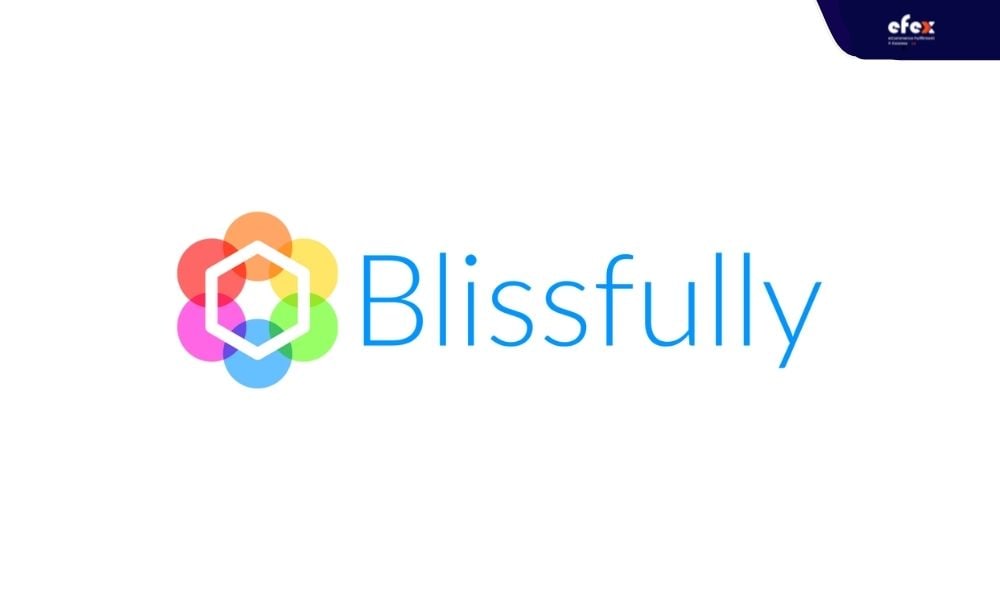 Key features
Vendor management: Keeping track of your contracts, never skipping a renewal, implementing an effective approval procedure, and keeping spending under control.
Record system: Exploring, organizing, and monitoring software used through your business, as well as essential vendor contracts and paperwork, all in one place.
Integrations and data: Establishing your technology graphs and sources of reality by integrating data from hundreds of essential business systems.
Employee portal: A single site where employees can handle their tools, tasks, and requests, along with interacting with team leaders.
RBAC: Adhering to the concept of least permission.
Pros
Offer multiple functions like HR, IT, and Finance in one application
Near-seamless workflow integration
Effective onboard/offboard processes help to handle lots of work and save time
Friendly user interface
Cons
It sometimes takes longer to perform particular tasks
No support for other currencies
Price Blissfully offers customizable prices for each different company so you have to contact them for more details.
Genuity vendor inventory management software
Unsimilar to the above software, Genuity is a cloud-based IT software that assists enterprises in generating actionable insights and streamlining IT department process operations.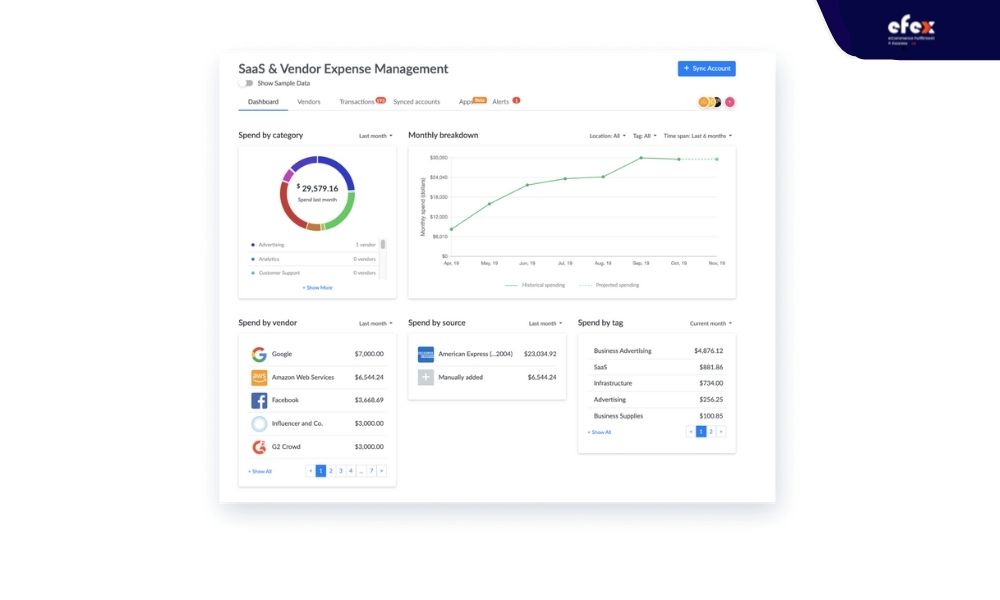 Key features
SaaS and vendor management: Improving audit performance, increasing compliance, and detecting useless software that is wasting money.
Contract management: Providing your organization with the contract monitoring notifications, data, and analytics it requires to open expenditure insight, optimize processes, and minimize supplier prices.
Asset management: Cross-platform asset discovery technologies help quickly get your content into the system.
Telecom expense management: Gaining visibility, management, and analytics to uncover possible cost savings.
IT help desk: Reducing user confusion, increasing productivity, saving money, and allowing the support staff to track and handle issues more quickly while presenting you with tangible evidence of your contribution to the firm.
Pros
Simple platform
Easier to connect to G Suite to assign users
Good customer services
Easy to set up forms for users
Suitable for non-technical users
Cons
Fewer features and connectivity between modules since the software is still developing
No notifications when tasks are due or overdue
Price Genuity offers a subscription plan of $29.99 per month with the first 30 days free trial. It also has a free version.
👉 Read More: Top 15 Retail Inventory Management Software in 2023
👉 Read More: Top 15 Inventory Asset Management Software In 2022
Above is the best 10 software is vendor inventory management, however; each software has its strengths and features. You must consult carefully before choosing a vendor inventory management software to support your company. To do that, you must comprehend your business's demands and requests which helps you avoid choosing the wrong software and wasting your money. Hope you have a good time with Efex.