People who do not work in the logistics industry will think the phrases such as "Order fulfillment" and "Supply chain" to define one definition. In reality, they are two distinct phrases that refer to two distinct tasks of the logistic process. So, what is order fulfillment in supply chain management? Order fulfillment in supply chain management is the process of receiving goods, processing them, and finally distributing them to buyers. The procedure begins when a consumer places an order and concludes when they get it.
Let's stay with us until the end to learn more about the dissimilarities between supply chain and order fulfillment, also the importance, strategies, and ways to improve your order fulfillment in supply chain management.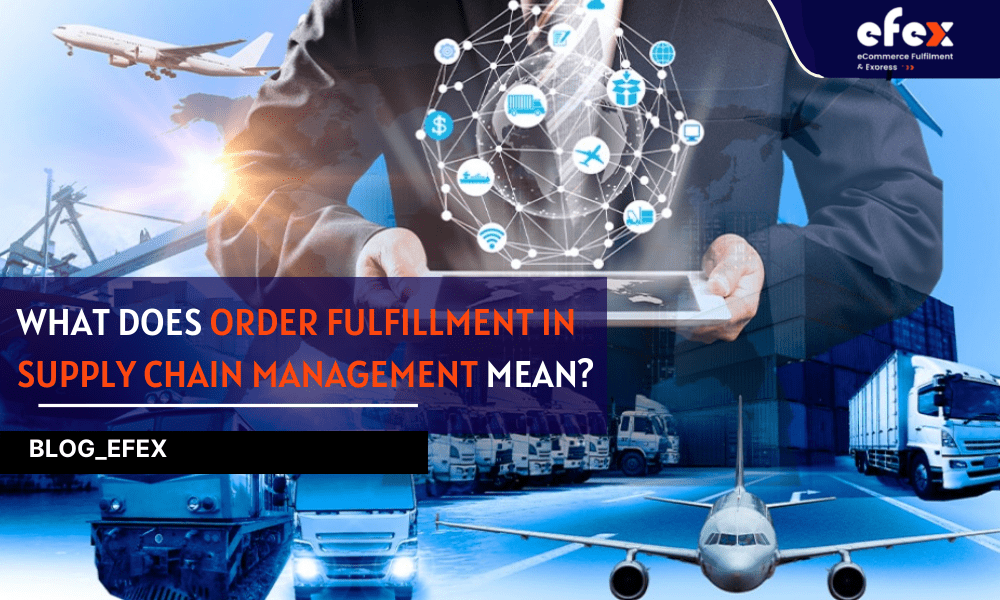 What's The Difference Between Order Fulfillment And Supply Chain?
The supply chain shows the interconnected network of merchandisers, resources, and organizations that source, produce and transport commodities from the original location to the final customer.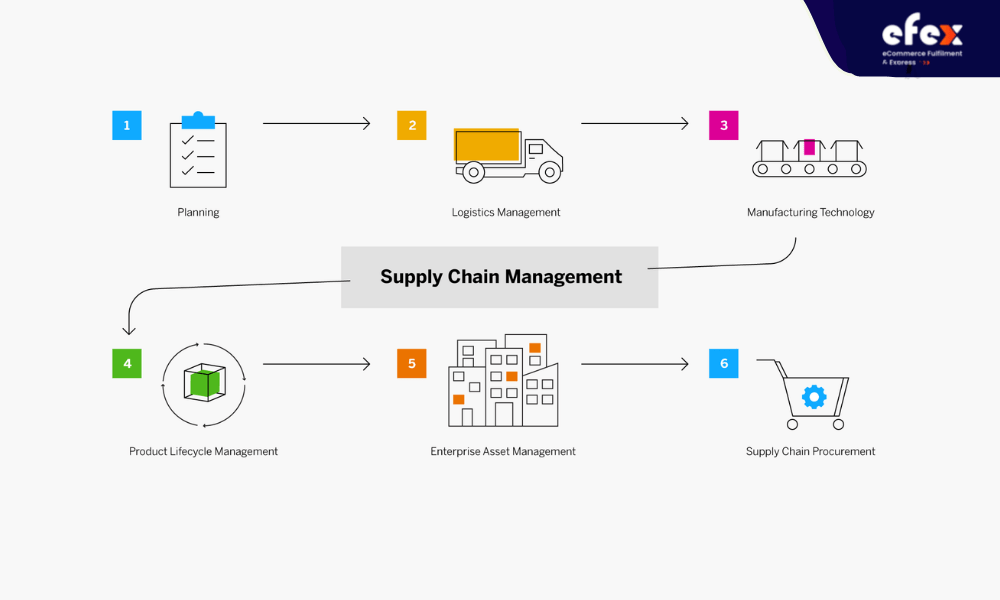 Order fulfillment is only one component of a larger supply chain that involves six fulfillment steps, which are stock management, warehouse, and storage, receiving, pick and pack, shipment, and returns.
- See more: Ecommerce Order Fulfillment Guide: Process And Strategy To Improve
As an illustration, the supply chain is the journey an item takes from where it is manufactured to where it is delivered to the client. Order fulfillment refers to selecting an item from the warehouse shelf process, packing it into a box, and shipping it to the ultimate client.
Supply Chain and Order Fulfillment Process
Understanding the process of how a product is shipped to your customers will allow you to know exactly which stages in the process needed improving. Below is an example of various steps that a product might go from the manufacturer to a customer.
Step 1: The Manufacturer Makes the Products
Depending on the wholesaler's demands, the producer produces the appropriate amount of items.
Step 2: The Products are ordered by the wholesaler
Next, the wholesaler stores the appropriate items to fulfill all orders from their vendors and pays the manufacturer for the products.
Step 3: The Products will be transported to the Wholesaler's Warehouse by the Manufacturer
The manufacturer delivers the goods to a freight carrier, transporting them to the wholesaler. Then, the producer pays the transport courier.
Step 4: The Cargo Conveyance Ships the Goods to the Wholesaler's Warehouse
The package can be carried by rail or truck, based on the shipment method that has been chosen and the firm's location. The delivery time might range from a couple of days to many weeks.
Step 5: The Wholesaler Stocks the Goods in a Warehouse or a Fulfillment Center
The wholesaler who receives the packages after shipment will update their inventory figures to inform merchants of available items.
Step 6: Customers Make an Order through Online Trader
Buyers put orders and pay for items from an online store through online payments methods. Their orders will then be handled when the buyers confirm them.
Step 7: The Online Retailers Make Orders With the Wholesaler
The merchants manually or automatically submit the orders to the wholesaler and pay for the requested items.
Step 8: The Orders are fulfilled by the Wholesaler
Based on the orders, the wholesaler takes the products from the racks, packages the products, sends the parcels to the buyers through a deliverer service, and pays for the service. Normally, the purchaser will receive a shipment confirmation email at this moment.
Step 9: The Deliver Service Transports the Product to the End-Customer
It can take from a couple of days to a couple of weeks for the shipping to arrive at the buyer's door, depending on the transportation chosen and the distance of the goods to their house.
Step 10: Customers Receive Their Packages
When receiving the packages, the customer can check the quality of the product and decide to keep it or ship it back and asks for a return.
What Is An Order Fulfillment Service?
Order fulfillment service is simply a commercial activity. Like any other company activity, an order fulfillment service can be carried out by an experienced order fulfillment provider. It is also generally known as a third-party logistics provider (3PL).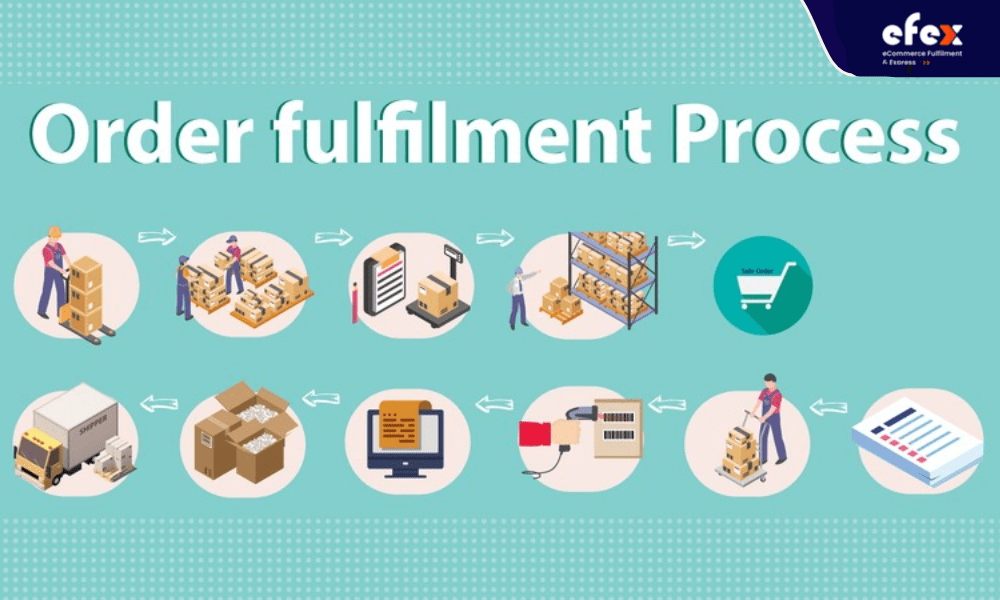 What Is 3PL?
3PL, which is the abbreviation of third-party logistics, is a company that supplies outsourced logistics services to businesses that have supply chain management needs. It is employed to handle the supply chain's many positions like inventory storage and management, shipping, receiving and distribution, freight forwarding, order fulfillment, picking and packing, and cross-docking. With a network of fulfillment center spots, integrated technology, and extensive supply chain management knowledge, a 3PL can also assist you in managing your fast-moving e-commerce supply chain.
What is Supply Chain Management and Why is it Important?
We will go further into the definition of supply chain management and learn more about its optimization and fulfillment planning strategies. Supply chain management is defined as the process of handling how products and services go from producing an idea and raw materials to the final consumer product. It involves the procedures of transporting and storing raw materials, keeping completed items until they sell, and monitoring where sold goods go so that you may utilize that knowledge to drive future sales.
Supply chain management encompasses all aspects of corporate operations, containing logistics, buying, and information technology. Materials, finances, suppliers, production facilities, wholesalers, retailers, and customers are integrated into a single system. Supply chain management aims to improve the efficiency of the entire chain and the procedures involved. By doing that, product flaws are reduced, and profits are maximized.
A well-managed supply chain would dramatically lower a company's operational expenditures, increasing profits. This efficiency can be noticed at every step of the process, from concept generation through final product promotion.
Order Fulfillment and Supply Chain Strategy
Despite its many minor details, order fulfillment in supply chain management is a straightforward enough process. Sending the exact goods to the correct client in the fastest, most cost-effective way possible. With the purpose in mind, speed and efficiency take precedence.
- See more: Order Fulfillment Cost: All of the Fee You Need to Pay
Choose the Right Order Picking Process
You can choose from various order selecting options according to your business type. It depends on you to decide which one is the best for your company based on the scale and scope of your operation.
Increase Inventory Visibility
Better stock level transparency might help your order fulfillment process if you offer through numerous channels. The more you know about stock levels, the greater your chances of preventing being out of stocks.
Improve Order Management
Knowing and sharing the status of orders in real-time via your warehouse management system allows your delivery network to track progress, detect shipping delays, and notify buyers when their packages come.
Prioritize Warehouse Location
Ensure that the fulfillment and warehouse providers you cooperate with match your picking, packing, and shipping needs and are also situated in your customer market.
Outsource Order Fulfillment to a 3PL
With more resources at their disposal, 3PL may deploy different inventory, amounts to multiple warehouses around the country, and select the quickest, most cost-effective delivery option for your company and your customers, regardless of their locations.
How To Improve Order Fulfillment In Supply Chain Management
Order fulfillment is an essential component in supply chain management. E-commerce businesses must simplify order fulfillment across the whole sales process to improve order fulfillment in supply chain management. Four main components to improve order fulfillment in supply chain management include OMS order management, order fulfillment logic (OFL), warehouse management system (WMS), and last-mile logistics.
OMS Order Management
The OMS, known as the order management system, combines all aspects of supply chain management, including order placing, fulfillment, and delivery. The OMS software can help sellers simplify the order fulfillment process across their supply chain management. OMS software supports every facet of order fulfillment, containing inventory management, order tracking, and shipping buyer goods.
E-commerce businesses can coordinate inventory movement with 3PL suppliers while also reducing expenses through a contemporary order management system.
Order Fulfillment Logic (OFL)
Order fulfillment logic refers to the concepts and techniques used by e-commerce enterprises to ensure that their customer's orders are completed efficiently. It determines the rate at which fulfillment occurs in the supply chain process. Order processing is about matching client requirements with the firm's bottom line. With a well-planned order fulfillment logic, e-commerce businesses will incur fewer costs, utilize their inventory more effectively, and deliver better customer service. As more sellers emphasize delivering orders from numerous distribution hubs, there is a demand for order fulfillment logic that allows them to coordinate these deliveries effectively.
For example, while establishing distribution facilities, sellers must consider the geographical locations of their consumers as well as the expenses of transporting orders from that area.
Warehouse Management System (WMS)
A warehouse management system is a software that automates warehouse tasks such as inventory tracking. It streamlines order fulfillment by ensuring that items travel smoothly through an organization's warehouse. Previously, e-commerce enterprises relied on paperwork to correctly manage warehouse activity.
However, with the e-commerce industry's expanding needs, sellers need a scalable and automated system to monitor warehouse operations. A warehouse management system, in particular, assists e-commerce businesses in the following ways:
Maintain an accurate inventory of items and raw materials at multiple warehouses.
Keep track of how orders go through the supply chain, from arrival through delivery to the consumer.
Refunds should be processed swiftly and effectively so that consumers can monitor their returns.
Last-Mile Logistics
Last-mile logistics make up virtually 28% of total delivery costs. It is the last action of order gratification in supply chain administration as well as is interested in exactly how e-commerce companies provide products to customers promptly as well as cost-effectively. In most scenarios, stores disperse consumer acquisitions using plans or tiny bundle providers.
E-commerce services normally have actually provided little interest in the importance of last-mile logistics in giving an excellent customer experience. Statistics reveal that 23% of consumers are prepared to pay costs for same-day shipment. Businesses should concentrate on last-mile logistics to satisfy needs. E-commerce services come across numerous last-mile logistical troubles.
For beginners, faster shipment regularly involves raised costs, which are handed down to consumers. Sellers should likewise manage delivery issues, staff member scarcities, as well as various other capability problems. Because these issues are not vanishing anytime quickly, shopping services should discover to construct around them to please consumers' order gratification demands. Investing in a last-mile shipment software program, for instance, might help shopping services in improving treatments, boosting capability, as well as boosting effectiveness.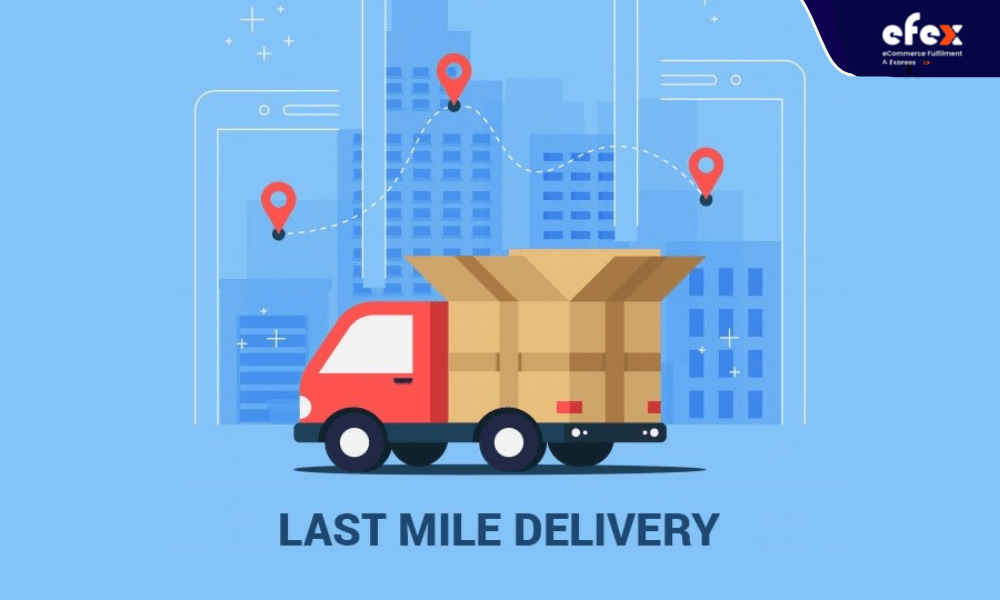 👉 Read More: 12 Tips to Improve Order Fulfillment Process And Picking Accuracy
👉 Read More: Order Fulfillment Cycle Time: How to calculate and improve the process
In conclusion, order fulfillment in supply chain management is a critical component. Efficient and effective order fulfillment in supply chain management is essential to ensure a seamless and satisfactory customer experience. EFEX's comprehensive order fulfillment service integrates seamlessly into your supply chain, empowering your business with the tools and capabilities to deliver products swiftly and accurately, regardless of the scale of your operations.
Experience the power of EFEX's lightning-fast eCommerce order fulfillment today and elevate your business to new heights of success and customer satisfaction!