It is no doubt that COVID-19 has boosted the spread of eCommerce businesses all over the world. At the same time, it also brings some certain challenges for online businesses, in which order fulfillment strategies are one of the most worth-mentioned aspects. How you scale your business is almost controlled by your order fulfillment plan. A poor decision might slow down our business. Additionally, customers' expectations change constantly. On-demand and same-day delivery are becoming standard causing the disappearance of waiting for a shipment.
As a result, E-commerce businesses must have a well-thought-out order fulfillment strategy to ensure their survival in the competitive online market. Efficient order fulfillment operation is critical to your brand's reputation, profits, and the creation of a long-term relationship with customers. With this in mind, companies should consistently aim for perfection when it comes to order fulfillment.
Now we will tell you 10 secret order fulfillment strategies that will help your businesses succeed in eCommerce competition.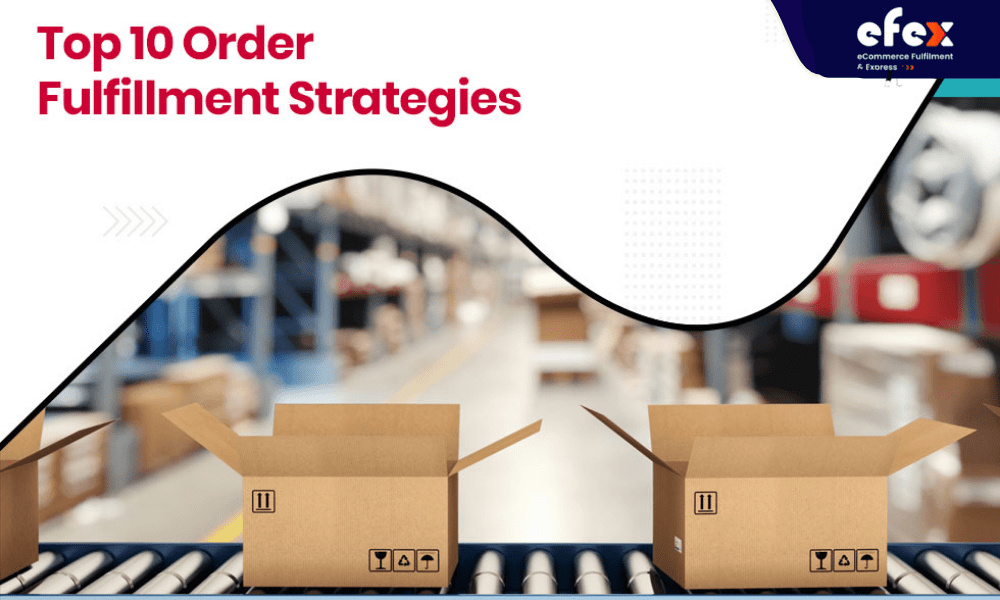 #1: Adopt Alternative
This will be one of the keys for your business during the COVID-19 period when shipping carriers get overloaded and a backlog of orders increases. As a result, customers might have to wait for their items for a week and more, which is much longer than before, causing a decrease in customers' purchasing experience satisfaction. Fortunately, you can utilize alternative ways to make your shipping faster and easier, especially in meeting seasonal demand during holidays.
For example, dropshipping your goods through your supplier's shipping network is also a good idea. Or, you can outsource the third party to fulfill your orders and share the load.
- Read More: Ecommerce Order Fulfillment Guide: Process And Strategy To Improve
#2: Embrace Last Mile Tracking
It is no surprise about this strategy whether last mile tracking is in the past or in present. This allows customers to track exactly where their shipment is and estimate when it will arrive during the holiday. As a result, there's a reduced chance of parcel theft, as well as annoyance and wondering of buyers. Embracing last-mile tracking will drastically improve your consumers' impressions of your brand and enhance the possibility that they will be back to you in the future.
#3: Spread Inventory Strategically Across Your Organization
Your inventory is in a fixed location, and all products are shipped from there? You'll surely be in trouble if you receive a huge number of orders at Christmas because your customers from various addresses will have to wait for their orders for a long time, which is unacceptable to most buyers. You can better estimate future sales across your business and look for the ideal storage sites for your stock.
As a result, you can operate the stage of delivery faster and more effectively and your customers will be satisfied with getting goods within the expected time.
👉 Read More: Order Fulfillment Cycle Time: How to calculate and improve the process
#4: Simplify Reverse Fulfillment Logistics
When you experience an increase in online orders, you'll see a rise in return rate as well. As a result, your reverse fulfillment logistics must function as if it were a well-oiled machine. Otherwise, it will slow down your internal procedures and disrupt inventory management. Using an order management system that can simply enter items back into your general inventory, whether scanned by an in-store POS system or barcode or RFI scanners in your warehouses, is one way to develop reverse fulfillment easy for your team.
An omnichannel OMS, simultaneously, may offer your buyers free shipping labels, making returns considerably easier.
👉 Read More: Top 15 Order Fulfillment Software In 2023
#5: Don't Underestimate BOPIS and BOPAC
In-store (BOPIS) and curbside pickup (BOPAC) have been incredibly spreading through all sectors during the COVID-19 period. This is because many customers are cautious about buying in stores. It doesn't appear to be going away anytime soon.
Is that good news for eCommerce retailers? Yes, it is.
BOPIS and BOPAC is the last phase to get the goods into the hands of the buyer. This leads to a significant decrease in delivery costs and order cycle time. Businesses who begin to provide curbside and in-store pickup will certainly realize that fulfillment is better for both staff and customers.
- Read More: Order Fulfillment Cost: All of the Fee You Need to Pay
#6: Maintain Inventory Accuracy
The stability of any warehouse operation depends on inventory accuracy. Indeed, customer satisfaction will surely drop if they order a product online only to realize that it is out of stock and won't arrive for some weeks or even months. Therefore, inventory accuracy is so important for helping order fulfillment operate smoothly.
Items that are out of stock or unavailable for purchase can not be ordered due to real-time cycle counts. Creating alerts to safeguard buyers against these types of purchases may enhance consumer satisfaction. Real-time inventory management maintains warehouses controlled, allowing internal systems to be more accurate and effective to make key decisions.
Besides, real-time visibility indicates that a product may need increased or decreased manufacturing. Excess inventory can be a concern, but a good inventory management system should always be looking for ways to reduce superfluous stock.
#7: Implement Slotting Optimization
One of the most useful strategies for properly storing your products and streamlining the picking process is slotting optimization. To speed up the fulfillment process, one common and practical method is to place popular products near shipping locations. Also, keeping these products in places that don't need a lot of bending or reaching can help to accelerate the process.
Storage and picking goods in accordance with weight, size, and general fragility is also an important part of slotting optimization. You may know that the most fragile goods have to be picked in the end so that they can be packed last and not broken by heavier products. As a result, these types of products should be stored at a location where they would be picked last.
#8: Integrate With Your Suppliers
In fact, only a small percentage of businesses produce the goods that they sell online. In other words, they have to lean on at least a supplier or even more to fulfill orders. However, it will be hard to manage all suppliers' manufacturing processes as well as their holdups during operating at the same time. This causes conflicts with third-party shipping carriers and unsatisfied customers. Here is how to solve this problem: Integrating with your suppliers.
This strategy necessitates technology that allows you to share information with your suppliers and keep track of your items and shipments on a daily basis. Integration with suppliers also aids in the reduction of communication issues such as lost orders, endless supplier coordination, invoicing errors, and so on.
#9: Add a Smart Warehouse System
To meet the huge demand of warehousing business, the solution of smart warehouses is getting more widespread. Smart warehouse systems make use of a number of interconnected technologies. As a result, this helps to remove human problems such as higher-level and time-consuming duties, simultaneously, improving efficiency and accuracy. These systems are much more effective in finding a product and delivering it to shipment.
So, what exactly does a smart warehouse system provide?
They comprise a number of technical parts that simplify the warehousing process, resulting in more efficient order fulfillment. Robotics, radio-frequency identification (RFID, a digital equivalent of a barcode that uses radio waves), artificial intelligence (AI), the Internet of Things, and warehouse management systems are just a few of these technologies.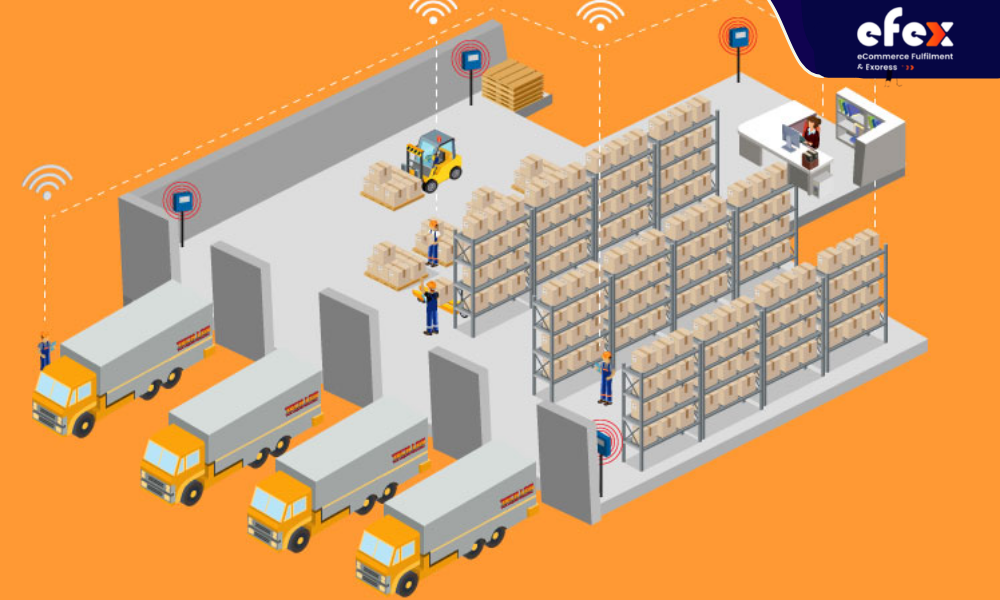 Let's move to the operation of these technologies. We take a look at the slotting and picking processes. Once a shipment of items arrives at a fulfillment center, the inventory levels will be automatically updated through RFID scanners after reading the tags on each product.
The next stage is picking up those products and transporting them by robots o a packaging facility where they are ready to be delivered. It's no doubt that these smart warehouse systems help humans minimize mistakes, particularly when counting products. Furthermore, by reducing the need for human workers to conduct all of these tasks, you may save money on order fulfillment.
#10: Improve Supply Chain Visibility
You've landed on the final secret. Improving your supply chain management will be the last strategy that can help you speed up your order processing. This strategy includes keeping track of manufacturing, product orders, and shipping to acquire insight into the whole supply chain. It's the capacity to gather information through your whole supply chain, Once your supply chain visibility is got more improvement, you can detect exactly what's causing your order fulfillment processes to underperform.
For instance, you can find out that your shipping vendor takes several routes that are sub-optimal, causing slow down your fulfillment services. Therefore, your order fulfillment process will operate well if you improve your supply chain visibility, saving you time, money, and a lot of customer service problems.
Final Thoughts
While these order fulfillment strategies may pose initial challenges in implementation and maintenance, they are pivotal for businesses looking to establish a strong foothold in the competitive e-commerce market. Should you require assistance in navigating and implementing these strategies seamlessly? consider partnering with Efex - an international omnifulfillment solution provider dedicated to assisting businesses in optimizing their order fulfillment processes.
With Efex's comprehensive order fulfillment service, businesses can streamline their operations and enhance their overall efficiency, ultimately leading to improved customer satisfaction and sustained growth in the e-commerce sector.