Whether you run a business with an entire manufacturing unit, or you trade and supply, you'll need warehousing space to keep track of your raw materials and other supplies. The administration of stores or inventories is referred to as warehouse management, which is a powerful branch of supply chain management, from the days of accounting stocks in arithmetical means to the present day of robots and creative system software inputs. We'll discuss SAP Extended Warehouse Management and how it can help with warehouse management in this post.
What is SAP Extended Warehouse Management?
SAP Extended Warehouse Management (EWM) is a component of SAP's Supply Chain Management (SCM) suite of products. It is utilized for efficiently managing inventory in warehouses as well as supporting product movement processes.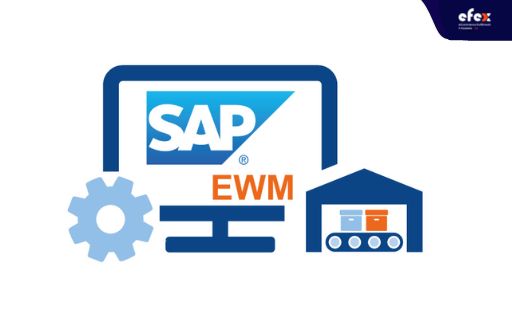 SAP Extended Warehouse Management enables the business to manage inbound and outgoing warehousing operations, as well as the flow of items inside the warehouse. Incoming and exiting materials, product reception and issuance, customer order fulfillment, and transportation of goods are the main processes involved in warehouse management. There is no requirement for warehouse management to handle products if a business does not keep any goods.
👉 Read More: [Detailed] Sap Warehouse Management Process Flow
👉 Read More: Sap Warehouse Management Organization Structure
The inbound process entails storing products in a warehouse and determining their location, whereas the outbound procedure is collecting up the products. When a material is kept in a storehouse, it is placed in a storage bin, where its current location can be identified. All commodities movement is regulated by a warehousing management system using SAP EWM, and you have the tools to supervise warehouse activity. In the Warehouse, you can also handle extra functionality such as batch number generation, serial number generation, vendor management inventory, value-added services, and resource optimization. SAP warehouse management system helps you to efficiently manage not just the number of products in your warehouse, but also other important operations and shipments.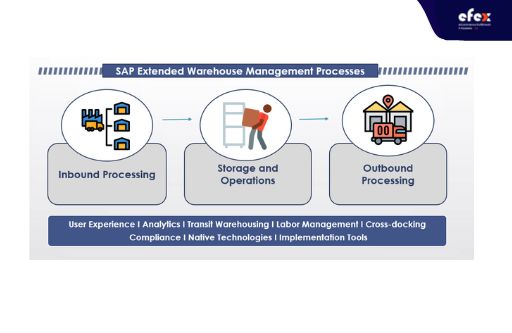 Inventory management is the absolute opposite of SAP Warehouse Management. The quantity of products in storage is reported by inventory management, but the exact location of the commodities is unclear. Warehouse management is concerned with the transportation of products and the tracking of their physical position as documented by specified papers.
SAP EWM isn't the same as SAP Warehouse Management
SAP EWM is an element of SAP Supply Chain Management, and it works similarly to a warehouse management system, but it has more powerful and advanced functionality for managing critical warehouse tasks. SAP Extended Warehouse Management is akin to Warehouse Management; however, it includes additional capabilities such as putaway, picking, Warehouse structure, RF framework, and more flexible choices for managing warehouse tasks. In SAP EWM, you may add additional features such as a resource, activity area, labor management, as well as work centers that weren't available in WM.
SAP EWM ─ Key Features
The key features of warehouse management with SAP EWM are listed below:
You can manage warehouse tasks such as posting, picking, monitoring storage bins, and collecting receipts using SAP EWM.
Before product reception, reverse or adjustment of the goods reception as well as an incoming delivery splitting from EWM to the ERP system, you can create an alert for altered data.
Before storing various items in different storage areas, you can de-consolidate handling items that hold different types of products.
You can utilize slotting for items to define storage concepts and automatically optimize the layout of a commodities warehouse.
It enables you to complete executable activities such as work packages, which are sets of warehouse jobs that warehouse staff should complete as a portion of warehouse management operations.
From yard check-in through yard check-out, it helps to manage and monitor vehicles and other transport units, along with movements and other operations within the yard.
SAP EWM also involves the storing, handling, and transportation of hazardous substances in compliance with SAP Environmental Health & Safety EHS laws.
You can also arrange labor schedules and resources more efficiently with SAP EWM, allowing you to make your Warehouse better productive by properly managing important resource management duties.
Warehouse cockpit is a feature in SAP EWM that allows you to visually show warehouse important numbers and analyze or monitor activities using specific chart types.
You can employ cross-docking, which allows you to transfer handling units through multiple distribution facilities or warehouses until they arrive at their final destination.
SAP Extended Warehouse Management's Major Benefits
When considering whether or not to deploy EWM, businesses should keep one word in mind: "robust". The EWM is capable of managing the most basic to the most complicated warehouse operations, as well as giving extra capabilities that WM lacks. For instance, EWM can offer:
From warehouses to distribution hubs, visibility is essential across the supply chain
High-volume transactions that require flexibility and automation
Cost minimization provided the maximum of resources
Extra functionality for improving inventory accuracy.
Switching to SAP Extended Warehouse Management
From a technological aspect, SAP has given migration solutions to transition from SAP WM to EWM fairly simple, and the principles are similar enough that the client's learning curve is minimal.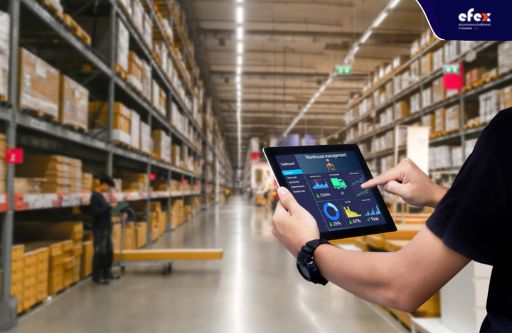 However, for individuals who are accustomed to WM and are hesitant to migrate to EWM, the following factors may help you get closer to being implementation-ready:
The documents in EWM are the same as those in EWM, but with different names. The EWM warehousing order or warehouse job (TO line item) replaces the WM transfer request or transfer order for moving merchandise in the warehouse.
While the TO creation is determined by the WM movement type, EWM employs an improved process type to identify which duties to create in the warehouse utilizing document sorts as a guide.
Once the transfer is complete, EWM offers a lot more functionality. Stronger process-type control, more powerful RF capabilities, and excellent integration with SAP QM are all available. The Warehouse Monitor is now a "one-stop" cockpit for controlling all warehouse operations.
SAP EWM Deployed Options
SAP EWM can be installed on an ERP server or as a standalone application in the Supply Chain Management environment. SAP Extended Warehouse Management is coupled with ERP to get transaction and data management, and it also needs CRM integration to use functions including slotting and availability checking. It is treated as a distinct program that runs on the same server as the SCM apps. SAP EWM can also be operated in its own SCM environment, which is better for performance.
EWM Deployment Options
The deployment options for SAP EWM are shown in the graphic below.
Figure 1 illustrates SAP EWM on SCM Server.
Figure 2 illustrates SAP EWM as a stand-alone application.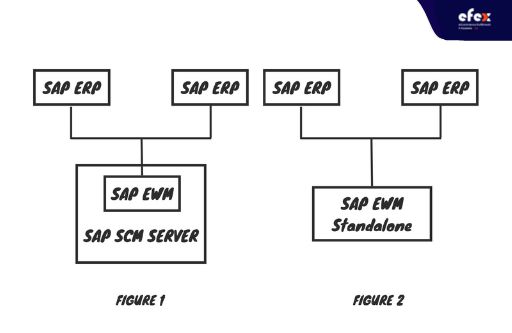 Method of Communication
For the transmission of transaction and master data, SAP ERP and EWM are tightly connected. There are two methods for communicating. Core Interface (CIF) is one of the most prevalent communication methods between SAP SCM and SAP Advanced Planning and Optimization APO. Material, customer, and vendor master data from ERP systems are sent to EWM systems via Core Interface CIF connection.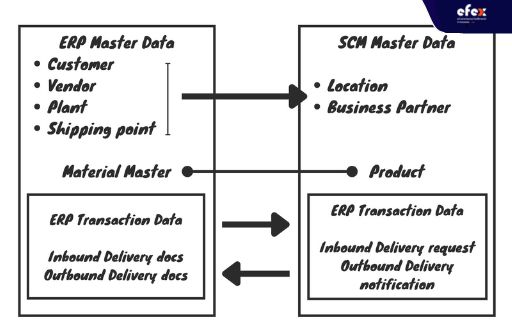 A distinct integration mechanism is employed for the communication of transaction data (inbound or outbound delivery documents). This paradigm makes use of iDocs or RFC (remote function call) queues.
How can you check the EWM system's different menu structures?
Sign in to the SCM system and go to the SAP menu's Extended Warehouse Management node. To manage fundamental operations in Warehouse management, you must utilize a variety of transactions.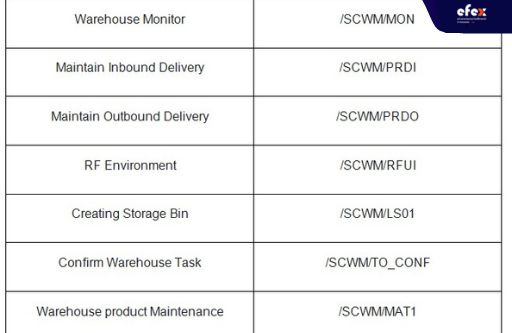 👉 Read More: 3PL Warehouse Services: Benefits And Offers
👉 Read More: All Cost To Rent A Warehouse In 2023
Conclusion
A smart warehouse must be able to adapt to changing business conditions fast. You will be able to handle a large volume of items and perform agile processes with digitalized and expedited warehouse procedures using the modern, versatile SAP Extended Warehouse Management.