According to a recent poll (Vietnam e-commerce report), Vietnam is anticipated to be the fastest-growing e-commerce sector in Southeast Asia by 2026, with e-commerce revenue growth value (GMV) reaching 56 billion USD by 2026, which is 4.5 times the estimated value in 2021. Vietnam is the pioneer in pushing change and grabbing possibilities to succeed. E-commerce in this country is expected to expand further in a post-pandemic future based on the economy digital transformation. Let's read the Vietnam e-commerce report in 2022 right below.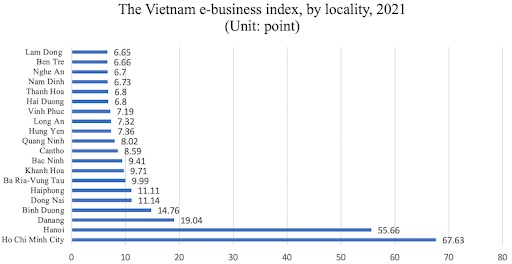 The E-commerce Market In Vietnam
Vietnam was rated as the 25th biggest e-commerce market, with a revenue in 2021 was 8 billion USD, ranked between the United Arab Emirates (24th) and Norway (26th). According to research, Vietnamese individuals spend most of their time on social media, texting, watching videos, online shopping, and emailing. The market's fast expansion is expected to continue. It would provide significant potential and hurdles for the growth of online platforms to fulfill the rising needs of customers and the market.
For the first time, cash payments are in danger of being dethroned, with a considerable decline from 60% in 2020 to only 42% in 2021 due to the COVID-19 pandemic. Thus, there has been a rise in the usage of e-wallets, payments via cell phones and QR codes, and strong demand for "immediate credit" solutions.
👉 Read More: Top 16 Vietnam Ecommerce Site In 2022
Most Vietnamese customers (73%) use several banking channels. This implies that they employ both digital banking and physical branches. Banks must improve their omnichannel delivery by monitoring goals and customer happiness. Banks in emerging nations are already at the forefront of digital innovation, but the industry is increasingly crowded and competitive. The e-commerce market involves online physical product sales to private end-users (B2C).
👉 Read More: Vietnam B2B Ecommerce: Overview And Top Company
This definition includes purchases made on a computer and mobile transactions made on smartphones and tablets. Digitally distributed services, such as travel tickets, online stores dedicated to digital media downloads or streaming, online stores dedicated to B2B markets, and transactions between private persons (C2C) inside the e-commerce market.
Top 5 Biggest Players In The Vietnamese Ecommerce Market
The rankings are based on every store in Vietnam that earns money. These shops might have a national emphasis and exclusively sell in their own country, or they can operate on a worldwide scale. It included only revenue generated in Vietnam in this evaluation. Let's check out the top 5 biggest players in the Vietnamese e-commerce market.
thegioididong.com
thegioididong.com was operated by Mobile World Investment JSC and was first opened as its internet business in 2004. It is an online retailer with a national focus. Its e-commerce net revenue is virtually exclusively produced in Vietnam. Mobile World Investment JSC is the number one retailer in Vietnam based on revenue and net profit after tax.
It operates four main concepts, including a mobile phone retail chain, a consumer electronics retail chain, a grocery retail chain, and recently a pharmacy chain.
In terms of product offerings, thegioididong.com focuses on the Electronics and Media sector, especially mobile phones, laptops, computers, and other electric devices. In 2021, the net revenue was 335.3 million USD, ranked 538th globally, and the first in Vietnam.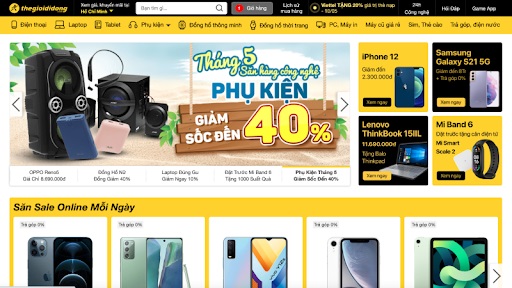 fptshop.com.vn
It is an online retailer chain with a national focus that serves all 63 Vietnam provinces. Its net e-commerce sales mainly come from the domestic market. It also has a brick-and-mortar store chain around the country. fptshop.com.vn was launched in 2007 by FPT Digital Retail JSC. FPT Digital Retail JSC Company is currently a subsidiary of FPT Corporation Vietnam.
It has two key brand names: FPT store and F-Studio by FPT - Apple's Official Authorized Reseller in Vietnam. FPT Retail is one of the top four retailers in Vietnam and is currently the only Vietnamese retail chain that carries all of Apple's licensed store models, including the highest class APR.
Fptshop focuses on selling electric devices such as smartphones, tablets, laptops, etc. The global net sales of fptshop.com.vn in 2021 were 254 million USD, ranked 666th globally and second in Vietnam.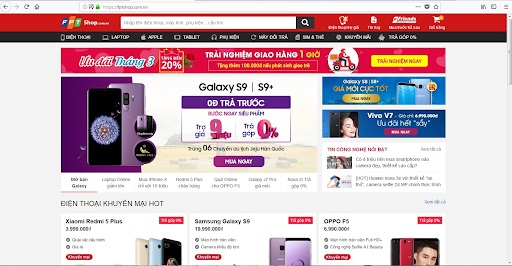 Shopee - One of the outstanding sales channels
Shopee is one of the fastest-growing commerce sites in Vietnam. It launched in Singapore in 2015 and expanded to 14 countries, including Vietnam. With 343 million monthly visits, it is the largest e-commerce platform in Southeast Asia.
In terms of product selection, Shopee is an all-around online store, including items in Electronics & Media, Fashion, Household Appliances, Toys, Hobby & DIY, etc. In 2021, its global net revenue was 234 million USD.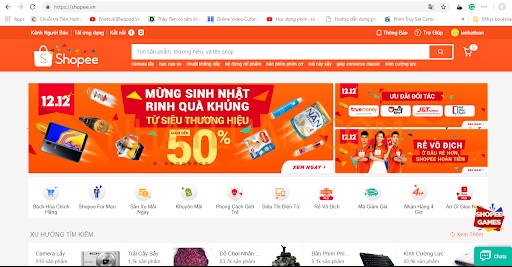 dienmayxanh.com
dienmayxanh.com, which first opened its doors in 2010, is a leading online retailer with a national focus. It is also a brand and store chain that belongs to Mobile World Investment JSC like thegioididong.com. It is both an online retail chain and a brick-and-mortar store chain. dienmayxanh.com generates most of its net e-commerce revenue in Electronics & Media and Furniture & Appliances.
It is a leading consumer electronics retail chain such as household electronics and small appliances. Its revenue was 193.2 million USD in 2021, ranked 833 globally and 4th in Vietnam.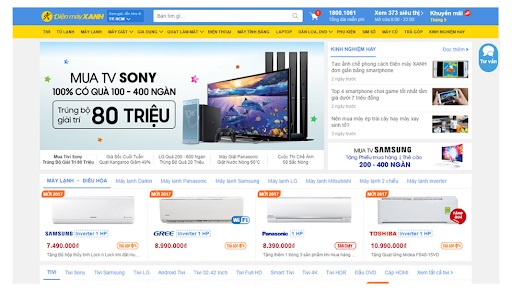 cellphones.com.vn
Similar to thegioididong.com and fptshop.com.vn, cellphones.com.vn is an online retailer with a national focus. It is operated by Minh Nguyet Trading and Technical Services Co., Ltd. Its e-commerce net sales are mainly produced in Vietnam. It focuses on the Electronics & Media sector, namely Consumer Electronic. Its global net revenue in 2021 was 184 million USD, ranked 845th in the world, and 5th in Vietnam.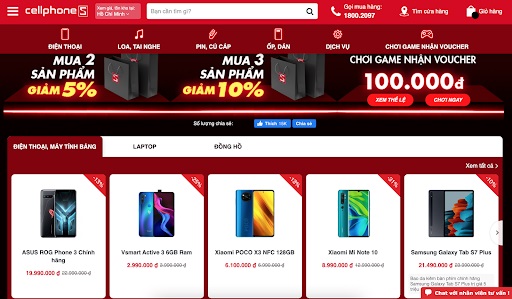 Market Size And Growth Rate
According to the Statista Digital Market Outlook, market development in Vietnam is likely to continue in the next years. The compound annual growth rate (CAGR 21-25) is 7% over the next four years. Compared to a year-over-year increase of 24%, this decline indicates a fairly crowded market. Another sign of market saturation is Vietnam's 41% online penetration. In other words, 41% of the Vietnamese population will have purchased at least one thing online by 2021.
There are five categories of products that customers most consume in Vietnam's e-commerce market. Electronics and Media account for 28% of total e-commerce revenue. Fashion comes in second with 22%, Food and Personal Care come in third with 18%, Furniture and Appliances come in fourth with 17%, and Toy, Hobby, and DIY ranked the last with 15%.
Vietnam E-commerce Overview
Vietnam's e-commerce business was worth 5 billion USD in 2019, up 81% from 2015, and is expected to be worth 23 billion USD by 2025. Clothes and footwear are the most common online purchases, followed by consumer electronics, household appliances, and personal care goods. Shopee, Tiki, Lazada, and Sendo are the leading e-commerce platforms in Vietnam. The Vietnamese government aggressively pushes a non-cash payment culture, intending to lower cash transactions to less than 10% of total payments and reach 70% of the banking population.
👉 Read More: Doing Business In Vietnam: Overview, Advantage And Challenger
👉 Read More: Vietnam Business Culture: All What You Need To Know
In particular, the Vietnamese government adopted Decree 02/NQ-CP in 2019 to encourage more non-cash payments for public services like taxes, school fees, and energy and water bills. Over the last eight years, Vietnam's middle-income class has grown steadily. It leads to their greater disposable income is likely to stimulate domestic spending through digital payment networks. Vietnam's online economy thrives due to rapidly growing internet and smartphone usage. According to a recent analysis by Google and Temasek, Vietnam's internet economy achieved 12 billion USD in 2019, accounting for 5% of the country's GDP, and is predicted to grow to 43 billion USSD by 2025. The widespread use of the internet and smartphones fosters and supports the fast development of e-commerce.
Vietnam E-commerce Report 2020
In 2020, despite the pandemic boom around the world, Vietnam's e-commerce industry still had significant growth while domestic transportation is steadily rebounding. The covid-19 pandemic has changed the Vietnamese people's long-standing purchasing habits from conventional purchasing to online shopping.
According to the e-Conomy SEA 2020 study, Vietnam's e-commerce industry produced great development, increased by 46%, and is sustainable in most industries but tourism.
Due to customers' increased reliance on online shopping, supermarkets accounted for 35% of total web traffic growth in March 2020, with a 161% rise in growth rate compared to 2019. Online consumers also paid attention to the categories of retail technology, cosmetics, sports equipment, and banks/insurance. There were 57% of Vietnamese people have converted to online shopping more regularly.
---> Download file: Vietnam E-commerce Report 2020
Food and Personal Care categories were predicted to gain the most profit in Vietnam during Covid-19, with the incremental growth achieving 19.1% and the forecast sales reaching 1.02 billion USD in 2020. Fashion, Hobby & DIY, Furniture & Appliances, Toys, and Electronics were sectors that have shown development signs notwithstanding the serious pandemic in Vietnam.
Vietnam E-commerce Report 2021
With a 24% gain in 2021, the Vietnamese e-commerce market contributed to the global growth rate of 29%. More than 70% of Vietnam's population has access to the Internet, with around 50% of customers trying online shopping and 53% using e-wallets and online payment.
In Vietnam, the number of online retailers increased by 40% year over year, resulting in a 1.5-fold growth of total e-commerce sales nationally. In the previous three months, 49% of Vietnamese customers moved to a new online marketplace due to price incentives (45%), product quality (34%), and availability of items (33%).
--->Download file: Vietnam E-commerce Report 2021
However, logistics firms for e-commerce face a low rate of applicating information technology in e-commerce logistics. Only approximately 11% of organizations are now adopting basic information technology for monitoring and tracing items, delivery, and storage systems.
Another difficulty is the lack of a regulatory framework for e-commerce logistics. The Covid-19 epidemic has produced several disruptions and challenges, but it has also generated numerous opportunities, particularly in e-commerce in Vietnam. Thus, Vietnam is expected to become a potential e-commerce market in the near future.
Conclusion
As the Vietnamese e-commerce market continues to evolve, the focus on integrating efficient logistics solutions, embracing digital innovations, and addressing regulatory challenges will be crucial for sustaining growth and meeting the demands of the expanding consumer base.
Efex's comprehensive suite of services, tailored to the specific needs of selling online in Vietnam, serves as a valuable resource in leveraging the promising prospects within the rapidly developing e-commerce sector. With its multifaceted approach and emphasis on streamlining various aspects of business operations, Efex can serve as a strategic partner for companies looking to establish and enhance their presence in the flourishing Vietnamese e-commerce market.