If you operate an online store, one of the key parts of your business is fulfillment. Order fulfillment, in a nutshell, is a full operation that entails taking orders, selecting and packaging them, and sending them to buyers. However, there are more elements to this service, which we will discuss in further detail today.
We'll show you "what is fulfillment", its benefits, and how to pick the best order fulfillment service provider in this post. Order fulfillment services are now being used by an increasing number of eCommerce businesses. What is the purpose of this service? Let's get going with what is fulfillment services!
What is the Definition of Fulfillment?
What is fulfillment in business? In a word, order fulfillment is a type of logistics service that is typically used by eCommerce and online businesses. When you use an order fulfillment service, you engage with a third-party logistics partner (also known as a logistics operator or a 3PL business) that handles all of your eCommerce business's logistics-related processes.
👉 Read More: What Does Order Status Fulfillment Mean?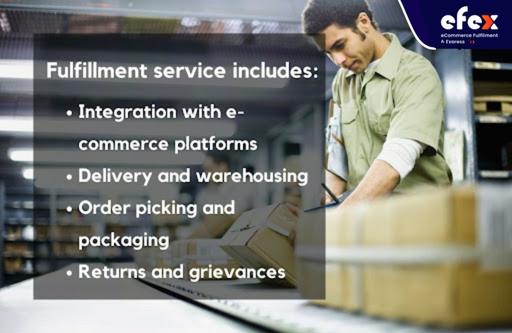 This service addresses all parts of selling online, including:
Integration with e-commerce platforms
Delivery and warehousing
Order picking and packaging
Returns and grievances
- Read More: Ecommerce Order Fulfillment Guide: Process And Strategy To Improve
Further fulfillment services, such as warehousing and transporting items with particular requirements, are available from the service provider. As an online shop owner, you won't have to be concerned about transportation thanks to the order fulfillment service, and can instead concentrate on the store's sales and marketing growth.
The Process of Fulfillment
There are some key parts to the fulfillment process. Several of its aspects are repeated, while others are completed just once, usually at the start of the partnership with the third-party logistics provider. Now let's look at some of the most crucial parts of the fulfillment process: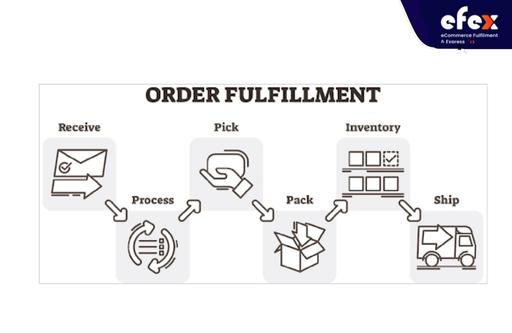 Receiving order
The majority of fulfillment operations usually begin by integrating with the eCommerce platform. They have the ability to integrate with most single eCommerce sites on the market. This makes no difference even if you use a SaaS platform like Shopify or a standalone system like WooCommerce. Fulfillment will acquire constant visibility into any orders made in your business thanks to this integration, allowing them to begin working on new orders without unwanted delays.
Processing
You don't need to manage a warehouse with the help of fulfillment services, of course. You are welcome to use their storage space, and they'll be in charge of getting and keeping your items, which you or your distributor can transfer of the goods them. Your items are then kept in their designated storage areas.
Picking and Packaging
This stage of the order fulfillment process is the following step. They are in charge of gathering items for each order, filling them out, and then packing them in compliance with your specifications. Fulfillment providers can wrap your products in a variety of unique ways, among many branding ideas, such as branded packing materials. Besides, they can also entirely customize the packing by including inserts or handwritten messages, or by suggesting one of several conventional packaging solutions.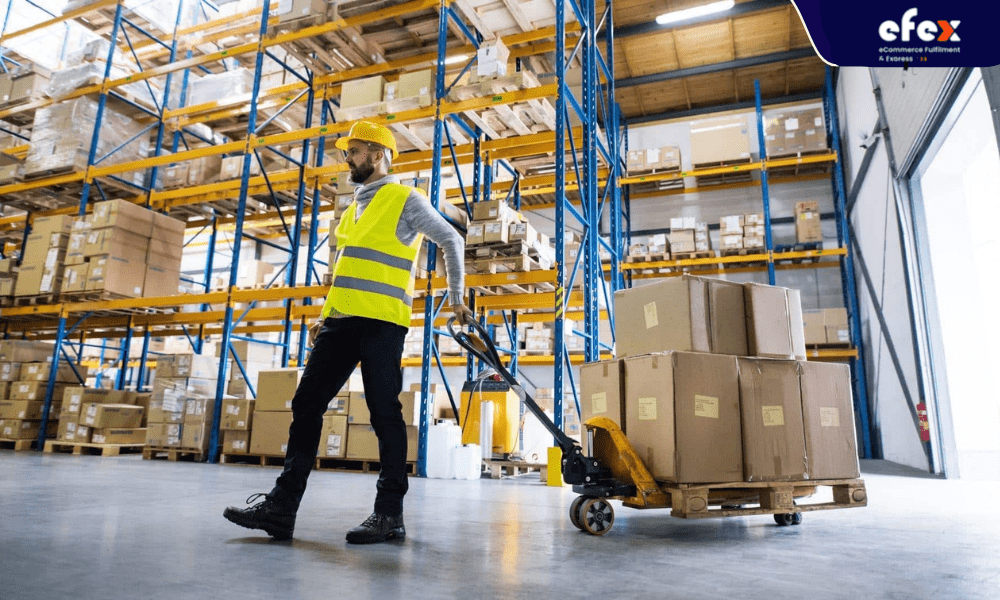 Warehousing
The majority of fulfillment centers' warehouses are built to meet the demands of online retailers. They have a racking system in warehouses that are specifically created for the eCommerce industry such as metal racks, fashion racks, hangers, restricted-access areas (for precious items), as well as a high-storage space suited for pallet storage.
In addition, a number of professional fulfillment facilities offer innovative technologies that streamline and optimize their processes. As a result, all tasks are completed in a timely and effective manner, and countless orders are fulfilled daily. The storage rooms may be adapted to store a variety of goods such as clothing and food.
Delivery
Your items will be sent to your customers by an order fulfillment service. They can transport goods all around the world in partnership with the major carriers as well as smaller local couriers. Several fulfillment companies are able to negotiate favorable shipping prices and help their clients with extra procedures including customs clearance thanks to the consolidation of huge volumes of orders in one location.
Processing of returns
Finally, the fulfillment business is responsible for handling returns and customers' complaints. They manage the re-preparation of items for the next delivery and place them back in your storage when they are returned to your store. Returns are very frequent in the eCommerce market, particularly in the fashion industry. A skilled fulfillment company must recognize that dealing with this issue can be time-consuming and provide effective solutions.
The advantage of fulfillment
While some companies adopt eCommerce to boost their in-store sales, some sell only online. All of those are two completely different concepts of businesses that have one similar thing: The fulfillment service can help both of them. Let's find out top 10 advantages of using a fulfillment center are listed below.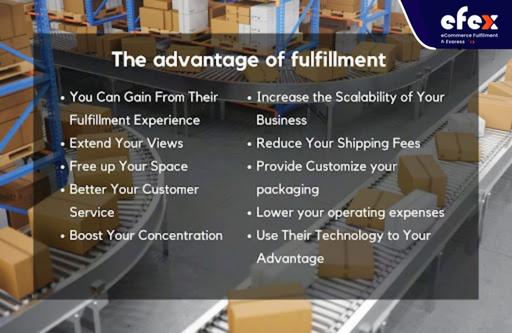 You Can Gain From Their Fulfillment Experience
You're not attempting to be a fulfillment expert and trying to manage a business. After all, you'll benefit from the knowledge of their staff as well as their equipment and software by outsourcing your warehousing, packaging, and delivery to a recognized fulfillment. They are on the battlefields day after day, frequently around the clock, and understand the industry like the back of their hand.
Your fulfillment process can be made more simple by working with a fulfillment services company.
Extend Your Views
By 2020, it is estimated that there will be over 2 billion digital customers worldwide. With a population of the world of approximately 7.7 billion, then roughly a quarter of the world's population shops online! As you can see, going global pays off in a big way. You may take orders from all around the world and bring your company to new heights with a fulfillment that has a worldwide network and understand the guidelines and standards of other countries.
Free up Your Space
Many online businesses are run from garages, attics, basements, and other modest locations where items and materials are kept. These "workplaces" often degrade into a mess of boxes, bubble wrap, and other materials. You may outsource all of the duties to your fulfillment facilities, freeing up your time to concentrate on more vital areas of your company, such as maintaining your customer's satisfaction.
Better Your Customer Service
It's exactly what they state: it's easier to maintain a client than it is to find a new one. Businesses, according to a study, may lose up to $62 billion per year as a result of poor customer service. Along with so many competing products available in the market, providing excellent customer service is typically one way for a company to stand out.
Many fulfillment services offer phone or email support 24/7, making exchanges, returns, and refunds easy. Not to mention, fulfillment facilities are equipped with the tools to provide same-day shipping or specific shipping dates that are confirmed. All adds up to a greater customer experience.
Boost Your Concentration
Jugglers are common among small company operators. They are developing items, sourcing suppliers, planning marketing plans, replying to consumer concerns, and so on. So, why bother with packaging and shipping as well? Hiring a fulfillment service allows you to concentrate on the most important activity, specifically expanding your organization.
Increase the Scalability of Your Business
For a short-term period, small online sellers may be able to handle their own order fulfillment. However, when their business expands and their website receives more traffic, it may become burdensome for owners, who are unable to fulfill orders swiftly enough, leaving consumers disappointed, and even losing their customers. You'll be better prepared to handle an uptick or perhaps a major seasonal inflow of orders if you outsource fulfillment.
Lower Your Shipping Fees
Most fulfillment centers include local and global facilities networks, enabling them to give your company bulk shipping reductions In addition, FedEx and UPS often base their delivery prices on the zone. Therefore, if you store goods in many fulfillment facilities, there are limited places in which to transport your items to your buyers, saving you resources.
Besides, this enables you to provide advantages to purchasers or even provide free delivery, which over 50% of American shoppers believe impacts their online buying decisions.
Provide Customize your packaging
An excellent fulfillment service works both inside and outside of the box! Most online retailers' customers will see their goods for the first time when it comes to their door. Custom packaging choices give you the ability of customization to your own shipping boxes, inserts, and coupons, enhancing your packaging to save it new and attractive every time someone buys anything. This may be depending on shopping habits, anniversaries or birthdays, and much more.
As a result, providing customized packaging will increase shopper loyalty and transforms them into brand advocates.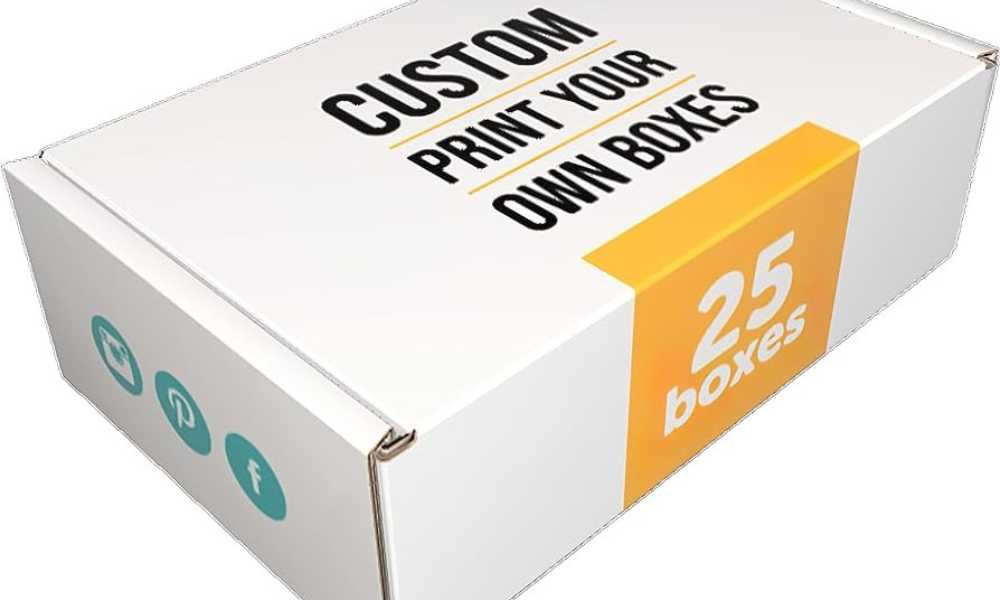 Lower your operating expenses
Renting workspace, ensuring quality control, employing personnel, purchasing packaging materials, and doing your own delivery while lights stay on is expensive. You can reduce these operating expenses by hiring fulfillment and sharing resources and space with many vendors. You profit from economies of scale by receiving cheap prices and terms!
Moreover, with such a fulfillment, you generally charge one fixed cost and then just for the services you use, including order pickup, packaging, and delivery.
- Read More: Order Fulfillment Cost: All of the Fee You Need to Pay
Use Their Technology to Your Advantage
Technology benefits online businesses in a variety of ways, from inventory management to shipment tracking, and payment processing to customer information security. Implementing these technologies, of course, requires a considerable investment and a learning curve! Most fulfillment service, on the other hand, already apply this cutting-edge tool, allowing eCommerce businesses to get the most innovative solutions for very little cost.
The disadvantage of fulfillment service
Fulfillment services may be considered tools. Similar to other tools, they may be incredibly beneficial, but if not applied appropriately, they can also be harmful. Although the fulfillment service you choose is likely to do an excellent job of eliminating or reducing these drawbacks, it's still necessary to be aware of them.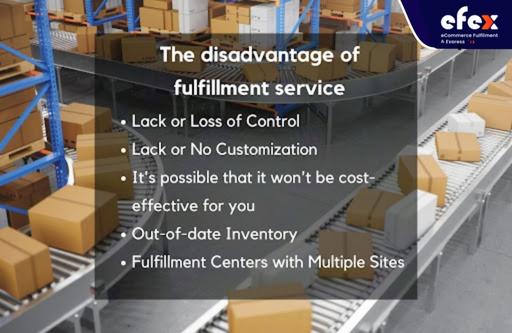 Lack or Loss of Control
This seems to be a big disadvantage, which is why it appears at the top of the list. You cede control when you use a fulfillment service. This is due to the fact that you are no longer in possession of the order. It's also conceivable that the fulfillment service you're utilizing limits changes to shipments after they've been completed. You'll have to go into your panel and request that the order be updated if your 3PL offers this feature.
However, They most likely have hundreds of other applications from sellers, thus they can not make the modification right when you submit it. It's nice to have more time to focus on areas where you can improve rather than deliver; however, it comes with a tradeoff.
You must trust your 3PL when entrusting a significant portion of your business to them. It's hard to transfer control of the delivery process. If your fulfillment service gets it wrong and a buyer complains, you must rely on them to investigate the problem and notify you. If not correctly explained, this might cause some issues; however, fulfillment services would usually pay for most losses they incur. Other significant and little difficulties may arise, and you may not be informed of them until a complaint arrives.
Despite that, It isn't always a negative thing to lose control. It's just the cost of assigning the work to others. Although a loss of control is a drawback, it is sometimes accepted in return for development.
Lack or No Customization
Depending on the product you sell, you may include some unique selling points with your products that set you apart from other companies. It could be as simple as noting a "thank you" remark by hand before final shipment. When employing a fulfillment service, this can be impossible to accomplish in any case. Most 3PLs provide basic services and will not go above and beyond.
Others are extremely customized and will collaborate with you to fully comprehend and apply your procedures. It's difficult to assure remote labor even when you work with a fulfillment service that meets your needs. If your business demands it, be sure the fulfillment service you employ allows for maximum customization. Whether it's bespoke boxes or marketing inserts like brochures, you can do it all. It's also crucial to consider pricing once you've selected a fulfillment facility that can handle your customization demands.
It's possible that it won't be cost-effective for you
A business may employ a fulfillment service for a variety of reasons. Allowing a 3PL to manage its distribution operation is a great approach for most businesses to save time. Others turn to fulfillment services to save money.
Using a 3PL will minimize your workload; however, it isn't sure to lower your costs.
Your sale volume will ultimately determine if a third-party logistics provider is cost-effective. Fulfillment services offer a variety of services to sellers, many of which come at a fee. You will be paid from the time your products reach their warehouses until your customer's purchase is dispatched. Collecting costs, storage fees, packaging fees, freight charges, and fees for extra services are some of the most typical expenses.
👉 Read More: 12 Tips to Improve Order Fulfillment Process And Picking Accuracy
A fulfillment service is a facility that keeps products for thousands of companies. The fulfillment service determines where your item is housed, and the amount you pay is dependent on the average time required to pick an item. The fulfillment service determines where your item is housed, and the amount you pay is dependent on the average time required to pick an item. Generally, this amount of time is longer than if the item is gathered in your warehouse.
Additionally, as that aspect as well as extra profit, determines the price, the fulfillment fee per order is likely to be greater. It may not a problem for a business that is expanding and distributing more than 300 orders each month. However, for smaller companies, hiring a fulfillment service may result in greater costs.
Out-of-date Inventory
The benefit of a fulfillment service stems mostly from the low costs of keeping your items. Sending all of your goods to them and having them responsible may seem like a good idea at first; however, it's a dangerous choice in the long run because they're more than just a storage facility. The expense of warehousing your products at their facilities is often calculated based on the number of goods you deliver, the amount of space they require, as well as the volume of each item.
Fulfillment Services with Multiple Sites
For maximum reach and to maintain a competitive edge, you will need to seek a fulfillment service with many sites as your supply chain grows. This can have its own benefits, but it will also have its drawbacks. While your shipping and order fulfillment expenses can decrease, you must account for the increased inventory, warehousing, and carrying costs.
👉 Read More: Top 15 Best E-Commerce Fulfillment Companies to Grow Your Business More
Final Thoughts
Order fulfillment is a complex behind-the-scenes process critical to eCommerce success. As outlined, fulfillment involves receiving inventory, processing orders, picking, packing, shipping, and handling returns. While fulfillment can be managed in-house, most online sellers find it beneficial to work with a 3PL provider to leverage expertise and infrastructure.
However, not all fulfillment services are created equal. The right partner for scaling an eCommerce business offers multi-channel fulfillment capabilities to connect inventory across all sales channels in one view.
With integrated technology and nationwide fulfillment centers, a provider like Efex enables centralized, omni-channel fulfillment to help merchants easily manage orders from all their selling platforms in one place. By streamlining logistics with an end-to-end multi-channel fulfillment solution, online sellers can focus on sales growth and optimizing the customer experience.